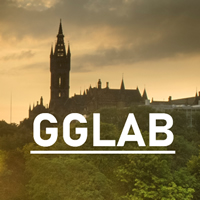 Twitter: @UofGGamesLab
Blog: gamesandgaming.gla.ac.uk
Email: gaming-lab@glasgow.ac.uk
Games and Gaming
Director: Timothy Peacock
Co-directors: Dimitra Fimi, Jane Draycott and Matthew Barr
The Games and Gaming Lab promotes cross-disciplinary research into Games and Gaming, from Tabletop to Electronic media, from Children to Adults, and across time periods from Ancient to Modern, Fantasy, and Futuristic.
We have over 200 members (staff and students) across all four Colleges at Glasgow University, at universities internationally, and in companies/organisations.
If you would like to get in contact to enquire about current or potential projects, lab membership, or any other aspect relating to our work, please email: gaming-lab@glasgow.ac.uk

Please see below for a list of Games and Gaming Lab events, past and present. You can also find us on Twitter at @UofGGamesLab, or see our blog at gamesandgaming.gla.ac.uk.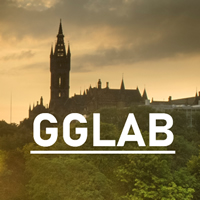 Twitter: @UofGGamesLab
Blog: gamesandgaming.gla.ac.uk
Email: gaming-lab@glasgow.ac.uk
Project HeritAIge
Project HeritAIge, led by Dr Tim Peacock, is a cross-disciplinary research initiative exploring new potential ways of using AI to translate cultural heritage sites into research-informed historical video games, working with St Giles Cathedral.
This project aims to provide wider benefit, including improving game-based interaction with cultural heritage, particularly for communities globally without physical access.
The initiative also seeks to explore ethical and 'Responsible AI' use in these types of gaming research and engagement projects through this pilot collaboration.
Project HeritAIge consists of two phases:
1) A 3-month Interface-funded pilot project, providing foundations for this initiative by exploring new ways AI may be used in supporting the processes underpinning such heritage video games, examining opportunities and challenges and potential ways of ensuring 'Responsible AI' use in this field.
2) The main project, beginning autumn 2023, a test case working with St Giles Cathedral and Education Evolved Ltd, will draw on the pilot project, historical data, artifacts, and cultural knowledge to develop a freely-available historical video game of St Giles Cathedral (funded by Glasgow University Knowledge Exchange Funding and by St Giles Cathedral).
This collaboration is aligned with St Giles' 900th anniversary in 2024, transforming their rich cultural history into an engaging and accessible educational experience.
The work builds on Dr Peacock's AI and heritage game design research, and on St Giles Cathedral's mission to expand their reach to a broader audience. Dr Peacock has been working with St Giles since they approached him via Interface (May 2022).
Join us for one of the initial project workshops in the Advanced Research Centre (ARC), Friday 29 September 1-4 pm or Friday 6 October, 1-4 pm, which will include showcasing of work from the 3-month Interface-funded pilot project, and opportunities to discuss potential creative new uses/implications for AI in cross-disciplinary research. Sign up is essential. A sandwich lunch and afternoon tea/coffee will be provided.
To sign up for one of the workshops, contact Rachel.Porteous@glasgow.ac.uk or for further information on the project, contact Timothy.Peacock@glasgow.ac.uk
Innovators Assemble
SEvEN Voices, One Future - Video Game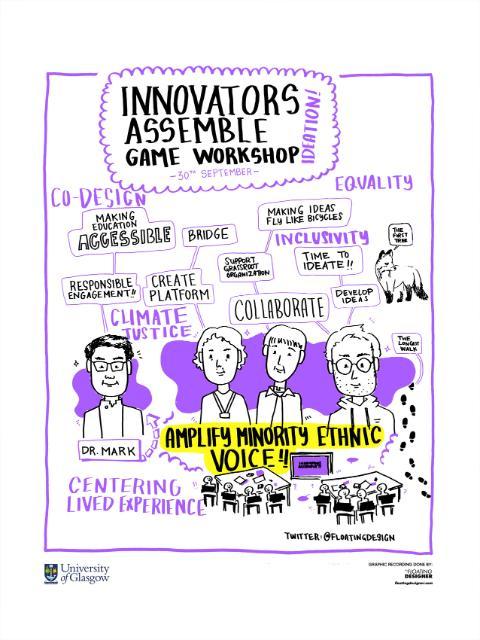 Using Gaming and Game Development to Accelerate Business Engagement, Commercialisation, and Innovation in SHAPE (INASSEM)
The 'Innovators Assemble' (INASSEM) project is an academic-industry-community partnership that promotes gaming and game development as a pathway for researchers to pursue innovation and further academics' engagement with industry and communities.
INASSEM is hosted by UofG's Games and Gaming Lab, and led by Dr Mark Wong, Dr Tim Peacock, Dr Helen Mullen, Rachel Porteous, and Lauren Watson at University of Glasgow, partnering with Glasgow-based tech start-up Education Evolved, Ethnic Minority Environmental Network, digital designer the Floating Designer, and Glasgow's Games and Gaming Lab.
SEvEN – Seven Voices, One Future is developed by INASSEM, funded by the Aspect Network's Innovation Fellowship, with funds from Research England, and the ESRC Impact Acceleration Account award.
This futuristic new video game amplifies Minoritised Ethnic voices and traditional ecological knowledge in a sustainable Scotland.
Set in the Western Scottish Highlands in the year 2045, SEvEN features the voices of seven Minoritised Ethnic people. Players will get to discover seven narratives and mini-games created based on real-life climate actions led by Minoritised Ethnic-led organisations and initiatives across Scotland. The characters in the game are voiced by and created in the likeness of real Minoritised Ethnic people in Scotland.
Players are encouraged to learn about the importance of Traditional Ecological Knowledge and individual and community actions that can create bigger change by working together, whilst experiencing the viewpoint of a Minoritised Ethnic person on climate actions that help improve biodiversity and reducing our impact on the environment.
The game will be publicly available online after its launch on 19 May 2023, and free to play on any web browser, designed to be accessible to all, including non-gamers.
Find out more about the project on our latest video or follow #InnovatorsAssemble on Twitter and LinkedIn. Check out what our partners have said so far about the project on: EMEN LinkedIn, Twitter, Education Evolved LinkedIn, Twitter, Floating Designer Twitter.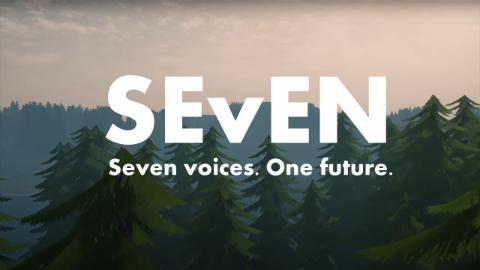 Project Minecraft Ellisland – Robert Burns' farm in Minecraft
Students and academics at the University of Glasgow working with the Robert Burns Ellisland Trust have helped to faithfully recreate, in Minecraft, the 18th-century farm as Burns and his family knew it, releasing the model publicly in July 2022.
The Minecraft Ellisland project was led by Lab Co-Directors Dr Timothy Peacock and Dr Matthew Barr, working with Glasgow University's Minecraft Society.
The project is a partnership between the University, Robert Burns Ellisland Trust which runs Ellisland Museum and Farm and The South of Scotland Destination Alliance (SSDA), put in contact with the University by Interface. It was funded through the Scottish Government's Tourism Leadership & Recovery Fund to support business and community-led tourism enterprises taking the lead in the sector's COVID-19 recovery.
The Minecraft Ellisland model itself is available to download for free from the website of the Robert Burns Ellisland Trust via this web page.
In order to access Minecraft Ellisland you will need to have a Microsoft account and buy Minecraft on that account in order to be able to play it. Minecraft Ellisland is for the Minecraft: Java Edition which is compatible with both laptop and desktops. A mobile version of Minecraft Ellisland and an Education Edition version are in development.
Further information about the project is available at (including the full text press release):
https://www.gla.ac.uk/news/headline_865667_en.html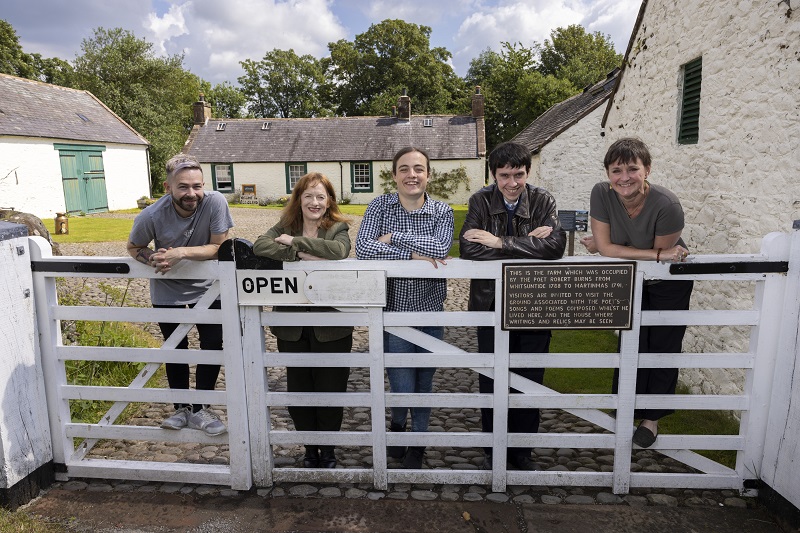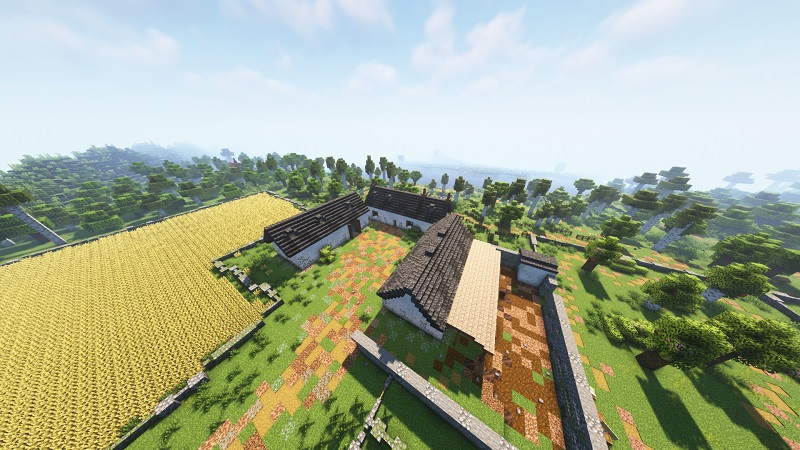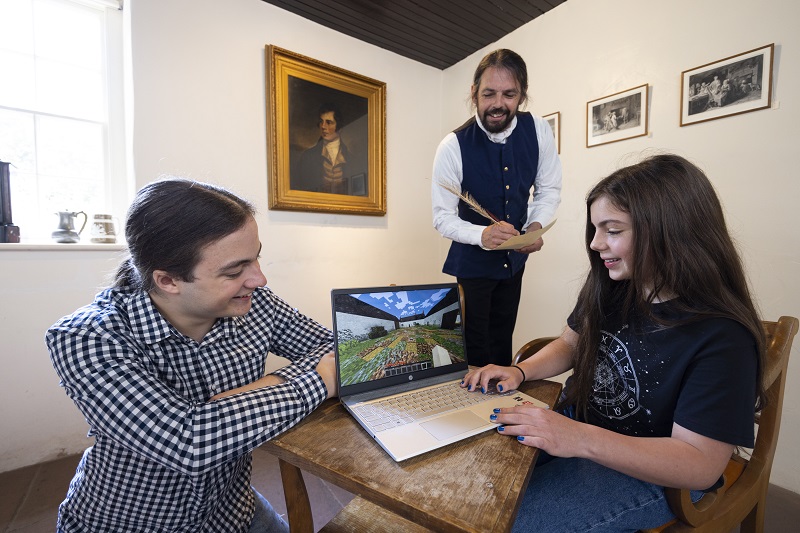 Project Gamestorm - Gaming new approaches to Global Challenges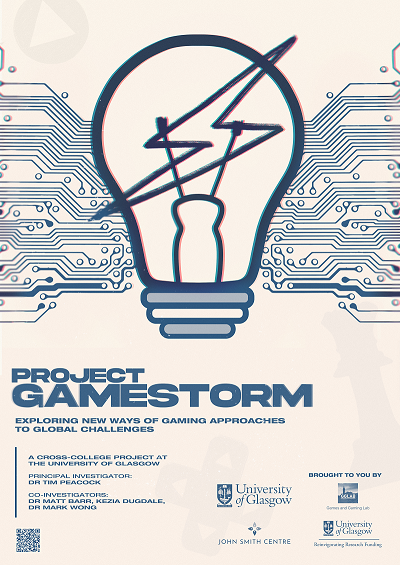 We were excited to launch 'Project Gamestorm' in January 2022, a cross-college initiative involving Arts, Social Sciences, and Science and Engineering. It is led by Lab Co-Director Tim Peacock as Principal Investigator, with Co-Investigators Matt Barr (Lab Co-Director), Kezia Dugdale, and Mark Wong.

Gamestorm, funded by the Reinvigorating Research scheme, builds on Projects AWARE, Tempest, and GWI/Damocles. It will involve investigating new ways of combining game formats from tabletop wargaming to video games in order to 'game' responses to Global Challenges.

Our first investigation will be into 'gaming' nuclear environmental clean-up, from power plant waste and nuclear test fallout to currently orbiting nuclear-powered satellites, with the aim of developing holistic, environmental-centred game approaches, including with regard to the impacts of radiation on the climate, drawing on our COP26/Dear Green Bothy projects.

We aim to bring together a wide range of external partners including in academia, defence, heritage organisations, and games companies/networks, working with Glasgow scholars in nuclear, space, wargaming, computer gaming, urban studies, and policymaking among other disciplines, to run workshops at the University's Advanced Research Centre (ARC) in the coming months.

This phase will be building towards a large UKRI grant bid to support further research into the project.

If anyone would like further information on this project, contact Tim Peacock - Timothy.Peacock@glasgow.ac.uk.
A range of external and internal Gamestorm participants came together in a workshop in Glasgow University's Advanced Research Centre (ARC) on 16 June.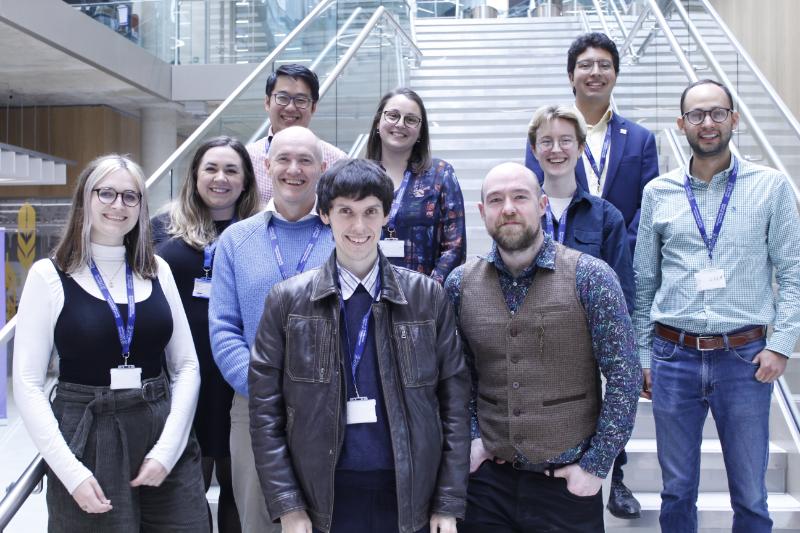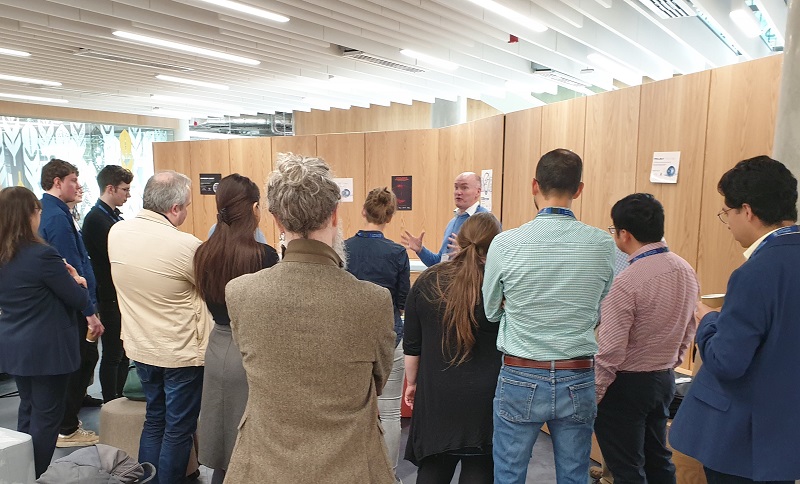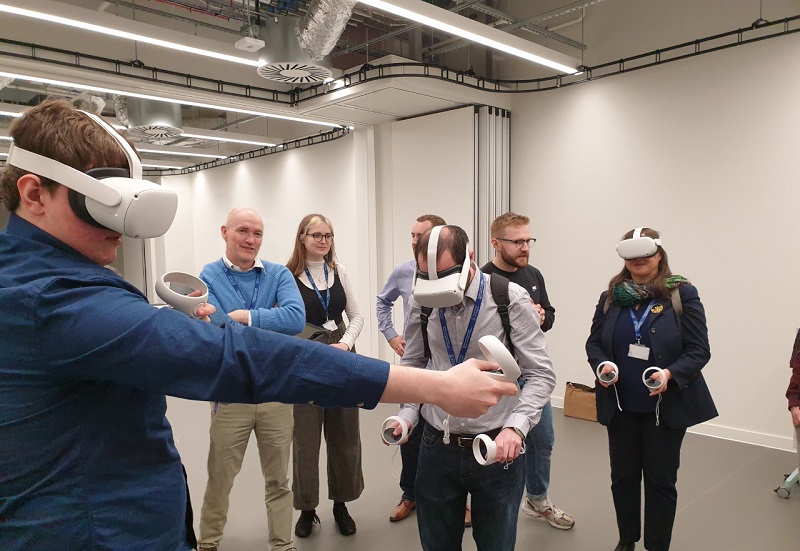 Project AWARE and Tempest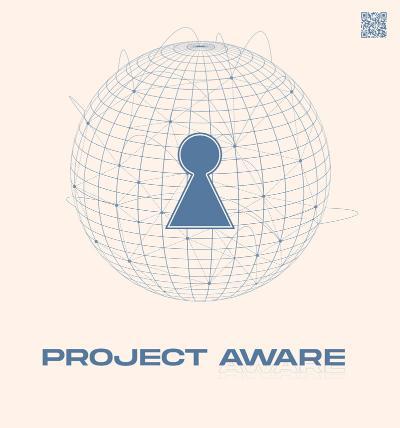 Project AWARE (Access to Wargaming in Education) is led by Lab Co-Director Dr Tim Peacock as PI, and Dr Matthew Barr as Co-I, involving 3 Colleges, multiple Subjects, and internal/external partners, including being supported by the Learning and Teaching Development Fund (LTDF), IMSISS and GLOCAL Erasmus Mundus programmes, and 'The Dear Green Bothy'.
The team includes over 20 student research assistants, interns, and software developers, as well as other members from different projects attached to the Lab.
AWARE's purpose is to investigate areas including the methods of co-creation for educational (war)games, the transferability of such methods across Subjects, the development of supporting software, and in-person/online transferability. The project draws on NATO wargaming expertise, and other ongoing initiatives led by Dr Peacock which are connected to GGLab and to the Scottish Centre for War Studies and Conflict Archaeology.
A significant initiative within AWARE is Project Tempest, an environmental wargame being developed for Glasgow University's 'The Dear Green Bothy' programme of events around COP26. Tempest will involve a custom-created crisis wargame, flooding the city of Glasgow virtually and having students from different postgraduate programmes act as decision-makers responding to the crisis.
For further information about these projects, contact Tim Peacock - Timothy.Peacock@glasgow.ac.uk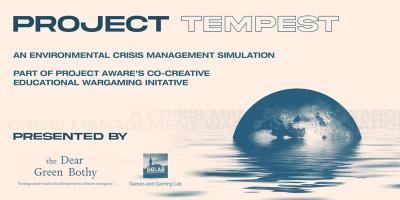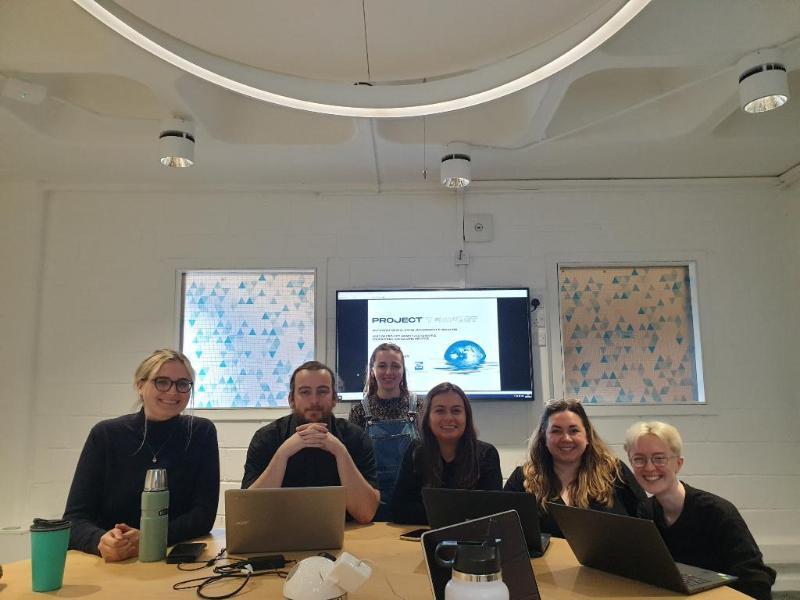 Photo after a playthrough of the Project Tempest environmental wargame in July 2022.
Project GALLOP
Project GALLOP (Gaming Afterlives Learning Legacy Operation) examines the longer-term research impacts and educational impacts of gaming research and engagement projects at Glasgow.
This ongoing work takes place through a combination of online monitoring, charting dissemination and usage of resources produced through projects, and maintaining contact with former project participants, including through follow-up interviews.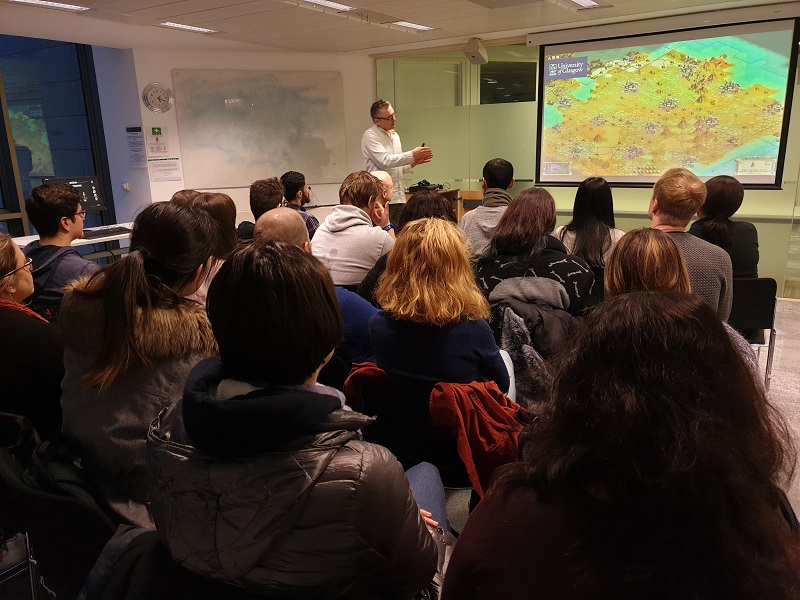 The Scottish Games Ecosystem
This project investigates the challenges facing Scotland's games industry. It was undertaken by a team from University of Glasgow and University of Stirling, in collaboration with the Scottish Games Network (SGN) and InGAME, with support from the Economic and Social Research Council (ESRC) Impact Acceleration Account and ASPECT.
An ecosystem-based approach has been adopted, drawing on data from the following sources:
organisational statistics about companies and HE/FE organisations, collated by SGN from secondary data.
industry challenges data from SGN and InGAME, collated from an industry survey and workshops with key industry stakeholders.
two workshops with representatives from games clusters in Europe, North America, Australia and UK, identifying good practice in games industry development.
Led by Lab member Dr Helen Mullen (Adam Smith Business School) with Lauren Watson and Dr Matthew Barr (School of Computing Science), the team presented a briefing paper at the Scottish Parliament in October 2022, with a peer-reviewed research paper to follow in 2023.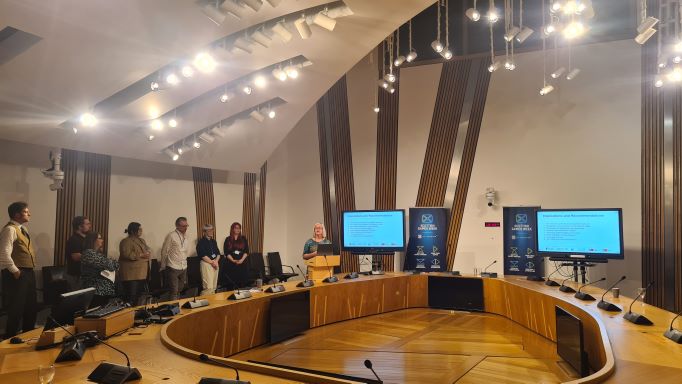 Playtesting Opportunities
Playtesters…Your Gaming Lab needs you!
UofGGamesLab supports the creation of research-led games across different projects by staff and students, including in the provision of playtesters – people to play and provide feedback on prototype games, ranging from tabletop to electronic.
If you are a student or staff member interested in current playtests, or would like to be kept up to date about participating in future playtesting, contact us at gaming-lab@glasgow.ac.uk.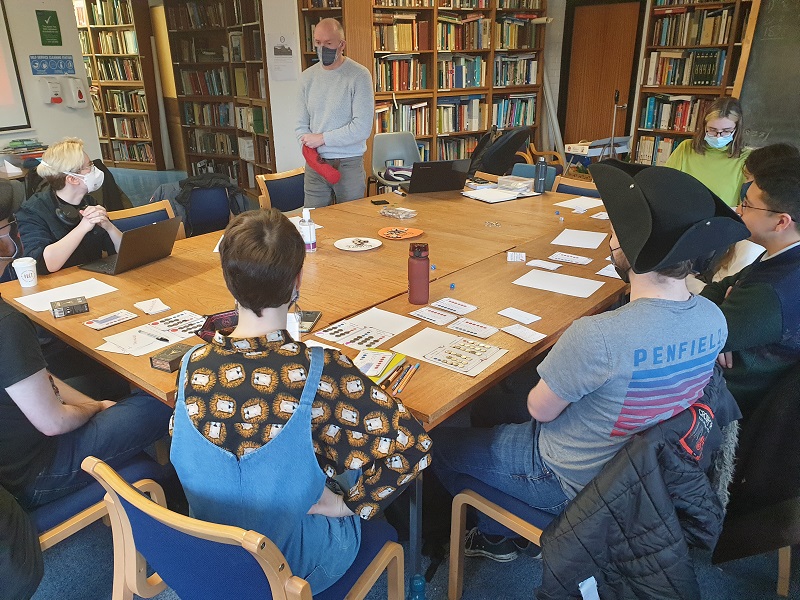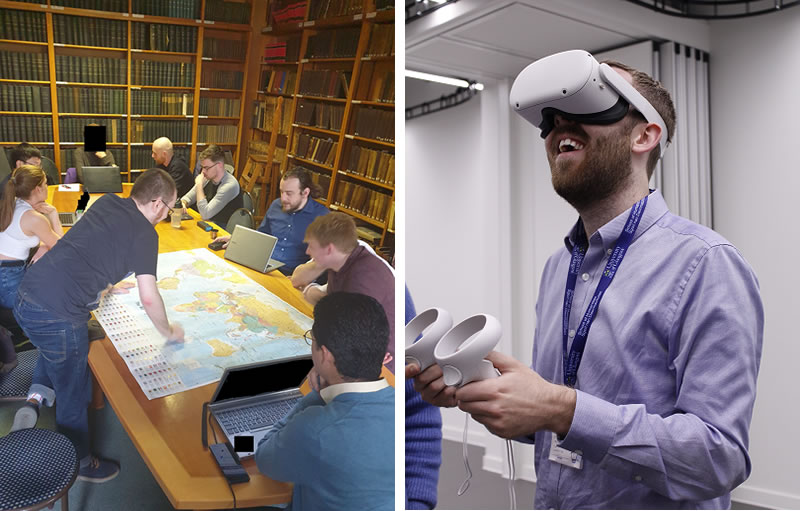 2022 Events
ARCadia Games Evening and Family Day (Thursday 22 September and Friday 23 September)
From Robert Burns' farm at Ellisland in Minecraft and a History of Costume in Fantasy Games to Games for Social Good, Arcade Games, ARCStream's game livestreaming, and a Skyrim Dialogue Challenge.
We are delighted to be supporting a number of games-related events organised by UofGGamesLab members in September. These are taking place as part of the ARCadia Festival launching Glasgow University's Advanced Research Centre, between 16-30 September 2022. Many of the games-related events are taking place on the Arcade Night Games Evening 22 September or on the Family Day on Friday 23 September.
Further information on the programme and individual events is available via this ARCadia webpage: https://www.gla.ac.uk/research/arc/arcadia/calendar/

Experiential Music Therapy Workshop (Wednesday 25 May, 2 pm)
Do you find your workspace noisy and stressful?
Want to reshape your acoustic environment?
Join UofGGamesLab's online 'Experiential Music Therapy Workshop, supported by The Dear Green Bothy, as part of responses to our audio 'environments'.
The workshop, led by creative practitioners, explores our sound environment and creative ways to control it, inspired by games soundtracks!
It will take place on the 25th of May, from 2 pm to 3:30 pm UK-time. Places are limited so sign up at the Eventbrite link below. https://www.eventbrite.co.uk/e/experiential-music-therapy-control-your-sound-environment-tickets-328098871557
Choral Contemplations IX: Choral Music from Game Soundtracks - Free concert - Glasgow University Chapel Choir and Organ (Tuesday 8th March, 6 pm - online and live in-person)

Happening on Tuesday 8th March at University of Glasgow:
"A free concert exploring choral music from game soundtracks.
We will be taking a retiring collection for the DEC Ukraine Appeal. www.dec.org.uk/appeal/ukraine-humanitarian-appeal.
Performed by the Chapel Choir, with Kevin Bowyer on organ.
Including music by:
Prayer for Ukraine by Mykola Lysenko (1842–1912)
Jonathan Williams (Horizon Zero Dawn)
Jessica Curry (Everybody's gone to the Rapture, So let us melt)
Andrea Boccadoro
In person and streamed live via the Chapel Choir YouTube channel."
https://youtu.be/GF46T2H4flI%E2%80%8B
'Press Start: Getting into AAA Game Audio' - Career Workshop in Game Audio (24 February, 3 pm GMT)

"How do you move into a career in game audio? In this session, audio specialist Alexander Horowitz unpacks his route into working in professional game development, from initial training and entry-level roles through to taking more responsibility for the audio of large-scale projects."
Online via Zoom. Further details and sign up through Eventbrite: https://www.eventbrite.co.uk/e/press-start-getting-into-aaa-game-audio-tickets-260162732737
2021 Events
Project Tempest: Environmental Wargame (Creative responses during COP26, wargame TBC December 2021)
A game/crisis simulation involving postgraduate students from different programmes across Colleges at the University (including History/War Studies), playing the role of decision makers responding to a simulated environmental crisis - flooding the city of Glasgow virtually!
This game is being custom created in a partnership between staff and students from different disciplines, including historical research into flooding and Glasgow's experience of such disasters.
We are also, during COP26, running online creative brainstorming with students of the scenario/elements of this crisis game/simulation. Tempest is part of Project AWARE (Access to Wargaming in Education), which is exploring the co-creation of educational games and supporting software, as well as ways of making the future creation of these transferable across Subjects and across in-person/online formats.
Games Sustainability Hackathon (Saturday 13th November 2021)
A hybrid online and in-person creative hackathon, bringing together businesses, charities, local community groups, gamers, students, and academics. Supported by the AHRC as part of the Being Human Festival. The aim is to work in small groups to brainstorm (and present creatively) new strategies for combining communities/businesses with academic research to make board, card, and video games more environmentally friendly/conscious of environmental crisis, as well as how we represent the environment in such games. Partners range from NYU Game Center to the UofG Alumni creator of the card game 'Ecodex' and the local performance charity Tinderbox Collective. The event will aim to 'plant seeds' for future collaboration/engagement.
Eventbrite link for booking: https://www.eventbrite.co.uk/e/games-sustainability-hackathon-tickets-172880128117?aff=ebdssbeac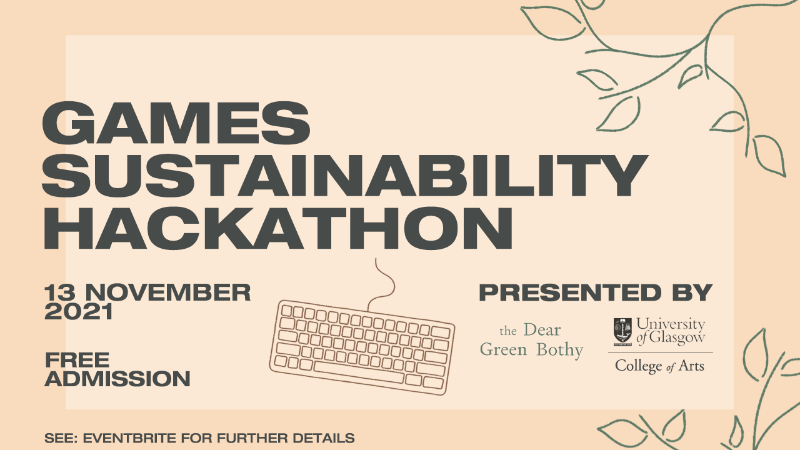 Eco Echoes: Games and Music Jam - GGLab/Tinderbox Collective (Saturday 6th November 2021)
An environmentally themed music and game jam hosted by Tinderbox Collective in partnership with GGLab, participants creating games (whether simple board games made from recycled material lying around your house or programming you own video games) and/or music over a day, and then combining/showcasing these virtually online. Includes some live music and a short talk from an artist and game designer.
Eventbrite link: https://www.eventbrite.co.uk/e/eco-echoes-tinderbox-game-music-jam-tickets-171105169167?aff=ebdssbeac
'Carbon Collector' game - GGLab/NYU collaboration - at the COP26 Green Zone (Friday 5th November 2021) and the Glasgow University Sustainable Solutions Showcase (Tuesday 9th November 2021)
Can you map out a strategy to stay within our carbon budget? Play 'Carbon Collector' to find out! A research-driven multiplayer game, demonstrating carbon removal as an important tool in an overall climate change solution, using smartphones as controllers and observing the game on a large screen. Accompanied by gaming-related environmental debriefings and previewing related work. A collaboration between GGLab and NYU's Game Center, this will feature both in the COP26 Green zone at different stalls on 5th November, and all day at the University's Sustainable Solutions Showcase on 9th November.
Carbon Cost Calculathon (Running from early October to (initially) Friday 5th November 2021)
An online rolling calculathon activity, involving students, the University's outreach to schools, and anyone else interested, to crowdsource a virtual map of some environmental costs of gaming, from packaging to playing and board to video games: culminating in a presentation of a crowdsourced virtual collage, aiming to illustrate something of gaming's elusive carbon footprint, and to showcase Glasgow's research-led input into Citizen Humanities/environmental schools teaching.
Link to the survey (data gathered will be treated in accordance with relevant University policies and can be entered anonymously): https://forms.office.com/pages/responsepage.aspx?id=KVxybjp2UE-B8i4lTwEzyLhZPiiANztOhNBE7AVW0hhUMUwzQUpMT0NGSTZTN1g5RldKSjQ4QUdQUC4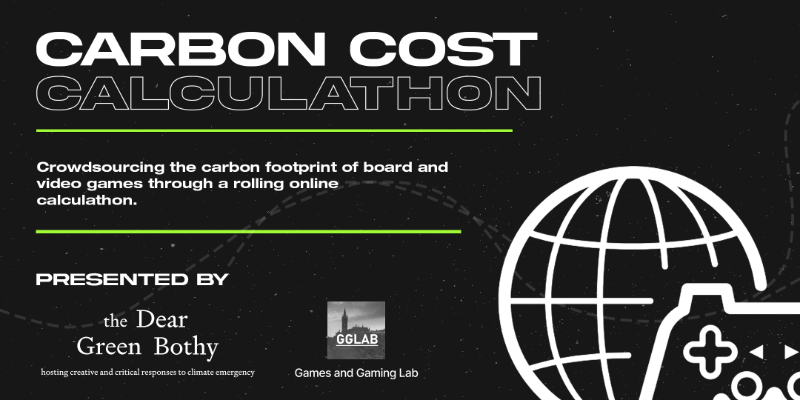 GGLab Invited Research Talk: Who is possible online? (Tuesday 28 September 2021, 1pm)
What tools for identity construction are available in the multiplayer game Counter-Strike: Global Offensive? How do the Finnish young men participating in the study (co)construct identities utilizing these tools? As they are also students taking part in an Esports programme, how is the in-game experience and educational context connected? These questions are central in Matilda's research and will be discussed in relation to community, diversity, and visuality, highlighting implications for possible online identities as well as implications for future game-related research endeavours.
Matilda Ståhl (MEd, certified primary teacher) is a doctoral candidate in Educational sciences at Åbo Akademi University, Finland. Matilda's presentation is based on her doctoral thesis which she hopes to defend later this autumn.
Explorathon: "Why don't women speak more in video games?" Workshop (Thursday 23 September 2021, 12pm-2pm)
This workshop is run by philosopher Steph Rennick (University of Glasgow), and linguist Seán Roberts (Cardiff University).
"Which characters talk, who do they talk to, and what do they say? We'll present results from an ongoing project to collect and analyse video game dialogue, and - through hands-on activities and discussion - start a conversation about gendered dialogue tropes and improving representation.
GameDev Mini Symposium: Roguelike Games (Thursday 16 September 2021, 4pm)
Organised by Juan Manuel Parrilla, Research Fellow in Chemistry at Glasgow, in partnership with GGLab.
Join us to hear insights from two leading experts on Roguelike Games Development. 'Game Development with Rust by Herbert Wolverson' and 'Developing Shattered Pixel Dungeon' by Evan Debenham.
Herbert has worked as a programmer and an indie game developer since the late 1990s. He has recently published the book "Hands-on Rust" where he shows how to build a roguelike game from scratch. Rust is an exciting new programming language combining the power of C with memory safety, fearless concurrency, and productivity boosters—and what better way to learn than by making games. https://pragprog.com/titles/hwrust/hands-on-rust/
Evan is the main developer behind the game Shattered Pixel Dungeon. "Shattered" is one of the most popular roguelike games in the Google Store, with over 1 million downloads and a rating of over 4.7/5." https://shatteredpixel.com/
Gotta Grow em' all: Let's Play Pokémon Environments (Saturday 21 August 2021, 3pm - 4pm)
A Virtual Field Trip through Pokémon Shield, part of both 'The Dear Green Bothy' and Pokémon's 25th anniversary celebrations. The link to the recording of the YouTube livestream is now available below and at our YouTube Channel.
Link to recording: https://www.youtube.com/watch?v=JBJsBI-f_R0
D&D and Fantasy Fiction: Giants in the Oerth
Calling all aspiring adventurers! Join us on on 28th January 2021 at 6pm (GMT) on a quest to uncover the literary history behind Dungeons & Dragons with scholar and RPG editor John D. Rateliff, in this event co-hosted by the Centre for Fantasy and the Fantastic and the Games and Gaming Lab at the University of Glasgow. More details about the event here: https://fantasy.glasgow.ac.uk/
2020 Events
Research Support Games Day
10:00 - 17.10 GMT, 8 December 2020
The second annual event in this series, run by GGLab member Valerie McCutcheon. 100 attendees! (You can read Valerie's report on the 2019 version here.)
Digital Feelz
19.30-20.30 GMT, 28 November 2020
Discussion/playthrough led by GGLab member Gabriel Elvery, as part of the Explorathon 2020 programme. Detail on the Explorathon site here.
Gaming: New Horizons
15:00-16:00 GMT, 14 November 2020
An event as part of the 'Being Human' Festival. 45 people attended this virtual field trip. You can see a video on the Lab's YouTube channel here.
Digital Heroisms
12:00-17:00PM GMT, August 5th, 2020

Digital Heroisms is an online conference exploring Fantasy, the digital and the concept of heroism in collaboration with the Games and Gaming Lab based at UofG College of Arts, University of Glasgow School of Critical Studies and Game Studies at Glasgow.
Register for the event: https://digitalheroisms.eventbrite.com

"The power of the fantasy increases if it offers us something genuinely new and compelling. The limitations of our own corporeality can be abolished or the ground rules changed to give us new experiences."
KATHRYN HUME

Where readers once understood heroism through a Gilgamesh, a Frodo or a Katniss, the digital subject can now figure heroism through actions, decisions and events that are in many ways their own. Video gaming has an especial talent for creating heroes that are lived-through by their users, whether this is via the experience of leading characters such as Link through the temples of Hyrule; via choice-based play utilising avatars such as Frisk of Undertale fame; or by creating entirely unique personas in role play games such as Dragon Age. In a contemporary moment enabled and mediated by a multiplicity of digital spaces, the way we conceptualize heroism will be both enabled and contaminated by games, the virtual, and ever-increasing screentime. The realm of the digital, functioning as a receptacle of imagination can equip players with the means to express the self. Digital spaces can serve as a conduit for both ludic and fantastical impulses. Heroic research must adapt to this interactive environment – its places, its communities, its values – if it is to keep a handle on the heroic constellation formed of informatic, computational and digital materials.

Fantasy scholars and authors alike have sought to define the Fantasy genre. Whether that be as experienced by characters as 'hesitation' (Todorov, 1970), a loose genre that can be described as a 'fuzzy set' (Attebery, 1992), or as being 'the mirror of mimetic literature and its inner soul' (Mendlesohn, 2008), digital iterations of fantasy have enhanced and extended our capability to experience the immersion of fantastic worlds. Though Fantasy video games may pay tribute to the literature from which it sprang, each form with its differing modes of performance allows the Fantastic an opportunity be presented in all of its heterogeneity; players are given the opportunity to experience a new kind of protagonism, a heroism that enables the player to effect and interact with fantasy narratives. The interactivity offered by video games can enable players to experience the self in new ways, whether that be through choice-based narratives, the player-led exploration of a Walking-Simulator or via avatars which enable players to live the 'posthuman fantasy of extending the human subject beyond itself' (Boulter, 2015) and craft fantasy personas.

The symposium will be seeking submissions for 20 min papers on themes such as, but not limited to, the following topics:
Defining/constructing digital heroism
The converging interests of fantasy and digital heroism
Digital and fantastic video game environments and their effect on heroism
Fantasy video games and avatar creation
Fantastic VR experiences, the self, and digital heroism
The social/theoretical implications of digital iterations of fantasy
Considerations of digital spaces as fantastic ones
Heroic fantasy video game character(istics)
Considerations of what heroism means in the digital age
Problems with digital heroism
Digital heroism examined through:

Convergence culture
Participatory culture
Feminism
Postcolonialism
Queer Studies
Disability Studies
——————————————————————————————————-
Organising Committee:
Monica Vazquez (University of Glasgow)
Gabe Arcana (University of Glasgow)
Francis Butterworth-Parr (University of Glasgow)
Facebook: Digital Heroisms
Twitter: @DigitalHeroisms
Instagram: Digital Heroisms
Book Launch: Graduate Skills and Game-Based Learning
5pm-6pm, Tuesday 11 February 2020
Room 423, Sir Alwyn Williams Building [map]
Join us to mark the publication of Graduate Skills and Game-Based Learning (Palgrave), by Games & Gaming Lab co-director, Dr Matthew Barr.
There will be wine and nibbles, as well as an opportunity to play some of the games Matt talks about in the book!
About the book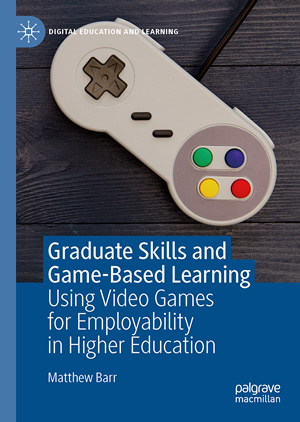 This book explores the efficacy of game-based learning to develop university students' skills and competencies. While writing on game-based learning has previously emphasised the use of games developed specifically for educational purposes, this book fills an important gap in the literature by focusing on commercial games including Portal 2, Borderlands 2, Lara Croft, Warcraft and Minecraft. Underpinned by robust empirical evidence, the author demonstrates that the current negative perception of video games is ill-informed, and in fact these games can be important tools to develop graduate skills related to employability. Speaking to very current concerns about the employability of higher education graduates and the skills that university is intended to develop, this book also explores the attitudes to game-based learning as expressed by instructors, students and game developers.
https://doi.org/10.1007/978-3-030-27786-4
Matthew Barr is a lecturer at the University of Glasgow, UK, where he convened the university's first game studies course and founded the peer reviewed student game studies journal Press Start. He is currently Programme Director for the Graduate Apprenticeship in Software Engineering, and a co-director of the University's Games and Gaming Lab. He serves as Vice Chair of British DiGRA (the Digital Games Research Association) and as a Director & Trustee of the Scottish Game Developers Association. He is also the current Chair of the BAFTA Scotland Games Jury.
Endorsements
Graduate Skills and Game-Based Learning offers us a new tool for the heart and soul of graduate education, a tool for experimentation, risk-taking, creativity, and using failure as a form of learning. These are just the bits where we need the most help.
— James Paul Gee, Mary Lou Fulton Presidential Professor of Literacy Studies, Regents' Professor, Arizona State University
A compelling read for any faculty member who is considering whether and how to use games in their teaching. This book provides practical recommendations and robust research evidence about how students can learn important transferable skills through gaming.
— Professor Judy Robertson, Chair in Digital Learning, University of Edinburgh
This book provides a much needed foundation for games in learning, linking them explicitly to graduate attributes and pedagogic theory. Moving beyond potential and advocacy, Barr grounds the application in empirical research, while also clearly setting out the perspectives of educators and students. It provides a very insightful account of how games can be used effectively in higher education, and also the issues involved.
— Martin Weller, Professor of Educational Technology at the Open University, President of the Association for Learning Technology (ALT)
This work provides key insights to using games as pedagogical tools in graduate education, positioning games in the classroom, and understanding the views and opinions of graduate students in engaging with such efforts. It explores the themes of games as tools for inquiry and experiential learning in ways that are both grounded in relevant theory and wonderfully concrete for practicing educators. I have no doubt that this will prove to be an important work for those in the field.
— Andrew Phelps, Professor, Human Interface Technologies Laboratory, University of Canterbury, and Professor and Director, American University Game Lab
2019 Events
Space in Gaming
Tuesday 19 November 2019, 15:30 – 18:30
Wolfson Medical School Building, University Avenue, Glasgow G12 8QQ [map]
Tickets: https://www.eventbrite.co.uk/e/space-in-gaming-tickets-79980516879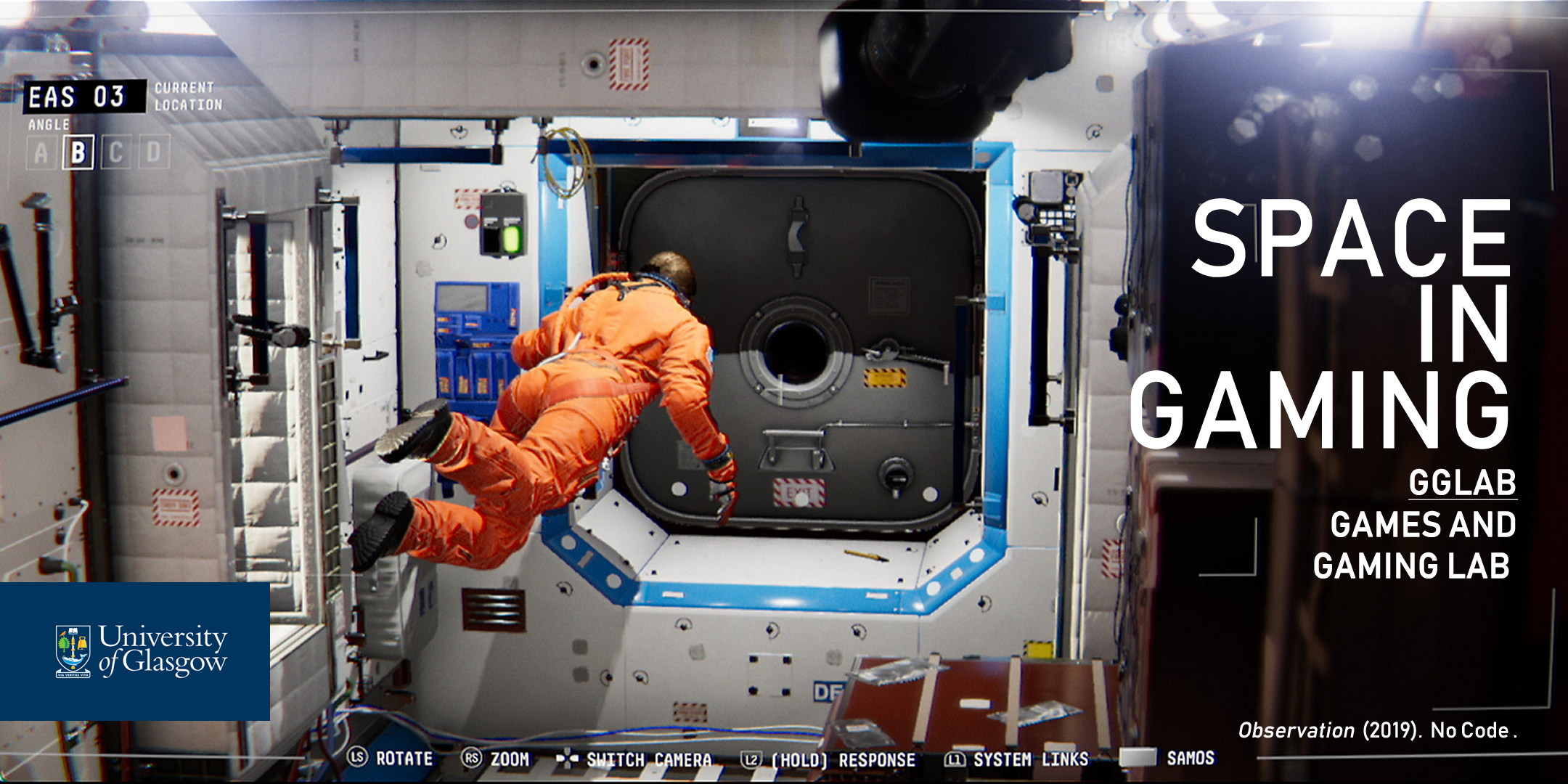 On Apollo 12's 50th anniversary, hear insights of Astrogamers and BAFTA-winning games developers, and see stalls showcase gaming research.
On the anniversary of Apollo 12's landing on the Moon, join us for "Space in Gaming", hearing talks from:
Scott Manley - Glasgow Alumni in San Francisco, Programmer and Astrogamer, whose Youtube channel of nearly 1 million followers broadcasts insightful videos combining space, science and gaming.
NoCode - Glasgow-based Games Developers, whose BAFTA-award winning space game Observation has been praised by reviewers as "making you think about humanity's place in the cosmos and, perhaps, the deeper mysteries of universe".
The event is also a "space" in gaming, with Flash talks and stalls celebrating gaming research by scholars from across the University, ranging from the Legally Wed board game about marriage law, to a live demonstration of WW2 and Jacobite Wargaming with miniatures.
Hosted by Glasgow University's Games and Gaming Lab (GGLab)
#GGatUofG @UofGGamesLab
3.30-4.00 - Browse the stalls (Atrium)
4.00-5.00 - Talks by Scott Manley and NoCode (Yudowitz Room - free but ticketed)
5.00-5.15 - Tea/Coffee (Atrium)
5.15-6.00 - Flash talks about gaming research across the University (Atrium)
6.00-6.30/7.00 - Browse the stalls/networking (Atrium)
The stalls include contributions from Research Projects, Scholars, Labs and Networks, with Flash talks on:
Legally Wed (Prof Jane Mair, Dr Frankie McCarthy and Felicity Belton)
Wargaming (Prof Tony Pollard)
Engineering and Gaming (Prof George Barakos and Dr Rene Steijl)
Archives and Special Collections (Robert MacLean)
Immersive Experiences Lab (Dr Rachel Opitz)
Digital Cultural Heritage Network (Dr Gareth Beale)
Im/Material Network (Dr Rachel Opitz and Dr Gareth Beale)
Digital Creativity for Regional Museums (Dr Heather Christie and Dr Gareth Beale)
***
Event by the "Games and Gaming Beyond Entertainment" theme

When: Thursday 9 May 2019
Where: Kelvin Hall
Description: This event will include four talks by invited speakers, a "lightning talks" session for UofG staff and postgraduate presenters, and curated games running in the foyer.
Register on Eventbrite here
Hashtag: #GGatUofG
***
Event by the "Fantasy" theme

When: Friday 10 May 2019
Where: Kelvin Hall
Description: The Symposium brings together researchers, practitioners, and creative industry professionals to discuss theoretical and practical questions raised by using fantasy as a discourse and subject. This is the first step towards establishing a Centre for Fantasy and the Fantastic at the University of Glasgow.
The symposium will open with a showcase event, in which colleagues will give brief presentations on their engagement with fantasy/the fantastic. The afternoon session will address questions such as:
How can we define fantasy and what and how it means?
How can we work together to serve the fantasy scholarly and creative community in Glasgow and beyond?
How can a Centre for Fantasy and the Fantastic facilitate research and collaboration?
Contact: arts-fantasy@glasgow.ac.uk
Blog: Symposium on Fantasy and the Fantastic 2019