Monthly Spotlight and Highlights from across the University
Sustainability Spotlight, Dec 2021 - Zero Carbon Shelters for Impoverished Communities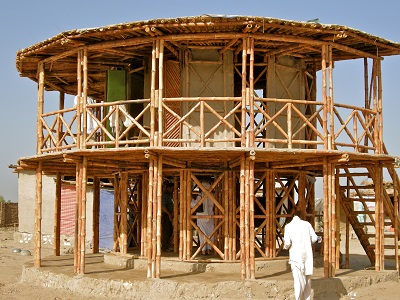 In response to climate change impact and the increasing frequency of natural disasters since 2005 in Pakistan, architect Yasmeen Lari has designed sustainable, affordable, climate-resilient structures drawn from vernacular traditions and local wisdom. She has also devised mechanisms for low-cost, affordable and DRR (Disaster Risk Reduction) methodologies for vulnerable and marginalised communities with a special focus on women.
Yasmeen's work is supported by the Heritage Foundation of Pakistan's partnership with Dr Azra Meadows and Mr Peter Meadows of the University of Glasgow's Institute of Biodiversity Animal Health & Comparative Medicine on projects building emergency homes (bamboo, stone, lime-mud) and disaster management and rehabilitation programmes funded by the Scottish Government International Development Fund. This includes a Disaster Preparedness Manual in English and in Urdu, accompanied by a video of street theatre on disaster preparedness.
This work has been tested in the field over the past 15 years by building in post-disaster areas across Pakistan – from the plains of Sindh to the mountainous regions of the North. The Zero Carbon Women Centre (pictured) has been built in areas which are often flooded. By employing specially developed construction techniques, the strength and resilience of this structure, which is built with low-cost sustainable materials (earth, lime, and bamboo) has surpassed conventional concrete and steel.
Women Centre's bamboo structure is designed on stilts so that communities can find safety when the surrounding area is flooded. During other periods the first floor is used by community women, for whom there is a real lack of interaction spaces in rural Pakistan, while the ground floor with the shaded area can provide recreational facilities for children during hot weather.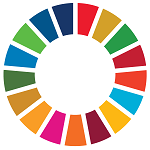 Through use of these materials and the emphasis on self-building and co-building, this work contributes to twelve UN Sustainable Development Goals.
Yasmeen's Zero Carbon Channel on YouTube is making tutorials and training workshops available in Pakistan and internationally. Many NGOs and village communities have begun to adopt the zero carbon methodologies to self-build affordable units. The aim is to reach out to impoverished communities through technology and provide social and ecological justice for everyone, particularly women.
UofG at COP26: A Video Round-up!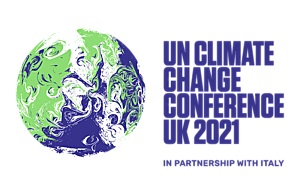 Sustainability in Student Life
Student-led course:
Student groups:
Student successes:
Sustainability on Campus
The University is working hard across all areas of activity to promote our own contribution to environmental sustainability as an organisation, from top-level strategic policy, planning and partnerships, through important day-to-day activities like travel, food, energy supply, student life, and more. See what's happening here.
UN Sustainable Development Goals at Glasgow
The UN Sustainable Development Goals (SDGs) are a global blueprint to achieve a better and more sustainable future for all. They address the global challenges we face, including those related to poverty, inequality, climate change, environmental degradation, peace and justice.
Sustainability in the College of Arts
The College of Arts community is contributing to environmental sustainability in many creative ways! Check out the links below:
Photograph courtesy of Xabier Cid, under Creative Commons CC BY-SA.
Sustainability in the College of Science & Engineering
The College of Science and Engineering investigates the history, causes and effects of environmental degradation, discovers practical solutions for sustainability, and works with the University to apply solutions across our campus and beyond. Here are a few tasters of what's happening:
Sustainability in the College of Social Sciences
The contribution that the College of Social Sciences makes toward environmental sustainability and justice covers a fascinating range of research areas, from sustainable consumption, through lifelong learning to empower citizens, to understanding the legal requirements for mitigating climate change, to understanding and using the wealth of complex data available for planning our collective future. Here are some tasters:
Sustainability in the College of Medical, Veterinary and Life Sciences
The College of Medical, Veterinary and Life Sciences (MVLS) brings a wealth of research expertise to bear on how climate change and environmental degradation affect the human, animal and broader natural world, and how these problems can be solved. Some tasters: