Directors
Jane Draycott
Timothy Peacock
Dimitra Fimi
Matthew Barr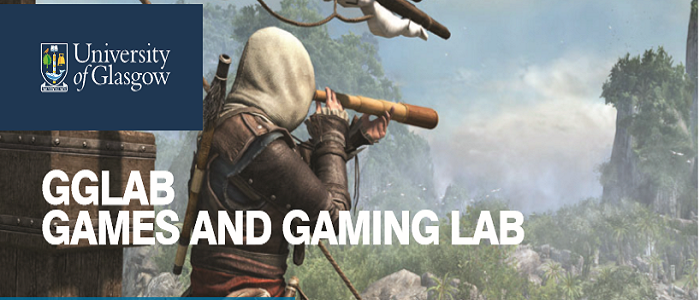 Games and Gaming
The Lab promotes cross-disciplinary Arts Research into Games and Gaming, from Tabletop to Electronic media, from Children to Adults, and across time periods from Ancient to Modern, Fantasy, and Futuristic.
Associated Staff:
Directors
Jane Draycott
Timothy Peacock
Dimitra Fimi
Matthew Barr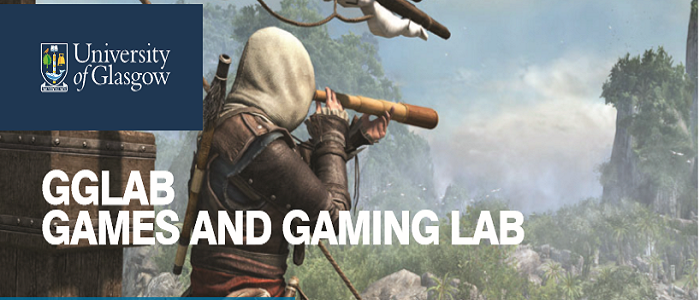 2020 Events
Book Launch: Graduate Skills and Game-Based Learning
5pm-6pm, Tuesday 11 February 2020
Room 423, Sir Alwyn Williams Building [map]
Join us to mark the publication of Graduate Skills and Game-Based Learning (Palgrave), by Games & Gaming Lab co-director, Dr Matthew Barr.
There will be wine and nibbles, as well as an opportunity to play some of the games Matt talks about in the book!
About the book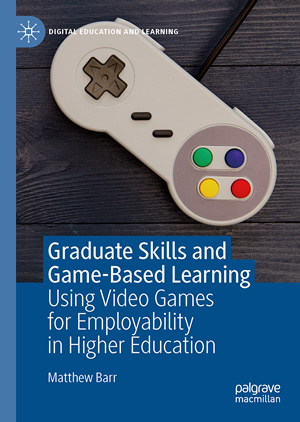 This book explores the efficacy of game-based learning to develop university students' skills and competencies. While writing on game-based learning has previously emphasised the use of games developed specifically for educational purposes, this book fills an important gap in the literature by focusing on commercial games including Portal 2, Borderlands 2, Lara Croft, Warcraft and Minecraft. Underpinned by robust empirical evidence, the author demonstrates that the current negative perception of video games is ill-informed, and in fact these games can be important tools to develop graduate skills related to employability. Speaking to very current concerns about the employability of higher education graduates and the skills that university is intended to develop, this book also explores the attitudes to game-based learning as expressed by instructors, students and game developers.
https://doi.org/10.1007/978-3-030-27786-4
Matthew Barr is a lecturer at the University of Glasgow, UK, where he convened the university's first game studies course and founded the peer reviewed student game studies journal Press Start. He is currently Programme Director for the Graduate Apprenticeship in Software Engineering, and a co-director of the University's Games and Gaming Lab. He serves as Vice Chair of British DiGRA (the Digital Games Research Association) and as a Director & Trustee of the Scottish Game Developers Association. He is also the current Chair of the BAFTA Scotland Games Jury.
Endorsements
Graduate Skills and Game-Based Learning offers us a new tool for the heart and soul of graduate education, a tool for experimentation, risk-taking, creativity, and using failure as a form of learning. These are just the bits where we need the most help.
— James Paul Gee, Mary Lou Fulton Presidential Professor of Literacy Studies, Regents' Professor, Arizona State University
A compelling read for any faculty member who is considering whether and how to use games in their teaching. This book provides practical recommendations and robust research evidence about how students can learn important transferable skills through gaming.
— Professor Judy Robertson, Chair in Digital Learning, University of Edinburgh
This book provides a much needed foundation for games in learning, linking them explicitly to graduate attributes and pedagogic theory. Moving beyond potential and advocacy, Barr grounds the application in empirical research, while also clearly setting out the perspectives of educators and students. It provides a very insightful account of how games can be used effectively in higher education, and also the issues involved.
— Martin Weller, Professor of Educational Technology at the Open University, President of the Association for Learning Technology (ALT)
This work provides key insights to using games as pedagogical tools in graduate education, positioning games in the classroom, and understanding the views and opinions of graduate students in engaging with such efforts. It explores the themes of games as tools for inquiry and experiential learning in ways that are both grounded in relevant theory and wonderfully concrete for practicing educators. I have no doubt that this will prove to be an important work for those in the field.
— Andrew Phelps, Professor, Human Interface Technologies Laboratory, University of Canterbury, and Professor and Director, American University Game Lab
2019 Events
Space in Gaming
Tuesday 19 November 2019, 15:30 – 18:30
Wolfson Medical School Building, University Avenue, Glasgow G12 8QQ [map]
Tickets: https://www.eventbrite.co.uk/e/space-in-gaming-tickets-79980516879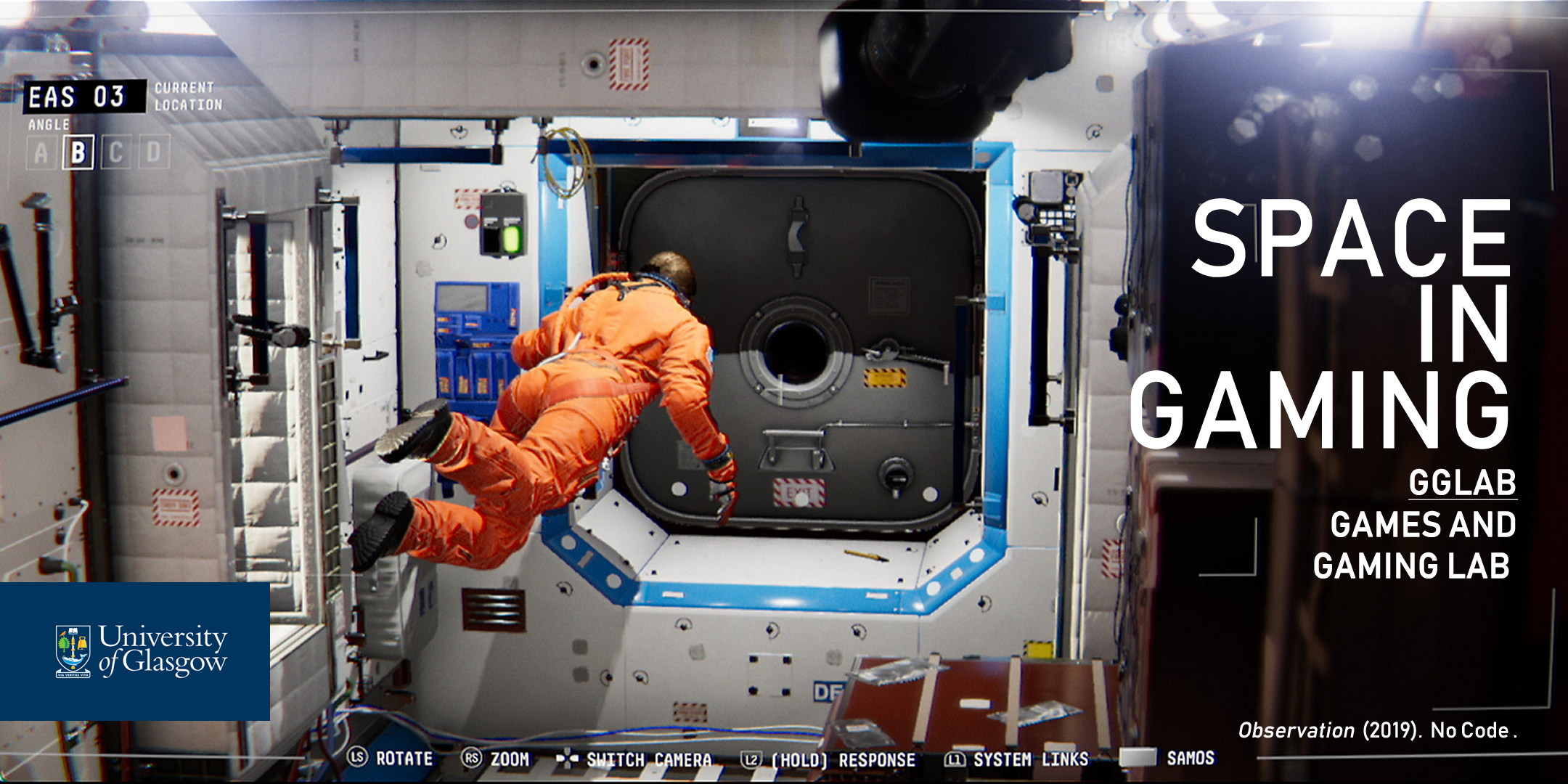 On Apollo 12's 50th anniversary, hear insights of Astrogamers and BAFTA-winning games developers, and see stalls showcase gaming research.
On the anniversary of Apollo 12's landing on the Moon, join us for "Space in Gaming", hearing talks from:
Scott Manley - Glasgow Alumni in San Francisco, Programmer and Astrogamer, whose Youtube channel of nearly 1 million followers broadcasts insightful videos combining space, science and gaming.
NoCode - Glasgow-based Games Developers, whose BAFTA-award winning space game Observation has been praised by reviewers as "making you think about humanity's place in the cosmos and, perhaps, the deeper mysteries of universe".
The event is also a "space" in gaming, with Flash talks and stalls celebrating gaming research by scholars from across the University, ranging from the Legally Wed board game about marriage law, to a live demonstration of WW2 and Jacobite Wargaming with miniatures.
Hosted by Glasgow University's Games and Gaming Lab (GGLab)
#GGatUofG @UofGGamesLab
3.30-4.00 - Browse the stalls (Atrium)
4.00-5.00 - Talks by Scott Manley and NoCode (Yudowitz Room - free but ticketed)
5.00-5.15 - Tea/Coffee (Atrium)
5.15-6.00 - Flash talks about gaming research across the University (Atrium)
6.00-6.30/7.00 - Browse the stalls/networking (Atrium)
The stalls include contributions from Research Projects, Scholars, Labs and Networks, with Flash talks on:
Legally Wed (Prof Jane Mair, Dr Frankie McCarthy and Felicity Belton)
Wargaming (Prof Tony Pollard)
Engineering and Gaming (Prof George Barakos and Dr Rene Steijl)
Archives and Special Collections (Robert MacLean)
Immersive Experiences Lab (Dr Rachel Opitz)
Digital Cultural Heritage Network (Dr Gareth Beale)
Im/Material Network (Dr Rachel Opitz and Dr Gareth Beale)
Digital Creativity for Regional Museums (Dr Heather Christie and Dr Gareth Beale)
***
Event by the "Games and Gaming Beyond Entertainment" theme

When: Thursday 9 May 2019
Where: Kelvin Hall
Description: This event will include four talks by invited speakers, a "lightning talks" session for UofG staff and postgraduate presenters, and curated games running in the foyer.
Register on Eventbrite here
Hashtag: #GGatUofG
***
Event by the "Fantasy" theme

When: Friday 10 May 2019
Where: Kelvin Hall
Description: The Symposium brings together researchers, practitioners, and creative industry professionals to discuss theoretical and practical questions raised by using fantasy as a discourse and subject. This is the first step towards establishing a Centre for Fantasy and the Fantastic at the University of Glasgow.
The symposium will open with a showcase event, in which colleagues will give brief presentations on their engagement with fantasy/the fantastic. The afternoon session will address questions such as:
How can we define fantasy and what and how it means?
How can we work together to serve the fantasy scholarly and creative community in Glasgow and beyond?
How can a Centre for Fantasy and the Fantastic facilitate research and collaboration?
Contact: arts-fantasy@glasgow.ac.uk
Blog - Symposium on Fantasy and the Fantastic 2019