Dr Hadi Heidari
Lecturer in Glasgow College UESTC (Electronic and Nanoscale Engineering)
telephone: +44 (0)141 330 6789
email: Hadi.Heidari@glasgow.ac.uk
https://orcid.org/0000-0001-8412-8164
Research interests
Biography
Group webpage: www.gla.ac.uk/melab/
Hadi Heidari (PhD, SMIEEE) is a Lecturer in the School of Engineering and lead of the Microelectronics Lab (meLAB) at the University of Glasgow. He received his PhD in Microelectronics from the University of Pavia (Italy) in 2015, where he worked on Integrated CMOS Magnetic Sensory Microsystems. He spent Postdoctoral at the University of Glasgow before he joined the Glasgow College UESTC in 2016.
Dr Heidari is member of the IEEE Circuits and Systems Society Board of Governors (BoG), IEEE Sensors Council Administrative Committee (AdCom), IEEE Sensors Council Young Professional Representative and Senior Member of IEEE. He is on the Editorial Board of Microelectronics Journal, Guest Editor for the IEEE Sensors Journal, and Guest Associate Editor for the IEEE Journal of Electromagnetics, RF and Microwaves in Medicine and Biology and IEEE Access. He serves on the organising committee of several conferences including UK-China Emerging Technologies (UCET) Conference, IEEE SENSORS'16 and '17, NGCAS'17, BioCAS'18, PRIME'15, and the organiser of several special sessions on the IEEE Conferences.
Dr Heidari has authored or co-authored over 50 peer-reviewed publications in international journals or conference proceedings and acts as a reviewer for several journals and conferences. He has received several best paper awards from IEEE international conferences including ISCAS'14, PRIME'14, ISSCC'16, and travel scholarship from IEEE NGCAS'17. He was a research visitor with the University of Macau, China, and McGill University, Canada.
His research interests include:
Microelectronics Design
Biomedical Circuits and Systems
Spintronics and Magnetic Sensors
Wearable and Implantable Devices
Grants
Recently funded research projects include:
EU FET-Proactive H2020 project, Hybrid Enhanced Regenerative Medicine Systems, ~€8.5m, Glasgow PI: ~€600k, 2019-2024
Royal Society Reseach Grant, "MAGLAB" RSG/R1/180269: Miniaturising Magnetic Biosensing Systems, £20k, 2018-19
Industrial Studentship, Miniaturising Magnetic Sensing Systems, £80k, 2017-20
Industrial Studentship, Power Management for Implantable Devices, £65k, 2016-19
Previous funded research projects:
Scottish Research Partnership in Engineering (SRPe), Magnetic Neuromorphic Computing, £5k, 2018
Rewards for Excellence Prize, University of Glasgow, £10k, 2018
NSFC China, Magnetic-based Air Pollution Monitoring, 630k RMB, 2017
Glasgow Knowledge Exchange, Magneto-Optical Air Quality Sensors, £15k, 2017-18
Chancellor's Fund, Gesture-Based Crane Machine, £2.5k, 2017
Principal's Early Career Mobility Scheme, £9k, 2016-18
IEEE Circuits and Systems Society Outreach fund, $4k, 2017
UK-China Workshop, ENE, School of Engineering, £4k, 2016
Supervision
The current/past students listed in the meLAB website: www.gla.ac.uk/melab
New PhD Studentship for Home/UK Students
A new PhD position for Home UK/EU Students for the new academic year is available:
G_HH_1: * CMOS-Based Magnetic Resonance Biomedical Sensors
Find out here for more information and please contact me to discuss further.

Information for Prospective Students
I am always looking for outstanding and exceptional students (both MEng/MSc thesis option and PhD). In particular, I'm looking for PhD applicants who have experience in Analog Circuit Design/Solid-State Sensors/Implantable and Wearable Electronics. If you are a prospective graduate student and you have some prior background in Circuit and Sensors (papers, projects, courses etc.) then please feel free to send me an email about yourself and your research interests. Information on the application process is available at:
Additional information
Esteem
2018-2020: Board of Governors (BoG), IEEE Circuits and Systems Society
2017-2018: Ad.Com. Member and Young Professional Rep., IEEE Sensors Council
2016-2018: Young Professional Chair, IEEE Sensors Council UK & Ireland Section
Journal Editorial Board
Editor, Microelectronics Journal
Guest Editor, IEEE Sensors Journal
Guest Editor, IEEE J. of Electromagnetics, RF and Microwaves in Medicine and Biology
Guest Editor, IEEE Access Journal
Guest Editor, Applied Science Journal
Guest Editor, Sensors Journal
Scientific Events
2023:
IEEE ISCAS Conference, Special Session Chair, Monterey, CA, USA
2018:
IEEE BioCAS Conference, Publicity/Media Chair, Cleveland, USA
IEEE DeSE Conference, Technical Program Chair, Cambridge, UK
IEEE ISCAS Conference, Special Session Organiser, Florence, Italy
2017:
UK-China (UCET) Workshop, General Chair, Chengdu, China
IEEE SENSORS Conference, Social Media Chair, Glasgow, UK
IEEE NGCASConference, Track Chair, Genova, Italy
IEEE ISCAS Conference, Special Session Chair, Baltimore, USA
2016:
IEEE SENSORS Conference, Social Media Chair, Orlando, USA
IEEE ISCAS Conference, Special Session Chair, Montreal, Canada
2015: IEEE PRIME Conference, Local Organizing Committee, Glasgow, UK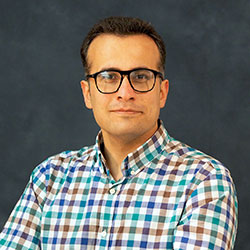 Room 533a, James Watt Building (South), School of Engineering, University of Glasgow