PUBLIC ENGAGEMENT AND KNOWLEDGE EXCHANGE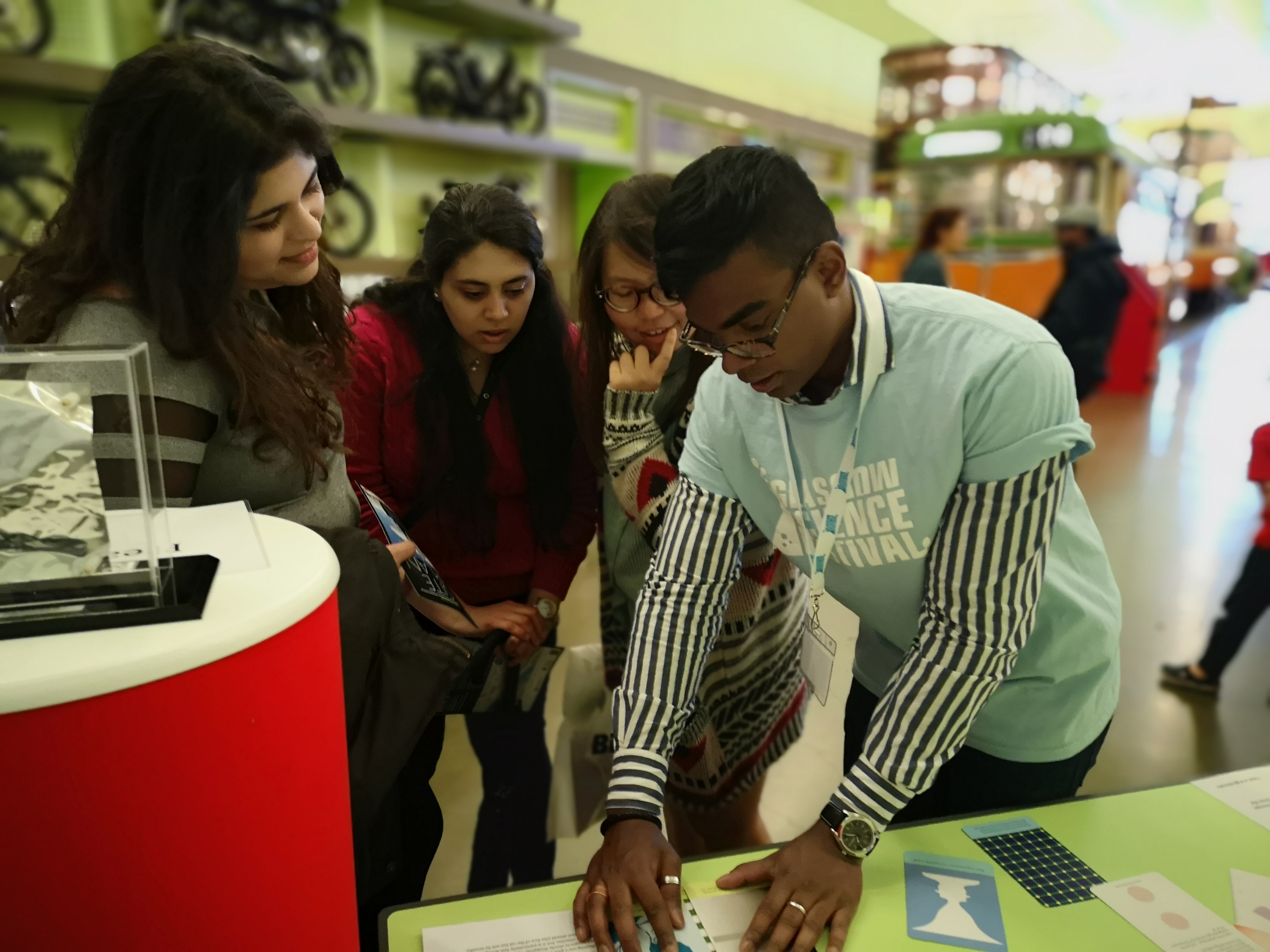 The Centre for the Study of Perceptual Experience is committed to advancing the public understanding of philosophy by communicating our research to a public audience.
Researchers at the Centre participate in a variety of public engagement and knowledge exchange activities including public lectures, science festivals, articles and interviews for popular media, social media platforms, and maintenance of an online visual and auditory illusions library.
We welcome opportunities for future collaboration, and are available to comment on a wide range of issues relating to the science and philosophy of perception and mind.
Public activities and events
Date
Event
Venue
27-28 September 2019
Explorathon 2019 - research stall
Riverside Museum
8-9 June 2019
Glasgow Science Festival 2019 - research stall
Riverside Museum
5-7 April 2019
Extreme Imagination Confererence 2019
Univeristy of Exeter
30 March - 2 June 2019
Extreme Imagination: Inside the mind's eye - Exhibition 2019
Royal Albert Memorial Museum, Exeter
11 January - 3 March 2019
Extreme Imagination: Inside the mind's eye - Exhibition 2019
Tramway, Glasgow
29 September 2018
Explorathon 2018
Riverside Museum
15-16 June 2018
Glasgow Science Festival 2018 - research stall
St Enoch Centre, Glasgow
29 September, 2017
Explorathon 2017- research stall
Glasgow, The Riverside Museum
18 June 2017
Glasgow Science Festival 2017- research stall
University of Glasgow, Kelvin Gallery
6 - 11 June 2017
Cheltenham Science Festival 2017- research stall
Bath Road, Cheltenham
5 May 2017
Glasgow Science Centre Lates- research stall
Glasgow Science Centre
29 April 2017
Question of Perception Celebration Event- research stall
Glasgow Science Centre
30 September 2016
European Researchers' Night: Explorathon '16
Glasgow Science Centre
7 July 2016
Understanding the Senses: Past & Present Project Public Lecture and Poetry Reading by Dr. Nuala Watt (University of Glasgow) (40 attendees)
The Gilchrist Club, University of Glasgow
6 July 2016
Understanding the Senses: Past & Present workshop reception and manuscript exhibition
University of Glasgow Library
17 June 2016
Beer: History, Philosophy, and Science
Gilchrist Club, University of Glasgow
11–12 June 2016

Glasgow Science Festival 2016- research stall
- Public lecture by Professor Fiona Macpherson and Dr David Simmons on the Philosophy and Psychology of Colour (over 150 registered participants)
- Public lecture by Dr David Bain on Pains that are Not Unpleasant (over 100 registered participants)

Kelvingrove Art Gallery and Museum, Glasgow
26 March 2016
Theatre performance: Michael Brady, 'Summer. Autumn. Winter. Spring.'
Old Granada Studios, Manchester
March 2016
Discussion panel: Michael Brady, 'On the Couch' and 'SICK! Lab 2016'
SICK! Festival, Manchester
November 2015
Keynote lecture: Fiona Macpherson, 'Illusion and Perception', at the Hutchesons' Annual Approaching Philosophy Conference for school children (170 attendees)
Hutchesons' Grammar School, Glasgow
28 Sept–29 Nov 2015
Keith Wilson and Fiona Macpherson contributed an 'Impossible Lego object' to the Objects of Research exhibition
Kelvingrove Art Gallery and Museum, Glasgow
25 September 2015
European Researchers' Night: Explorathon '15
Glasgow Science Centre
8 June 2015
Public lecture: Fiona Macpherson, 'Vision, Perception and Illusion', with Colin Blakemore at the Glasgow Science Festival (200 attendees)
University of Glasgow
7 June 2015
Public lecture: Michael Brady, 'The Value of Suffering' at the Glasgow Science Festival
University of Glasgow
6–8 June 2015
CSPE at the Glasgow Science Festival
Kelvingrove Gallery and Museum
4 June 2015
Public talk: Keith Wilson, introduction to outdoor screening of The Matrix and interview on philosophy and science-fiction at the Glasgow Science Festival
University of Glasgow
19 March 2015
Public talks: Jennifer Corns, Fiona Macpherson, Keith Wilson – Late Night Science: Illusion and Perception
The Research Club, Ashton Lane, Glasgow
6 March 2015
Public lecture: Michael Brady, 'Why is Suffering Valuable?'
University of Glasgow
December 2014
Talk to Eye Surgeons: Fiona Macpherson, 'Philosophy of Hallucination and Perception'
King's College Hospital, London
21 November 2014
The Hidden Senses: the secrets of taste and smell, part of the Rethinking the Senses project
The Dana Centre, London
16 November, 2014
PUblic lecture: Michael Brady, "The Philosophy of Pain and Suffering"
Glad Cafe, Glasgow
October 2014
Public lecture: Fiona Macpherson, 'Philosophy of Hallucination and Perception', lunchtime masterclass series
Centre for Open Studies, University of Glasgow
26 September 2014
European Researchers' Night: Explorathon '14
Glasgow Science Centre
June 2014
Public lecture: Fiona Macpherson, 'Philosophical Views of Hallucination and Perception', at the Out of Our Heads art exhibition on hallucination
Shoreditch Town Hall, London
May 2014
Keynote speaker: Fiona Macpherson, 'Individuating the Senses', The Human Senses: Inspire Gatherings
School of Music and Fine Art, University of Kent
April 2014
Speaker: Fiona Macpherson, at Conversations in Mind/Brain/Behaviour interfaculty event, debating with Professor Robert Stickgold (Harvard)
Harvard University
December 2013
Discussion leader: Fiona Macpherson, Data, Dada, Data: the Next Big Confluence of Art, Science and Technology workshop organised by UCLIC, UCL
Cumberland Lodge
July 2013
Public lecture: Fiona Macpherson, 'How Many Colours Are in the Rainbow? Lessons from the Variability of Perception'
University of Latvia, Riga, Latvia
November 2012
Discussion leader: Fiona Macpherson, Creative Dining, Cooking and Technology workshop, organised by UCLIC, UCL
John Salt Restaurant, Islington
March 2012
Public exhibition and conference: Sensory Substitution and Augmentation [video]
British Academy, London
November 2011
Michael Brady, philosophical advisor for two theatre productions with Manchester-based theatre group Quarantine
Quarantine Theatre Group
May 2011
Public lecture and wine tasting: Fiona Macpherson (organiser), 'On the Blind Versus Sighted Tasting of Wine' with Professor Barry Smith (London) and Professor Charles Spence (Oxford)
University of Glasgow
Public articles
| Date | Details | Media |
| --- | --- | --- |
| 11 June 2017 | Guest blog post: Jennifer Corns, 'Why Pain is Not a Natural Kind' | History of Emotions Blog |
| 13 January 2016 | Article: David Bain, 'When Pain Isn't Painful' | The Philosophers' Magazine |
| 3 August 2015 | Guest blog post: Jennifer Corns, 'Problems with Placebos' | iCog Blog |
| 22 June 2015 | Guest blog post: Keith Wilson, 'Engaging the Senses at the Glasgow Science Festival' | AHRC Science in Culture blog |
| 15 January 2015 | 'Top PI Fiona Macpherson: Making Small Grants Count' | Research Professional |
| 23 December 2014 | Guest blog post: Keith Wilson, 'Taste and Smell: the hidden senses' | Being Human |
| 2 October 2013 | German newspaper article on Fiona Macpherson and Dimitris Platchias's Hallucination volume | Der Tagesspiegel |
| September 2013 | Article: Keith Wilson, 'Perception and Reality' | New Philosopher magazine |
| Autumn 2012 | Fiona Macpherson interviewed about her work on perception and the senses in 'A Shift in Perception', by Cynthia Macdonald | University of Toronto Magazine |
| November 2012 | Blog post: Fiona Macpherson, 'The Future of Dining Practices', which in part records the Creative Dining, Cooking and Technology workshop held at the John Salt Restaurant in Islington (see above) | Food for Thought: Thought for Food |
| August 2012 | Fiona Macpherson interviewed for 'Philosophy gender war sparked by call for larger role for women', by Kathryn Blaze Carlson | National Post Newspaper |
| January 2010 | Article: David Bain, 'Why does God allow natural disasters?' | BBC Magazine |
| May–July 2009 | Articles: David Bain's Brain Strain | BBC Magazine |
| November 2008 | Article: David Bain, 'Four philosophical questions to make your brain hurt' | BBC Magazine |
| Spring 2008 | Article: David Bain, 'Why philosophy should be taught in schools' | Breaktime Magazine |
Knowledge exchange
| Date | Details | Partner |
| --- | --- | --- |
| 30 May 2017 | VR Knowledge Exchange Workshop: Exploring how cutting-edge research can inform cutting-edge VR | Soluis |