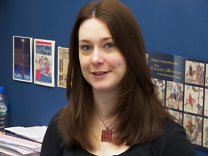 WELCOME – FROM THE DEAN OF POSTGRADUATE TEACHING 
Welcome to the College of Arts at the University of Glasgow. We have a diverse community of over 1,000 students on Masters, Diploma or Certificate programmes and who are working in innovative and transformative disciplinary and interdisciplinary fields.
Across the College's four Schools we offer a broad range of different taught PGT programmes, from traditional disciplines to practice-based programmes. Our staff and students work in a dynamic and exciting environment, based on cutting edge research. Studying a PGT programme at University of Glasgow means you will be part of a rich and stimulating learning environment and a thriving PGT community.
We are looking forwarding to working with you, and are always pleased to hear from future, current or past students!
Vicky Price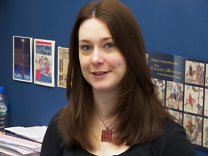 Information for Postgraduate Taught Students
If you are a new postgraduate student starting one of our taught Masters, Diploma or Certificate programmes, then this page is for you.
This page contains details and links for some of the most important contacts and sources of information that will be key to helping you to make the most of your time here at Glasgow. These will be particularly important as many of you will be joining us remotely at least for the beginning of your programme.
The most important contact you have will have is with your Programme Convenor or Programme Director. This is the member of academic staff who leads your Masters, Diploma or Certificate programme. They are the person most familiar with the courses you will take and the assignments you will do, and they will be in communication with the other members of staff you are likely to encounter during your programme. You have almost certainly already heard from them, but if you do not know who this is, please contact us at arts-pgt-advising@glasgow.ac.uk and we will put you in touch.
Another important point of contact is with your School's Postgraduate Office. The staff there will be able to help with common problems to do with registration or enrolling on courses, or other issues to do with your course choices and student record.
If you are not sure which School you are in, see the list of programmes in each School by clicking on the links below.
School of Modern Languages and Cultures Postgraduate Taught Programmes
School of Critical Studies Postgraduate Taught Programmes
School of Humanities Postgraduate Taught Programmes
School of Culture and Creative Arts Postgraduate Taught Programmes
Registration and Enrolment Help
Within the College of Arts
Full details of the Registration process, including how-to videos, a step-by-step interactive guide to how to complete registration and enrolment in classes is available here
Arrangements for Campus Card collection
Campus Cards for most students will be posted throughout September to the UK Term Address that you enter during registration, so it is important that your address is entered accurately in MyCampus.
ID cards will not be posted to the following groups:
- Cards for international students will be made available at Visa Registration
- Cards for students living in University accommodation will be distributed at your Hall of residence
Please note that you will not receive your card until you are fully registered
Writing and Study Advice
The College of Arts Effective Learning Adviser is on hand to help students in the Arts with anything related to their academic work. Our Effective Learning Adviser, and his team of Graduate Teaching Assistants can help with areas such as:
academic writing (essays, dissertations, research proposals)
argumentation
engagement with literature, referencing and using/critiquing sources
time and project management
effective, evidence-based study and revision methods
For more information, to book a class or make an appointment please visit the LEADS webpages.