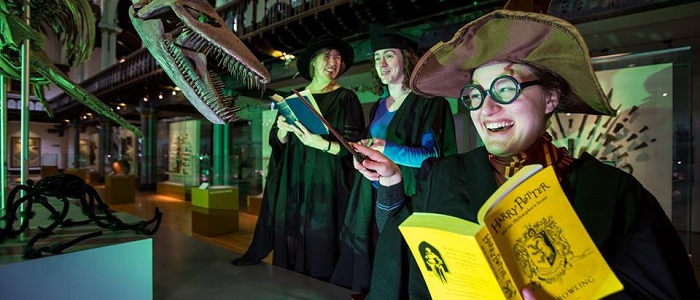 Here you can find details of past events organized by the Centre or by our members, including links to recordings where available.

2020 Events
28 October: Halloween: Folklore Traditions and Global Reach
A thoroughly spooky lecture on the folklore and traditions of Halloween and associated festivals, such as Día de los Muertos, with world-renowned folklorist, author, and broadcaster Dr Juliette Wood (Cardiff University), followed by Q&A.
See here for further details: https://fantasy.glasgow.ac.uk/index.php/2020/10/01/join-us-for-a-talk-on-halloween-folklore-and-traditions/
The event was recorded and can be accessed via our YouTube channel here: https://www.youtube.com/watch?v=MYwBN0wCWBc&t=4s
16 September 2020: Launching the Centre for Fantasy and the Fantastic
An online event to launch the Centre for Fantasy and the Fantastic at the University of Glasgow with a lecture by acclaimed fantasy author Ellen Kushner, and a discussion panel on fantasy with Terri Windling, Professor Brian Attebery, and Dr Robert Maslen.
See here for further details: https://fantasy.glasgow.ac.uk/index.php/2020/08/24/launching-the-centre-for-fantasy-and-the-fantastic-university-of-glasgow/
The event was recorded and can be accessed via our YouTube channel here: https://www.youtube.com/watch?v=-LtdlR0imSQ&t=117s
Earlier Events
Fantasy Public Lecture series by Leverhulme Visiting Professor in Fantasy, Brian Attebery (Idaho State University):
GIFCon 2019, Keynote Speakers: Brian Attebery (Idaho State University/Leverhulme Visiting Professor in Fantasy, University of Glasogow), Kirsty Logan, Mel Gibson (Northumbria University)
'Reimagining Fantasy': a Public Conversation in Glasgow University Chapel with Ellen Kushner, Delia Sherman and Terri Windling, May 2018.
'Scotland in the Transition: renewable Energy in Scotland', in the Charles Wilson Theatre, with Patrick Harvie MSP, August 2018.
'Petrocultures 2018: Transition', a 4-day international conference (over 230 delegates from 15 countries) for the Energy Humanities, at Glasgow University. https://petrocultures2018.wixsite.com/transition
GIFCon 2018, Keynote Speakers: Dimitra Fimi (Cardiff Met University), Alice Jenkins (University of Glasgow), Will Slocombe (University of Liverpool), Arianne 'Tex' Thompson, April 2018.
'Night at the Museum: Fantasy Scotland', Hunterian Museum, Glasgow, November 2017.
GIFCon 2017, Keynote Speakers: Julie Bertagna, Stefan Ekman, Phil Harris (Senior Narrative Designer at Videogame company Bigpoint), March 2017.
Public Workshop with Ellen Kushner and Delia Sherman, November 2016.
Mini-Conference: 'Other Worlds and Story Worlds: New Perspectives on Fiction for Adults and Children' (co-organised with Evelyn Arizpe and Maureen Farrell, School of Education), Keynote: Julie Bertagna, June 2016.
Adam Roberts, 'Science Fiction's Greatest Question: Are We Alone in the Universe?', Aye Write! Book Festival, Mitchell Library, Glasgow, March 2016.
'From Page to Opera Stage: The Devil Inside. Reimagining Robert Louis Stevenson's "The Bottle Imp" as a contemporary opera', January 2016, with Stuart MacRae, Alex Rijdeek and Louise Welsh.
Visiting Speakers have included the authors Hal Duncan, Kij Johnson, Kirsty Logan, Mark Millar, Claire North/Cat Webb, Christopher Priest, Arianne 'Tex' Thompson and Neil Williamson; the editors Jon Oliver (Commissioning Editor, Rebellion Publishing) and Ben Smith (Head of Books, Rebellion Publishing); and the scholars Andrew M. Butler (Canterbury Christ Church University), Edward James (Anglia Ruskin University) and Anna Vaninskaya (University of Edinburgh)