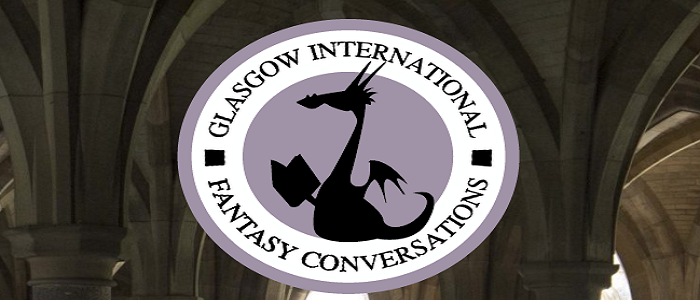 Call For Papers
GIFcon 2024: Conjuring Creatures and Worlds
Centre for Fantasy and the Fantastic, University of Glasgow
Deadline for submissions: 5th January 2024
Conference date: 15th-17th May 2024 (hosted online)

The Centre for Fantasy and the Fantastic is pleased to announce a call for papers for Glasgow International Fantasy Conversations (GIFCon) 2024, to be held online on 15-17 May, with the theme of 'Conjuring Creatures and Worlds'.
Fantasy is inherently an act of conjuration. When we create, dismantle, or engage with fantasy, we are conjuring magic: the impossible, the mysterious, the unknown, and the indefinable. Conjuring fantasy is an act of creation not necessarily defined by our existing modes of being or reality, yet it is always in conversation with our own world. Thus, when we enter fantastika, we necessarily enter a conjured world that invites us to reimagine fundamental aspects of our existence. One way it effects this is by encountering seemingly nonhuman creatures, through which we meet the magical, the uncanny, the monstrous, the Other, and perhaps most uncomfortably, ourselves. Brian Froud writes in Good Fairies Bad Faeries (1998) that "like any supernatural encounter, meeting a fairy—even one who is gentle and benign—is never a comfortable experience". Samantha Langsdale and Elizabeth Coody argue in Monstrous Women in Comics that "the monster is difference made flesh". The same is often true of the worlds these creatures exist in. Conjurations, then, are not wholly foreign; their components are knowable. Through fantasy we can conjure, and therefore communicate, with the necessarily mysterious, the otherwise ineffable.
The act of conjuration is an ambivalent one, being both beyond and outside our own world yet inherently connected to it and therefore susceptible to the same limitations and preconceptions. In Race and Popular Fantasy Literature, Helen Young argues that "the logics of race and racial difference are so deeply ingrained in Western society that it is extremely difficult, often even for members of marginalised racial groups, to imagine worlds that do not have those structures." Indeed, Fantastika has often been concerned with narratives where creatures "function as recognizable stand-ins for majorities and minorities and the inevitable conflicts that emerge between identity groups". We are interested in explorations of marginalised identities, including creatures, systems of magic, and worlds concerned with (but not limited to) race, ethnicity, gender, queerness, class, and (dis)abilities. These conjured creatures and worlds offer an alternative viewpoint into other modes of identity and being. Additionally, the ways in which these fantasies are conjured is important. The medium through which the reader (in the broadest sense of the word) encounters and interacts with the fantasy affects its meaning.
How do academics, creative practitioners, and fans conjure (and understand the conjuration of) fantasy, creatures and worlds? Fantasy and the fantastic have the capability to conjure the ephemeral and the horrific, the indefinable and the real, the Other and ourselves, but how do we understand these creations? And how do these encounters with creatures, magic, and worlds conform or challenge our understanding of the fantastic?
GIFCon 2024 is a three-day virtual conference welcoming proposals for papers relating to this theme from researchers and practitioners working in the field of fantasy and the fantastic across all media, whether from within the academy or beyond it. We are particularly interested in submissions from postgraduate and early career researchers, and researchers whose work focuses on fantasy from the margins. We ask for abstracts for 20-minute papers. See our Suggested Topics list below for further inspiration. Please submit a 300-word abstract and a 100-word bionote via this form by January 5th, 2024, at midnight GMT.
We also ask for workshop descriptions for 75-minute creative workshops, for those interested in exploring the creative processes of conjuring these creatures and worlds into being from a practice-based perspective. Please submit a 100-word description and a 100-word bionote via this form by January 5th, 2024 at midnight GMT.
If you have any questions regarding our event or our CfP, please contact us at GIFCon@glasgow.ac.uk. Please also read through our Code of Conduct.
We look forward to your submissions!
Suggested Topics
Suggested Topics include, but are not limited to, the following:
Fantasy texts and media by creative practitioners from marginalised backgrounds, and from beyond the anglophone and Anglocentric fantastic

Creatures as corporeal and/or spiritual beings

Worlds and magic as material or conceptual spaces, realms, or structures

Multi-media representations of creatures, worlds, and creators

Creating and recreating race, class, queerness, (dis)ability and other marginalised identities in fantasy

Explorations and representations of the Other in fantastika

Attraction to, repulsion or rejection of creatures and the nonhuman

Depicting alienation, body dysphoria, body swapping and transformation in fantasy

The anthropomorphising of objects and creatures

Human and nonhuman binaries, hierarchies, and dynamics

Conforming to and challenging conventional depictions of creatures e.g., mythic and supernatural traditions, folklore, fantastic tropes and iconic and archetypal characters

Representations of fantastical creatures for example cryptids, fae, magical creatures, supernatural beings, the undead, humanoids, animals, hybrids, AI, extraterrestrials, demons, monsters, horrors, boogeymen

Environments, alternate worlds, ecocriticism, posthumanism, the Anthropocene

Conjuring futures and pasts

Organic vs. artificial worlds, spaces and creatures

Conjuring as a destructive or creative act

Conjuring magic and magic systems

How fandoms and scholars recreate, reinterpret, or conjure creatures, worlds and magic systems
Submission Guidelines
Submission Guidelines
For paper submissions, please submit a 300-word (maximum) abstract including title and references, if any

For creative workshop submissions, please submit a 100-word (maximum) abstract

You will also be asked to submit 100-word (maximum) biographical note written in 3rd person and indicating your preferred pronouns. If you would like to remain anonymous during the event, please let the GIFCon Committee know via email

Please use UK spelling and grammar conventions

Please take time to read GIFCon's

Code of Conduct

to ensure your submission complies with our symposium's CoC
Follow the link to our paper submission form here.
Follow the link to our workshop submission form here.
Deadline for submissions: 5th January 2024, midnight (GMT)

Advice for First Time Submissions
The GIFCon committee especially welcomes proposals from postgraduate students and early career researchers. We have provided some advice below for those submitting their first paper or workshop proposal. Please note that this guide is intended for our event and should not be considered as universal advice, as each conference/symposium establishes its own rules and guidelines.
There are three key things to consider for paper submissions:
Paper's Fit to the Theme
A Clear, Concise Argument
Paper's Fit to the Timeslot
1) Paper's Fit to the Theme
How does your paper fit in with the conference theme? Clearly and concisely explain in one or two sentences how your paper suits GIFCon's theme. You can also pop a key word from the CfP in your title, if that is suitable for your abstract.
2) A Clear, Concise Argument
Outline in your abstract your paper's argument. You can include where it sits in the field, why you are exploring this aspect of your topic, which texts you are looking at, and what you hope to illuminate by doing so. Your argument will help the committee to grasp what you are intending to do in your paper and how to best place it in our programme, especially if your paper covers a niche within your subject. If the abstract requires technical terms specific to your area or subject, please clearly define them.
3) Paper's Fit to the Timeslot
We are looking for papers that can be presented within a 20-minute timeslot. One rule of thumb is to imagine 20 minutes as roughly 2000 spoken words. You can also practice reading your paper out loud to ensure it fits within the given time before the event.
Workshop proposals:
Workshop abstract proposals are 100-word (maximum) and also include a 100-word (maximum) bionote. If you are submitting a proposal for a workshop, please include the workshop's title, the number of participants allowed, an outline covering what you will accomplish in the workshop, and what materials you would need (a zoom meeting setup, a shared document etc.).
Just as with paper proposals, the abstract should make it clear how your workshop fits to theme and demonstrates that the workshop aims are feasible to accomplish within the 75-minute timeslot.
Before submitting, please:
Make sure your abstract does not exceed the specified word count. This word count includes title and references.

Take the time to proofread your abstract for any grammar and spelling errors. At GIFCon we use UK conventions.

Ensure that you have a 100-word maximum biographical note written in the 3rd person and indicating your preferred pronouns (see example). However, if you would like to remain anonymous throughout the event, please email us before the deadline for guidance on submitting anonymously.
We would also like to ask you to review our Code of Conduct prior to your submission in order to make sure your paper complies with our symposium's CoC.
Finally, if you have any questions about submitting your abstract to an event, please get in touch with us via email at GIFCon@glasgow.ac.uk. We look forward to your submission!
Example of a 100-word max bionote:
Kisar Euric (he/they) is a 3rd year PhD candidate at Lepeig University on the planet Mars where they research pre-habitation Science-Fiction in the early 21st century and its effect on contemporary artwork. Kisar completed their Masters degree at the University of Glasgow, where they were a part of the 2085 Fantasy MLitt class. Additionally, Kisar runs the Forgotten Fans Group and has worked as the Administration Officer for the Cross-Fantastika Conference for two years. Kisar lives with their partners Nayla and Deri and their cat Greebo. Their holographic games fan fiction can be found online (if you look hard enough).
GIFCon Code of Conduct
GIFCon Code of Conduct
GIFCon aims to be an inclusive and diverse space for scholars, students, creatives, fans, and the general public.
As one of the flasghip annual activities of the Centre for Fantasy and the Fantastic, GIFCon is covered by the CFF Code of Conduct. Please take the time to read it carefully.
In addition, please note the GIFCon Netiquette below:
The

GIFCon

Netiquette complies with the guidelines set out by

the Centre for Fantasy and the

Fantastic's

Code of Conduct.

GIFCon acknowledges concerns regarding the circulation of recorded talks or written papers online. Speakers and Attendees will be asked for their permission to be recorded during any of GIFCon's online activities or events prior to such recording taking place.

Speakers may choose to upload their paper or presentation to the platform of their choice and provide a URL link to be made available to Attendees. Alternatively, they can provide the

GIFCon

Organisers

with a version of the presentation in advance for accessibility purposes.

We are aware that platforms such as Zoom are not available globally and we are working on different alternatives to accommodate

Attendees to all our events and activities

. If you have any concerns in this regard, please contact

GIFCon



Policy for Participation in Online Sessions (Panels, Keynotes, and/or Workshops)
The default setting for Attendees should be to have microphones muted. This is to avoid background noises that may disrupt the sessions.

For

conferences

and

panels

, Speakers will unmute to engage in

presentation and/or discussion

.

Workshop organisers will instruct Attendees regarding the specific dynamics of their events.

When the event platform and settings allow, Attendees can choose whether they wish to engage or not with the video component of the event. Both video options (on or off) are valid.

If the Attendees' video and audio has been muted, they can communicate and pose their questions via the chat function or the Q&A section. Otherwise, questions for sessions, panels, keynotes, or workshops will begin only once the moderator and/or organizers invite questions. Do not interrupt either speakers or moderators to pose questions.

Screen sharing will be enabled only for Committee Members, scheduled Speakers, and

/or

Moderators. Once Speakers have finished with the presentation, they should end the sharing of their screen.

Attendees are welcome to post comments on the chat function of the platforms used by

GIFCon

during sessions, panels, keynotes, or workshops,

as long as

they abide by our COC.

Q&A sessions and discussions must comp

ly with our COC.

During

GIFCon

,

all backgrounds in Zoom, Discord, YouTube, and so on must adhere to our COC.

Presenters will be able to request that Attendees refrain from live tweeting about their specific presentation for any reason. Attendees are expected to

honour

this request.

Depending on the severity of the incident, violations to our Netiquette will be regarded as outlined by our Anti-Harassment and Anti-Bullying Policy. This can result in warning those concerned and asking them to modify their behaviour; restricting contact with

Centre

Members and Attendees, including banning those concerned from specific online sessions or the symposium altogether; and contacting University of Glasgow Authorities.




Equality, Diversity, and Accessibility Policy
Everybody can help
We believe everybody at GIFCon can contribute to making this event a safe and welcoming environment. Whether you are an Organiser, a Volunteer, Speaker, or an Attendee, please consider the following:
Conferences, Panels, and Workshops
If you are a Speaker at GIFCon, you will be given guidelines that include suggestions such as:
If you are prerecording your presentation or would like your Chair to have a backup copy of your presentation materials, please send presentation materials to

GIFCon@glasgow.ac.uk

.

If you are reading your presentation and are comfortable with showing your face during our online sessions, it is

really helpful

to keep your mouth visible when speaking for those who lip-read.

Speakers also have the possibility of sharing their written paper with

GIFCon

attendees

as a means to

make their presentation more accessible for those with visual or hearing impairments. If this is something you would like to do, please contact our Committee.
For presentations with PowerPoint slides, please consider the following:
If your slides include text,

you can

try to use it sparingly and in bold, large, and

clear

fonts in colours

that have a high contrast with the background colour of

your

slides

.

Reading

the text of your slides ou

t loud during your presentation

is helpful.

A

void red or green to either highlight or em

phasise anything on your slides

, as these colours can be difficult for those with visual impairments.

T

he templates provided by PowerPoint, as they are pre-approved for screen readers and other accessibility devices

.

If your slides include images, please incorporate

alt text

(a brief one or two sentence description to accompany the image) or verbally describe the image during the presentation. This can be extremely helpful for Attendees with visual impairments and neurodiverse Attendees.

If online events or activities take place on Zoom, the Deputy Chair will enable Zoom subtitles at the beginning of the event. Y

ou can personalize how subtitles appear on your screen by clicking the "Live Transcript" button on your Zoom menu.

You can also help create subtitles in your PowerPoint slides to help people follow along.

Instructions on how to do this can be found on the Microsoft Support website:

Present with real-time, automatic captions or subtitles in PowerPoint

.

More information on how to create accessible PowerPoint slides can be found at the

Microsoft Office Support website

.

If your presentation includes documents created with a Microsoft Office programme, we encourage you to use the

Accessibility Checker

.

For more information, feel free to visit this

site on dyslexia

and

this one on visual impairments

. 

 

If your presentation, paper, or workshop covers sensitive materials or subjects, the GIFCon Committee asks that you give a trigger warning at the start of your talk.

Please let the Committee know if you plan to use any flashing images or strobes so that Attendees can be advised in advance.
How to attend GIFCon 2024
GIFCon 2024 Counjuring Creatures and Worlds will take place online
GIFCon 2024 Committee
Chair: Will Tattersdill
Deputy Chair: Grace A.T. Worm
Accessibility and Diversity officer: Emma French
Administration officer: Georgina Gale
Communications officer: Will Sherwood
Events officer: Amber Pasternak
MLitt Liason: Dulmi Wickremasinghe
Programming officer: Katarina O'Dette
Social Media officer: Hollie Willis