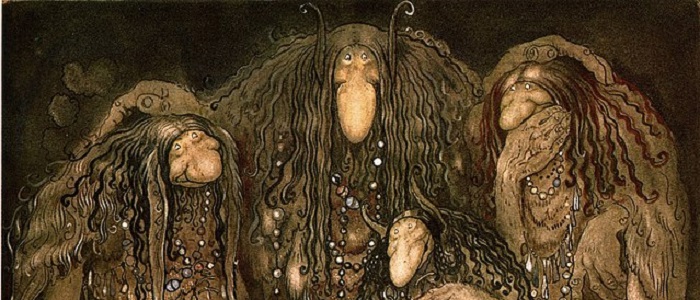 If you would like to hear from the Centre via e-mail with news about upcoming events and other activities or opportunities please fill in this form - Centre for Fantasy and the Fantastic mailing list
Framing Fantasy: Brian Attebery and Matthew Sangster discuss the affordances of Fantasy - 5 October 2023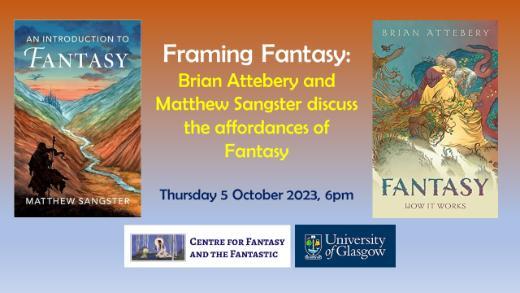 To celebrate the publication of Matthew Sangster's An Introduction to Fantasy (Cambridge University Press, 2023) and Brian Attebery's Fantasy: How it Works (Oxford University Press, 2022) receiving the 2023 Mythopoeic Scholarship Award in Myth and Fantasy Studies, Glasgow's Centre for Fantasy and the Fantastic invites you to an online conversation between the two authors, exploring how we can make compelling cases for Fantasy's particular qualities and values. The discussion will take place via Zoom webinar on Thursday 5 October 2023, and will be followed by a Q&A session.
Tolkien and Religion in the Twenty-First Century - 26 November 2023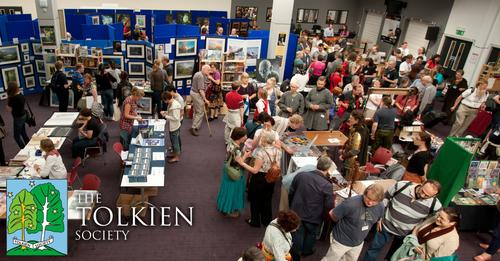 The Centre for Fantasy and the Fantastic is delighted to be co-organising with the Tolkien Society an online seminar on: "Secondary Believers, Secondary Worlds: Tolkien and Religion in the Twenty-First Century" on Sunday 26 November 2023. This seminar is being co-run by the Tolkien Society's Education Secretary, Will Sherwood, and Tom Emanuel, PhD student, University of Glasgow. This is a free event.
The Call for Papers is now open - details

here

.
Tolkien sessions at ICMS Kalamazoo 2024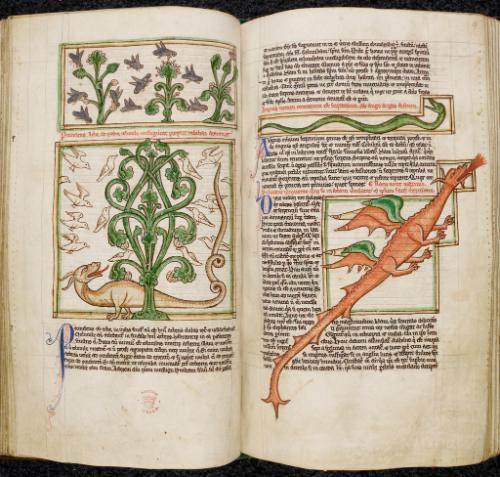 The Call for Papers for the 59th International Congress on Medieval Studies in Kalamazoo, Michigan, USA (May 9-11, 2024) is now open. Proposals of papers and contributions to roundtables are due Sept. 15, 2022. The Centre for Fantasy and the Fantastic, University of Glasgow, is sponsoring the following session:
Here Be Dragons: Tolkien at the Medieval Margins
Modality: Virtual
Boundaries, margins and marginality are expanding areas of research in contemporary fantasy studies, in which Tolkien's work is still central. Tolkien's medievalist fantasy is particularly ripe for a reconsideration from the perspective of the edges rather than the centre: from negotiating the borders of fantastical geographies, to contested borders of genre within the legendarium, to acknowledging the perspective of racially, culturally, and ethnically marginalised readers, fans, and scholars. This session will continue the conversation which started at GIFCon 2023, the annual international conference of the Centre for Fantasy and the Fantastic, which focused on boundaries and margins in fantasy.
Tolkien's medievalist fantasy shows a keen interest in boundaries and margins: from negotiating fantastical geographies and their borders, to examining liminal characters in-between political/racial/cultural boundaries, even challenging borders of traditional genres within the legendarium (fairy-tale, romance, epic, science fantasy, etc.). At the same time, contemporary fantasy and Tolkien scholarship is at last opening up towards the experiences and perspectives of racially, culturally, and ethnically marginalised readers, fans, and scholars.
We invite paper proposals that seek to examine boundaries and margins in Tolkien's legendarium, be they textual, linguistic, geographical, embodied, or imposed.
All proposals must be made through the Congress's Confex system. Please carefully follow the instructions on the Congress's Call for Papers.
Deadline: Friday 15 September 2023
Tolkien sessions at IMC Leeds 2024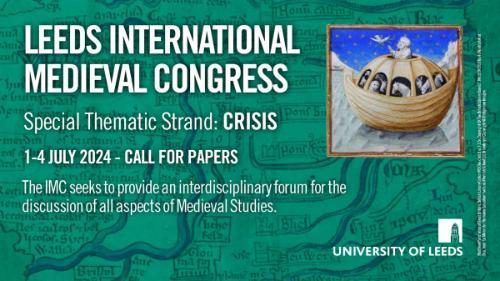 Paper abstracts are currently being sought for the following Tolkien sessions for the International Medieval Congress at Leeds, 1-4 July 2024. The special thematic strand of this conference will be 'Crisis'. See more here.
We are very pleased that the 2024 IMC Tolkien Sessions will again be sponsored by the Centre for Fantasy and the Fantastic at the University of Glasgow.
Paper submissions are being sought for the following sessions:
Tolkien's Medieval Sub-creation in Crisis
This session will examine different concepts of crisis in Tolkien studies. Papers may explore the types of crises Tolkien himself created in the body of his legendarium by his revising of several keys stories and legends at different times in his lifelong work. Papers can address the significance of these narratives and their revisions in Tolkien's shifting ideas about the world and cultures he was inventing. Papers may also explore adaptations of Tolkien works and how they create crises in our evolving understanding of the canon of Tolkien's work and its reception.
Bodily Crises in Tolkien's Medievalism
Papers in this session can explore crises/concerns of gender and bodily difference in Tolkien's works including sexuality and disability. Indicative areas to be examined include the role of bodies under physical duress, punishment, injury from battle or war, as well as bodies in transformation including prosthetics, spiritual transformation (good or evil) and how bodies and body transformation from Tolkien's works are depicted in illustrations and in films and other media.
Racial Medievalism in Tolkien Studies – A Session Celebrating the Works of Professor Dimitra Fimi, founder of Tolkien at Leeds
Papers in this session may respond to, critique and develop key ideas regarding Tolkien's representations of race that were first explored in Professor Dimitra Fimi's ground-breaking 2008 book Tolkien, Race and Cultural History: From Fairies to Hobbits, which won the Mythopoeic Scholarship Award for Inklings Studies in 2010. Fimi's evolving body of work has brought to light neglected aspects of Tolkien's creativity and world-building, including the centrality of the Elves, the role of linguistic invention, and the relationships between race and material culture in Middle-earth This session invites papers that explore Tolkien's contexts, racial representations and world-building through engaging with and building upon the approaches Professor Fimi has set out in her academic work.
Tolkien: Medieval Roots and Modern Branches
This continuing Tolkien at Leeds session will accommodate wider topics and new approaches to Tolkien's medievalism, ranging from source studies and theoretical readings to comparative studies of Tolkien's works and Middle-earth studies.
Crises in Researching Tolkien: A Round Table
The Annual Tolkien at Leeds roundtable will explore the current crises facing Tolkien teachers, academics and researchers in Tolkien and Middle-earth studies. Topics can include the various adaptions of Tolkien's works that will continue to grow with new media deals, differing thoughts on treatment of Tolkien's race, culture and sexuality in his works and the desire of scholars to see, analyse and contextualise more of Tolkien's remaining unpublished papers.


Please submit a paper contribution title and abstract by 31 August 2023 to Dr. Andrew Higgins (asthiggins@me.com)
Length of abstracts: 150 words (max!)
Papers will be 15-20 minutes long (3 paper sessions will be preferred)
With your abstract, please include name and details of contributor (affiliation, address, and preferred e-mail address)