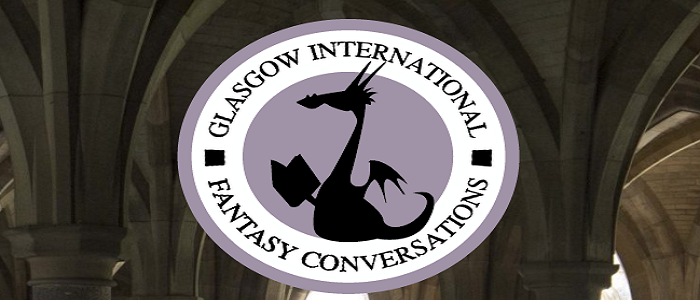 GIFCon 2022
Glasgow International Fantasy Conversations
Fantasy Across Media
27th-29th April 2022, online
Our CFP has just been released! (see below)
Follow us on Twitter, Facebook, and Instagram.
Contact us at: GIFCon@glasgow.ac.uk
Call For Papers
The Centre for Fantasy and the Fantastic is pleased to announce a call for papers for Glasgow International Fantasy Conversations (GIFCon) 2022 with the theme of 'Fantasy Across Media'.
Much of fantasy studies has focused on the genre's presence in literature, with histories and theoretical frameworks often either implicitly or explicitly centring the written word. In some cases, academic, critic, and fan responses to the genre outside of literature even go so far as to erase or question the possibility of the genre's existence in other media, perhaps most famously embodied in J.R.R. Tolkien's insistence in 'On Fairy-stories' that some media, such as drama, are fundamentally incompatible with fantasy. These types of responses fail to account for the medium-specific benefits and challenges that different media pose for depictions of the impossible, serving to establish hierarchies between media, exclude non-literary media from analyses of the genre, and potentially limit a full understanding of the genre's history.
Fantasy and the fantastic have had long, rich histories outside of literature, playing a central role in the development of theatre, film, and comic books, and celebrating a more recent boom on the small screen. Furthermore, from the innumerable reimaginings of the Arthurian tradition, to The Wizard of Oz, to manga and anime, to contemporary multimedia franchises and cinematic universes, fantasy texts have been integral to the history of transmedia storytelling, allowing their rich storyworlds to expand across multiple media. By examining fantasy with a focus on media, we find a genre shaped in distinct ways by the many different media and creative industries that produce it, with specific creative processes and varying cultural media traditions opening onto distinct forms of fantasy that may not be properly accounted for in fantasy studies' traditional focus on Anglophone literature.
GIFCon 2022 is a three-day virtual conference that seeks to examine the myriad narrative possibilities afforded by fantasy across media. We welcome proposals for papers relating to this theme from researchers and practitioners working in the field of fantasy and the fantastic across all media, whether within the academy or beyond it. We are particularly interested in submissions from postgraduate and early career researchers, and researchers whose work focuses on non-Anglocentric fantasy. We will also offer creative workshops for those interested in exploring how the creative processes of different media shape fantastic storytelling on a practical level.
We ask for 300-word abstracts for 20-minute papers. See our Suggested Topics list below for further inspiration.
Please submit a 300-word abstract and a 100-word bionote via this form by December 3rd 2021 at midnight GMT.
If you have any questions regarding our event or our CfP, please contact us at GIFCon@glasgow.ac.uk. Please also read through our Code of Conduct. We look forward to your submissions!
Suggested Topics
Suggested topics include, but are not limited to, the following:
Fantasy texts in film, theatre, television, oral traditions, comic books, games (both video and tabletop), new media, virtual reality, theme parks, podcasts, scripts, visual arts, etc.
The relationship between genre and medium
Histories of Fantasy media beyond literature
The cross-media influence of Fantasy texts
Medium-specificity or interrogations of medium-specificity in genre studies
Adaptations of Fantasy texts
Fantasy transmedia franchises
Fanworks of Fantasy texts
Fantasy and the fantastic in a non-Anglocentric medium, e.g. Bollywood fantasies, manga, anime, JRPGs, Karagöz shadow plays
Relationship between Fantasy texts and the regional cultural industries that produce them
GIFCon Code of Conduct
GIFCon Code of Conduct
GIFCon aims to be an inclusive and diverse space for scholars, students, creatives, fans, and the general public. GIFCon's Code of Conduct (COC) – including its Anti-Harassment Policy, Anti-Racism Statement, Accessibility Policy, Reporting Bullying and Harassment Procedure and Netiquette – help achieve this goal by enabling and guiding safe relationships between all GIFCon Attendees while at the same time discouraging anti-social behaviour and discrimination. With that in mind, please take a moment to review our Code of Conduct.
This Code applies to all interactions between GIFCon Attendees, either in-person or online. Further guidelines regarding online GIFCon interactions can be found specifically in our Netiquette. Attendees include Committee Members, Speakers, Volunteers, the Audience, and all others otherwise participating in this event.
As GIFCon is originally based at the University of Glasgow, where most of our face-to-face events take place, this Code abides by the principles laid out in the University's Equality and Diversity Policy, as well as its Dignity at Work Policy and Procedure and its Accessible Events Policy. We also expect those working at the University of Glasgow to act and to be treated in line with the principles of this Code of Conduct as well as the University of Glasgow's policies.
In addition, we are also bound by the Equality Act 2010.
The Code is a living document and we expect it to change over time to reflect changes in and beyond academia and fandom. We welcome feedback and suggestions for improvement, so please feel free to contact us at GIFCon@glasgow.ac.uk.
If you would like to report potential violations of this Code of Conduct, please do not hesitate in contacting our Committee, Diversity and Accessibility Officer, or Volunteers. They can escalate issues appropriately with University authorities, discuss them in a totally confidential manner, and/or act as mediators, according to the wishes of the person raising the issue.
How can I help?
Read and follow this Code of Conduct.

Be collegiate and supportive of others: if you see someone who looks like they might need help or encounter a situation which you believe requires attention, please engage a Volunteer or Committee member if you feel OK doing so.

Ask first

: t

he easiest way to avoid issues is to check before doing something.
Remember that

GIFCon

Attendees come from all over the world; cross-cultural misunderstanding can easily happen, so consider this in your humour and interactions, both online and in-person.




Anti-Harassment

and Anti-Bullying

Policy
Everyone involved with GIFCon is expected to treat the event Attendees, the venue staff, the general public, and the various communities associated with the event with dignity and respect.
As the GIFCon operates within the umbrella of the University of Glasgow, we are also bound to the University's Code of Practice on Unacceptable Behaviour. This code not only defines what the University as our base institution and GIFCon consider as unacceptable behaviour, but also delineates how the University seeks to ensure fair and honest treatment across University interactions as well as the welfare and safety of those participating in University activities and events.
According to the Advisory, Conciliation and Arbitration Services (ACAS), harassment and bullying can be defined as follows:
Bullying

is offensive, intimidating, malicious or insulting behaviour, an abuse or misuse of power through means that undermine, humiliate, denigrate or injure the recipient.

Harassment

is unwanted conduct related to a relevant protected characteristic, which has the purpose or effect of violating an individual's dignity or creating an intimidating, hostile, degrading, humiliating or offensive environment for that individual.
GIFCon is dedicated to facilitating an experience free of harassment, bullying, and discrimination for all Attendees, regardless of age, ethnicity, disability, gender identity and expression, nationality, neurodiversity, physical ability or appearance, race, religion, sexual identity or sexual orientation, or fiction/fandom preferences (this list is not exhaustive).
At GIFCon we do not tolerate harassment of GIFCon Attendees in any form. Behaviour that will be considered harassment includes, but is not limited to:
Intimidation or

stalking

, either in virtual or in-person settings

Unwelcome physical contact

, including the use of inappropriate and/or aggressive gestures

Unwelcome sexual attention

Comments intended to belittle, offend, or cause discomfort

, including those in writing

Misgendering or deadnaming

Photographing or videoing Attendees without their consent

Persistent interruption of others and/ or s

ustained disruption of

presentations, workshops,

or other events

Sexually graphic or otherwise inappropriate images in public spaces

or throughout online events (

e

.

g

.

zoombombing)

Advocating for, or encouraging, any of the above

b

ehavio

u

r
It should be noted that engaging in any of the behaviours above under the claims of "banter" is not an excuse for bullying or harassing behaviour.
We also require Attendees to follow this Code in online GIFCon interactions (including emails, platforms and accounts related to the event such as Zoom, Discord, YouTube, Twitter, and Facebook), at all GIFCon venues, and in all GIFCon-related social activities.


Unacceptable Behaviour at GIFCon
In line with University policies, especially articles 37.4.1-37.4.10 of the Code of Unacceptable Behaviour, GIFCon will deal with unacceptable behaviour depending on its nature and extent. This may range from:
Asking Speakers and/or Attendees to modify their behaviour.

Restricting contact with Speakers and/or Attendees, including banning them from GIFCon and related activities. These restrictions may be relaxed and normal relations re-instated depending on the gravity of the situation, if the conditions imposed are met, and if an agreement is reached amongst all parties.

Contacting University

of Glasgow

authorities if Members

of our Committee, Speakers,

and/or Attendees involved in Code of Conduct breaches are also affiliated to the University of Glasgow.

Contacting the home University/HEI authorities of Attendees if those involved in Code of Conduct breaches belong to another University or Higher Education Institution.
Here is a list of examples as to how GIFCon will address certain Code of Conduct breaches. This list is not exhaustive and may not necessarily reflect all the nuances of real situations. However, we offer it as a guide so that Attendees know what to expect from our Committee in general and our Diversity and Accessibility Office in particular.
Where abusive language – either written or spoken – is used in online or in-person interactions within the framework of GIFCon events and/or activities, the person concerned will be asked to modify their language. Failure to comply with this request

may

lead GIFCon to end personal communication with the individual concerned and require future communication to take place through a third

party

. If the individual concerned is a student or a member of staff at the University of Glasgow, then the University will be notified of the situation.

If

the

individual concerned is a student or member of staff at another University o

r

HEI, their home institution may be notified of the situation.

Persistent sending of email messages in the form of spamming will result in GIFCon blocking emails from the account of origin. If the account belongs to either a student or a member of staff at the University of Glasgow, University authorities will be informed.

GIFCon Committee Members and Volunteers have a right to work in an environment free from harassment, unreasonable demands, and/or undue persistence

that adversely affect the opportunity to carry out their duties and provide a fair service to

all

GIFCon Attendees

.

Should this happen, GIFCon may decide to restrict contact to certain days/times and with a nominated person, or to restrict communication through a third party.

Where violent behaviour is actual or threatened during in-person activities and events, GIFCon will

need to

contact University authorities,

which may include

Campus Security

and

who in turn may deem it necessary to contact

local law-enforcement

. Henceforth, any personal contact with those who have incurred in violent behaviour during GIFCon will cease and they will be prohibited from participating or attending any future events, both online and in-person. If th

ose concerned

and/or those affected are students and/or staff from the University of Glasgow, then procedures will follow University guidelines.

If those concerned are students and/or staff from another University/HEI, their home institution will be notified.




Anti-

R

acism Statement
GIFCon is committed to supporting the fight against all forms of racist oppression, including racist prejudice and bias, the expression of privilege based on racial arguments, as well as racial discrimination, aggressions, and microaggressions. This applies to our diverse Committee and group of volunteers, contributions made to our sessions, our keynotes and workshops, as well as things said to and about GIFCon Attendees. At the same time, GIFCon seeks to contribute to the efforts being made to decolonize academia, Science Fiction, Fantasy, and fandom.
As an anti-racist symposium originated within the University of Glasgow, GIFCon is aware of the implications of its home institution being a British University with historic ties to slavery. At the same time, our symposium takes to heart the university's major new report "Understanding Racism, Transforming University Cultures" and its corresponding action plan. This document is an investigation prompted by a study from the Equality and Human Rights Commission into racial harassment faced by Black, Asian and Minority Ethnic (BAME) students and staff in UK universities. Consequently, GIFCon is and will continue to be a space to reflect on and redress the structural disadvantages identified by this report, as well as work towards the achievement of racial justice and equality.
At GIFCon we want to ensure no one is talked over, ignored, or dismissed, and we are committed to making GIFCon as accessible as we can to people from all racial and ethnic backgrounds. Problems non-white Attendees of SFF events often reference include, but are not limited to:
Having their

academic and

lived experiences dismissed

.

Being expected to be an authority on non-white characters

as well as

foreign

countries, cultures, and languages portrayed or referenced to in SFF

.

Being talked down to or assumed to be less knowledgeable about topics being discussed

.

A presumption that people of colour do not belong in

SFF fiction and/or fandom

and that they should not be centred in storytelling

.




The use of Social Justice Warrior or SJW as a pejorative term meant to demean or belittle the idea of diversity and inclusion in

academia, fiction, or fandom

.




The use of social media to target people of colour and allies for harassment and abuse as an outgrowth of their participation in

committees,

panels, discussions,

workshops,

or when commenting on their participation in fandom

.




Being targeted in person or through social media with acts of aggression, harassment, or retribution for calling out harassers and abusive behavio

u

r

.
This sort of behaviour will not be tolerated at GIFCon and will be treated according to our symposium's Anti-Harassment and Anti-Bullying Policy.
For full disclosure, this statement on racism was elaborated by a Person of Colour. However, anyone with personal experience with racism is welcome to share suggestions and/or criticisms of this Code of Conduct at GIFCon@glasgow.ac.uk.


Equality, Diversity, and

Accessibility Policy
As already delineated in part by our previous policies and statements, GIFCon is focused on making equality, diversity, and accessibility key principles of our symposium, both in-person and online. In order to reach this goal, we abide by the University of Glasgow's strategy Embedding equality, diversity and inclusion into conferences and events.
Diversity and Equality
Every year, GIFCon makes efforts to secure a wide diversity of Committee Members, Speakers, and Attendees by including participants from different academic backgrounds, ages, countries, and native languages (this list is not exhaustive). Examples of this include advertising our symposium across different international platforms and channels, as well as different languages; considering the use of translators and interpreters; accommodating panels and activities according to different time zones; and facilitating schedules and video recordings for Attendees who are unable to participate during specific timeframes due to personal commitments such as care duties or otherwise.
Accessibility and Equality
GIFCon is working to be as accessible as possible to all needs, including but not limited to:
Deafness/hearing impairment

Blindness/vision impairment

Mental health, including PTSD and anxiety

Crowd sensitivities

Neurodiversity, including Autism, ADHD, and Down's Syndrome

Mobility aid users, including wheelchairs, mobile scooters, and crutches

Recent injury or surgery

Chronic pain, fatigue, or other long-term physical impairments

Late-term or complicated pregnancy
For this reason, our symposium follows the University of Glasgow's Accessible Events Policy in conjunction with the University's Accessible Events Checklist.


Everyone can help
We believe every Attendee can contribute to making GIFCon a safe and welcoming environment. Whether you are participating as a Volunteer, Speaker, or member of the Audience, please consider the following:
Panels and Events
If you are a Speaker, you will be given specific guidelines nearer the event and these will be made public. Guidelines will include requests to:
For presentations with PowerPoint slides, please consider the following:
If your slides include text, please

try to use it sparingly and in bold, large, and sans-serif fonts in contrasting

colours

. If possible, please read the text of your slides out loud during your presentation.

Please avoid dark backgrounds with light-coloured text. These can be tiring on the eyes as well as difficult to navigate for accessibility devices such as screen readers. One alternative is to use the templates provided by PowerPoint, as they are pre-approved for screen readers and other accessibility devices.

If your slides include images, please incorporate

alt text

(a brief one or two sentence description to accompany the image) or verbally describe the image during the presentation. This is extremely important both for attendees with visual impairments and neurodiverse attendees.

Please avoid red or green to either highlight or

emphasise

anything on your slides.

If you are Speaking at an

online session

,

p

lease enable the subtitling function for your slides. Instructions on how to do this can be found on the Microsoft Support website

Present with real-time, automatic captions or subtitles in PowerPoint

.

More information on how to create accessible PowerPoint slides can be found at the

Microsoft Office Support website

.
If your presentation includes PowerPoint slides or any other document created with a Microsoft Office Progamme, we encourage you to use the Accessibility Checker.
For online and in-person events:
If you would like to

make

your presentation

available in advance

as a means to make it more accessible for Attendees, please contact the Committee

.

Please let the

Committee

know if you plan to use any flashing images or strobes so that members can be advised in advance

.

Please issue trigger warnings if your presentation, paper, or workshop includes or refers to sensitive material or subjects

.
Offering Help
Some people with accessibility needs will require help from time to time, others will not. If someone appears to be struggling, do offer to help, but if they say no do not be offended. Never touch a person's accessibility aid without permission.
Privacy
Many members will have disabilities and illnesses, both visible and invisible. We ask you to respect their privacy and to not discuss or ask questions about their conditions unless permitted to do so.
Let us Know if Something is Wrong
If you see that something is causing a problem, let one of our Committee Members or Volunteers know, and we will take care of it to the best of our ability as quickly as we can. If you spot an issue that we have overlooked and know how to fix it, please tell us. We are happy to help.
We would like to ask our Attendees to bear in mind that we are a small, student led symposium with limited funding. For this reason, it may not always be possible to accommodate all accessibility needs. We are also continually reviewing and updating this policy, so if you have any comments, suggestions, requests, or if you would like to volunteer to make our even more accessible, please contact us via email at GIFCon@glasgow.ac.uk.


Reporting

Bullying

, Discrimination,

and Hara

s

sment
As delineated by previous elements of this Code of Conduct, GIFCon takes incidents of bullying, discrimination, and harassment, as well as reports on Code of Conduct breaches very seriously. GIFCon will help in any way possible to make sure that these incidents are dealt with promptly and that those who file reports are not victimised.
Because GIFCon operates according to University of Glasgow policies, our Committee, through its Equality and Accessibility Office, can aid those wishing to raise a complaint depending on the preferred outcome of those affected and the severity of the incident. Attendees who wish to report an incident during in-person or online sessions can either:
Contact the

GIFCon

Committee as an informal complaint. The Committee, specifically its Equality and Accessibility Office, will act as a mediator and seek out alternatives to resolve the incident according to the wished outcome of those affected. If this does not resolve their concerns or the Committee considers that the incident is too serious

to be resolved informally, then it will advise those affected to lodge a formal complaint with the University

through its Complaints Handling Procedure

.
A useful guide as to how affected parties may contact the University of Glasgow to raise concerns or reporting an incident may be found under the University's Procedures. According to University legislation, the Procedure used can depend on your role – a student, former student, or member of staff at the University of Glasgow; or others such as visitors and local residents – and the nature of the issue you wish to raise.


Students and Staff at the University of Glasgow
Visitors at an event set or promoted by the University of Glasgow
GIFCon is aware that its activities and events bring together members from the wider community of SFF academia and fandom under the umbrella of the University of Glasgow. It is therefore possible that misunderstandings and conflicts may arise between individuals who are not based at our university and as such may not be bound by University policies. If this is the case, GIFCon's Equality and Accessibility Office can accompany those affected and upon their request, can make efforts to contact University authorities for advice as well as the institutions of the Attendees involved in the matter.


Informal complaints
Before the event: You can report GIFCon Code of Conduct violations by email at GIFCon@glasgow.ac.uk. This address will be continuously monitored by our Committee and our Diversity and Accessibility Officer prior to, during, and after GIFCon.
At the event: If someone has bullied, discriminated, or harassed you, breached this Code of Conduct in any way, or if you have witnessed or become aware that an incident or Code of Conduct breach has taken place, please ask that person or persons to stop – as long as it is safe to do so and if you feel comfortable enough to make the request. To help us identify patterns of behaviour, we would be grateful if you would also report the harassment as set out below.
If you do not want to speak to the person(s) directly, or if you engage with them and the harassment or Code of Conduct breach does not stop, please report the issue as soon as possible to a Volunteer or a Committee Member. Alternatively, you can report by email at GIFCon@glasgow.ac.uk. This address will be continuously monitored by our Committee and our Diversity and Accessibility Officer during and after GIFCon.
Bullying, discrimination, harassment, and other Code of Conduct violations reduce the value of GIFCon for everyone – we want you to enjoy our event, so please do speak to us if needed.


What will happen if you make a report?
When taking an in-person report, our Committee Members or Volunteers will first ensure that you are safe and cannot be overheard. They may involve other event or University staff to ensure your report is managed properly. Once you are safe, we will ask you to tell us about what happened, and what you would like to happen next. We understand this can be upsetting, but we will handle it as respectfully as possible and try to support you. You can also bring another person to support you if you wish.
If you submit a report by email, our Committee and Diversity Officer will respond to you as quickly as possible, and proceed at their discretion, based on the content, context, and wishes expressed in your email.
However you choose to report an issue, you will not be asked to confront anyone, and we will do our best to protect your identity. Details of your complaint will only be disclosed to the team or Committee members who are dealing with it. We will keep you advised of the progress we are making in handling the issue, and of any action we decide to take. We will take into account your views when deciding on that action.
However, please be aware that if the incident is not resolved, if you report a serious criminal matter, or if we believe that you or someone else may be in danger, it might be necessary to contact University authorities. If so, we would take into account any concerns you may have around involving them.
The GIFCon Committee has the right to take any actions needed to keep our event a welcoming environment for all Attendees. As previously stated in our Anti-Harassment and Anti-Bullying Policy, measures taken may include warning those concerned, mediating solutions between affecting parties, or taking any other action the Committee considers necessary, up to and including expulsion from the event at our discretion and contacting University authorities.
If you wish to take further steps following your report and our response, our team will be happy to help you contact University Authorities – which may include Campus Security – or otherwise assist you to feel safe for the run-up to and duration of the event. Above all, we want you to feel valued, safe, and included!


GIFCon

Netiquette
The

GIFCon

Netiquette complies with the guidelines set out by

GIFCon's

Code of Conduct.

The

GIFCon

Committee acknowledges concerns regarding the circulation of recorded talks or written papers online. Speakers will be previously asked by the Committee for their permission to be recorded during online

GIFCon

sessions.

Speakers may choose to upload their paper or presentation to the platform of their choice and provide a URL link to be made available to Attendees.

Alternatively, they can provide the

GIFCon

Committee with a

version of the presentation in advance for accessibility purposes.

We are aware that platforms such as Zoom are not available globally and we are working on different alternatives to accommodate all

GIFCon

Attendees.

If you have any concerns in this regard, please contact our Committee.
Policy for Participation in Online Sessions (Panels, Keynotes, and/or Workshops)
The default setting for Attendees should be to have microphones muted.

This is to avoid background noises that may disrupt the sessions.

For panels

and keynotes

,

S

peakers will unmute to engage in discussion or presentation.

Workshop organisers will instruct Attendees regarding the specific dynamics of their events.

Depending on the format of the session, for example as a Zoom Video Webinar, Attendees will have their video and audio automatically muted. In other cases,

A

ttendees can choose whether they wish to engage or not with the video component of the event. Both options of video on

or

off are valid.

If the Attendees' video and audio has been muted, they can communicate and pose their questions via the chat function or the Q&A section. Otherwise, q

uestions for sessions, panels, keynotes, or workshops will begin only once the moderator

and/

or organizers invite questions. Do not interrupt either speakers or moderators to pose questions.

Screen sharing will be enabled only for Committee Members,

s

cheduled Speakers, and Moderators.

Once Speakers have finished with the presentation, they should end the sharing of their screen.

Attendees are welcome to post comments on the chat function of the platform

s

used

by

GIFCon

during sessions, panels, keynotes, or workshops

,

as long as

they abide by our COC.

Q&A sessions and discussions must comply with our COC.

During

GIFCon

all backgrounds in Zoom, Discord, YouTube, and so on must adhere to our

CO

C

.

Presenters will be able to request that

Attendees

refrain from live tweeting about their specific presentation for any reason.

Attendees

are expected to

honour

this request.

Depending on the severity of the incident, violations to our Netiquette

will be regarded as outlined by our Anti-Harassment and Anti-Bullying Policy. This can result in warning those concerned and asking them to modify their behaviour; restricting contact with

GIFCon

Committee Members and Attendees, including banning those

concerned from specific

online session

s or the symposium altogether; and contacting University of Glasgow Authorities

.
Blocking Policy for Social Media
If necessary, this is a measure GIFCon Committee will consider in order to ensure a safe and welcoming space for all Attendees. GIFCon will block individuals from our social media outlets for the following reasons:
Breaking any of the elements of the C

O

C when engaging with our Social Media platforms (which are extensions of GIFCon). This applies both to direct engagements with our social media accounts and to engagements with other users in our virtual spaces.

Patterns of repeated disruptive or bad faith engagements with our social media accounts and/or other users in our virtual spaces.

Repetitive messaging engagements through social media rather than the appropriate channels for formal complaints, requests for information etc., once those channels have been made available to you and engaged with.
We will attempt to communicate with any individual if they infringe this policy and again prior to formally blocking them.


Credit

s
This Code of Conduct is based on Worldcon Dublin 2019's Code of Conduct and their Accessibility Policy and Glasgow in 2024's Code of Conduct. Both of these events have credited Geek Feminism Wiki's Conference Anti-harassment/Policy example as the source of their own COC. Our Netiquette is based on IAFA's Netiquette.
The following is a list of official University of Glasgow websites, documents and procedures referenced throughout this document:
How to attend GIFCon 2022
GIFCon 2022 will take place online. Further details will be published soon.