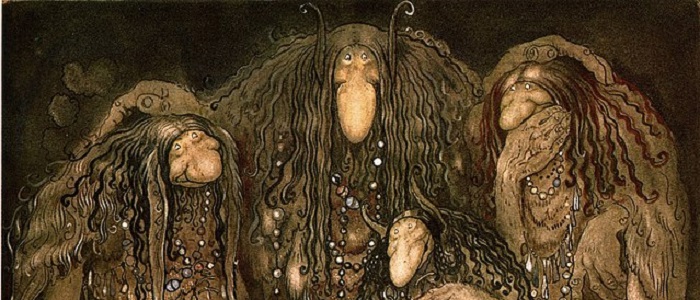 If you would like to hear from the Centre via e-mail with news about upcoming events and other activities or opportunities please fill in this form - Centre for Fantasy and the Fantastic mailing list


11 February 2022: CFP: Medical Humanities and the Fantastic Online Symposium: Neurodiversity and Disability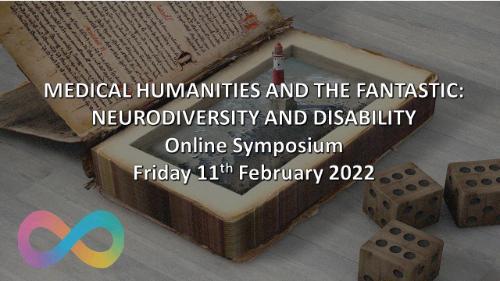 The second Medical Humanities and the Fantastic Symposium, funded by the University of Glasgow's Centre for Medical Humanities' Early Career Foundation Award, and co-hosted by the Centre for Fantasy and the Fantastic, will be held online on Friday 11 February 2022. The symposium aims to showcase the potentials the fantastic has to offer as valuable gateway and perspective for discussing medical encounters, practices and lived experiences.
This year's theme is "Neurodiversity and Disability" and will include keynotes from Dr Ria Cheyne and Dr Louise Creechan.
You can find the Symposium Call for Papers here
Deadline: 31 January 2022
28-29 April 2022:

GIF

Con 2022: Fantasy Across Media (online)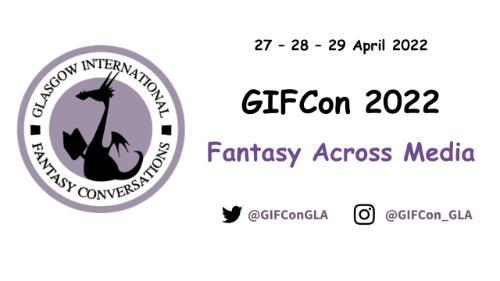 Our 5th GIFCon (Glasgow International Fantasy Conversations, run annually) will be held online for the second time in 2022. This year's theme is Fantasy Across Media.
Fantasy and the fantastic have had long, rich histories outside of literature. GIFCon 2022 seeks to examine the myriad narrative possibilities afforded by fantasy across media.
13-17 July 2022: Once and Future Fantasies Conference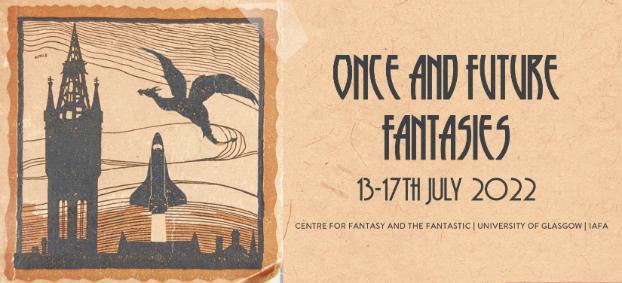 Once and Future Fantasies is the first conference co-sponsored by the International Association for the Fantastic in the Arts to take place outside North America. The conference will be hosted by the Centre for Fantasy and the Fantastic at the University of Glasgow on 13-17 July 2022.

The art of the fantastic has never been more visible than it is today. Streamed, read and written, drawn, painted, designed and modelled by amateurs and professionals, performed and played in theatrical events and games, and marketed the whole world over, the art of the fantastic occupies every available cultural niche with unprecedented energy and enthusiasm. This conference asks what the fantastic in the arts has to offer at this time of crisis, rooted as it is in the distant and recent past, while remaining extraordinarily sensitive to the shifting landscape of the present and the infinite possibilities of the future.  
Keynotes: Nalo Hopkinson and Professor Dame Marina Warner.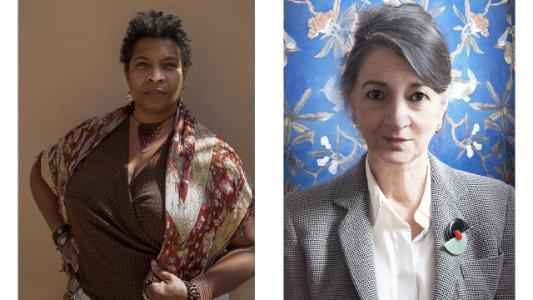 2-3 September 2022: Watership Down 50th Anniversary Conference
Richard Adams' children's fantasy classic, Watership Down, is turning 50 years old this year. We are excited to be hosting a 50th anniversary conference to celebrate the book and its legacy to be held in Glasgow in September 2022. This is a collaboration between the Centre for Fantasy and the Fantastic and the School of English, Communication and Philosophy at Cardiff University. The co-organisers are our Co-Director Dr Dimitra Fimi, and Dr Catherine Butler of Cardiff University.