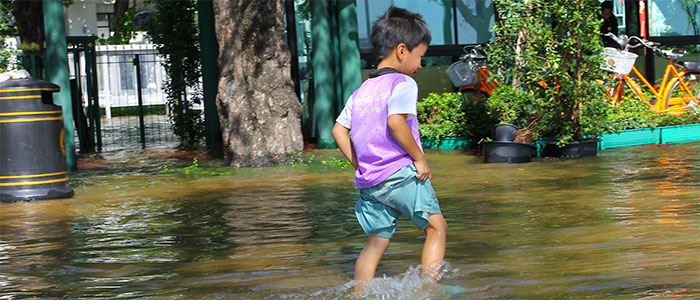 The Masters in Sustainable Water Environments will provide you with multidisciplinary knowledge and expertise in river catchment, lake and coastal environments, with a focus on the impact of and adaptation to changing environments. The programme is designed to enable you to develop an in-depth and critical understanding of contemporary global issues in surface water environments including climate and land use change, flood risk, restoration, ecosystem health, and associated management perspectives. The programme is ideal for you if you are keen to pursue a professional career or research in the water environment.
MSc: 12 months full-time; 24 months part‑time
Why this programme
Our School of Geographical and Earth Sciences is ranked amongst the top 10 in the UK, currently we are 6th (Complete University Guide 2020).
Research in the Earth Systems Research Group and SUERC was ranked 1st in Scotland for world-leading publications and research environment in REF2014.
Geography at Glasgow is ranked 41

st

in the world (QS World Rankings 2019).
This programme equips students with an interdisciplinary perspective on different surface water environments.
Seminars given by industry feature throughout the programme.
MSc project options are either in collaboration with industry, or academic researchers in the School's Earth Systems Research Group or the Scottish Universities Environmental Research Centre (SUERC).
The School owns specialist laboratory and field equipment. Students with interests in surveying water environments will benefit from access to the latest surveying equipment and software including RTK GNSS. Unmanned Aerial Vehicles (UAVs) and terrestrial laser scanners.
You will attend a residential semester 1 field class integrated into the 'monitoring water systems' course.
The School of Geographical & Earth Sciences has an Athena Swan Silver Award, demonstrating the school's commitment to supporting women in scientific studies and careers, and to improving the working environment for all.
Programme structure
Modes of delivery of the MSc in Sustainable Water Environments include lectures, seminars, tutorials, laboratory practical classes, computing workshops and fieldwork.
You will take part in a residential field class in Scotland during Semester 1 to develop skills in the operation and analysis of water environment monitoring methods and technologies.
In the final part of the programme, you will undertake a research project which will be supervised by a member of staff who teaches on the MSc programme.
Each course is assessed separately. Example assessment methods are analytical reports, examinations, oral presentations, blog posts, podcasts and policy briefing documents.
Core courses
Programme alteration or discontinuation
The University of Glasgow endeavours to run all programmes as advertised. In exceptional circumstances, however, the University may withdraw or alter a programme. For more information, please see: Student contract.
Career prospects
You will be well equipped for a variety of industrial career paths in the environmental sector, including roles that specifically focus on the surface water environment. In the UK, these roles may be with government agencies (e.g. Scottish Environmental Protection Agency, Environment Agency) or industry (e.g. environmental consultancies such as JBA, AECOM, ARUP, RoyalHaskoningDHV, Jacobs, cbec). Equivalent opportunities are available internationally. You will also be well qualified to pursue a doctoral degree.
Example employment positions for graduates from this programme include coastal-, fluvial- or hydrogeomorphologist, coastal, marine, lake, fluvial or freshwater scientist, Geographic Information
Systems (GIS) officer/geospatial analyst, marine or coastal systems modeller, environmental analyst/ officer/ consultant, flood risk modeller/policy advisor, reinsurance/insurance flood hazard analyst, Hydrologist and Coastal- or fluvial-geomorphology restoration specialist.
Fees & funding
Deposits
International applicants are required to pay a deposit of £1000 when an offer is made.
Fee information is subject to change and is for guidance only
Funding opportunities
The scholarships above are specific to this programme. For more funding opportunities search the scholarships database
Entry requirements
Normally a 2.1 Honours degree or equivalent qualification (for example, GPA 3.0 or above) in a relevant subject e.g. Geography, Earth Science, Environmental Science, Ecology, Biological Science, Mathematics, Statistics, Engineering, Computing Science.
English language requirements
For applicants whose first language is not English, the University sets a minimum English Language proficiency level.
International English Language Testing System (IELTS) Academic module (not General Training)
6.5 with no sub-test under 6.0.
Tests must have been taken within 4 years 5 months of start date. Combined scores from two tests taken within 6 months of each other can be considered.
Common equivalent English language qualifications
All stated English tests are acceptable for admission to this programme:
TOEFL (ib, my best or athome)
90 with minimum R 20, L 19, S 19, W 23.
Tests must have been taken within 4 years 5 months of start date. Combined scores from two tests taken within 6 months of each other can be considered.
PTE (Academic)
60 with minimum 59 in all sub-tests.
Tests must have been taken within 4 years 5 months of start date. Combined scores from two tests taken within 6 months of each other can be considered.
Duolingo
120 with 120 in two or more sub-scores including literacy and no subscore below 110 for direct entry, in-sessional support requirement available for those with 120, 100 for 5 week PSE, 100 for 10 week PSE.
Tests must have been taken within 1 year of start date.

Glasgow International College English Language (and other foundation providers)
65%.
Tests are accepted for academic year following sitting.
University of Glasgow Pre-sessional courses
Tests are accepted for academic year following sitting.

Alternatives to English Language qualification
Undergraduate degree from English speaking country (including Canada if taught in English)
Undergraduate 2+2 degree from English speaking country
Undergraduate 2+2 TNE degree taught in English in non-English speaking country
Masters degree from English speaking country
Masters degree (equivalent on NARIC to UK masters degree) taught in English in non-English speaking country.
For international students, the Home Office has confirmed that the University can choose to use these tests to make its own assessment of English language ability for visa applications to degree level programmes. The University is also able to accept an IELTS test (Academic module) from any of the 1000 IELTS test centres from around the world and we do not require a specific UKVI IELTS test for degree level programmes. We therefore still accept any of the English tests listed for admission to this programme.
Pre-sessional courses
The University of Glasgow accepts evidence of the required language level from the English for Academic Study Unit Pre-sessional courses. We also consider other BALEAP accredited pre-sessional courses:
For further information about English language requirements, please contact the Recruitment and International Office using our enquiry form
International students
We are proud of our diverse University community which attracts students and staff from over 140 different countries.
How to apply
To apply for a postgraduate taught degree you must apply online. We cannot accept applications any other way.
Please check you meet the Entry requirements for this programme before you begin your application.
Documents
As part of your online application, you also need to submit the following supporting documents:
A copy (or copies) of your official degree certificate(s) (if you have already completed your degree)
A copy (or copies) of your official academic transcript(s), showing full details of subjects studied and grades/marks obtained
Official English translations of the certificate(s) and transcript(s)
One reference letter on headed paper
Evidence of your English Language ability (if your first language is not English)
Any additional documents required for this programme (see Entry requirements for this programme)
A copy of the photo page of your passport (Non-EU students only)
You have 42 days to submit your application once you begin the process.
You may save and return to your application as many times as you wish to update information, complete sections or upload supporting documents such as your final transcript or your language test.
For more information about submitting documents or other topics related to applying to a postgraduate taught programme, check Frequently Asked Questions
Guidance notes for using the online application
These notes are intended to help you complete the online application form accurately; they are also available within the help section of the online application form.
If you experience any difficulties accessing the online application then you should visit the Application Troubleshooting/FAQs page.
Name and Date of birth: must appear exactly as they do on your passport. Please take time to check the spelling and lay-out.
Contact Details: Correspondence address. All contact relevant to your application will be sent to this address including the offer letter(s). If your address changes, please contact us as soon as possible.
Choice of course: Please select carefully the course you want to study. As your application will be sent to the admissions committee for each course you select it is important to consider at this stage why you are interested in the course and that it is reflected in your application.
Proposed date of entry: Please state your preferred start date including the month and the year. Taught masters degrees tend to begin in September. Research degrees may start in any month.
Education and Qualifications: Please complete this section as fully as possible indicating any relevant Higher Education qualifications starting with the most recent. Complete the name of the Institution (s) as it appears on the degree certificate or transcript.
English Language Proficiency: Please state the date of any English language test taken (or to be taken) and the award date (or expected award date if known).
Employment and Experience: Please complete this section as fully as possible with all employments relevant to your course. Additional details may be attached in your personal statement/proposal where appropriate.
Reference: Please provide one reference. This should typically be an academic reference but in cases where this is not possible then a reference from a current employer may be accepted instead. Certain programmes, such as the MBA programme, may also accept an employer reference. If you already have a copy of a reference on letter headed paper then please upload this to your application. If you do not already have a reference to upload then please enter your referee's name and contact details on the online application and we will contact your referee directly.
January 2021
Application deadlines for PG Taught programmes now commencing January 2021 have been extended, where vacancies are available:
International applicants: 27 November 2020 (Exceptions apply for certain high demand programmes.)
UK/EU applicants: 15 December 2020
Apply now