21st Century and beyond ..
21st Century and beyond ..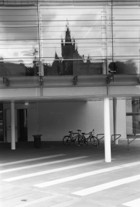 Work was completed by the Faculty of Medicine on the award winning Wolfson Medical School in 2002.
‌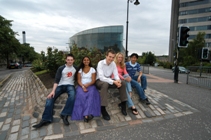 University Reorganisation

From August 1st 2010, Faculties ceased to exist at the University. The Faculty of Medicine joined the Faculty of Veterinary Medicine and the Faculty of Biomedical and Life Sciences to become the College of Medical, Veterinary and Life Sciences (MVLS). Within MVLS, a number of Institutes and Schools were established, including the School of Medicine which has responsibility for teaching medical undergraduates.

The New Lister Building (formerly known as the University Tower at Glasgow Royal Infirmary) opened in January 2014 following a £15 million refurbishment. The state-of-the-art equipment, facilities and décor transformed the building for the staff and patients, which also includes two floors of state of the art teaching and learning facilities for the University of Glasgow and the Royal Infirmary Campus.

In 2015, Her Majesty, The Queen officially opened the new Queen Elizabeth University Hospital which includes a magnificent Teaching and Learning Centre. Read more. While the city bids farewell to five great institutions.
Research Institutes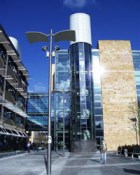 MVLS created 7 research institutes including Cardiovascular and Medical Sciences, Infection, Immunity and Inflammation as well as Cancer Sciences among others. New Cancer Research facilities have been built at Gartnavel General Hospital (the Paul O'Gorman Leukaemia Research Centre) and at Garscube Estate (the Cancer Research UK Glasgow Centre). The Institute is a partner with the Beatson Institute for Cancer Research (BICR).

Schools

MVLS established 4 schools including the School of Medicine, Dentistry and Nursing & Health Care. This particular school is responsible for teaching undergraduates in the different medical related disciplines.
To find out more about the history of medicine in the West of Scotland, visit the Hunterian Museum and see 'A Healing Passion'.
Read more in 'Medical Education, Past, Present and Future, Handing on Learning', by the former Chancellor, Sir Kenneth C Calman.
A booklet 'A Significant Medical History' based on the contents of our website can be found in the Visitor Centre on Gilmorehill or purchased on line on the University Gift shop website .
And of interest to student nurses and doctors , visit the MicroMuseum (or the wee museum) in the Wolfson Building, created by Dr Marjorie Allison and designed to illustrate 200 years of health care delivery.
Please contact the page editor with any comments about the website.