Radiology
As noted earlier in this history, Dr John Macintyre (1857-1928) established the world's first hospital radiology department in Glasgow Royal Infirmary in January 1896 having produced x-ray images (initially known as Skiagraphs) only a matter of weeks following the discovery of x-rays by Wilhelm Conrad Roentgen in late 1895. This was at Roentgen's own request to his friend Lord Kelvin to verify his discovery, Lord Kelvin being ill asked Macintyre.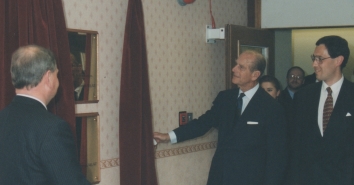 Macintyre published 18 groundbreaking papers on the use of x-rays in 1896 alone, including the first image of a kidney stone in a patient. He subsequently pioneered soft tissue radiographs including the world's first chest x-ray images, and upon enquiry informed Roentgen as to how he had achieved these. In 1897 Macintyre produced the world's first cinematic radiograph depicting the movements of a frog's leg.

See a video commentary on Macintyre's work by John Scott here, Past President of the Society of Radiographers, who worked with Macintyre from 1914 to 1928. This was recorded in the 1970s, digitized by Dr Allan Reid and the Medical Illustration Department, Glasgow Royal Infirmary in 1996 for the centenary of Macintyre's department.
For a history of Radiology in Scotland, see John Castle (2000)
Through the inception of the National Health Service in 1948, Diagnostic Radiology and Radiotherapy had become separate disciplines, though retaining a common Faculty (later becoming a Royal College in its own right).
In 1948, radiology was mainly confined to plain film interpretation, barium studies and a relatively limited number of contrast examinations, including intravenous and retrograde pyelography, cholecystography, intravenous cholangiography and myelography.
Other examinations and imaging modalities such as ultrasound, computerised tomography (CT) scanning and magnetic resonance imaging (MRI), plus radiologically guided interventions, emerged in the following years.
Angiography and Interventional Radiology

Angiography (visualisation of blood vessels by injection of contrast media) in Glasgow developed initially in the 1950s and 1960s, when James Yuill Walker was in charge at the Royal Infirmary and Stanley Scott Park at the Western Infirmary. Nimmo McKellar at the Royal Infirmary brought considerable skills to the discipline. Early in this period, most angiography was by direct puncture, whether of the carotid artery, the femoral artery or others. Trans-lumbar aortography was initially developed for renal assessment; film changers and table movement allowed assessment of the abdominal aorta and peripheral vessels. Dr McKellar and others managed the transition from direct puncture to the Seldinger technique, which allowed vascular access using an ever increasing variety of guide wires and catheters. Nowadays, almost any part of the vascular tree is accessible.
Initially, there was increasing use of these procedures for ever more detailed diagnostic angiography. Indeed, in the absence of cross-sectional imaging, angiography became central to much radiological diagnosis. In the venous system, the technique was used for selective sampling to localise a variety of endocrine tumours. Through the 1980s, increasing use was made of selective angiography to embolise bleeding points and some tumours (including local targeted chemotherapy), using a variety of temporary and permanent materials. Embolisation coils and balloons took this further.
Allan Reid was appointed to the Royal Infirmary in 1989, and played a major part in the further development of the vascular service, extending the use of balloon angioplasty and introducing endovascular stenting. He also introduced the use of caval filters for management of venous thromboembolism (see Vascular Disease).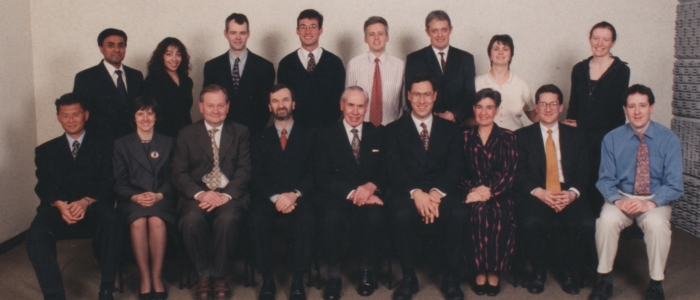 In 1989, Richter in Germany carried out the first trans-jugular portosystemic stent shunt. The first attempt in the UK was carried out shortly afterwards at the Royal Infirmary by Dr Richard Edwards (all the more remarkable because he was only a senior registrar at the time). Jon Moss was appointed in 1992 to the Western Infirmary and Gartnavel hospitals, and together with Edwards, helped revolutionise Interventional Radiology (IR) over the next 10-15 years across Glasgow and further afield.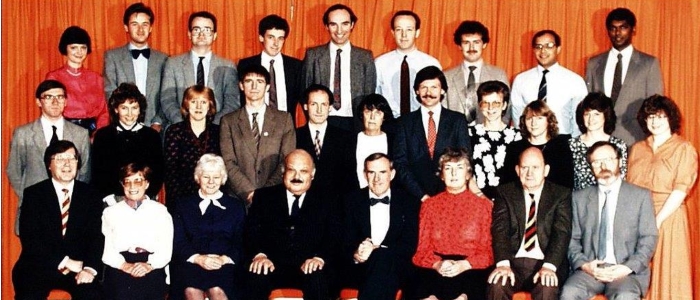 Back Row: Hilary Dobson, Alan Ramsay, John Roberts, John Straiton, Colin Campbell, Richard Edwards, Sutherland McKechnie, R Mahraj, J Navasivayam
Middle Row: Brian Mucci, Fiona Howie, Anne Hollman, George Stenhouse, Nigel McMillan, Patricia Morley, Michael Cowan, Barbara Dall, Susan Ingram, Wilma Kincaid, Grace Hare
Front Row: Ramsay Vallance, J McDermid, Dorothy Rigg, Ellis Barnett, Jake Davidson, R McKinnon, Albert Aylmer, Fred Adams


Procedures introduced included
aortic aneurysm stent grafting
uterine fibroid embolisation
embolisation for trauma and bleeding
obstetric bleeding control
colonic stenting
Percutaneous vertebroplasty, initially for malignant lesions and later for some benign indications.
Similarly, many palliative procedures for cancer were developed along with various image guided tumour ablation techniques.

Alongside the practical aspects of IR, Moss and Edwards also introduced a 24/7 IR on call system (a first for Scotland), and a fellowship training programme which exported new consultants to Aberdeen, Edinburgh, Dundee and England. They were the first in Scotland to recognise the value of role extension in IR, and established a vascular access nurse led team which has since been copied by many other centres. Research under the leadership of Jon Moss saw pivotal trials (ASTRAL, REST, CAVA) deliver evidence based medicine to the relatively new specialty of IR. Moss received an honorary professorship from Glasgow University for his efforts and team work.
At the Royal, Brian Moule in collaboration with Professor Leslie Blumgart, progressed endoscopic percutaneous cholangio-pancreatography (ERCP) and percutaneous trans-hepatic cholangiography (see Surgery – Royal Infirmary).
Alastair Forrester at the Royal Infirmary worked with the urologists providing a renal access service for nephrolithotomy and complex stenting. This collaboration produced a technique for extra anatomical stenting with a patented device in a select group of terminally ill patients. Modifications of the nephrolithotomy techniques also allowed access for endoscopic pancreatic necrosectomy.
Ian Stewart at the Royal Infirmary collaborated for many years with the pancreatico-biliary team and provided a percutaneous drainage and stenting service. Meanwhile Grant Urquhart provided vascular and body interventional services at the Southern General Hospital; Stella Goudie with later Mike Gronski and Andrew Downie provided similar services in the Victoria Infirmary.


Ultrasound

Clinical ultrasound was first developed in Glasgow by Professor Ian Donald of the Department of Obstetrics and Gynaecology). Radiologists soon took an interest, and Ellis Barnett and Patricia Morley of the Western Infirmary became among the best known names in British ultrasound, publishing an early textbook on the subject. Dr Barnett kindly donated his royalties from the first edition to the Royal College of Radiologists to fund the Ellis Barnett prize in ultrasound.
Barnett and Morley published on urinary tract masses in 1971. James G Duncan (1922-2002), with surgeons Clem Imrie and Leslie Blumgart, published on bistable images of the gall bladder and biliary tree in 1975, and Barnett and Morley on transrectal ultrasound in 1979.
A new edition of Clinical Diagnostic Ultrasound has been written by Grant Baxter of the Western Infirmary (along with the late Paul Allan of Edinburgh).
Ultrasound has been particularly useful in Paediatrics because it does not use ionising radiation and has been used extensively at the Royal Hospital for Sick Children, particularly by Anne Hollman, before her untimely death in 1999. Her husband endowed a prize in her memory to the Scottish Radiological Society for the best paper given by a trainee at the annual meeting.
In addition to its role as a safe diagnostic technique, ultrasound has proved useful in percutaneous biopsy, and therapeutic applications such as tumour ablation.
Neuroradiology and the Introduction of Computerised Tomography (CT) and Magnetic Resonance Imaging (MRI)

The Neuroradiology Department was established in the Emergency Medical Services (EMS) hospital at Killearn, the neuroradiologists being J Leslie Steven, Kenneth W M Grossart and Peter Macpherson. They transferred in 1970 to the Institute of Neurological Sciences (INS) at the Southern General Hospital. The first CT scanner in Glasgow was installed there in 1973, one of the original EMI scanners requiring a water bag to immobilise the head. CT scanning was a major advance, but initially it was limited to scanning the head and was slow.

Later developments replaced many older invasive and unpleasant neuroradiological examinations, such as ventriculography and cisternography as well as some diagnostic artriography. Dr Evelyn Teasdale was appointed in 1983 when Dr Steven retired.
In 1984, Professor Graham Teasdale (Neurosurgery), Dr Peter Macpherson (Neuroradiology) and Dr Jack Rowan (Clinical Physics) won a five year (extended to seven year) programme grant from the MRC to assess the place of low field MRI in Neuroscience. A 0.15 Tesla MRI unit was installed in the Institute of Neurological Sciences. Donald Hadley came from Aberdeen, the pioneering centre for MRI in Scotland, to develop the discipline. Like CT before it, MRI has replaced many earlier neuroradiological examinations such as myelography, as well as providing its own unique insights.
Evelyn Teasdale developed Interventional Neuroradiology and Dr Joe Bhattacharya was appointed to support her and then took it forward to embrace therapeutic angiography with treatment of cerebral aneurysms, arteriovenous malformations, Vein of Galen aneurysms and ischaemic stroke all being within the INS.
Dr Teasdale further developed multidetector CT and with Susan Aitken, Superintendent CT radiographer, published their observations in "Multidetector CT in Neuroimaging: An Atlas and Practical Guide" published in Clinical Imaging in 2009. Dr David Kean joined the Department from Sheffield as a Clinical Neuroradiologist on Dr Macpherson's retiral.
Higher field strength MRI scanners were built in the 1990s and 2000s with the first 1.5 Tesla scanner (a Siemens Magnetom 63 SP) being installed in the INS in December 1992, with the potential for spectroscopy. Later, the first 3.0 Tesla scanner in Scotland purchased jointly by the NHS and University of Glasgow enabled by a generous endowment from the Sackler Foundation USA to Glasgow and Edinburgh Universities. In Glasgow, it was predicated on a co-operative agreement with the Southern General Hospital to accommodate it for functional MR research in 2004.
The Neuroradiology Department in the INS had by then produced a large body of collaborative research in clinical CT, MRI, angiography and SPECT scanning. Donald Hadley was appointed Glasgow University's first Honorary Chair in Radiology in 2000. With Professors Joanna Wardlaw (Edinburgh) and Alison Murray (Aberdeen), he was awarded a Scottish Higher Education Funding Council Strategic Research Development Grant (SRDG) in 2005 to set up "Imaging Scotland – a co-operative neuroimaging initiative to meet the research and health priorities of Scotland". A further application with Professor Hadley as the Glasgow lead formed SINAPSE (Scottish Imaging Network: A Platform for Scientific Excellence) from the Scottish Funding Council and Chief Scientist Office in 2007 and was awarded a £7 million grant. With £35 million of supporting funds over five years from the Scottish Universities, SINAPSE has been very productive and now encompasses imaging research and teaching in the whole body. Since 2012, it has been self-funding.
Professor Keith Muir, a neurologist, was appointed SINAPSE Professor of Radiology in 2009 with a major interest in stroke. Dr Celestine Santosh, a clinical neuroradiologist in the Department has developed commercial applications with a portfolio of novel contrast agents and MR sequences for the investigation of stroke and epilepsy.
A new 7 Tesla scanner has been installed in the Imaging Centre of Excellence (ICE) building linked into the Queen Elizabeth University Hospital. Intended mainly for research, this will initially focus on neuroradiological applications.


Expansion of CT Scanning

The first body scan capable CT scanner in Scotland was installed at Glasgow Royal Infirmary in 1978. As CT scanners became faster, imaging of all parts of the body became possible, but it was not until the early 1990s that all major Glasgow hospitals were appropriately equipped. One driver for this was that CT scanning rapidly became central to all stroke and head trauma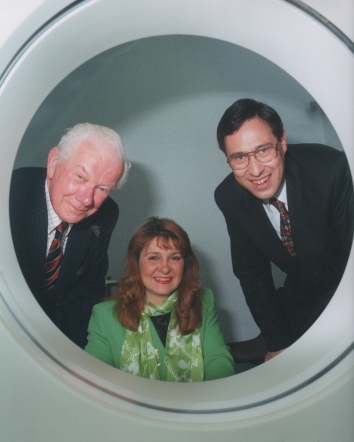 The first single slice helical CT scanners employing slip ring technology were installed in the late 1990s. However, it has been the advent of ever faster multidetector scanners that has driven CT to become the main workhorse imaging cross sectional modality, both for emergency and trauma imaging as well as oncological diagnosis, staging and follow-up. Technological advancements have also allowed the use of CT in percutaneous biopsy and interventional procedures.

Recent CT scanners even allow the use of real-time 'fluoroscopic' imaging to guide such procedures. CT is now routine for lung biopsy and many abdomino-pelvic drainage procedures, as well as being used for guiding specialist ablations such as for renal tumours and osteoid osteomas.



Dr Giles Roditi who took up an appointment at Glasgow Royal Infirmary in 1997 (now Honorary Clinical Professor, University of Glasgow) employed the Royal Infirmary's first 4 slice CT scanner with electrocardiographic gating to provide the first clinical Scottish cardiac CT service. Initially this was limited to the assessment of suspected anomalous coronary artery origins and bypass graft patency.

However, with ever faster scanners and lower radiation dose technology, this is now a routine non-invasive test for coronary artery evaluation. The landmark SCOT-HEART study of coronary artery CT, in which Glasgow participated, is remarkably the first prospective randomised controlled trial of any diagnostic imaging technique where the addition of a diagnostic scan to a care pathway has been shown to reduce mortality from a condition (read more).
Development of MRI Scanning
MRI scanners have, for many years now, no longer been the preserve of specialist neuroradiology imaging, as per the spread of CT scanning. Similar drivers to the adoption and diffusion of CT technology have propelled MRI into day-to-day imaging not just of the brain and spine but of the whole body. The Western Infirmary installed a 1 Tesla MRI scanner (Siemens Magnetom Impact Expert) as part of the Scottish national procurement in 1993, and Glasgow Royal Infirmary finally obtained its first MRI scanner (a 1.5 Tesla system, Philips ACS NT) from charitable funding in 1998. Musculoskeletal imaging is probably the largest component of MRI work after neuroradiology in terms of volume, but applications in all parts of the body including hepatobiliary, renal and cardiovascular studies have become indispensable to modern medical practice.

Dr Giles Roditi pioneered the use of contrast-enhanced magnetic resonance angiography (MRA) in Scotland from 1998. This was revolutionary at the time as CT scanners were not yet capable of angiographic studies, so this was the first non-invasive method to produce arteriographic images in a format familiar for vascular surgeons and interventional radiologists performed on an out-patient basis. Dr Roditi also introduced a clinical cardiac MRI service with comprehensive cine-angiographic studies, supporting cardiac surgery, including the Scottish Cardiac Transplant service, then sited at GRI.
Installations of clinical 1.5 Tesla MRI scanners at Gartnavel, the Southern General Hospital and then later the Stobhill and Victoria hospitals followed in due course – the latter upon their transformation into Ambulatory Care and Diagnostic Hospitals in 2009. For clinical services, there are currently one 3.0 Tesla and twelve 1.5 Tesla MRI systems within NHS Greater Glasgow &Clyde hospitals, plus advanced 3.0 Tesla and 7.0 Tesla research scanners that are part of the Clinical Research Imaging Facility (CRIF - see below).
MRI Research Scanners
The initial MRI scanners installed at the INS were used for neuroradiological research projects but increasing clinical work soon reduced the scope for this. Outwith neuroradiology, a research team led by Professor Henry Dargie obtained an MRI scanner for cardiac imaging, made possible by a £1M donation from Brian Souter of Stagecoach. This scanner (a 1.5 Tesla Siemens Sonata) was installed on Level 4 of the Western Infirmary in October 2001. Later, this was supplemented by a 3.0 Tesla Siemens Verio scanner funded by the British Heart Foundation in the BHF building in March 2009 (see Cardiovascular Disease). Meanwhile, the Department of Psychology in the University of Glasgow procured a 3.0 Tesla scanner for research in the Centre for Cognitive Neuroimaging; this was installed in early 2008, in part through funding from the Wolfson Foundation.
The latest additions to the research MRI portfolio in Glasgow are a 3.0 Tesla Siemens Prisma with high performance gradients installed in the Clinical Research Imaging Facility connected to the new Queen Elizabeth University Hospital; and an Ultra-High Field 7.0 Tesla Siemens Terra in the brand new Imaging Centre of Excellence building. The latter is the first clinical UHF MRI system installed in a hospital environment in the world.
Radiology in Public Health
Radiology can be a useful tool in screening, but the risks of ionising radiation and false positive examinations remain a problem.
The best known application is in breast screening. Following the publication of the Forrest report on breast cancer screening in 1987, the first NHS funded Breast Screening Unit opened in Woodside Place, Glasgow. Later it transferred to its current site in Nelson Mandela Place in the city centre. Its clinical director, Hilary Dobson, has been in post since 1988 and leads a team of mainly sessional radiologists dedicated to the screening programme.
No account of the role of radiology in public health would be complete without mention of the Glasgow X-Ray Campaign against tuberculosis which was initiated in 1955. In the first five weeks of the campaign, 714,915 people (approximately 70% of the population) were x-rayed, greatly exceeding the target of 420,000. A total of 2,842 active cases of tuberculosis, and 5,370 cases requiring further observation, was discovered.
John Castle, Grant Baxter, Alastair Forrester, Donald Hadley, Jon Moss and Giles Roditi