About Unwrapping an Icon
The project will explore questions of artistic technique, attribution and identity, using scientific analysis as well as research on the history of dress, society and collecting, in an attempt to unpack the complex history and significance of this unique painting and provide a fuller understanding of who painted it, who it might represent and when it was created.
This will only be possible through comparison with other relevant works so the project will also involve equivalent scientific investigation and additional research on five other sixteenth-century Spanish portraits in the Stirling Maxwell Collection. It will likewise draw on the results of similar research on paintings held by international institutions such as the Prado Museum. Through this collaborative and comparative approach, our understanding of the context of portraiture and artistic practice in this period in Spain generally will also be greatly enhanced. The fascinating history of reception of the Lady in a Fur Wrap and its impact on modern art and even film will also be explored.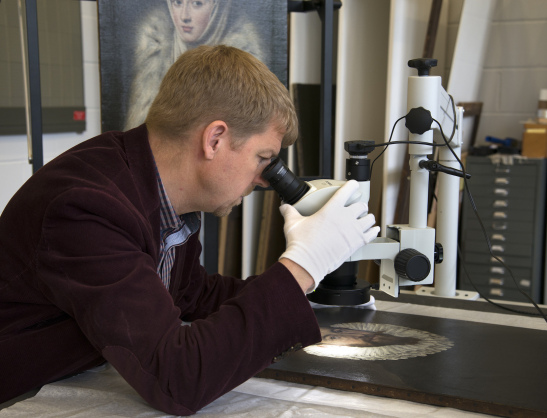 Dr Mark Richter examines El Greco's Portrait of a Gentleman with a stereomicroscope. © CSG CIC Glasgow Museums Collection
Research outputs will include a three-day symposium announcing the findings of the project, and an edited book. The research on the Lady in a Fur Wrap and related portraits will also feed into the wider Stirling Maxwell Spanish Paintings Project.
Papers
Macartney, H. (2016) Portrait of an Enigma (PDF, 724kb)
Project team and partners
The new research is led by the University of Glasgow in partnership with Glasgow Museums, who own these works, which formed part of Sir William Stirling Maxwell's important collection of Spanish paintings.
The University of Glasgow team is directed by Dr Hilary Macartney, who is leading the research and managing the project. The scientific investigation is led by Dr Mark Richter and the project is overseen by Professor Nick Pearce. Professor Lesley Miller is advising on dress history and Dr David Archibald on film.
Other key partners include:
National Trust for Scotland, who care for Pollok House where the Lady in a Fur Wrap and the other portraits in the project are normally displayed
Museo Nacional del Prado, Madrid, who are carrying out parallel research on comparative works in their collection
Funders
Santander Universities
Royal Society of Edinburgh