The Stirling Maxwell Spanish Paintings Project
In this strand of the project, the Spanish Paintings Project is studying the collection of around 130 Spanish paintings formed by Sir William Stirling Maxwell, which was the largest and most comprehensive collection of this school ever put together in Britain.
Much of his collection is now dispersed, but fortunately a substantial core remains at Pollok House in Glasgow and is owned and administered by Glasgow Museums with the assistance of the National Trust for Scotland.
Of the dispersed portion, some of the most important works are now in public and private collections worldwide, including:
The National Gallery, London
The Meadows Museum, Southern Methodist University, Dallas
Fundación Focus-Abengoa, Seville
The Nationalmuseum, Stockholm
The paintings mainly date from the sixteenth and seventeenth centuries, and were collected at a time when the art of Spain was still an unusual taste for British collectors. Uniquely, the collection also reflects Stirling's scholarly interests in Spanish art, both as author of the Annals of the Artists of Spain (1848), and as collector of an outstanding library of books and treatises on Spanish art. Likewise, the paintings demonstrate Stirling's fascination for artistic training and practice in Golden Age Spain, a field which chimes with many of the interests and approaches of researchers today.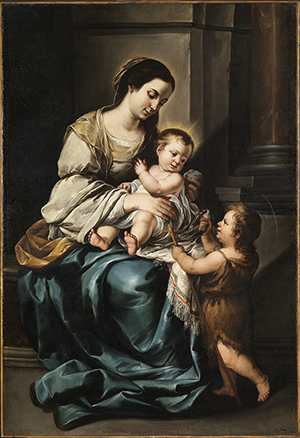 Bartolomé Esteban Murillo, Virgin and Child with Infant St. John, called 'La Serrana' ('The Highland Virgin'), c. 1647-50. © CSG CIC Glasgow Museums Collection
The Stirling Maxwell Spanish Paintings Project seeks to research and contextualise these key distinguishing aspects of the collection, including:
the provenance of the paintings
their attributions and subjects
the significance of the works for Stirling Maxwell as scholar and collector
how they have contributed to reception of Spanish art in this country
Scientific examination and analysis of key works in the Pollok House collection is planned as a significant aspect of the research, and will draw on the expertise of specialists in Technical Art History at the University of Glasgow. To date, a catalogue raisonné of this outstanding collection of Spanish paintings has never been produced and will be the principal output of this strand of the Project. In this way, the catalogue will reunite the collection and will enable its extent and significance to be widely recognised for the first time.
Project team and partners
The Stirling Maxwell Spanish Paintings Project is a collaboration between the University of Glasgow, Glasgow Museums and the National Trust for Scotland, with the support of the Museo Nacional del Prado, Madrid.
Funders
Santander Universities