Related Links
SCMH ECR Symposium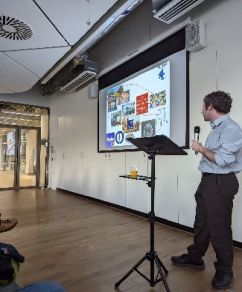 On the 4th of November, our ECRs gathered for the SCMH ECR Symposium in the ARC. Our day was brilliantly kicked off by Dr Terry Quinn who kindly told us about the trials and tribulations of being a Clinical Academic – who knew Mr Men & Little Miss represented this so well!?
Dr Lorraine Work, Athena Swan Champion, then took us through how Athena Swan has shaped our current working environment – it's important to reflect the policies that are in place thanks to Athena Swan; these highlight how essential our feedback is through the Athena Swan surveys! (Read more about our Athena Swan group and coffee mornings here).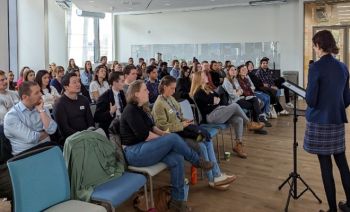 Our amazing SCMH Postdoctoral researchers and Clinical Fellows then presented an array of their work, this literally spanned arrhythmias to XIP (…very nearly A to Z!). The enthusiasm of Dannie the microphone manager was wonderful, and it was great to see the work carried out in our school. We had a lovely lunch, where our ECRs could chat to New England Bio & Promega Reps, as well as Dr Jennifer Hay (Glasgow Tissue Research Facility, QUEH).
Our final speakers of the day were the inspiring Prof Eleanor Davies & Prof Will Fuller. Eleanor blew us away with her incredible career path – little Miss Science did not disappoint! She shared the most impactful slide of the day, which left all of us with a lot to mull over! Will then presented information about our school's wonderfully supportive Fellowship Opportunities in Cardiovascular Science: FOCuS scheme – if you're interested, please drop Will an email!
There are £800 awards available, which should be led by an individual who attended the SCMH ECR Symposium (those who did not attend, can be included as co-applicants). Applications must be submitted by 5pm on the 18th November (please send all submissions to caglar.gok@glasgow.ac.uk). This is the chance for preclinical & clinical ECRs to collaborate on a shared interest, or if you want to apply for training in a specific technique! We strongly encourage collaborative applications across Preclinical/Clinical ECRs.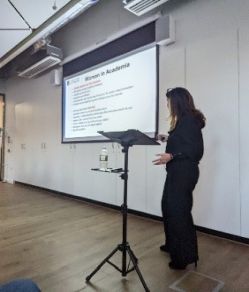 Overall, it was a wonderful day, that was greatly received. We appreciate everyone who attended, chaired, and presented. Please note that this event was generously supported by the ISSF Fund for Embedding equality ECR career trajectory in SCMH awarded to Dr Francisco Rios, Dr Stacy Robertson, Dr Paul Welsh & Dr Guto Montezano in 2019.
SCMH ECR Committee
Any questions please contact josie.fullerton@glasgow.ac.uk
Related Links