Postgraduate Research Experience Survey 2015
In our 2015 survey 53% of PG Researchers shared their views on doing a research degree at Glasgow. Their responses help us see where we are making progress and what we still need to work on and will feed into decisions on policy and practical issues.
We are delighted that 88% of respondents reported that they are satisfied with the experience of their research degree programme. Overall, satisfaction figures were high, showing significant improvements in all four Colleges and in all areas of the survey. However, the survey also higlighted which areas in particular need improvement and we continue to look at ways in which we can do things better.
Download the full PRES results by College:
College of Arts 2015 PRES Results‌
College of MVLS 2015 PRES Results
College of Science & Engineering 2015 PRES Results‌‌
College of Social Sciences 2015 PRES Results‌‌
To make our action plan meaningful at a local level, interpreting and responding to the results has to be a joint undertaking. Therefore we really want your comments or feedback on the results. Our Researcher Development Manager (Elizabeth Adams) is always happy to come out to discuss these results at local meetings or please send her any suggestions.
Supervision
This is an area where Glasgow typically performs well and we have seen further improvements in 2015 across the Colleges, particularly in relation to regular contact, feedback and supervisor support in identifying training needs. However, there is still room for improvement in this last area, as agreement with this is variable across Schools and Institutes.
‌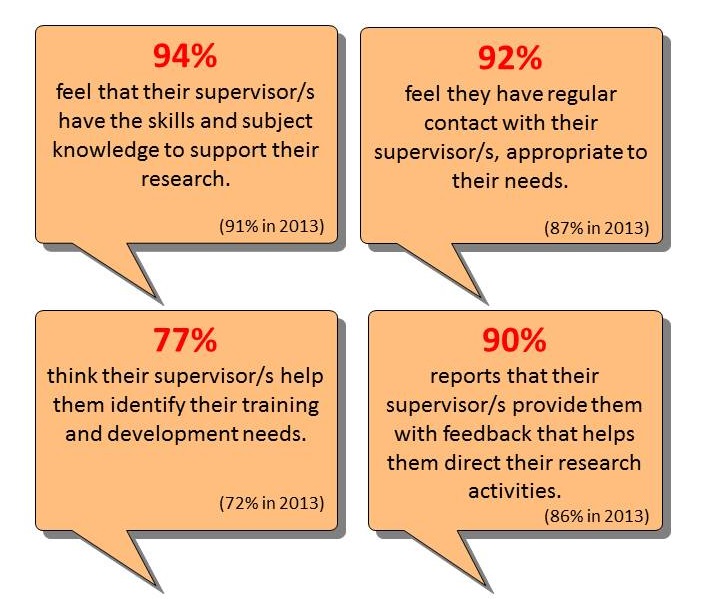 Resources
The percentage of postgraduate researchers agreeing that they have a suitable working space has improved overall this year (83% compared to 80% in 2013 and 78% in 2012). Nevertheless, it is still relatively low across some of the Colleges. 85% of respondents agreed that they have access to the specialist resources necessary for their research (compared to 82% in 2012).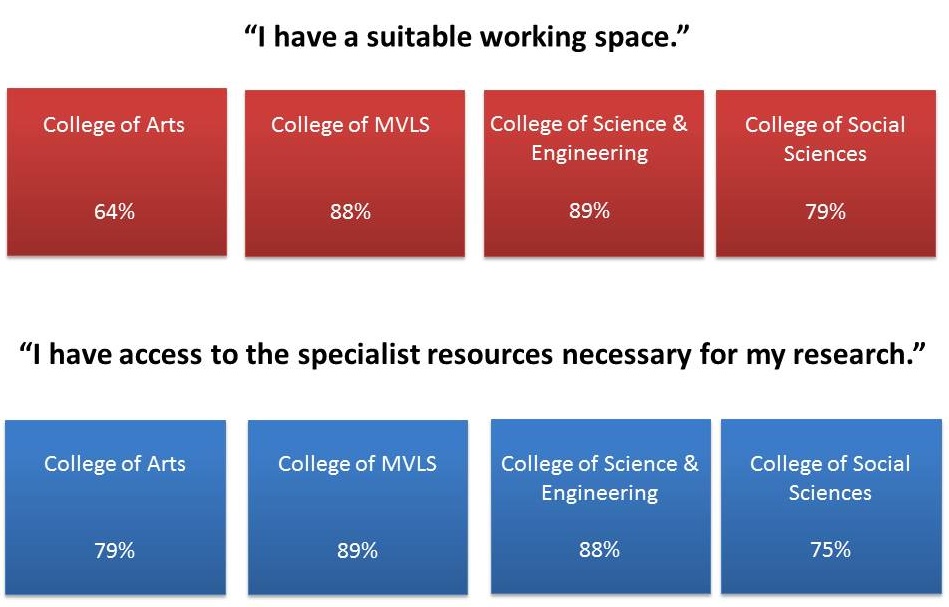 Research Culture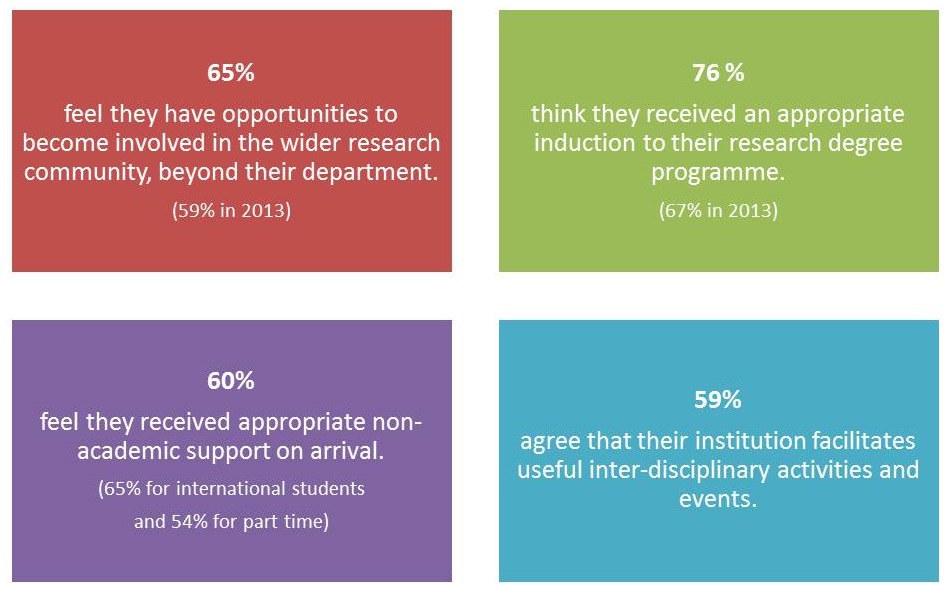 As for many large organisations, this is a challenging area of the survey for us, as it takes into account how we welcome researchers into the community at local level, as well as ensure they have opportunities to reach out beyond School or subject-level structures to meet researchers in other disciplines. Following a suggestion from the Student Representative Council, we added in a question asking about non-academic support on arrival. This is the first time we've asked this but we can see from the results that there is more we could do support people when they first get here. However, we've seen significant improvements in induction since 2013 and hope this will continue to rise, so that we get people off to the best start possible.
Satisfaction with social space has continued to improve as has satisfaction with opportunities to become involved in the wider community. However, the latter is lower for international respondents (60% compared with 67% for students with 'UK' fee status and 73% for students who report being part of a doctoral training centre programme). Respondents with caring responsibilities also report lower integration into the research community (60%).
Progress, assessment and understanding
of roles and responsibilities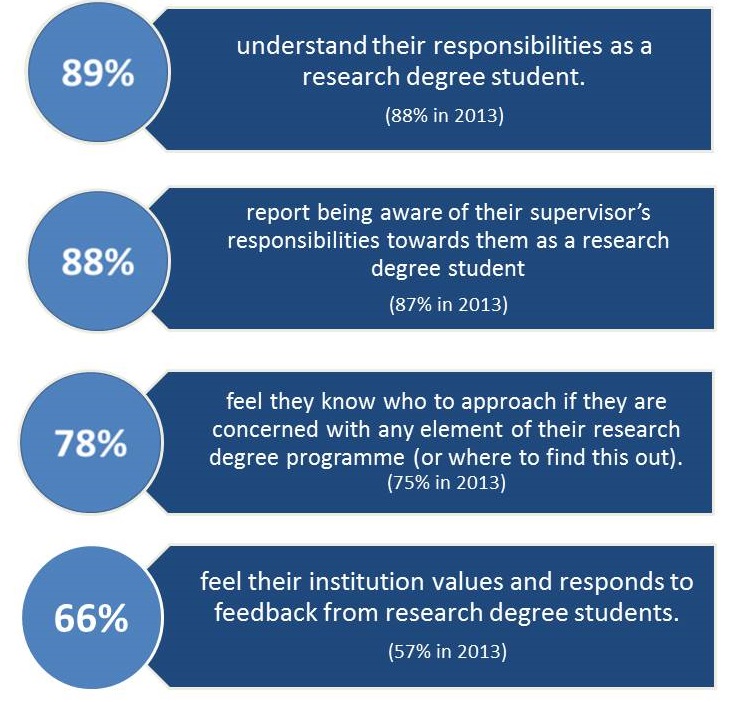 Improvements have been seen in the Institution's response to postgraduate research feedback. International PG researchers and 1st year researchers are more satisfied with this area than other postgraduate researchers, whilst the percentage of part time respondents were less satisfied (55%). Overall satisfaction is at 63% and therefore this is a key area for improvement.
Research Skills and Professional Development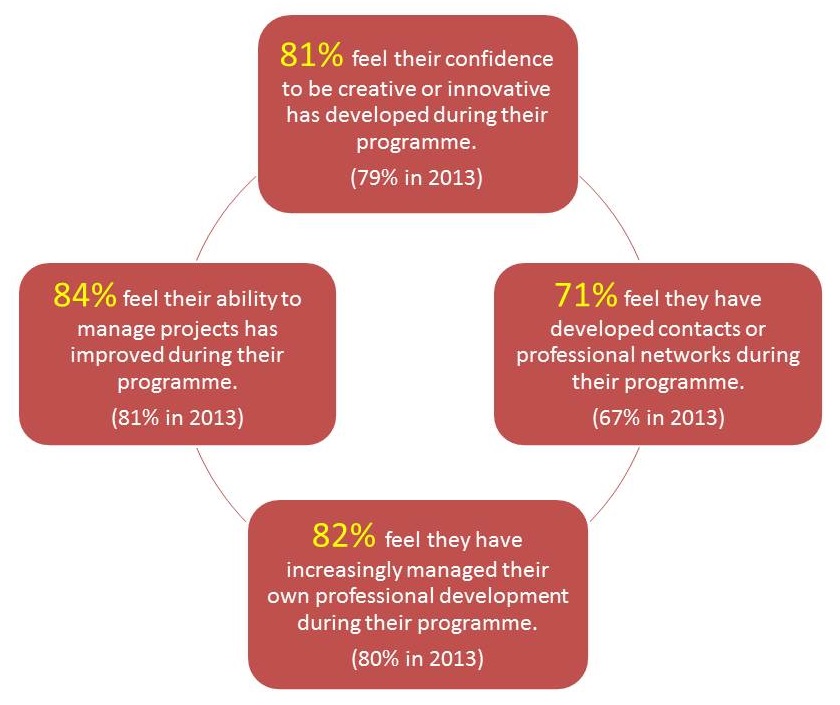 Respondents generally agree that their experiences as postgraduate researchers so far have helped them to develop research skills and enhanced their professional development. Understanding with respect to communicating to diverse audiences, managing projects and research integrity has increased since 2013. Respondents in later years of their PhD agreed with this more (as you might expect). Part time PG researchers were less likely to agree, perhaps because they feel they are already developing such skills in other professional contexts.
Teaching opportunities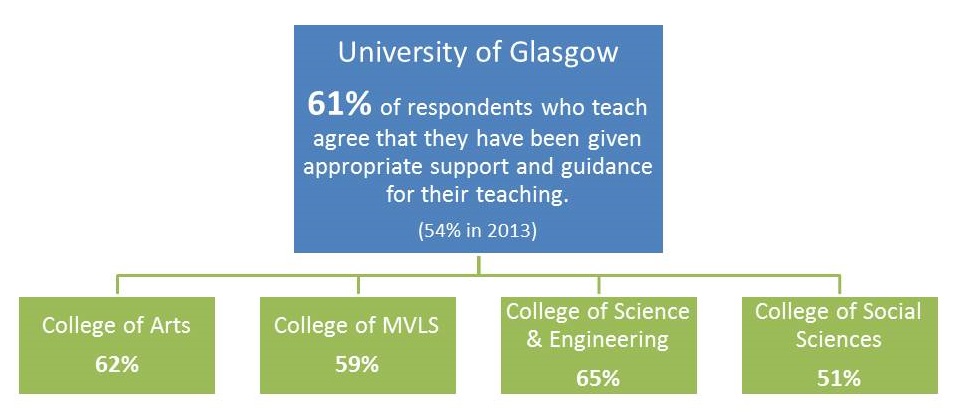 Satisfaction with support for teaching has improved significantly since 2013. However, with only 61% agreeing they have had appropriate support and guidance, there is still room for further improvement in this area.