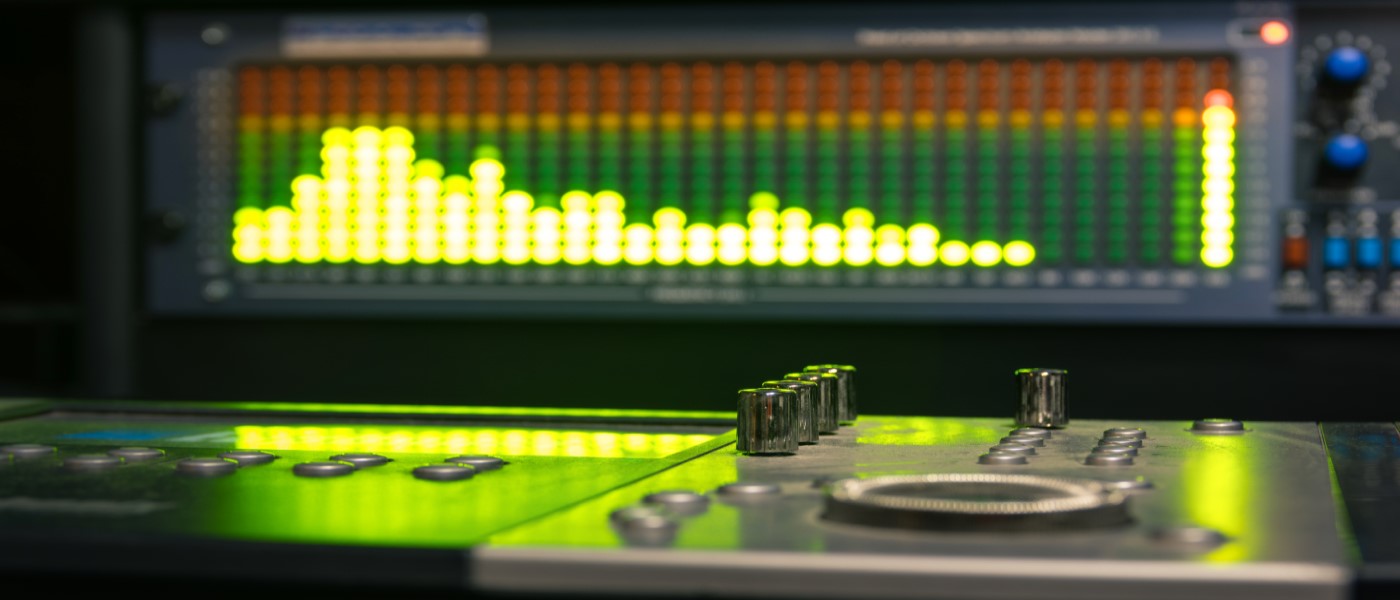 The Masters provides advanced training in creative practice with sound and audiovisual technologies. The programme offers topics relevant to practicing musicians, artists, and the creative industries, such as sound shaping and design, audiovisual composition, field recording, creative and experimental approaches to technology, live performance, interdisciplinary perspectives on sound, and sonic aesthetics. You then develop an individual portfolio of sonic and audiovisual artwork based on your particular skills and interests.
MSc: 12 months full-time; 24 months part‑time
Why this programme
We are Scotland's leading research centre in Music, with a mutually supportive community of scholars and practitioners.
You will benefit from studying in the city of Glasgow, the UK's first UNESCO city of music, with its vibrant and exciting music scene. Festivals abound, such as Sonica, Counterflows, and Tectonics, as does grass-roots sonic activity such as the Lights Out Listening Group, and a huge range of venues for creative sound work, including the Old Hairdressers, Tramway, Mono, SWG3, and City Halls, all of which have hosted our students' work. The presence of ensembles such as the BBC Scottish Symphony Orchestra, RSNO, Scottish Opera, Scottish Ensemble, and experimental music ensembles such as the Glasgow Improvisers Orchestra provides a rich context for your studies.
We work with the city's cultural programme (Glasgow Life), and in collaboration with local arts houses and organisations such as Cryptic, to bring leading sonic artists to Glasgow, with associated workshops and collaborative opportunities for our students.
Your work can be showcased in our annual postgraduate event Sound Thought, which takes place at the Centre for Contemporary Arts (CCA).
Your work can also be showcased at the Glasgow Electronic and Audiovisual Media (GLEAM) Festival.
You can experiment with building devices for making and controlling sound, enhanced by the presence of prototyping facilities in Glasgow such as Maklab, through our Creating with Technology unit.
You will benefit from access to our facilities including an audio lab, three studios, the University's Concert Hall with Genelec and D&B sound diffusion system, seminar and practice rooms.
Programme structure
The programme aims to:
provide artistic and technical experience in working with sound as a culturally significant medium
enable you to build your knowledge of tools and methods for manipulating sonic and audiovisual media
enable you to design, repurpose and reconfigure technologies for creative compositional ends
enhance your creative practice through taking an exploratory and critical approach to sonic design and composition
The MSc comprises 180 credits as follows:
Semester 1 compulsory courses (60 credits):
Semester 2 compulsory courses (40 credits):
Semester 2 option (one 20 credit course chosen from):
Other level 5 course from those available within the College of Arts.
Additionally you will produce an individual creative portfolio over the summer (60 credits).
Teaching methods include small group tutorials, seminars and workshops, lab and studio sessions, and individual guidance meetings.
Programme alteration or discontinuation
The University of Glasgow endeavours to run all programmes as advertised. In exceptional circumstances, however, the University may withdraw or alter a programme. For more information, please see: Student contract.
Career prospects
The attributes you gain will be attractive to employers from the creative industries, and are particularly relevant for contemporary music, sound design and sound production, games, theatre, film and television. Many of our graduates undertake successful portfolio careers as artists and sound practitioners in their own right. The programme also offers an excellent foundation upon which to progress to PhD studies and an academic career.
Fees & funding
Deposits
International applicants are required to pay a deposit of £500 when an offer is made.
Fee information is subject to change and is for guidance only
Funding opportunities
The scholarships above are specific to this programme. For more funding opportunities search the scholarships database
Entry requirements
A 2.1 Honours degree or equivalent qualification (e.g GPA of 3.0 or above) in a relevant subject.
Applicants should also have some experience of working creatively with sound, digital media or music technology, and must submit a portfolio for entry including examples of their prior work in this area. This can be done through common streaming services such as SoundCloud, Vimeo, or YouTube, or through a file sharing or transfer service. Normally applicants should provide two or three examples of their work in audio or video format as appropriate. Applicants should include links to their work in a document uploaded with their online application.
English language requirements
Important information for entry in Autumn 2020 and January 2021
For applicants whose first language is not English, the University sets a minimum English Language proficiency level.
International English Language Testing System (IELTS) Academic module (not General Training)
overall score 6.5
no sub-test less than 6.0
or equivalent scores in another recognised qualification:
Common equivalent English language qualifications
All stated English tests are acceptable for admission for both home/EU and international students for this programme:
ibTOEFL: 90; no sub-test less than:

Reading: 20
Listening: 19
Speaking: 19
Writing: 23

CAE (Cambridge Certificate of Advanced English): 176 overall; no sub-test less than 169
CPE (Cambridge Certificate of Proficiency in English): 176 overall; no sub-test less than 169
PTE Academic (Pearson Test of English, Academic test): 60; no sub-test less than 59
Trinity College London Integrated Skills in English: ISEII at Distinction with Distinction in all sub-tests
For international students, the Home Office has confirmed that the University can choose to use these tests to make its own assessment of English language ability for visa applications to degree level programmes. The University is also able to accept an IELTS test (Academic module) from any of the 1000 IELTS test centres from around the world and we do not require a specific UKVI IELTS test for degree level programmes. We therefore still accept any of the English tests listed for admission to this programme.
Pre-sessional courses
The University of Glasgow accepts evidence of the required language level from the English for Academic Study Unit Pre-sessional courses. We also consider other BALEAP accredited pre-sessional courses:
FAQs
What do I do if...
my language qualifications are below the requirements?
The University's English for Academic Study Unit offers a range of Pre-Sessional Courses to bring you up to entry level. The course is accredited by BALEAP, the UK professional association for academic English teaching; see Links.
my language qualifications are not listed here?
Please contact the Recruitment and International Office using our enquiry form
For further information about English language requirements, please contact the Recruitment and International Office using our enquiry form
International students
We are proud of our diverse University community which attracts students and staff from over 140 different countries.
How to apply
To apply for a postgraduate taught degree you must apply online. We cannot accept applications any other way.
Please check you meet the Entry requirements for this programme before you begin your application.
Documents
As part of your online application, you also need to submit the following supporting documents:
A copy (or copies) of your official degree certificate(s) (if you have already completed your degree)
A copy (or copies) of your official academic transcript(s), showing full details of subjects studied and grades/marks obtained
Official English translations of the certificate(s) and transcript(s)
One reference letter on headed paper
Evidence of your English Language ability (if your first language is not English)
Any additional documents required for this programme (see Entry requirements for this programme)
A copy of the photo page of your passport (Non-EU students only)
You have 42 days to submit your application once you begin the process.
You may save and return to your application as many times as you wish to update information, complete sections or upload supporting documents such as your final transcript or your language test.
For more information about submitting documents or other topics related to applying to a postgraduate taught programme, check Frequently Asked Questions
Guidance notes for using the online application
These notes are intended to help you complete the online application form accurately; they are also available within the help section of the online application form.
If you experience any difficulties accessing the online application then you should visit the Application Troubleshooting/FAQs page.
Name and Date of birth: must appear exactly as they do on your passport. Please take time to check the spelling and lay-out.
Contact Details: Correspondence address. All contact relevant to your application will be sent to this address including the offer letter(s). If your address changes, please contact us as soon as possible.
Choice of course: Please select carefully the course you want to study. As your application will be sent to the admissions committee for each course you select it is important to consider at this stage why you are interested in the course and that it is reflected in your application.
Proposed date of entry: Please state your preferred start date including the month and the year. Taught masters degrees tend to begin in September. Research degrees may start in any month.
Education and Qualifications: Please complete this section as fully as possible indicating any relevant Higher Education qualifications starting with the most recent. Complete the name of the Institution (s) as it appears on the degree certificate or transcript.
English Language Proficiency: Please state the date of any English language test taken (or to be taken) and the award date (or expected award date if known).
Employment and Experience: Please complete this section as fully as possible with all employments relevant to your course. Additional details may be attached in your personal statement/proposal where appropriate.
Reference: Please provide one reference. This should typically be an academic reference but in cases where this is not possible then a reference from a current employer may be accepted instead. Certain programmes, such as the MBA programme, may also accept an employer reference. If you already have a copy of a reference on letter headed paper then please upload this to your application. If you do not already have a reference to upload then please enter your referee's name and contact details on the online application and we will contact your referee directly.
Apply now