Museums in the Metaverse to let you build your own virtual collection
Published: 12 October 2023
An ambitious new £5.6 million project to develop Virtual Reality museums has been officially unveiled today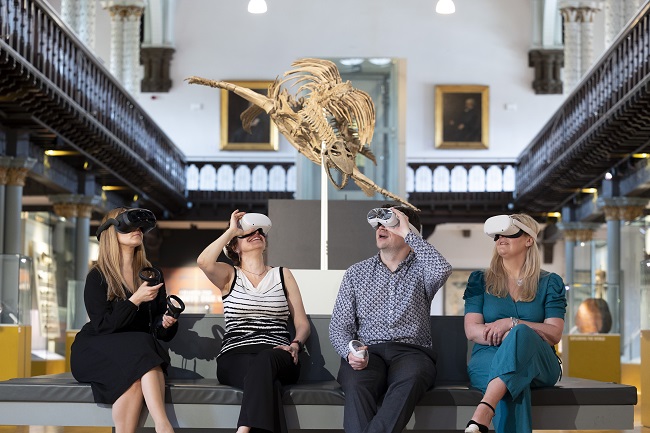 An ambitious new £5.6 million project to develop Virtua Reality museums was officially unveiled today.
The Museums in the Metaverse project – funded by the UK Government's Innovation Accelerator programme, led by Innovate UK on behalf of UK Research and Innovation - builds on Scotland's reputation for cultural regeneration and innovation by creating a ground-breaking Extended Reality (XR)* Culture and Heritage platform.
One side of the platform is for visitors to gain access to a rich array of museums, sites, objects, and novel and dynamic experiences. The other is for virtual curators to build enriching and entertaining storytelling using objects and virtual environments that have never been placed together in the real world.
The project will empower online visitors to explore vast cultural assets in engaging new ways; enable expert and novice curators to create new content; and explore models of use to support sustainable economic and cultural growth.
It will harness the University of Glasgow's global reputation for research in digital cultural heritage and XR, together with key cultural heritage and immersive technology partners, to develop an innovative solution to constraints that can limit physical museum exhibitions to less than 10% of the objects held in collections, and limit audience reach by cost, distance, and accessibility.
The University of Glasgow, together with leading immersive learning platform Edify, Historic Environment Scotland and National Museums Scotland, hopes to unleash the potential of traditional museums to allow visitors to experience collections in a new and exciting virtual world.
The Museums in the Metaverse team, led by the University of Glasgow's Professor Neil McDonnell, say virtual museums won't replace the experience of visiting a traditional museum. However, they hope XR experiences will enhance the offering of traditional museums.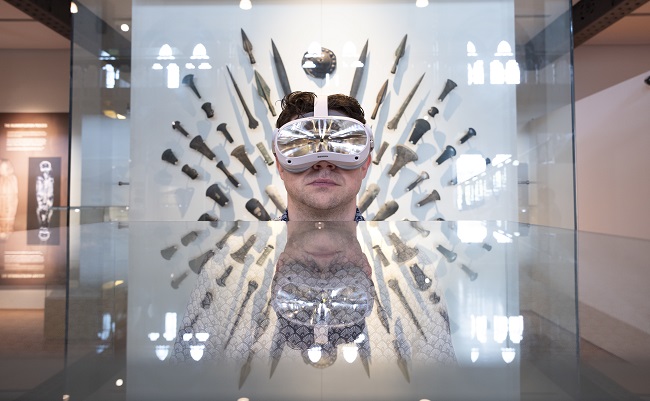 Professor Neil McDonnell, based at the University's Advanced Research Centre (ARC), said: "Virtual Reality Museums offer transformative extensions to the traditional museum experience: they can host collections of any size, show distant objects side-by-side, and be accessed from anywhere in the world. Their potential is extraordinary. However, there are several challenges – economic, technological, and cultural – which have so far limited universal use including the expense of producing a bespoke VR experience as well as lack of technical skills to digitise collections and assets in 3D.
"It is estimated that over 90% of objects in collections can't be seen as they are in storage. Museums in the Metaverse can help liberate these collections and will allow museums the freedom to connect with their audiences in new and exciting ways. Just imagine being able to step into history and get up close to the virtual duplicates of ancient relics that in the real world can only be displayed or viewed behind glass. We also hope that it will bring new audiences to museums who are currently excluded as they live too far from biggest and best collections. Moreover, Museums in the Metaverse will let anyone create their own virtual museums and tell their own stories with objects from all around the world."
To-date, creating museum experiences in the metaverse has proven challenging due to high costs associated with 3D content creation of objects and environments. The project's highly skilled research staff will develop, streamline and publish workflows using cutting edge photogrammetry equipment to boost the capacity for and affordability of heritage content creation in Scotland and beyond.
George Freeman MP, Minister of State at the UK Department for Science, Innovation and Technology, said: "Museums not only inspire people of all ages and backgrounds and broaden access to learning and culture by making fascinating insights and artefacts available to anyone in the world, they are also huge engines of multi-disciplinary research.
"This £5.6 million investment through our Innovation Accelerator program is helping the University of Glasgow to build on its reputation for extended reality research, while in turn boosting opportunities for learners and curators and promoting UK innovation and culture around the world."
Dr David Mitchell, Director of Cultural Assets at Historic Environment Scotland (HES) said, "Historic Environment Scotland are passionate about extending access to our heritage to new audiences and engaging in new ways. This funding supports our work to realise the benefits of digital technology to enhance understanding and engagement. Scotland has pioneered digital applications in the cultural heritage sphere and this project will continue to build on this. This project will help to augment the physical experience through technology but will enable a different type of interaction with our cultural heritage in the future. This is an exciting project and partnership for us and we look forward to enjoying the benefits of this collaboration"
Chanté St Clair Inglis, Head of Collections Services at National Museums Scotland, said: "We're delighted to be part of the Museums in the Metaverse project. We at National Museums Scotland are committed to widening access to our collections both physically and digitally. This particular project offers exciting possibilities for wide engagement with our collections, with XR offering rich opportunities both for new kinds of public engagement as well as potential collaborative research work with others in our sector both in Scotland and internationally."
Martin McDonnell, CEO and Co-Founder of Edify, said: "We're thrilled to be involved in Museums in the Metaverse, which will deliver on the huge promise of XR for museums and heritage organisations, and build on the reach, capability, and specialist focus of our existing technology. The implications of the project for the sector are transformational: Incredible access to hidden archives and collections for professionals and researchers; extraordinary digital tourism experiences of previously impossible reach and scale; learning and teaching featuring uniquely contextualised material; and treasure troves of rich new digital artefacts for content creators. We're very much looking forward to working on this hugely exciting project, and with such amazing partners."
Maria Economou, Professor of Digital Cultural Heritage at The Hunterian, said: "This project will enable researchers around the world to remotely access and engage with cultural heritage collections that cover a wide range of disciplines. The access to state-of-the-art photogrammetry equipment will be invaluable for long term development of The Hunterian's digital capacity and resources for our increasing range of audiences."
---
* Extended Reality (XR) is an all-encompassing term for immersive technology, including Virtual Reality (VR), Augmented Reality (AR), and Mixed Reality (MR)
Museums in the Metaverse
Museums in the Metaverse, based in the University of Glasgow's College of Arts & Humanities working with both the Advanced Research Centre and The Hunterian is led by Professor Neil McDonnell (PI) working with Professor Maria Economou, Dr Pauline Mackay and Professor Murray Pittock (Co-Is), will create a ground-breaking two-sided XR Culture and Heritage platform. Partners are Edify, Historic Environment Scotland, National Museums Scotland, University of Glasgow College of Arts & Humanities and The Hunterian.
The University of Glasgow & ARC-XR
The University of Glasgow is uniquely placed to anchor this Museums in the Metaverse project due to its global reputation for digital humanities, museum studies, and digital cultural heritage. Also, the University's Museum, The Hunterian, houses world-renowned and nationally significant collections and its partnerships with the leading collection holders in the UK and others abroad.
The University also has a track record in the fundamental research and application of extended reality (XR) technology, with its ARC-XR lab resources representing £1.8m internal investment in support of projects such as Museums in the Metaverse. Moreover, Glasgow has already helped to develop Edify, another successful two-sided XR platform focused on education. The Edify platform was the product of a collaboration between UofG and a Glasgow-based SME (Sublime, now Edify) through the UKRl-funded Project Mobius. The Museums in the Metaverse project builds on the Edify platform to lead this inevitable breakthrough from Glasgow and for Glasgow – realising the vast economic and cultural potential of our shared cultural wealth.
Innovation Accelerator
This project is funded by the Glasgow City Region Innovation Accelerator programme. Led by Innovate UK on behalf of UK Research and Innovation, the pilot Innovation Accelerator programme is investing £100m in 26 transformative R&D projects to accelerate the growth of three high-potential innovation clusters – Glasgow City Region, Greater Manchester and West Midlands. Supporting the UK Government's levelling-up agenda, this is a new model of R&D decision making that empowers local leaders to harness innovation in support of regional economic growth and help attract private R&D investment and develop future technologies.
Learn more here - Levelling Up Funding Announcement
First published: 12 October 2023