COVID-19 Latest Updates: 19 August 2021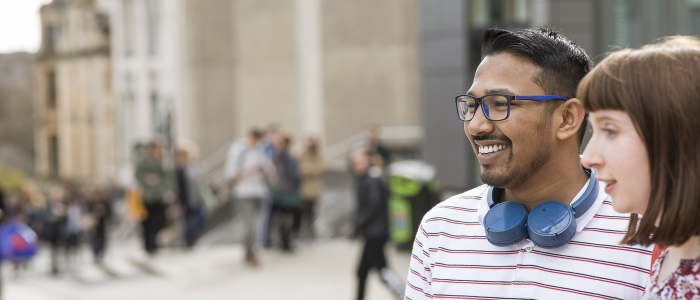 We understand that as September approaches, many of you will have questions about what to expect at the start of the semester.
Blended Approach
We intend to offer a blended approach and deliver a mix of online and in-person teaching. Ensuring student safety at all times and in line with our planning for the Scottish Government physical distance guidelines, teaching space, lectures and classes will generally not exceed 50 students. Timetabled events with more than 50 students will mostly be conducted online.
In Person
Our priority is to conduct small group work, labs, and seminars where the number of students is less than 50 will be able to be conducted in person on our campuses.
There will also be spaces open on our campuses for students, where you will be able to study, socialise, and attend online classes individually. These include our libraries, the newly opened James McCune Smith Learning Hub, Sport facilities and Catering outlets.
Colleagues are currently preparing this blended approach. You can read more about this work online.
Government Guidance
Scottish Government guidelines allowing, we are planning to remove the physical distancing for Semester Two if it is safe for us to do so allowing us to use teaching spaces for larger class teaching. We hope to confirm plans for this in October 2021, subject to the latest Government guidance.
Start Dates
We expect students to join us physically on campus by your programme start date.
Some programmes require your physical attendance by a certain date to complete mandatory on-campus learning requirements.
Please also note that for a very small number of programmes, if you are unable to arrive on campus by the deadline stipulated for physical attendance, you will be required to complete all of your studies for this semester online. If this applies to your programme, your school will provide more information on these arrangements.
Delayed or Unable to Start
For those students whose travel is delayed or who, for medical reasons, are unable to join us from the start.
If you would like to request support with a medical matter which is a short-term barrier to travel, then you should be able to take advantage of the flexibility on offer for late arriving students where your programme allows. Please get in touch directly with your School/Programme convenor
If you have a long-term condition, your School may be able to refer you to the University's Disability Service so that reasonable adjustments can be considered.
If you are living with a vulnerable person and you are concerned about exposing that person, please let a member of your School know. They will do their best to see if/where flexibility can be offered to you.
If you are a carer for a vulnerable person, please let you School know, and please take a look at our Carers Policy.
If you are able to travel, but concerned about travelling or coming to campus, please be assured that we have support in place.
Full details of all programme start, latest enrolment and latest arrival dates as well as contact details for your School or College are available on our Important Dates webpage.
Vaccinations
We strongly encourage all students to get two vaccinations if they haven't already done so
We will be offering students the chance to get vaccinated on our campuses if they haven't already had two vaccinations Details on available dates and locations will be adverstised once confimed
The National Health Service will administer all vaccinations to ensure that you receive the most appropriate vaccine
Asymptomic Testing
Even if you've been vaccinated and feel well, you can still get coronavirus and pass it on. By getting tested twice a week you can help stop the spread of coronavirus. This is an integral part of The UofG arrangements for a safe return in the coming academic year.
Most international students will be required to test as part of travel arrangements. For UK-based students, we would encourage you to take a test before you travel to your term-time address. To find out where to get your test kits, please visit NHS online pages.
Asymptomatic test kits will also be available to collect on campus from the start of the semester.
Support and Wellbeing Services 
If you would like to speak to someone, there are a number of support services available: 
---
Information for New Students
To keep up to date with what happens next, including your induction and orientation activities, visit our New Students' website.
And our New Student checklist has a handy list of things to tick-off as you prepare to join Team UofG.
First published: 19 August 2021