James McCune Smith Learning Hub

James McCune Smith Learning Hub
The £90.6 million James McCune Smith Learning Hub will provide a state of the art learning and the teaching facility with the capacity for over 2,500 students. To be completed in academic year 2019/20 it is the first building to be delivered through our campus development programme.
Building info
Location: University Avenue, next to Boyd Orr Building
Expected Completion Date: Q1 2021
Size: 16640m2
Cost: £90.6m
Architects: HLM
The new James McCune Smith Learning Hub will be an inspirational and diverse learning space, allowing undergraduate and postgraduate students access to advanced and useful learning spaces.
Construction work on the £90.6m building started at the end of October 2017 and it is due to be completed in the academic year in 2020/21.
This flagship development will be a creative environment, combining flexible study and social learning space with multi-styled and technology-enabled teaching.
The building will accommodate over 2,500 students, including a lecture theatre with capacity for 500 students. Interactive teaching spaces will range in capacity from 340 – 75 students, while the hub will also accommodate a number of seminar/group study spaces. There will also be a café on the ground floor.
The Hub will deliver a high-quality conference venue on campus which will have significant benefits for the economy of the City of Glasgow and also offer a potential events and exhibitions resource for the West End community.
Student clubs, societies and services will be able to book spaces for events as well as study. The James McCune Smith Learning Hub will also be an important venue to encourage school engagement and supporting the University's widening access strategy by hosting summer schools.
James McCune Smith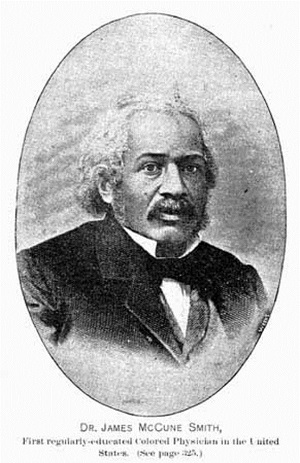 The new building is named after James McCune Smith - the first African American to be awarded a medical degree, receiving an MD from the University of Glasgow in 1837.
McCune Smith was born into slavery in 1813, however was freed by New York State's Emancipation Act on July 4, 1827.
Recognised as being intellectually gifted, McCune Smith attended the African Free School in Manhattan where his academic achievements led him to apply to several American universities.
After being denied entry to all due to his race, McCune Smith applied for – and was accepted by – the University of Glasgow's medical school.
McCune Smith went on to gain three qualifications from the University of Glasgow - a bachelor's degree in 1835, a master's degree in 1836, and his medical doctorate in 1837.
Upon returning to New York McCune Smith set up medical practice in lower Manhattan and grew to be recognised as a prominent figure in the New York black community and a leading intellectual.‌
Read more on the University Story.
Project delivery board
Members:
Convener: Frank Coton (Vice-Principal, Education and Academic Innovation)
Dave Anderson (IT)
Robin Andrews ( Estates & Commercial Services)
Susan Ashworth (Library)
Nick Wade (Communications and Public Affairs)
Nicola Cameron ( Estates & Commercial Services)
Moira Fischbacher-Smith (Assistant Vice-Principal, Learning and Teaching)
Alison Gailey (Finance)
Bob Hay (Students' Representative Council)
Ruth MacDonald ( Estates & Commercial Services)
Emma Hardy (Vice President Education, Students' Representative Council)
Mary Ramsay (Clerk)