Quick Links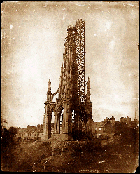 The Scott Monument, Edinburgh, under construction: late 1844 (HA0469)
Introduction to the Hill and Adamson Collection
Although the process of photography was only announced to the public in 1839, by 1843 Robert Adamson and David Octavius Hill were producing some of the most sophisticated and intriguing works to date. From their Edinburgh workshop, the two created a record of Victorian Scotland, documenting many of the important figures and buildings of the day, and scenes of everyday life. This partnership only lasted four years, but the body of work Hill and Adamson created remains important to both historians and photographers alike.

The University of Glasgow Library's Collection of Hill and Adamson's work is second only to that of the Scottish National Portrait Gallery. Comprising of many original calotype negatives, salted paper prints, later carbon prints, glass copy negatives, equipment and manuscripts, the collection holds many unique objects representing a significant portion of the total body of work known to have been produced.

These photographic images are very fragile, but through the use of digitisation it becomes possible to search and display the collection without damaging the originals. Many prints from the collection's negatives are now lost, but for the first time these prints can be viewed by means of digitally created 'virtual' positives. In the creation of this website, which aims to present the University of Glasgow's collection of Hill and Adamson's work to a wider audience, each original was re-photographed and professionally digitised.
Project Director: David Weston.
Research and text: Larry J. Schaaf.
Multimedia: Melissa M. Terras.
All images, text © University of Glasgow 1999
Applications for reproduction should be made to Archives & Special Collections, University of Glasgow Library, Hillhead Street, Glasgow, Scotland G12 8QE.
This project was supported by a grant from the British Academy.
---
Go to next section: Hill & Adamson Collection origins
---
Quick Links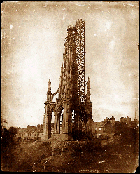 The Scott Monument, Edinburgh, under construction: late 1844 (HA0469)