Welcome to the University of Glasgow! We wish you a successful and happy stay and we hope the information below will help you prepare and make the most of your time in Glasgow >> Further support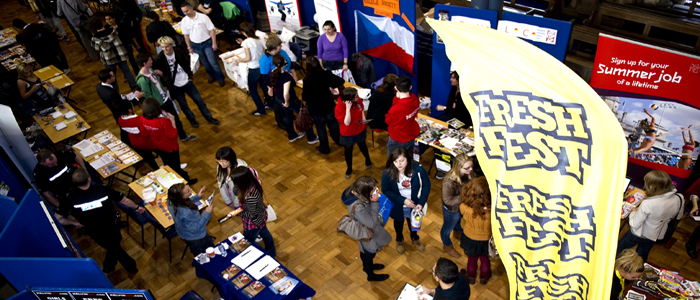 Welcome events to help you get started
Organised events such as Freshers Week (September) and Orientation are there to help you settle in to your new life at Glasgow
Accommodation
Accommodation for visiting students
The University's policy on allocating places in student accommodation favours those students who are studying for a full University of Glasgow degree.
Demand for University accommodation for Semester 1 only is always high and therefore may not be available. It is therefore recommended that students look for private accommodation as well as applying for University Accommodation.
University of Glasgow accommodation:
You may apply for University Accommodation 72 hours after being accepted. You cannot apply for University Accommodation until you have been accepted.
Students who have any specific living support requirements due to disability should please make this known to our Accommodation Team when submitting their application.
Private accommodation
Resources and information for private accommodation options can be found at the following webpages:
Please note that the majority of private accommodation leases in Glasgow are for a minimum of 6 months; students attending Glasgow for one semester only may have to be prepared to lease a flat for this duration.
All students are responsible for paying for their own accommodation during their period of study.
Council Tax
Council Tax
Students living in University accommodation will be exempt from Council Tax.
Students living in private accommodation may be asked to pay or contribute towards Council Tax depending upon your individual tenancy contract.
Students in private accommodation who have a Home/EU residency status on MyCampus and who are here for 24 weeks or more are normally eligible to apply for exemption from Council Tax.
Students in private accommodation who have an International residency status on MyCampus and who are here for less than 24 weeks will normally not be eligible to apply for exemption.
Find out about Council Tax, how to pay and check if you are eligible for an exemption or a discount.
>> more Council Tax information.
Living in the UK (Banking, work, health service etc)
Our International Student Support pages contain up-to-date information on all aspects of living in the UK including money; work; wellbeing and driving. While individual situations are, of course, different, this provides a good approximate idea of the cost of living in Glasgow.
Banking
It is possible to open a bank account, the bank will ask you for a letter proving you are a student of the University of Glasgow, the request for the bank letter can be completed online. For details on how to do this please visit the International Student Support's page. Here you will find further information, including a comparison chart of area banks and other information.
However, if you are staying in Glasgow less than six months it is unlikely you will be able to open a bank account here. We advise you to bring a credit card.
International Student Support team
Orientation and UofG Welcome
Orientation
The Orientation Programme is open to all new undergraduate and postgraduate students from outside the United Kingdom in January and September
UofG Welcome
In addition to the orientation events students can also participate in UofG Welcome events hosted by the Students Representative Council (SRC), together with clubs and societies, the week prior to teaching and designed to introduce you to life at the University of Glasgow.
Language and academic support
Adapting to a new University may be challenging so the Student Learning Development provide advice on academic skills to help you with the transition. They offer practical advice to enhance your learning experience and to help you achieve full academic potential during your time abroad.


Sport and Recreation
As a student of the University of Glasgow you are entitled to full access membership of Sport. The Sports and recreation services offer a variety of activities, from team sport to yoga classes, so you are bound to find something for you.
Societies
The University has over 120+ clubs and societies. Join like-minded people, discover something new or create your own club. Campus life is not just about studying!


Student unions
Student unions represent students of the University of Glasgow. The University is unique in having two student unions:
Both host a wide variety of events every week from pub quizzes to gigs and have coffee shops, canteen, bars etc. Becoming a member of one of the University unions can also be a great way to discover what you're good at, pursue your passions, and boost your employability.
Disability
You may indicate the nature of your disability while filling your application form, but we would recommend that you discuss your needs (this could include access, examination and study arrangements) before you apply to ensure that appropriate support can be arranged for you.

You may also contact the University Disability Service. All information disclosed to them about your disability or medical condition will be treated as "sensitive personal data" as defined by the Data Protection Act (1998), and will not be passed on to a third party without your explicit signed consent.
Counselling
Qualified counsellors are available to discuss your concerns. Make an appointment or simply drop-in. Appointments are free and confidential >> Counselling Service.