Examiners
Examiners
The Registration Act of 1854 made the sheriffs, who were the Scottish equivalent of English county court judges, responsible for inspecting the new birth, death and marriage registers and checking that the registrars were keeping them accurately. After the sheriffs argued that this would take up too much of their time, an amending Act in June 1855 allowed the Registrar General to divide Scotland into large examination districts and appoint a permanent, paid examiner of registers for each district. The examiners visited every local registrar in their districts once a year. The registrars were required to keep two identical sets of birth, marriage and death registers: the first remained in the parish, and the duplicate set was forwarded to the GROS in Edinburgh at the close of each year. Every birth, marriage or death had to be entered in both registers simultaneously. When the examiner called, his job was to sit down with the registrar and compare the two sets of registers, identifying any discrepancies. The examiner also inspected the schedules and certificates handed in by informants, and assessed the general quality of the register books, the state of their accommodation, and the competence of the registrar. England had no direct equivalent to the examiners, most of their duties being done by a superintendent registrar in each Poor Law union. The superintendent registrars were in turn inspected by only two officials from the Registrar General's office.
(Image: 'Specimen of Scotch travelling', Miss Parker, A Tour in Scotland, 1863 Copyright Viscount Strathallan 2008.)
Each examiner sent a written report to the Registrar General at the conclusion of his annual tour, and these reports have been preserved. They are particularly full for the first years of registration, and contain a wealth of information about the registration process and the condition, traditions and culture of the Scottish people. The examiners were a vital link in the registration process, and the Registrar General acknowledged that 'I am entirely dependent on the accuracy and fidelity of these officers for presenting to me a true picture of the state of Registration throughout the various districts of the Country.' From the 1880s the examiners' reports became much more formal, as in England, where inspectors ticked off check boxes for each district rather than presenting a detailed individual report. Nevertheless, the examiners' views had considerable weight. In 1911, for example, they were pressing the Registrar General to follow recent changes in English practice, and end the custom of inserting the word 'illegitimate' on the birth certificates of children born out of wedlock.
The First Examiners
The following section deals with the early examiners, who were attentive recorders of Scottish life and customs. Unlike later employees in the civil service, they were appointed not through competitive examinations, but mainly because of their social connections (note the need to find employment for younger sons of landed families). For some of the most strenuous posts, there were few applicants, and local men had to be persuaded to serve as a social duty.Two of the examiners were enthusiastic antiquarians, and found that their appointment gave them the opportunity to visit historic sites, burial grounds, etc.
In 1855, Scotland was divided into nine examination districts. They did not contain equal numbers of parishes or people, and the examiners' salaries reflected this, those appointed to the more populous districts receiving higher pay.
Examiner
District
Extent
Annual Salary
(excluding travelling expenses)
Alexander Grigor
Isles
Orkney, Shetland and insular parts of Ross and Inverness
£50
Alfred C.C. List
Inverness
Caithness, Sutherland, Ross, Cromarty and Inverness (mainland)
£150
Henry C. Gordon
Aberdeen
Elgin, Nairn, Banff, Aberdeen and Kincardine
£150
Andrew Jervise
Perth
Forfar, Perth and Fife
£200
Robert Fergusson
Stirling
Clackmannan, Kinross, Bute, Dumbarton, Argyll and Stirling
£150
Robert Gordon
Lanark
Ayr, Renfrew and Lanark
£200
George William Bell, M.D.
Edinburgh and Glasgow
Cities of Edinburgh and Glasgow and Burgh of Leith
£200
Alexander Nicolson
Lothian
Linlithgow, Edinburgh, Haddington, Peebles and Berwick
£150
James Hooper Dawson
Dumfries
Roxburgh, Selkirk, Dumfries, Kirkcudbright and Wigtown
£150
Alexander Grigor (1805-1884)
Alexander Grigor was a merchant's son from the parish of Cromarty. At the time of his marriage to Anne Shears Moxey in 1833, he was a solicitor in the Edinburgh Supreme Courts. He and his wife spent some years in Perth, then went to England, but by 1851 they and their nine children had settled in Dingwall, where Grigor was employed as a solicitor in the Sheriff Court at Ross. The Registrar General, William Pitt Dundas, had difficulty finding a suitably qualified person to become examiner for the Isles, owing to the vast extent of the district, the often hazardous weather conditions and the problems of travelling between the islands. The Treasury had also fixed the annual salary for this examination district at just £50, which was significantly less than those for the other districts. The Registrar General eventually asked a local contact, Sir James Matheson, to suggest a suitable candidate, and Matheson proposed Alexander Grigor. Grigor was 'so much of a Patriot' that he was prepared to accept the post, despite the challenging working conditions and low wages.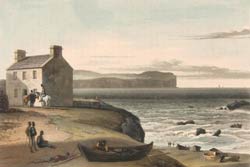 (Image: 'The Ferry at Skarskerry, Caithness', by permission of Glasgow University Library, Department of Special Collections.)
As examiner for the Isles, Grigor had to negotiate large expanses of open sea, making frequent voyages between the small islands. He was often held back because fog and strong winds prevented him from sailing, and when he did reach his destination, the registrar's office might be in the far corner of a sprawling, but sparsely populated parish, obliging him to hire a local man as a guide and trek for miles across hills and heath. Grigor's reports also highlight the inconvenience caused by the lack of inns and proper roads. In 1857 he spent three days scrutinizing the registers of the parish of Barras,
'having to go thither from Stornoway and return each day, a distance of 14 miles, as there was no accommodation to be had at Barras and there could be no travelling during darkness as there are no bridges over the burns [streams] which cross the road'.
The Isles district produced comparatively few vital events, and Grigor occasionally found that, after all his efforts to reach a particular parish, the registers contained no entries at all. His £50 salary must indeed have seemed poor reward! He resigned as examiner in 1873, and died at his home, Park House in Dingwall, in 1884.
Alfred Charles Cox List or Lizst (1834-1872)
Alfred Charles Cox List (sometimes spelled 'Lizst') was born in London, and was the son of a clerk. From early childhood until the time of his marriage, he lived in Edinburgh with his uncle, Alfred J. List, who is described in the 1841 census as Superintendent of Police, in the 1851 census as J.P. Fiscal, and in the 1861 census as Chief Constable for Midlothian. The younger Alfred started out as a bank clerk, and was appointed examiner for the Inverness District in 1855. His reports highlight the poverty and miserable living conditions of many rural registrars, especially those who were also schoolmasters. Like his fellow examiner, George Bell, List was interested in the morality of Scottish urban society, and he published a pamphlet entitled The Two Phases of the Social Evil [prostitution] in 1861. In 1863, he married Isabella Davidson, the daughter of a retired ironmonger. He continued to serve as an examiner until he died of typhoid fever on 22 December 1872, aged just 38.
Henry Clarence Gordon (1822-1889)
Henry Clarence Gordon was a nephew of Charlotte Douglas Dalrymple, Lady Stair. Lady Stair asked her husband to write to the Registrar General in the hope of finding a job for Gordon, and shortly afterwards he was appointed examiner for the Aberdeen District. Lord Stair described Gordon as:
'an extremely fit person for such a situation . . . a more honourable & steady man does not exist, and . . . as his pecuniary circumstances are very small & with a Wife & two Children to support he is most desirous for employment.'
Gordon continued to serve as an examiner until the 1870s - thereafter, he appears in the census as an Annuitant. He died on 30 October 1889 at Dean Terrace in Edinburgh, aged 67.
Andrew Jervise (1820-1878)
(Image: Andrew Jervise, painted by Patrick Allan-Fraser. By permission of The Governors of the Patrick Allan-Fraser of Hospitalfield Trust.)
Andrew Jervise, born in Brechin, was the illegitimate son of a seamstress, Jean Chalmers. He was a struggling antiquarian and drawing teacher until two of his patrons, Lord Panmure and Mr Patrick Chalmers of Aldbar in Forfarshire, helped him obtain the post of examiner for the Perth District. Jervise's background was an advantage in his new career, as his ability to decipher ancient manuscripts helped him to identify false signatures in the registers. His annual tours of inspection also allowed him to continue his antiquarian research by transcribing gravestone inscriptions from parish churchyards, and he gathered information about local traditions from the registrars he visited. In his dealings with the registrars, Jervise was reputedly 'most gentlemanly and courteous', which earned him their respect and friendship. However, he was prepared to criticize errant registrars when necessary, and he suspected that the numerous infants registered in Dundee as having died of 'bowel hive' (indeterminate gastric symptoms) had in fact been overlain or murdered by their feckless mothers. He travelled from parish to parish in his own horse-drawn cart, which was specially fitted with a large box for holding register books, research materials, and food for his horse. Jervise never married and continued to serve as a registration examiner until he died from heart disease in 1878.
Robert Dundas Fergusson (1819-1882)
Robert Dundas Fergusson was a younger son of Sir James Fergusson of Kilkerran, Baronet, and was born at Kilkerran in Ayrshire on 23 September 1819. He had many brothers and sisters, and the sheer size of the family meant that the younger sons had to make their own way in the world. He also had a family of his own to provide for, having married Amelia McDonald and produced nine children by 1861. Robert Dundas Fergusson obtained the post of examiner for the Stirling District in 1855, but resigned in the summer of 1859 due to poor health. He died on 23 April 1882 in Edinburgh, and is described in the death register as a 'Landed Proprietor'.
Robert Glendonwyn Gordon (1824-1908)
(Image: Robert Glendonwyn Gordon, c.1852, courtesy of Mr George Gordon.)
Robert Glendonwyn Gordon came from the upper ranks of Scottish society, but needed to find employment, being a younger son of Sir James Gordon of Letterfourie and Gordonstoun, Baronet. He was appointed examiner for the Lanark District in 1855, but resigned a few years later, probably because he succeeded to the baronetcy on the death of his older brother, William, in December 1861. Gordon died, unmarried, on 4 March 1908 at the family home of Letterfourie House in Rathven.
George William Bell, M.D., 1813-1889)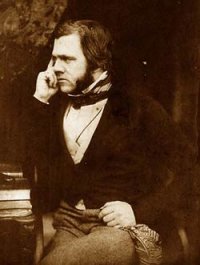 (Image: Dr George William Bell, from the Hill and Adamson Collection by permission of Glasgow University Library, Department of Special Collections.)
Dr George William Bell was born in Edinburgh on 5 July 1813. He was a Licentiate of the Royal College of Surgeons of Edinburgh, and his father and grandfather were also successful Edinburgh doctors. Bell was the only examiner with a background in medicine, and he was also interested in social reform. He was Secretary to the Edinburgh Ragged School, and published two pamphlets exposing the squalid conditions in the city's wynds (alleys): Day and Night in the Wynds of Edinburgh (1849) and Blackfriars' Wynd Analyzed (1850). As brother-in-law to the Lord Advocate, who controlled Scottish parliamentary business, Bell was also well connected politically. After losing out on the post of Superintendent of Statistics to James Stark, Bell became examiner for the District of Edinburgh and Glasgow, and all but gave up medical practice. He also served as the Registrar General's special investigator, dealing with any registrars who were reported to be exceptionally incompetent. He received no extra pay for this troubleshooting role. Bell's health started to decline in the 1860s, and by 1871, he had resigned as an examiner. He continued to suffer repeated attacks of paralysis, and spent time taking the waters in the warmer climate of England. He died at Leamington in England on 6 January 1889.
Alexander Nicolson (1828-1893)
(Image: Alexander Nicolson, from the Celtic Monthly.)
Alexander Nicolson was the son of a farmer and landed proprietor on the island of Skye. After studying theology at Edinburgh University, he gave up his plans to join the Free Church ministry and was working as an editor and journalist when he was appointed examiner for the Lothian District. Nicolson served as examiner for only a few years before leaving to pursue a legal career. He was called to the Scottish Bar in 1860, but obtained little practice as an advocate. He was subsequently appointed Assistant Commissioner for the Scottish Education Commission in 1865, in which capacity he visited and inspected the schools of almost all the inhabited Western Isles, and in 1872, he became sheriff-substitute of Kirkcudbright. He was later appointed sheriff-substitute of Greenock in 1885, and retired on the grounds of ill health in 1889. Nicolson never married, and died in Edinburgh of heart disease in 1893. His obituary in the Scotsman portrays him as a popular, genial man with 'a great fund of humour', and a keen Gaelic scholar who 'rejoiced in all Gaelic things' and was passionate about his homeland of Skye, but who failed to apply himself fully to any branch of industry.
James Hooper Dawson (1806-1861)
The son of a farmer and landed proprietor, James Hooper Dawson was born in the parish of Morebattle, Roxburghshire, on 2 April 1806. He was a barrister by profession, but also edited the Kelso Chronicle and published two books, An Abridged Statistical History of Scotland (1853) and The Abridged Statistical History of the Scottish Counties (1862). He and his wife Barbara lived in Kelso with their six daughters. He was appointed examiner for the Dumfries District in 1855, and continued to serve as examiner until he died, aged 55, in 1861.