The Burns Paper Database
The Burns Paper Database is the first survey of the writing material used by Robert Burns on its own terms. The Centre for Robert Burns Studies is working with the manuscripts held by partner institutions in Burns Scotland to capture detail pertaining to the physical features of paper used by Burns. Our aim is to produce a searchable database for the use of partners, allowing comparison between manuscripts held both within and outside Burns Scotland institutions and acting as an aid to authentication.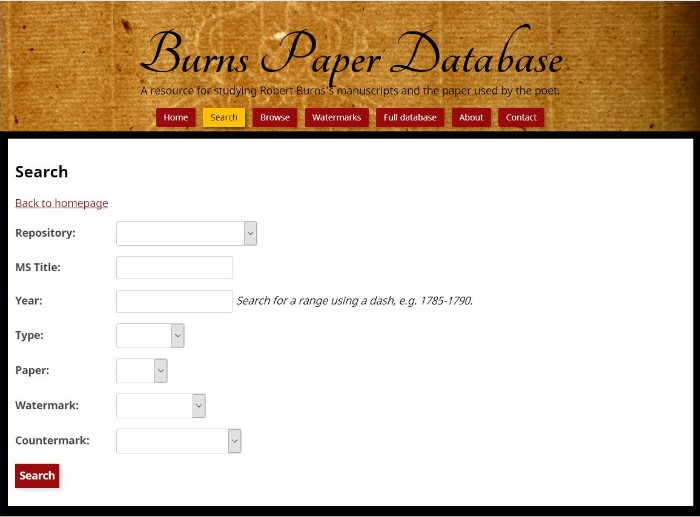 The Burns Paper Database was launched for the use of Burns Scotland partners late 2017. For access to the database or for further information contact Dr Ronnie Young.
Further reading
Ronnie Young, "'A parcel of mash'd old rags': some provisional remarks on the Burns Paper Database", Burns Chronicle (2017): 46-58.
Fields

The project recorded the following information for each holograph manuscript surveyed:
Repository - Burns Scotland partner institutions visited
MIT = Mitchell Library, Glasgow;
WM = Writer's Museum, Edinburgh;
BBM = Robert Burns Birthplace Museum, Alloway;
NLS = National Library of Scotland, Edinburgh;
DUM = Dumfries and Galloway Museums
MS Title - Commonly accepted title or archive description of manuscript
MS Date - Date of mansucript or speculation in square brackets
MS Year - As above
Call No. - repository call number
Type - Genre or media type keywords: Letter; Epistle; Verse; Excise; Fragment; Other
Paper - 18th-century 'laid' paper or 'wove' paper. Although wove paper was pioneered in the 18th century, the majority of paper produced in that period is of the laid variety, employing traditional techniques. Laid paper can be identified in bright light by the laid lines which run perpendicular to wider 'chain' lines.
Description - Description of ms, contents, and significant features such as:
- writing on recto and verso
- signatures and dates
- interleaved and enclosed material (e.g. poems and songs in letters)
- folding, letter-locking, and wax seals
- postmarks and addresses;
- state of preservation and details of conservation, including binding and mounting;
- marginalia, other hands and paratextual material, such as accompanying notes of authentication and provenance;
- other details pertaining to the 'material afternlife' of the mansucript.
As an excise-man later in his career, Burns also 'repurposed' excise paper for creative ends, and recording distinctive features such as red-ledger lines are recorded to show how the manuscript fits the 'profile' of Burns manuscripts in general.
Dimensions - recorded in mm since standard paper is often subdivided in use and departs from standard 18th-century paper sizes.
Chain lines no. - number of vertical chain lines visible
Chain line width - Standard width of 18th-century paper is 1 inch, although some moulds depart from this standard
Chain line orientation - records orientation in relation to written text
Watermarks - Any visible or partial watermarks as revealed by shining a cold light source through the ms.
Countermarks - The paper mill or manufacturer as revealed by shining a cold-light source through the ms.
Image reference numbers - to tie the record to images taken of the ms
Previously recorded Information - information about the ms from the repository or in accompanying notes, notes of provenance, auction records etc.
Notes - Further notes to self
References - list of references related to the ms. We indexed the manuscripts against standard editions of Burns's works in order to aid searches. The texts consulted for this purpose were
- James Kinsley (ed.), The Poems and Songs of Robert Burns, 3 vols. (Oxford: OUP, 1968);
- J. De Lancey Ferguson and G. R. Roy (eds.) The Letters of Robert Burns. 2 vols. (Oxford: OUP, 1985).
Searching the Database
In addition to functionality which allows one to browse the database and images, users can search the online resources with the following fields:
Repository
MS Title
Year (including search for a range using a dash, e.g. 1785-1790)
Type (Epistle; Excise; Fragment; Letter; Note; Other; Verse [poems and songs])
Paper
Watermark
Countermark
With thanks to Brian Aitken of the University of Glasgow for building the online resource.
Equipment
We used the following equipment - most of which is easily and inexpensively acquired - for the project:
Nikon D3000 DSLR camera with 18-55mm lens kit
Laptop running Microsoft Windows
Portable Hard Drive
Software: Microsoft Access; Image editing software
Cold-light source for viewing watermarks
Plastic rulers
Because the paper database is not a digisation project, it is not stricly necessary to reproduce the quality of imaging one would expect when digitising manuscripts. While it might be possible to co-ordinate a paper survey with a wider digitisation project, the latter could potentially cost more in terms of time and might necessiate the use of additional equipment such as a vertical tripod and portable lighting. Furthermore, the paper survey might go beyond digital reproduction to record and emphasise features such as: letter-locking and postmarks; conservation, binding and details pertaining to the material afterlife of the manuscript; marginalia and other hands; and watermarks and countermarks. For the latter, a cold-light source is essential. While some repositories may provide access to their own light source, we purchased a slide viewer for portability.
Images were captured simultaneously in RAW format and in JPEG, the latter for online sharing and viewing. In terms of imaging software, any software that allows basic manipulation such as cropping, re-orientation and manipulation of colour-balance, contrast and saturation will suffice. For most images, we found that digital manipulation is not required, but altering colour-balance can sometimes help enhance difficult to distinguish features in certain mss (e.g. partial watermarks obcured by handwritten text, redactions, or manuscript damage).
Where possible, or where the state of conservation allows, we included clear plastic rulers in the image for ms measurement, scale and to capture a sense of the size of watermarks relative to paper.
Watermarks and countermarks
Shining a cold light source through paper allows one to observe identifying features in the paper used by Burns and contemporaries, such as:
the distinctive grid pattern of laid lines and wider chain lines characteristic of laid paper;
the 'countermark', or initials, name, and/or insignia which identify the papermaker;
the watermark, formed by stitching wire shapes onto the crossed wires of the paper mould. This feature can help identify the standard sizes in which paper was produced in eighteenth-century Britain.
These features can be observed in the examples of typical eighteenth-century watermarks below. Watermarks help us to build a 'profile' of the paper used by Burns at different periods in his career.
Brittania

Post horn

'Lily' or Fluer de lis

Georgian coat of arms

Dutch 'Pro Patria' watermark

Dutch lion
Select Bibliography
The following sources are useful for the study of different aspects of paper:
Balston, Thomas, James Whatman, Father and Son (Methuen, 1957)
Baker, Anne Pimlott. 'Whatman, James (1702-1759).' Oxford Dictionary of National Biography. Oxford University Press, 2004 [http://www.oxforddnb.com/view/article/40776, accessed 7 Aug 2007].
Bidwell, John 'The industrialization of the paper trade', in The Cambridge History of the Book in Britain, volume V 1695-1830, ed. by Michael Suarez and Michael Turner (CUP, 2009)
Briquet, Charles Moïse. Les Filigranes: Dictionnaire Historique des Marques du Papier Dés Leur.Apparition vers 1282 jusqu'en 1600. Facsimile of the 1907 ed. with supplementary material contributed by a number of scholars. Ed. Allan Stevenson. 4 vols. Amsterdam: Paper Publications Soc., 1968.
Brown, Stephen W. 'Paper Manufacture', in The History of the Book in Scotland, Volume 2
Churchill, W. A. Watermarks in paper in Holland, England, France, etc., in the XVII and XVIII centuries and their interconnection. Amsterdam: Menno Hertberger & Co., 1935.
Nancy Cox and Karin Dannehl (ed.), Dictionary of Traded Goods and Commodities, 1550-1820 (University of Wolverhampton, 2007)<http://www.british-history.ac.uk/no-series/traded-goods-dictionary/1550-1820/wreath-writing-paper#h2-0005
Alun Eirug Davies, 'Paper-Mills and Paper-Makers in Wales 1700-1900' National Library of Wales Journal. 1967, Summer Volume XV/1
Ferguson, J. DeLancey, '"Antique" Smith and his forgeries of Robert Burns', The Colophon 13 (1933).
Gaskell, Philip. "The Need for Detailed Watermark Research." Restaurator 4 (1980): 221-226.
Gravell, Thomas L. "A New Method of Reproducing Watermarks for Study." Restaurator 2 (1975): 95-104.
Gravell, Thomas L., and George Miller. A Catalogue of Foreign Watermarks Found on Paper Used in America 1700-1835. New York & London: Garland Publishing, 1979.
Harris, F. J. T. "Paper and Board Mills in or near Gloucestershire." Transactions of the Bristol & Gloucestershire Archeological Society 94 (1976): 124-35.
Hazen, Allen. 'Watermarks and Forgeries: The Role of Watermarks in the Examination and Condemnation of Certain Eighteenth-Century Productions.' Print 2 (1941): 21-31.
Heawood, Edward. 'Papers Used in England after 1600: II. c. 1680-1750.' The Library 11 (1931): 466-498.
Heawood, Edward. Watermarks, Mainly of the 17th and 18th Centuries. Hilversam, Holland: Paper Publications Society, 1950.
Hedges, S. B. A method for dating early books and prints using image analysis. Proc. R. Soc. Lond. A: Mathematical, Physical, and Engineering Sciences 462:3555-3573, 2006.
Hewlett, I, 1378 Varieties of Paper Marks (1879).
Hills, Richard L. Papermaking in Britain: 1488-1988. London & Highland Hills: Athlone, 1988
Dard Hunter, Papermaking through Eighteen centuries (New York, W.E. Rudge, 1930) <available online at http://content.lib.utah.edu/cdm/ref/collection/DardHunter/id/1614>
______, Papermaking: The History and Technique of an Ancient Craft (Dover, 1978; Reprint of Papermaking through Eighteen Centuries, 2nd rev. and enl. edn., 1947).
Inglis, G.S. 'Burns and Scott Forgeries', Journal of the Society of Archivists and Autograph Collectors 3 (1897): 1-5.
Johnson, Richard. New Duty on Paper: The Paper-Maker and Stationers Assistant, to which are Added, Tables Shewing the Duty on Paper, . by R. Johnson. London: sold by Debrett; Johnson; and Bladon and Symonds, 1794.
Laurentius, Frans and Theo Laurentius, Watermarks 1450–1850: A Concise History of Paper in Western Europe, Library of the Written Word, Volume 98 (Leiden and Boston: Brill, 2023).
McKerrow, Ronald B, 'A Note on Paper' in An Introduction to Bibliography for Literary Students (oak Knoll Press, USA: 1994), pp.97-109.
Needham, Paul, 'Allan H. Stevenson and the Bibliographical Uses of Paper', Studies in Bibliography.
47 (1994), 23-64.
Paine, John, jr. The Paper-Maker's and Stationer's Assistant: Being a Correct List of all the Different Papers, their Tables, Rates, and Sizes, with the New and Additional Duties, . by John Paine, Junior. London: sold by H. D. Symonds, and most other booksellers, 1784.
Porter, Dahlia, Interacting with Print Elements of Reading in the Era of Print Saturation (University of Chicago, 2017), esp. chapter 14 'Paper'.
Shorter, Alfred H. Paper Mills and Paper Makers in England, 1495-1800. Hilversum, 1957.
______,. 'Paper Mills in Scotland in 1800' The Paper Maker and British Paper Trade Journal 140 (1960).
______,. Paper Making in the British Isles: An Historical and Geographical Study. Newton Abbot, Great Britain: David & Charles Ltd., 1971.
______, Studies on the History of Papermaking in Britain.
______, Water Paper Mills in England (1966).
Stevenson, Allan H. "Watermarks are Twins." Studies in Bibliography 4 (1951-2): 57-91.
______, Observations on Paper as Evidence. Lawrence, KS, 1961.
______, 'Paper as Bibliographical Evidence.' Library, 5th ser. 17 (1962): 197-212.
______, 'Introduction.' C. M. Briquet. Les Filigranes: Dictionnaire Historique des Marques du Papier Dés Leur Apparition vers 1282 jusqu'en 1600. Facsimile of the 1907 ed. with supplementary material contributed by a number of scholars. Ed. Allan Stevenson. 4 vols. Amsterdam: Paper Publications Soc., 1968. Vol. 1, pp. *15-*36, & Plates *A-*C.
Tanselle, Thomas G. "The Bibliographical Description of Paper." Studies in Bibliography 24 (1971): 27-67.
Thomson, Alistair G. The Paper Industry in Scotland, 1590-1861. Edinburgh, 1974.
William K. Wilson and E. J. Parks, "An Analysis of the Aging of Paper: Possible Reactions and Their Effects on Measurable Properties," Restaurator 3:1-2 (1979): 37–61.
Web resources
Additional online resources related to the study of manuscripts and paper.