Jean Redpath DMus (1937-2014)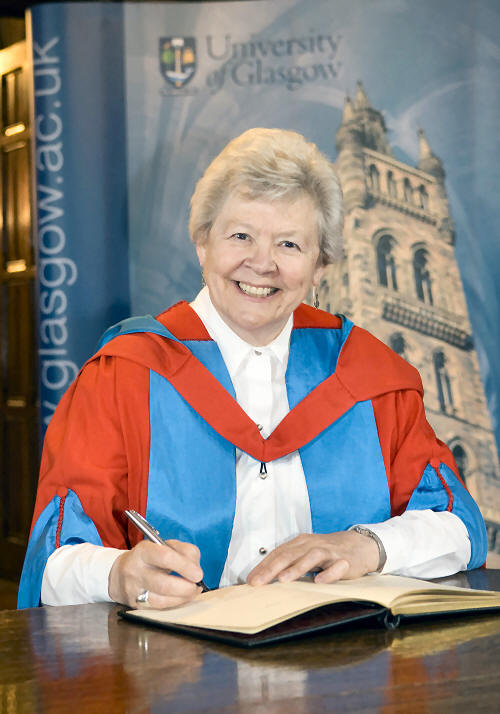 Jean Redpath was born in Edinburgh in 1937 and brought up in Fife, where from an early age her musical talent was nurtured by her parents, both of whom were keen folk musicians. She learnt her first songs from her mother, and by the age of 10 was already making a name for herself as a folk and ballad singer. Although initially beginning a degree at Edinburgh University, in 1961 she headed for the USA. By chance she found herself singing at a hootenanny in Greenwich Village, in the company of Bob Dylan, Ramblin' Jack Elliott and others. This brought her to the attention of promoters and she was invited to sing at Gerde's Folk City. As recounted in her recently published memoir Giving Voice to Traditional Songs (University of South Carolina Press, 2018), she was soon to be found on the American folk music circuit appearing with singers such as Joan Baez, Mike and Pete Seeger, and Bill Munroe and the Bluegrass Boys.
A decade later Jean embarked on two ground-breaking projects relating to the songs of Robert Burns– one in the USA, the other in Scotland. Serge Hovey (1920-1989), American composer/arranger and pupil of Arnold Schoenberg, contacted her on the recommendation of Hamish Henderson at the School of Scottish Studies at Edinburgh University, inviting her to record some of his arrangements of Burns's songs. It was to be the start of a 20-year project from which some 7 LPs were produced. At about the same time she embarked on her second Burns project with Donald Low of Stirling University – recording the songs in The Scots Musical Museum, one of the major collections of songs with which Burns was involved between 1787 and his death in 1796 (it appeared in 6 volumes between 1787 and 1803). She was appointed MBE in 1987 in recognition of her contribution to folk singing.
An inspired teacher she has held posts as artist-in-residence at Wesleyan University, Connecticut and at Stirling University. In 2009, the 250th anniversary of Burns's birth, the University of Glasgow awarded her an Honorary Doctorate for her contribution to Scottish music, notably with a focus on the songs of Burns.
When Jean died in 2014 she left the musical contents of her Scottish home in Elie, Fife to the Centre for Robert Burns Studies. This collection consisted of around 2000 items which offer an insight into Jean's broad-ranging personal and professional interests, including books, personal documents and recordings. As a whole collection the catalogue presents a woman of eclectic interests, Scottish songs and poetry (especially Burns), modern Scottish songs and folk music, wider folk traditions of North America and children's songs. Jean's popularity as a performer is demonstrated through the many recordings of her own performances either live or from various stages in the recording process, providing a valuable archive of both the various stages in Jean's professional career and of her recording practices.
The finding aid details the items retained by the Centre for Robert Burns Studies as complimentary to our various ongoing research projects, as well as those items which were relocated to other institutions and collections as fitting within their existing holdings. In particular, several items were retained by the Thomas Cooper Library at the University of South Carolina which is also home to Jean's collection of materials and documents from her US home.
Catologuing of the Jean Redpath Archive was generously supported by the Frank and Susan Shaw 2016/17 Summer Scholarship.