William Irvine
Lecturer in Chemistry, Glasgow University, 1769-87

"List of the Utensiles in the Laboratory as delivered to Dr. Irvine - July 13th 1769: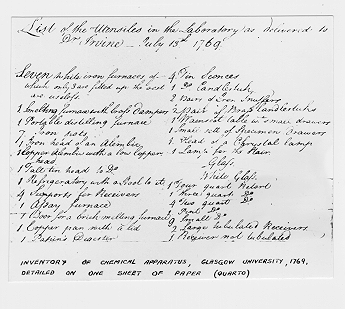 Seven white iron furnaces of which only 3 are fitted up, the rest are useless.
1 Smelting furnace with brass dampers
1 Portable distilling furnace
7 Iron pots
1 Iron head of an Alembic
1 Copper Alembic with a low Copper head
1 Tall tin head to Do.
1 Refrigeratory with a Stool to it.
4 Supports for Receivers
1 Assay furnace
1 Door for a brick melting furnace
1 Copper pan with a lid
1 Papin's Digester
4 Tin Sconces
1 Do. Candlestick

2 pairs of Iron Snuffers
2 pair of Brass Candlesticks
1 Wainscot table with small drawers
1 Small sett of Specimen drawers
1 Head of a Chrystal lamp
1 Lamp for the Stair
Glass
White Glass
1 Four quart Retort
1 Three quart Do.
4 Two quart Do.
3 Pint Do.
9 Small Do.
2 Large tubulated Receivers
1 Receiver not tubulated"