Our Diagnostic Imaging department is at the core of our services helping to identify and investigate a multitute of ailments.
How we can help
Diagnostic imaging is a vital part in the investigation of many medical conditions. The Small Animal Hospital offers the largest and most comprehensive range of imaging modalities in Scotland and supports the other services within the hospital. The on-site facilities include:
Two x-ray units with computed radiographic facilities
1.5T MRI unit
Helical CT scanner
General and cardiac ultrasound machines
Fluoroscopy unit for dynamic and interventional procedures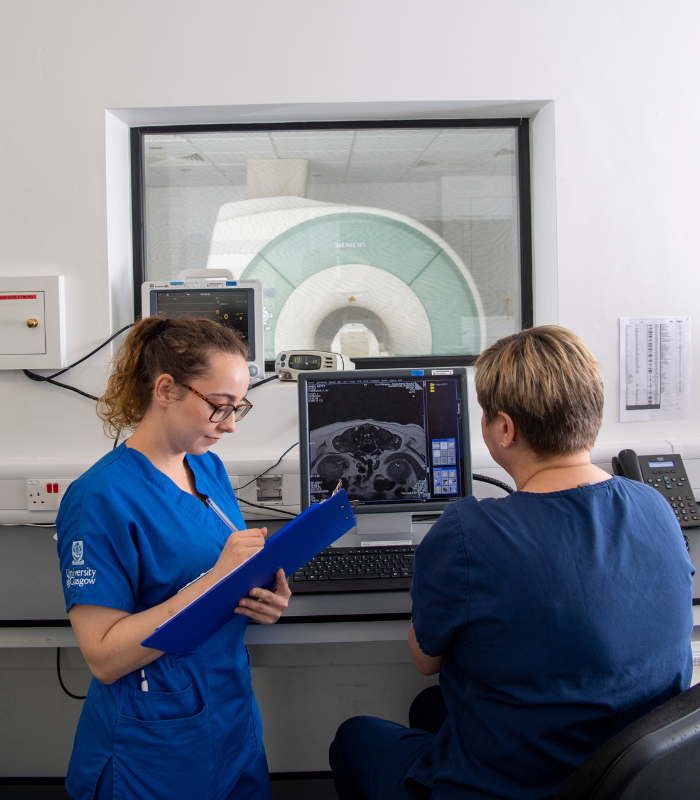 Anselmo Gil
DVM, MRCVS, CertAVP (VDI)
Originally from Southern Spain, I graduated on 2010 and moved to the UK in 2016. Since graduation I have been practising in first opinion with a strong bias towards Diagnostic Imaging, particularly abdominal ultrasound of small companion and exotic animals.
I completed a Certificate in Diagnostic Imaging in 2020 and I joined the Hospital in February 2022. My main role is interpretation of radiographic and ultrasound studies, and I really enjoy working up complex cases and teaching our students. Outside of the hospital, I also provide training in imaging to first opinion veterinary practices.
When not at work I enjoy the great outdoors, reading and playing videogames. We have two very fluffy, pet Chinchillas at home.
Rachel Hume
Rachel qualified as a Diagnostic Radiographer from Glasgow Caledonian University in 2015. She worked in the Queen Elizabeth University Hospital in Glasgow, where she became a senior radiographer, and joined the Small Animal Hospital as a locum MRI radiographer. In the September of 2021 she joined the team as a full time Veterinary Radiographer.
Nicola Brannan
Nicola qualified as a Radiographer from Lancaster School of Radiography. After working in the NHS in London and Glasgow she took up the post of Veterinary Radiographer at the Small Animal Hospital. In 2011 she also took on the role of the MRI radiographer within the Small Animal Hospital.
Gill Cameron
Gill qualified in 1994 from Glasgow Caledonian University and worked in NHS Glasgow as a radiographer then became a senior radiographer for 9 years. In 2003 she was appointed as the Veterinary Radiographer at the Small Animal Hospital and also continues to work in NHS Glasgow. In 2011 she also took on the role of the MRI radiographer within the Small Animal Hospital.
Emilie Paran
Emilie graduated in 2015 from the Veterinary School of Lyon (France), did a rotating and an imaging internship in the Veterinary School of Toulouse (France) before starting to practice near Lyon (France) as a small animal radiologist. She moved to the UK in 2018 to work in a referral practice as an ultrasonographer. She wrote a veterinary thesis on the comparison between biological data and ultrasonography of the pancreas. Advanced imaging of the pancreas is one of my imaging interests but she is interested in all areas of diagnostic imaging.