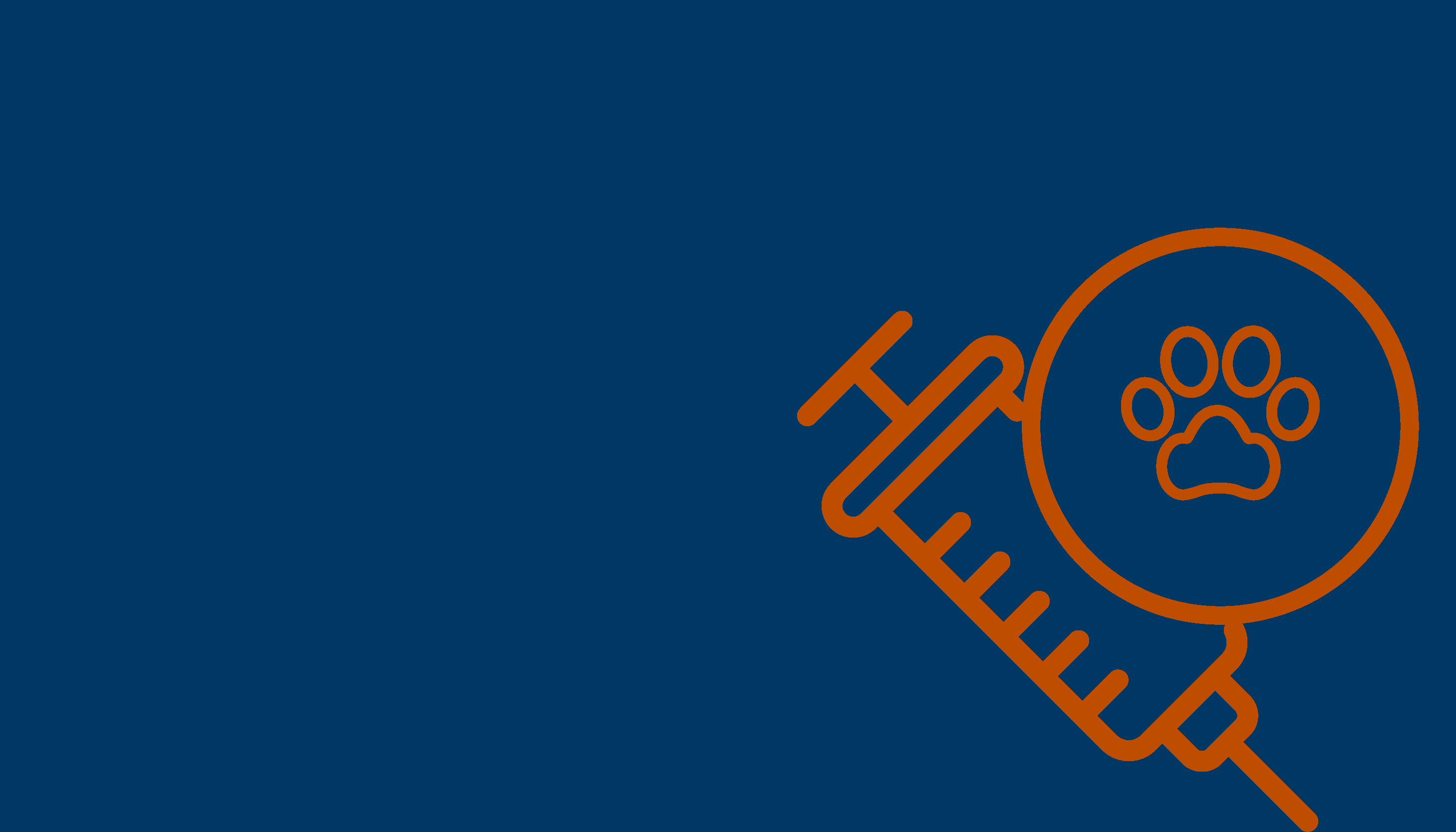 The anaesthesia department provides the highest standard of anaesthesia and peri-operative medicine for patients under our care.
Anaesthesia may be required during your animal's treatment in the hospital for a variety of reasons including undergoing surgery or diagnostic procedures.
OUR FACILITIES
Our anaesthetic department is equipped with facilities akin to what would be found in a human hospital to ensure anaesthesia can be provided for all anaesthetic procedures from the routine to the most complex including:
Full monitoring facilities for every patient
Advanced facilities such as blood gas analysis, ventilation, transthoracic pacing, and peri-operative auto-transfusion to allow us to facilitate advanced procedures.
HOW WE WORK
Our specialist staff will oversee your animal's anesthetic from their initial evaluation right through the procedure and into recovery. The department is comprised of specialist veterinary surgeons, clinical scholars in specialist training, and anaesthesia specific nurses.
Anaesthetic plans are tailored to each patient individually depending on their needs and any diseases they have. This applies particularly to pain relief, where we have a wide variety of drugs and techniques available (e.g. local anaesthetic blocks) to ensure that patients are comfortable throughout their hospital stay.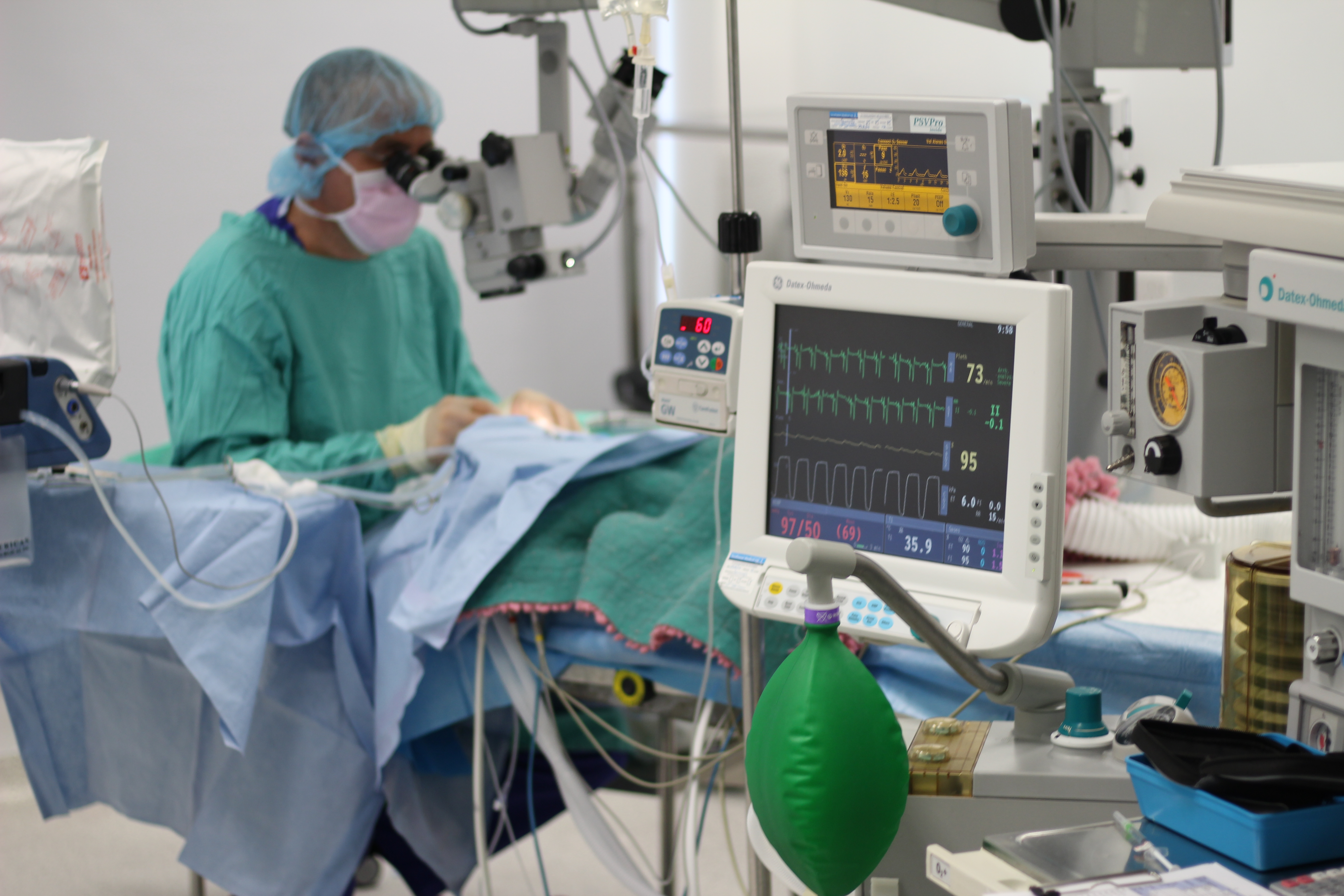 Support our world-leading researchers
We supervise veterinary students rotating through anaesthesia as part of our innovative final year curriculum. A number of clinical research studies are also conducted within the department which aim to improve patient care, and impact upon anesthesia practice across the profession. You may be asked for consent for your animal to be involved in one of these trials when you come to the hospital, and the clinician in charge would be happy to give you further information.
Recent clinical scholar projects:
Prevalence of complications with endotracheal intubation
Evaluating respiratory function in small dogs during anaesthesia: a comparison of different anaesthetic breathing systems
Assessment of Rotem delta values in dogs undergoing spinal surgery for the detection of hyperfibrinolytic states and development of clinical guidelines for the use of tranexamic acid in perioperative haemorrhage
Investigating efficacy of the erector spinae (ESP) block during hemilaminectomy surgery in dogs
Pain Questionnaire for Vets
The short form composite measure pain score (CMPS-SF) can be applied quickly and reliably in a clinical setting and has been designed as a clinical decision making tool which was developed for dogs in acute pain. It includes 30 descriptor options within 6 behavioural categories, including mobility.
Within each category, the descriptors are ranked numerically according to their associated pain severity and the person carrying out the assessment chooses the descriptor within each category which best fits the dog's behaviour/condition. It is important to carry out the assessment procedure as described on the questionnaire, following the protocol closely.
The pain score is the sum of the rank scores. The maximum score for the 6 categories is 24, or 20 if mobility is impossible to assess. The total CMPS-SF score has been shown to be a useful indicator of analgesic requirement and the recommended analgesic intervention level is 6/24 or 5/20.
ANDY BELL BVMS CERTVA DIPECVAA PGCAP FHEA MRCVS
‌Andy qualified from the University of Glasgow in 2004 and spent two years working in mixed practice in Dumfriesshire. He returned to Glasgow in 2006 as a resident in Veterinary anaesthesia. He holds both the RCVS certificate and European diploma in veterinary anaesthesia and is a recognised European specialist in anaesthesia and analgesia.
Andy was appointed as a University clinician in September 2010. His interests include loco-regional anaesthetic techniques, alpha-2 agonists and the assessment and treatment of pain in small animals.
PAMELA J MURISON BVMS PHD DIPECVAA DVA PGCERT(HE) FHEA MRCVS
After graduating from Glasgow University Veterinary School in 1992, Pamela worked in private mixed veterinary practice for 3 years before undertaking a clinical training scholarship in anaesthesia at the University of Edinburgh. She subsequently worked at the University of Bristol in the roles of lecturer and senior lecturer, obtaining the European Diploma in Veterinary Anaesthesia and Analgesia in 2000, the RCVS Diploma in Anaesthesia in 2005 and a PhD in novel analgesia for cats in 2011. During this time, Pamela was involved in the curriculum review and introduction of new practical student evaluations in third and final year.
In 2014, Pamela returned to the University of Edinburgh and was instrumental in the creation of a new online MSc programme in veterinary anaesthesia and analgesia. She was appointed as Professor of Veterinary Anaesthesia at the University of Glasgow in 2018.
Pamela's research interests include monitoring anaesthesia, analgesia and factors affecting ventilation during anaesthesia.
JOSEPHINE ROBERTSON
Josephine graduated from the University of Veterinary Medicine Hannover (Germany) in 2010. She undertook a year-long internship at the Equine Hospital of the Justus Liebig University Gießen (Germany), during which she developed an interest in veterinary anaesthesia.
Following the internship, she worked as a junior clinician with a focus on equine anaesthesia at the Equine Hospital of the Justus Liebig University Gießen for two years, before starting her residency in Veterinary Anaesthesia and Analgesia in combination with a Doctorate in Veterinary Medical Specialisation at the University College Dublin (Ireland) in 2013. In 2018, Josephine joined Glasgow Vet School as an anaesthesia clinician.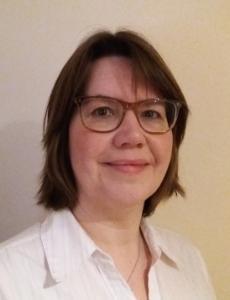 KERRY WOODHOUSE BVSC, CERTVA, DIPACVAA, MRCVS
‌Kerry graduated from the University of Liverpool in 1995 and began her anaesthesia training there a year later working as a Clinical Demonstrator in Anaesthesia for 5 years. After a career break, some small animal practice and with two young children she moved to the US to complete her residency training at the University of California Davis, gaining the diploma of the American College of Veterinary Anaesthesia and Analgesia in 2009.
On returning to the UK, she spent time in private referral practice and at Langford Veterinary Services, University of Bristol before taking positions first as an Assistant Professor in Comparative Anaesthesia at the College of Veterinary Medicine, University of Minnesota for two years, then as a Lecturer at the Royal (Dick) School of Veterinary Studies in Edinburgh until 2018.
Her interests are fairly broad within the field of anaesthesia and cross several species, but she is particularly focused on finding ways to improve pain management and quality of life in older small animal patients with chronic disease processes. She also tries to continually assess comparative aspects of anaesthetic practice and applications of techniques across species.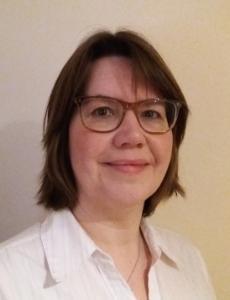 LUIZ SANTOS BVMS, MS, DACVAA
Luiz is a Brazilian/Australian veterinarian. He completed his residency training in anaesthesia at Cornell University. He worked at the University at Pennsylvania, (New Bolton Center) as a Clinical Instructor & Research Associate. Luiz has worked in Australia at Murdoch University as Registrar and at the University of Adelaide as Senior Lecturer. In 2019, Luiz started a PhD on patient safety at the University of Queensland.
Luiz' main clinical interests are loco-regional anaesthesia and cardio-pulmonary resuscitation. He is a board-certified veterinary anaesthesiologist passionate about patient safety and aspects related to safety culture/climate within veterinary organisations.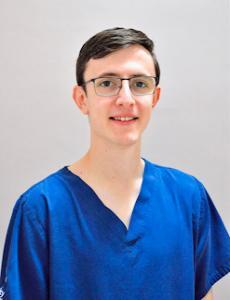 ANDREW MURRAY
Clinician in Anaethesia
Having qualified from the University of Glasgow Andy undertook a year long rotating internship where his interest in anaesthesia developed. He returned to start his anaesthesia residency in 2020.
His current research focuses on the selection and use of anaesthetic breathing systems in small dogs. Andy's clinical interests include local anaesthesia techniques and anaesthetic management in critical cases.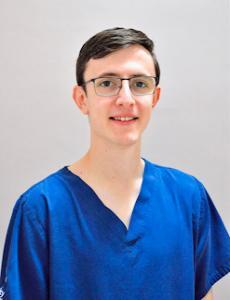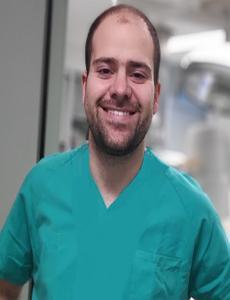 CRISTIAN CABELLOS CLEMENTE Ldo(Vet) MRCVS
Resident in Anaesthesia
Cristian qualified as a vet in Zaragoza, Spain, in 2013 and moved to the UK in 2020, where he completed a couple of anaesthesia internships before to join us in January 2023 to do the European residency in anaesthesia. In his free time, he loves to do hiking in Scotland and see highland cows.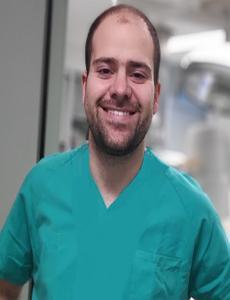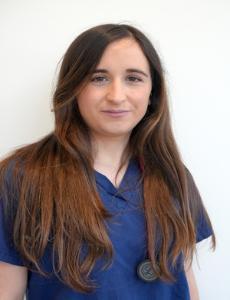 CLARA MARIA DE CELIS PEREZ Ldo(Vet) MRCVS
Resident in Anaesthesia
Clara graduated from the University of Leon (Spain). After completing externships and volunteer work with wildlife throughought Europe, she worked as a GP in Spain. She then came to the UK to work with wildlife in a RSPCA wildlife rehabilitation centre. After this, she has worked as a GP and ECC clinician.
Along the way, she developed a special interest in anaesthesia and got further experience by carrying out an internship in Anaesthesia and ECC at a private referral centre and another one solely in anesthesia at The Univeristy of Edinburgh. Currently, she is carrying out the residency program and the Small Animal Hospital with the aim to become an specialist.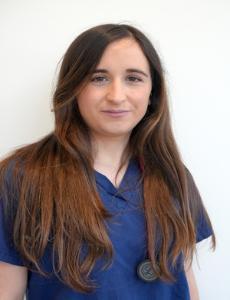 Mariana White RVN AdvNCert(Anaesth) NCert(Anaesth)
Registered Veterinary Nurse
Mariana qualified as a Veterinary Nurse in Portugal in 2012 and moved to the UK shortly after. She worked in small animal practice for 5 years before taking on specialised roles in anaesthesia.
In 2020 Mariana gained her Nursing Certificate in Anaesthesia and soon after started the Advanced Certificate in Anaesthesia, which she completed in 2023.
Mariana joined the anaesthesia team in 2023. She is particularly interested in the environmental impact of anaesthesia and ways to reduce our carbon footprint.