ISSUE 19: Place and Space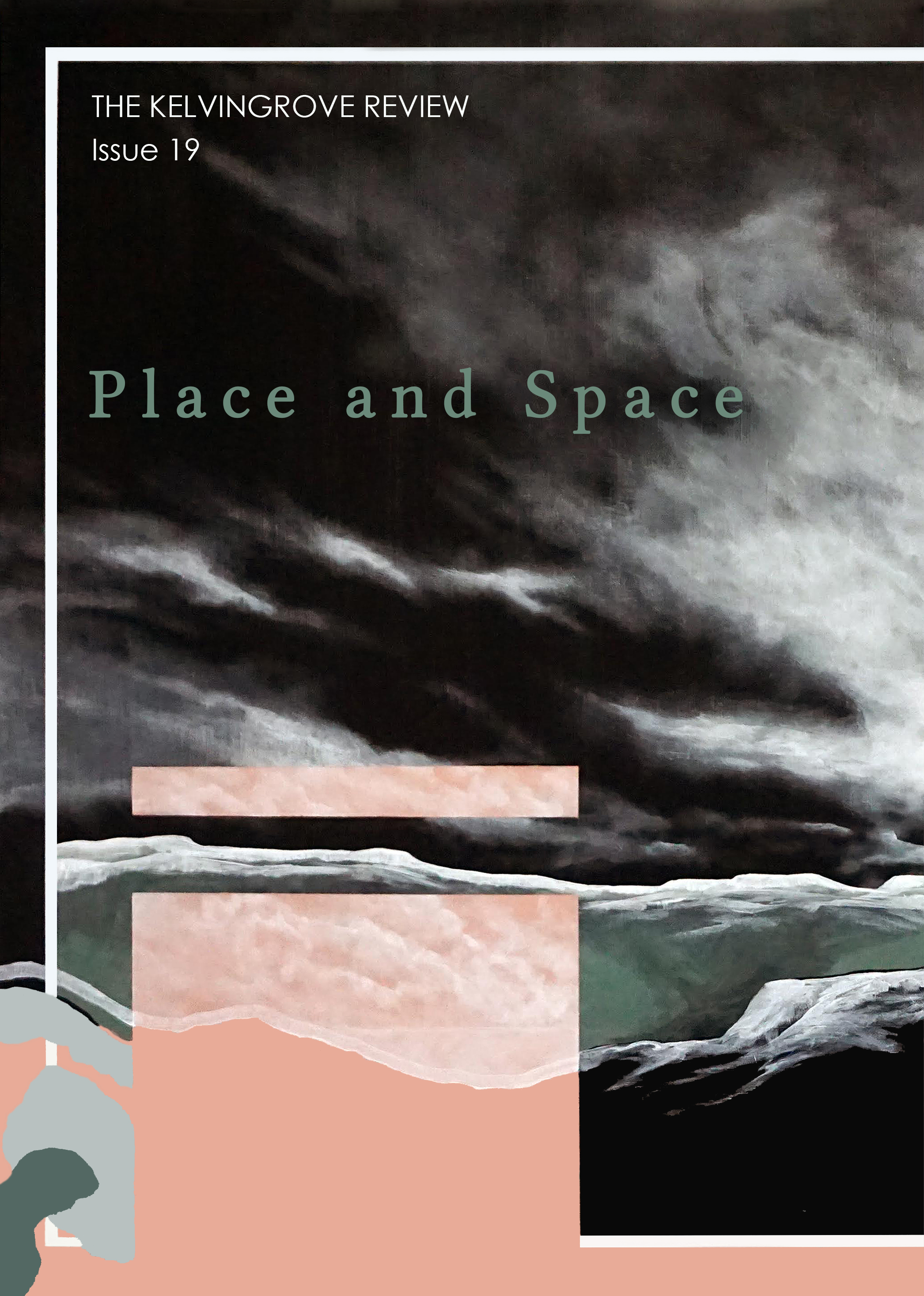 Click here to download the full Issue: The Kelvingrove Review Issue 19 Place and Space

Introduction from the Editors

We are delighted to present Issue 19 of The Kelvingrove Review: Place and Space.

Our goal for the Issue was to explore the ways current research in the Arts and Humanities encounters the twinned concepts of Place and Space. It was our intention from the inception of the Issue to engage discourse on this subject across a wide variety of disciplines and types of media. We are thrilled to unveil the present publication, which includes sixteen reviews from researchers working across the Arts and Humanities, reviewing written media, including seven academic publications, a work of creative non-fiction, and two collections of poetry; and visual media, including three art exhibitions, and three film works. The variety of approaches to the subject found in this diverse range of reviews makes for a compelling and comprehensive consideration of the topic across the Issue.

We open with two reviews of recent collections of poetry. We look first at Anna-Rose Shack's review of I failed to Swoon (Nadia de Vries 2021) which unearths a deep interest in body as place. Jessica Duffy then takes us through C+nto and Othered Poems (Joelle Taylor 2020), which invokes both the canto form as place, and the historical spaces of London's queer counterculture.

We then move to a series of eight reviews of creative non-fiction, recent academic monographs and edited collections that approach the subject of place and space. We follow Maddy Robinson into An Inventory of Losses (Judith Schalansky 2021), a text which catalogues the residual relics of place into memorial. Laura Scott invites us to consider a rich canon of Black Scottish writing, heretofore underrepresented in academia, through her review of Writing Black Scotland (Joseph H. Jackson 2020). Laurence Maxwell Stuart walks us through the cultural legacy of national identity politics in his review of Stepping Westward: Writing the West Highland Tour, c.1720-1830 (Nigel Leask 2020). Olivia Vong's review of Performing Ruins (Simon Murray 2020) opens up the possibility of the ruin as a fertile site for creative labour. Christina Chatzitheodorou leads us through The Kurdish Women's Freedom Movement (Isabel Käser 2021), bringing her reading of this important underrepresented radical feminism to the Issue.
Erin Walter's review of "I am Jugoslavenka!": Feminist performance politics during and after Yugoslav Socialism (Jasmina Tumbas 2022) also revolves around feminist activism, in this case delving deeper into the body politics of Yugoslavia's varied recent feminist art movements. We return from these thoughts around place and self further afield to consider the interaction between place and self in literary urban spaces, with Georgia Toumara's review of The Aesthetics of Space in 19th century British Literature (Giles Whiteley 2020). Lastly, Heather Reilly invites us to consider the edited collection Landscape and Space: Comparative Perspectives from Chinese, Mesoamerican, Ancient Greek, and Roman Art (Jás Elsner 2021) which takes this concern with aesthetics into visual media, looking at early understandings of landscape in art across the ancient world.

Following this broad look at place and space among recent academic publications, we look at three reviews of recent exhibitions to consider how place and space emerge from visual and tactile media. We follow Carrie Foulkes into a deeply personal interaction with the uncanny cartographic approach of Carol Rhodes to landscape painting (See the World, Glasgow International 2021). We then look to Mia Kivel's reading of the interaction between place, space and bodily canvas in a recent exhibition of Japanese prints at the Museum of Asian Art, Smithsonian Institution (Underdogs and Antiheroes 2022). We finish this section with Alana McPake's consideration of dress history, and digital exhibition spaces in relation to Girlhood, it's complicated, an interactive exhibition of clothing at the Smithsonian Institution (Girlhood, it's complicated 2022).

Our final group of reviews are a series of three reviews of recent films, which have a troubled relationship with war-torn place as their point of axis. We hear first from Matthew Seaton who presents an evocative, tightly observed review of Quo vadis, Aida? (Jasmila Žbanić 2020), a recent film which examines the experience of refugees fleeing the Bosnian war. Reconsidering the impact of a different conflict on an individual's relationship with place, Jenny Alexander reviews Belfast (Kenneth Branagh 2021). The final review in Issue 19 of The Kelvingrove Review is Kyna Morgan's exploration of the complicated concept of home as it appears in A Broken House (Jimmy Goldblum 2020).
The Issue cover was designed by Glasgow-based artist Connie Liebschner in response to the landscape of the West of Scotland, depicting a dark heavy sky rolling in low over the mountain range in the foreground. It seemed to us a perfect image to figure this Issue, presenting a place that is distinctively Scottish, but which is altered through interaction with the arriving winds; a place in which the changable nature of the clouds and the constancy of the mountains below come to mirror one another. The texts in the present volume bear witness to the mutability, the alterity, the otherness of place, and the interactions made possible by entering into discussion around the theme.

Editing this Issue of The Kelvingrove Review has been a joyous experience: we have been amazed by the wide variety of high-quality work which considers place and space being undertaken by colleagues working both at the University of Glasgow and across the wider global community of Arts and Humanities researchers. The time, care and attention which the sixteen reviewers published here have put into these texts has been wonderful to be a part of, and we are thrilled to bring the fruits of their labour to you now in this fantastic and wide-ranging look at the impact of the twinned concepts of place and space on contemporary scholarship in the Arts and Humanities.
We hope you enjoy reading Issue 19 of The Kelvingrove Review as much as we enjoyed working on it.
General Editor: Rachel Lyon
Editors: Rachel Eager and Ziyu Zhang
Contents
| | | |
| --- | --- | --- |
| Poetry | | |
| Anna-Rose Shack on | I failed to swoon by Nadia de Vries | TKR 19 Shack |
| Jessica Duffy on | C+nto and Othered Poems by Joelle Taylor | TKR 19 Duffy |
| Creative non-fiction | | |
| Maddy Robinson on | An Inventory of Losses by Judith Schalansky | TKR 19 Robinson |
| Academic Texts | | |
| Laura Scott on | Writing Black Scotland by Joseph H. Jackson | TKR 19 Scott |
| Laurence Maxwell Stuart on | Stepping Westward by Nigel Leask | TKR 19 Maxwell Stuart |
| Olivia Vong on | Performing Ruins by Simon Murray | TKR 19 Vong |
| Christina Chatzitheodorou on | The Kurdish Women's Freedom Movement by Isabel Käser | TKR 19 Chatzitheodorou |
| Erin Walter on | "I am Jugoslavenka!" by Jasmina Tumbas | TKR 19 Walter |
| Georgia Toumara on | The Aesthetics of Space by Giles Whiteley | TKR 19 Toumara |
| Heather Reilly on | Landscape and Space edited by Jás Elsner | TKR 19 Reilly |
| Exhibitions | | |
| Carrie Foulkes on | Carol Rhodes: See the World, Glasgow International | TKR 19 Foulkes |
| Mia Kivel on | Underdogs and Antiheroes, Museum of Asian Art, Smithsonian Institution | TKR 19 Kivel |
| Alana McPake on | Girlhood, it's complicated, Smithsonian Institution | TKR 19 McPake |
| Film | | |
| Matthew Seaton on | Quo vadis, Aida? by Jasmila Žbanić | TKR 19 Seaton |
| Jenny Alexander on | Belfast by Kenneth Branagh | TKR 19 Alexander |
| Kyna Morgan on | A Broken House by Jimmy Goldblum | TKR 19 Morgan |
Contributors
Jenny Alexander
Jenny Alexander is a 24-year-old creative and cultural freelancer and masters student, currently studying Film Curation at the University of Glasgow. Jenny specialises in film history and audiences and is passionate about promoting engagement with the creative and cultural arts. Having recently began her professional career she has worked within a range of different arts festivals across Scotland including The Hippodrome Silent Film Festival and the Edinburgh Fringe.
Christina Chatzitheodorou
Christina is a first-year PhD student in War Studies/History at the University of Glasgow, focusing on female partisans in the Second World War. Born and raised in Greece, she studied International, European and Area Studies at Panteion University of Social and Political Sciences in Athens and completed her MA at King's College London. She speaks fluent Greek, English, French, Italian and Spanish, while she is also learning Arabic and Turkish.
Twitter: @KristyChatz

Jessica Duffy
Jessica Duffy studied for her Undergraduate degree in English Literature at the University of Oxford. She is currently undertaking a Masters in Modernities at the University of Glasgow, writing her dissertation on erotic abjection during the AIDS epidemic. Her research focuses on the erotic, queer studies and scatology. She has had writing published in various Glasgow and Oxford-based publications and recently presented an academic paper at the SASA annual conference.
Carrie Foulkes
Carrie Foulkes is an artist, writer, researcher and complementary therapist. Her studies in philosophy, bodywork and multidisciplinary arts inform her thinking and writing on subjects including illness, care, and the mind-body relationship. Carrie is a doctoral candidate in the DFA Creative Writing programme at the University of Glasgow.
Instagram @carrie.foulkes
Mia Kivel
Mia Kivel is an American art historian and current PhD student at Ohio State University. She has previously studied at Kendall College of Art and Design and the University of Glasgow. Mia's research is focused primarily on contemporary Japanese and Ainu art and explores the representation of marginalised groups in both visual media and the institution of the museum as a whole.
Laurence Maxwell Stuart
Laurence Maxwell Stuart is a PhD Candidate in English Literature at the University of Glasgow, where he also holds an MPhil in Scottish Literature (2020), and an MA in English Literature (2018). Laurence's current research looks towards a 'poetics of the sublime' in late-eighteenth-century Britain, interrogating the sublime as both aesthetic concept and poetic praxis within the works of James Macpherson, Thomas Percy, James Beattie, Robert Burns, William Blake, William Wordsworth, and Samuel Taylor Coleridge.
Alana McPake
Alana McPake is a soon-to-be second year PhD student in History at the University of Glasgow. Her research examines how attitudes towards clothing consumption and production have changed in the UK since 1945. In particular, she looks at the practices of making, mending, buying, and care, and explores the driving factors behind these practices.
Twitter: @AlanaMcPake.
Kyna Morgan
Kyna Morgan is a PhD Researcher at the University of Glasgow with a focus on film festivals as sites of cultural intervention around issues of decolonisation, inclusive representation, and cultural identity. She holds a MA in global film and television from the University of Hertfordshire with a thesis on the 2017 film Get Out and has published research in the Women Film Pioneers Project at Columbia University (U.S.).
Heather Reilly
Heather Reilly is a current Master's student in Ancient Cultures at the University of Glasgow. She completed her undergraduate degree in Ancient History at Cardiff University in 2021. Her research interests include ancient religion and art, with a focus on ancient Egypt and the ancient Near East, although she has studied various European civilisations.
Linkedin: https://www.linkedin.com/in/heather-reilly99/
Maddy Robinson
Maddy Robinson is a writer and translator in the process of completing an MLitt in Comparative Literature at the University of Glasgow. Her current research interests include post-Soviet and Latin American literature, photography in postcolonial contexts and family abolition. Her work has appeared in online journals such as Asymptote and Pikara, and she is a translation assessor for English PEN.
Twitter: @maddyrobinson15
Laura Scott
Laura Scott (she/her) is a part-time PhD researcher and GTA in English and Comparative Literatures. She focuses on the use of heterotopias in Scottish-African women's novels. She is currently part of the organising committee for the upcoming Postcolonial Faultlines conference, jointly hosted by the Universities of Glasgow, Edinburgh, and Aberdeen.
Twitter: @laurascott95
Matthew Seaton
Matthew Seaton is a writer completing his Master's degree in Creative Writing. His work has appeared in Erato Magazine, The Dillydoun Review and Podcast Review. He is a founding editor of the event-zine chewgulpspit. You can contact him by email at matthew.wj.seaton@gmail.com.
Anna-Rose Shack
Anna-Rose Shack is a PhD researcher at the Amsterdam School of Historical Studies at the University of Amsterdam. Her NWO-funded project is entitled "Languages of Vulnerability in Early Modern Women's Poetry." She has recently recorded some of Hester Pulter's poetry for The Pulter Project's YouTube channel and has an article on Isabella Whitney forthcoming in a special issue of Women's Writing.
Georgia Toumara
Georgia Toumara holds a B.A. in English Language and Literature from the University of Athens and an M.Sc. in Literature and Society: Enlightenment, Romantic and Victorian from the University of Edinburgh. She is currently a PhD student at the University of Glasgow researching the intersection of late Romantic and Victorian traveller tropes and the Byronic legacy.
Twitter: @GToumara
https://www.gla.ac.uk/pgrs/georgiatoumara/
Olivia Vong
Olivia is a Catholic performance artist, educator and dramaturg from Singapore presently based in Glasgow and completing an M(Litt) in Theatre and Performance Practices at the University of Glasgow. Her current research interests include vibrant matter, performing landscapes and archaeology in posthuman feminist performance. She is currently working on a piece that explores the refiguration of Mary Magdalene through posthuman feminist performance.
Instagram: @olisaurus.rex
Erin Walter
Erin Walter is a PhD Candidate at the University of Glasgow. Her research aims to expand on how performance art is documented and how an expanded concept of documentation can aid in the historicising of live art. Erin holds a BA in Art History and Visual Culture from Franklin University Switzerland, a MSc in Museum Studies from the University of Glasgow and an MLitt in Curatorial Practice (Contemporary Art) from Glasgow School of Art.
Twitter: @ciaoheren
Acknowledgements
We would not have been able to publish this Issue of The Kelvingrove Review without the invaluable help and support of our colleagues at the College of Arts, and in the wider Arts and Humanities research community. We'd like to extend our deepest gratitude to the following people, without whom this Issue could not have found its feet:

Esmé Beaumont
Parise Carmichael-Murphy
Laura Cooney
Sam Dobbie
Numertha Geisinger
Chunwei 'Harold' Lui
Gina Lyle
Sophie Maddison
Katrina-Eve Manica
Rhys Pasternack
Elisa Pesce
Emily L. Pickard
Caroline Ridler
Lesley Watson