Rabies Control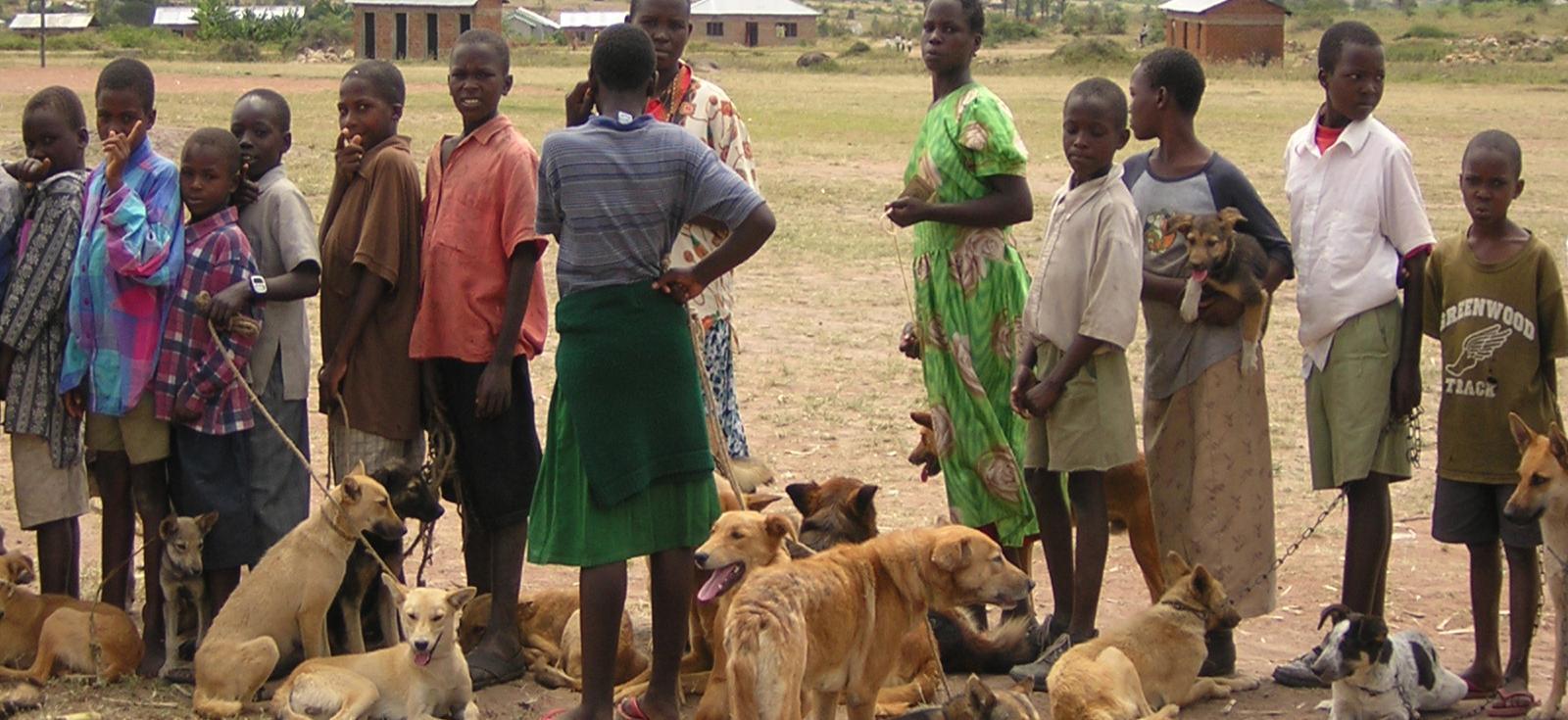 Glasgow has a long history of world-leading research on rabies and our researchers are committed to Zero by 30, the WHO's strategic plan to eliminate dog-mediated rabies by 2030. Beginning more than 15 years ago with work in the Serengeti to understand the scale of the problem and how to target control strategies, our teams have highlighted the cost-effectiveness of control strategies and worked to harness new technologies in the fight against this deadly disease.
The scale of the problem
Combining mortality rates, incidence data and information on control strategies, researchers from Glasgow were able to quantify the annual burden of rabies globally, estimating that 59,000 die each year from this disease. Additionally, they modelled the effectiveness of control strategies, finding that by vaccinating 70% of dogs, the transmission of dog-mediated rabies could be disrupted for significantly less than the cost of individually treating people who have been potentially exposed to rabies through a dog bite.
New technologies
In addition to campaigning for a vaccine-based approach to rabies elimination, Glasgow teams are exploring new tools to increase vaccination coverage. Glasgow researchers have developed mobile phone surveillance technology, known as "mHealth", to closely monitor rabies in animal and human populations in Tanzania.
The mobile phone-based system, developed by Prof Katie Hampson and her team, is used by frontline health and veterinary workers to track every rabies-related event in the country. It enables them to report real-time instances of rabid animal bites on humans, as well as all human and animal rabies vaccinations. The surveillance data is then held in a central database that can be accessed by field workers or central government to help monitor the virus and coordinate vaccination campaigns.
Prof Hampson, along with Dr Kirstyn Brunker, have also been trialling the use of the MinION DNA and RNA sequencing platform for rapid diagnostic testing of rabies samples in the field. Previously, sequencing could takes months, as samples have to be shipped to specialized lab facilities. Through the use of MinION, the team has developed a "lab in a suitcase" that can be used to identify how rabies strains are related to each other, and therefore understand where the disease may have come from if a new case occurs.
Eliminating Rabies
Supported by a £2.3 million Wellcome Trust Senior Research Fellowship, Prof Hampson and her team are building on their previous work to ensure effective rollout and implementation of rabies control programmes. Prof Hampson will address these challenges through synergistic research embedded in rabies control programmes around the world. She is piloting approaches for the surveillance of rabies to increase case detection, improve treatment of people bitten by rabid animals and track the spread of infection in real-time. Capitalising on large-scale dog vaccination programmes is enabling her to address questions about how long it takes to control rabies and what impedes progress towards elimination. The aim is to build an operational toolbox underpinned by a fundamental understanding of rabies dynamics to guide policy and practice.
Working with policy-makers and practitioners to integrate previous research into ongoing rabies control programmes will bring immediate benefits to their implementation and success, and transferable insights to guide elimination efforts and policy around the world.
Awards and Recognition‌
Professor Sarah Cleaveland's pioneering research on rabies has led to her being elected to the National Academy of Medicine, one of the highest honours in the fields of health and medicine. She has also been elected as a fellow of the Royal Society.
In 2017, Professor Cleaveland was awarded the prestigious Leeuwenhoek Medal from the Royal Society. As part of this, she has been invited to deliver the Leeuwenhoek lecture in 2018. The Leeuwenhoek Medal and Lecture are given triennially as an honour bestowed for high achievement in scientific research.
Professor Cleaveland was also recently awarded the Zoological Society of London (ZSL) Frink Award. The ZSL Frink Award, which has been given out every year since 1975, is given for significant and original contributions to the development of zoology.
The mobile phone rabies surveillance technology project led by Katie Hampson also won a Guardian University Award in 2016 in the International Projects category.
---
First published: 21 January 2021