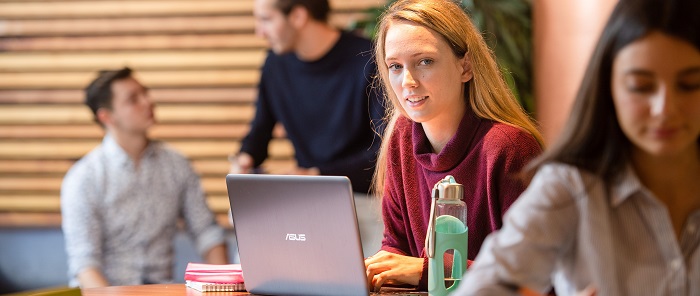 Online learning at the University of Glasgow allows you to benefit from the outstanding educational experience that we are renowned for, without having to relocate to our campus.
Combining marketing's fundamentals with the latest digital trends, the University of Glasgow's online Masters degree in Marketing is designed for tomorrow's world. After grounding you in core marketing topics such as brand management, marketing management and marketing analytics & research, the programme offers optional courses in digital, retail, services and user experience (UX) marketing – subjects crucial for success in today's digital, customer-centric environment. Bringing you up to date with the latest developments in the field, this online MSc offers contemporary research-led content, input from industry experts, and case studies, featuring everything from start-ups to well-known brands. This is delivered by our international faculty at the Adam Smith Business School.
MSc: 30 months part‑time
PgDip: 24 months part‑time
PgCert: 12 months part‑time
Why this programme
The Adam Smith Business School is accredited by AACSB, AMBA and EQUIS, making this online Marketing qualification highly attractive to prospective employers.
The School is rated one of the top 100 business schools in Europe by the Financial Times in 2018.
The University of Glasgow is also currently ranked 33rd in the world for International Strategic Marketing (QS Rankings).
Whatever sector or context you're working in, you will significantly enhance your value as an employee. You will develop the analytical and critical skills you need to make informed marketing decisions for your organisation.
To apply, previous marketing experience is not essential. What is more important is your ambition and a willingness to embrace new marketing ideas and challenges.
To help support your learning experience, the 100% online programme offers a mix of engaging learning styles such as video, discussion boards, interactive quizzes, recorded and live seminars, journals and ebooks. Please note that interaction in online environments is not usually in real time, but this may be experienced occasionally.
Through interactive online study you'll be able to share ideas and create long-lasting networks with your fellow marketeers.
Programme structure
PgCert
Year 1: 3 x 20 credit core courses
PgDip
Year 1: 3 x 20 credit core courses
Year 2: 2 x 20 credit core courses and 2 x 10 credit optional courses
MSc
Year 1: 3 x 20 credit core courses
Year 2: 2 x 20 credit core courses and 2 x 10 credit optional courses
Year 3: 1 x 60 credit dissertation
After exploring core subjects such as marketing management, analytics and customer behaviour in year 1 and the beginning of year 2, you will select two (out of four) optional 10 credit courses in the second year.
Before graduating you will need to complete a dissertation, where you will need to draw on the concepts, theories and research you have learnt throughout the programme.
Throughout each course you will be assessed in a variety of ways, which could include essays, discussions, blogs, online presentations, interactive quizzes, assignments or group work. Details of these assignments are found in your induction.
The duration of this programme is 2.5 years to 6 years taken on a part-time basis. For details on full-time options, please speak to an admissions representative.
Year 1
PgCert, PgDip and MSc:
Year 2
PgDip and MSc:
Optional courses (select two of the below):
Year 3
Programme outcomes
Apply relevant theories and methodologies from across the marketing discipline to support your decisions.
Identify international market opportunities, preparing you for a career in a range of enterprises.
Evaluate marketing against other management functions such as finance and HR.
Combine marketing expertise with other management functions both inside and outside of a business.
Undertake international marketing in a dynamic, networked, international and culturally diverse economy.
Recognise and explain current theory and methodology of marketing to drive marketing decisions in organisations.
Apply marketing theory and methodology in an international and domestic context.
Identify market opportunities and identify threats within a range of business contexts.
Construct advanced marketing research activity.
Apply analytical skills in marketing and other business environments.
Deliver oral and written communication and design and deliver pitches.
Programme alteration or discontinuation
The University of Glasgow endeavours to run all programmes as advertised. In exceptional circumstances, however, the University may withdraw or alter a programme. For more information, please see: Student contract.
Career prospects
Careers in this area are highly rewarding, both financially and creatively. In 2018, Glassdoor's 25 Best Jobs in the UK list ranked marketing manager highest overall for job satisfaction, base salary and number of available roles.
Not only does an online masters degree in Marketing unlock careers, like marketing management and brand development, it offers the flexibility to specialise in particular areas or transition into a related field.
By exploring marketing theory through real world application, our online masters degree in marketing will enhance your career opportunities across multiple sectors, in both traditional and digital contexts.
Fees & funding
Tuition fees for January and April 2021 start
MSc
UK / EU / International:
£13,000 (Total cost)
You can pay in instalments of £722 per 10 credits or £1,444 per 20 credits.
PgDip
UK / EU / International:
£8,667 (Total cost)
You can pay in instalments of £722 per 10 credits or £1,444 per 20 credits.
PgCert
UK / EU / International:
£4,333 (Total cost)
You can pay in instalments of £722 per 10 credits or £1,444 per 20 credits.
Tuition fees for 2021-22
MSc
UK / EU / International:
You can pay in instalments of £1,667 per 20 credits.
PgDip
UK / EU / International:
You can pay in instalments of £1,667 per 20 credits.
PgCert
UK / EU / International:
You can pay in instalments of £1,667 per 20 credits.
Additional fees
Fee for re-assessment of a dissertation (PGT programme): £370
Submission of thesis after deadline lapsed: £350
Registration/exam only fee: £170
Fee information is subject to change and is for guidance only
Funding opportunities
Alumni Discount
The University offers a 10% discount on all Postgraduate Research and full Postgraduate Taught Masters programmes to its alumni. This includes University of Glasgow graduates and those who have completed a Study Abroad programme or the Erasmus Programme at the University of Glasgow. The discount applies to all full-time, part-time and online programmes.
The scholarships above are specific to this programme. For more funding opportunities search the scholarships database
Entry requirements
To be accepted for this programme, you must have:
At least a 2:2 undergraduate degree from a recognised university.
We welcome candidates with non-academic qualifications and backgrounds, on the basis of highly relevant work experience or demonstrated interest. Candidates with more than three years' work experience will be considered. For more information on this, please contact us.
Please include a curriculum vitae and supporting statement with your application.
English language requirements
Important information for entry in Autumn 2020 and January 2021
For applicants whose first language is not English, the University sets a minimum English Language proficiency level.
International English Language Testing System (IELTS) Academic module (not General Training)
overall score 7.0

no sub-test less than 6.5
or equivalent scores in another recognised qualification:
Common equivalent English language qualifications
All stated English tests are acceptable for admission for both home/EU and international students for this programme:
ibTOEFL: 95

Reading: 23
Listening: 23

Speaking: 22

Writing: 24

CAE (Cambridge Certificate of Advanced English): 185 overall; no sub-test less than 176
CPE (Cambridge Certificate of Proficiency in English): 185 overall; no sub-test less than 176
PTE Academic (Pearson Test of English, Academic test): 68; no sub-test less than 62

Trinity College London Integrated Skills in English: ISEII at Distinction with Distinction in all sub-tests
For international students, the Home Office has confirmed that the University can choose to use these tests to make its own assessment of English language ability for visa applications to degree level programmes. The University is also able to accept an IELTS test (Academic module) from any of the 1000 IELTS test centres from around the world and we do not require a specific UKVI IELTS test for degree level programmes. We therefore still accept any of the English tests listed for admission to this programme.
Pre-sessional courses
The University of Glasgow accepts evidence of the required language level from the English for Academic Study Unit Pre-sessional courses. We also consider other BALEAP accredited pre-sessional courses:
FAQs
What do I do if...
my language qualifications are below the requirements?
The University's English for Academic Study Unit offers a range of Pre-Sessional Courses to bring you up to entry level. The course is accredited by BALEAP, the UK professional association for academic English teaching; see Links.
my language qualifications are not listed here?
Please contact the Recruitment and International Office using our enquiry form
For further information about English language requirements, please contact the Recruitment and International Office using our enquiry form
Computer requirements for studying online
Broadband internet connection
Internet Browsers
Our online learning platform Moodle is compatible with any standards compliant web browser. This includes:
Desktop:
Chrome
Firefox
Safari
Edge
Internet Explorer
Mobile:
MobileSafari
Google Chrome
For the best experience and optimum security, we recommend that you keep your browser up to date.
Javascript needs to be enabled within your browser
Please note: legacy browsers with known compatibility issues with Moodle 3.3 are:
Internet Explorer 10 and below
Safari 7 and below
Computer specifications
Processor: 2GHz

Operating system (minimum):

Microsoft Windows Vista service pack 1
Windows 7
Mac OS X v10.4.11+

Memory: 3GB of RAM or more
Hard disk: 300GB
Sound card and microphone
Speakers or headphones
Monitor and video card with 1024x768 display or higher
Mobile device specifications
iOS: latest (Apple Safari & Google Chrome)
Android: 4.4+ with latest Google Chrome
Other software
Adobe Acrobat Reader
Media player e.g. Windows Media Player or VLC
Word processing software (that outputs to the following file types for marking online: .doc, .docx, .html, .txt, .rft, .pdf, .ppt, .pptx, .pps, .hwp)
Anti-virus software
Advised hardware / software
Microsoft Office 2010
Headset (ideally with a USB connector)
Webcam
How to apply
To apply for a postgraduate taught degree you must apply online. We cannot accept applications any other way.
Please check you meet the Entry requirements for this programme before you begin your application.
Documents
As part of your online application, you also need to submit the following supporting documents:
A copy (or copies) of your official degree certificate(s) (if you have already completed your degree)
A copy (or copies) of your official academic transcript(s), showing full details of subjects studied and grades/marks obtained
Official English translations of the certificate(s) and transcript(s)
One reference letter on headed paper
Evidence of your English Language ability (if your first language is not English)
Any additional documents required for this programme (see Entry requirements for this programme)
A copy of the photo page of your passport (Non-EU students only)
You have 42 days to submit your application once you begin the process.
You may save and return to your application as many times as you wish to update information, complete sections or upload supporting documents such as your final transcript or your language test.
For more information about submitting documents or other topics related to applying to a postgraduate taught programme, check Frequently Asked Questions
Guidance notes for using the online application
These notes are intended to help you complete the online application form accurately; they are also available within the help section of the online application form.
If you experience any difficulties accessing the online application then you should visit the Application Troubleshooting/FAQs page.
Name and Date of birth: must appear exactly as they do on your passport. Please take time to check the spelling and lay-out.
Contact Details: Correspondence address. All contact relevant to your application will be sent to this address including the offer letter(s). If your address changes, please contact us as soon as possible.
Choice of course: Please select carefully the course you want to study. As your application will be sent to the admissions committee for each course you select it is important to consider at this stage why you are interested in the course and that it is reflected in your application.
Proposed date of entry: Please state your preferred start date including the month and the year. Taught masters degrees tend to begin in September. Research degrees may start in any month.
Education and Qualifications: Please complete this section as fully as possible indicating any relevant Higher Education qualifications starting with the most recent. Complete the name of the Institution (s) as it appears on the degree certificate or transcript.
English Language Proficiency: Please state the date of any English language test taken (or to be taken) and the award date (or expected award date if known).
Employment and Experience: Please complete this section as fully as possible with all employments relevant to your course. Additional details may be attached in your personal statement/proposal where appropriate.
Reference: Please provide one reference. This should typically be an academic reference but in cases where this is not possible then a reference from a current employer may be accepted instead. Certain programmes, such as the MBA programme, may also accept an employer reference. If you already have a copy of a reference on letter headed paper then please upload this to your application. If you do not already have a reference to upload then please enter your referee's name and contact details on the online application and we will contact your referee directly.
Application deadlines
Please note that applications for the April 2021 intake will be accepted up until the 31 March 2021.
Apply now
More information about this programme