While the amount of data being produced is proliferating at a staggering rate, the skills to extract information and the value we receive from it are both relatively scarce. If you are looking to start a career in data science, or even further your current career, our Online Data Analytics MSc will provide you with vital skills required to develop your modelling and data handling expertise. You will gain a firm grounding in the principles of learning from data sets, whilst at the same time getting hands-on experience handling, analysing and visualising data. which will help you to realise your true potential while making you in demand in the modern workplace. Both Artificial Intelligence and Analytical Reasoning are among the top three most-in demand hard skills (LinkedIn, 2019).
MSc: 36 months part‑time
PgDip: 24 months part‑time
PgCert: 12 months part‑time
Why this programme
The Statistics Group at the University of Glasgow is internationally renowned for its research excellence. Students are able to benefit from this by learning from academics whose expertise covers the analysis of data from a wide range of applications.
Designed for part time study, this programme allows you to gain an MSc degree from a leading university while you are still in full-time employment. Plus, from day one you can start to put your new knowledge to the test at work. You won't have to wait until you've graduated to make a real difference in the workplace.
A faster study route, which lets you complete the programme in two years, is also available.
You will have the freedom to work at your own pace and access to a wide range of learning tools including rich interactive reading material and tutor-led videos. You will also be able to arrange tailored one-to-one sessions with our academic team.
Our students
Our students contribute a wealth of professional experience from a variety of sectors including finance, the pharmaceutical industry, banking, IT services and government statistical services amongst others.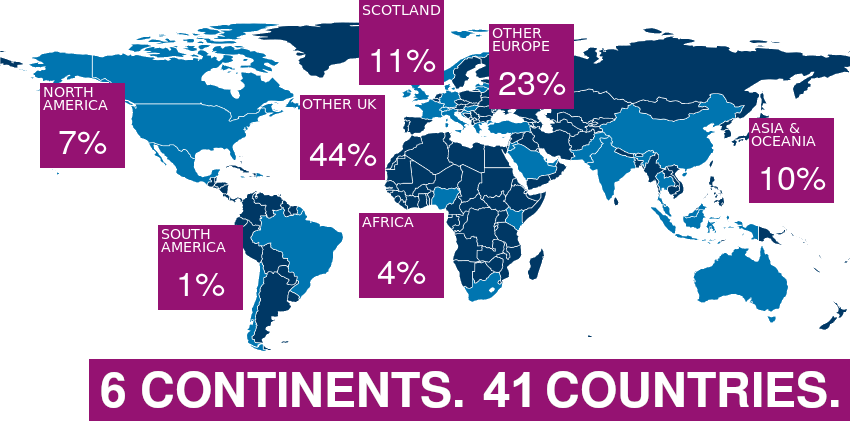 Our students come from all over the world, bringing a rich mixture of personal experiences, cultural backgrounds and strong sense of internationalism to our student community. The open and welcoming atmosphere amongst students and staff creates an inspiring yet supportive environment for collaborative learning, and personal and professional growth.
+++
What our students say
MUTONO NYAMAI (PhD Fellow at University of Nairobi and Washington State University in the Global Health Programme)
"Soon after I enrolled for my PhD, I realized that I needed data analytics skills as I would be dealing with big datasets and modeling of infectious diseases. I needed a course that would teach me the current analysis trends while setting me apart as a great data scientist. The programme is very well structured with very knowledgeable and supportive lecturers who are more than willing to have one-on-one meetings with you to ensure you understand the concepts.This programme has surpassed my expectations in keeping up with the current industry needs, using popular and relevant analysis tools and training me to work in the field of research. Thanks to this course, I can now confidently call myself a data scientist."
---
Programme structure
This flexible part-time programme is completed over three years. In the first two years, you will take two courses each trimester. In the third year, you will work on a project and Dissertation.
Students can choose PROBABILITY AND SAMPLING FUNDAMENTALS (ODL) instead of PROBABILITY AND STOCHASTIC MODELS (ODL).
Core courses
Key outcomes
Demonstrate thorough understanding of the concepts, principles, theories and methods of probability, statistics and machine learning.
Developing strategies for modelling and analysing potentially large and complex data.
Communicate and visualise insights gained from data.
Design and develop software to perform data management, data extraction, statistical analyses and, as far as possible, automate these, using different tools and programming languages such as R, Python, Spark and TensorFlow.
Programme alteration or discontinuation
The University of Glasgow endeavours to run all programmes as advertised. In exceptional circumstances, however, the University may withdraw or alter a programme. For more information, please see: Student contract.
Career prospects
Data is becoming an ever increasing part of the modern world, yet the talent to extract information and value from complex data is scarce. There is a massive shortage of data-analytical skills in the workforce. Statistical analysis and data mining is ranked 2nd in the Top 10 Most In-Demand Hard Skills 2018 by LinkedIn. This programme opens up a multitude of career opportunities and/or boosts your career trajectory.
Our graduates have an excellent track record of gaining employment in many sectors including medical research, the pharmaceutical industry, finance and government statistical services, while others have continued to a PhD.
Fees & funding
Tuition fees for 2021-22
MSc
Online Distance Learning:
UK / EU / International: £15,000 (total cost)
£1667 per 20 credits
60 credits per year over 3 years
PgDip
Online Distance learning
UK / EU / International: £10,000 (total cost)
£1,667 per 20 credits
60 credits per year over 2 years
PgCert
Online Distance learning
UK / EU / International: £5,000 (total cost)
£1,667 per 20 credits
60 credits per year over 1 year
Additional fees
Fee for re-assessment of a dissertation (PGT programme): £370
Submission of thesis after deadline lapsed: £350
Registration/exam only fee: £170
Fee information is subject to change and is for guidance only
Funding opportunities
Postgraduate Student Loan (NI)
If you are a Northern Irish student looking to study a taught Masters programme* in Glasgow then you can apply for a student loan in exactly the same way as you would for a University in Northern Ireland.
Northern Irish students are able to apply for non-means-tested tuition fee loans of up to £5,500, to help with the costs of funding.
For more information visit www.studentfinanceni.co.uk/types-of-finance/postgraduate .
* does not apply to Erasmus Mundus programmes
Alumni Discount
In response to the current unprecedented economic climate, the University is offering a 20% discount on all Postgraduate Research and full Postgraduate Taught Masters programmes to its alumni, commencing study in Academic session 2020/21. This includes University of Glasgow graduates and those who have completed a Study Abroad programme or the Erasmus Programme at the University of Glasgow. The discount applies to all full-time, part-time and online programmes. This discount can be awarded alongside other University scholarships.
Postgraduate Student Loan (Scotland and EU)
Eligible full-time and part-time students, undertaking an eligible postgraduate course, can apply for a tuition fee loan up to a maximum of £5,500 towards their course. 
Eligible full-time postgraduate students can apply to us for a living-cost loan of up to £4,500. 
Please see the Postgraduate funding guide.
For more information visit the SAAS website
Postgraduate Loans for Welsh Students
If you are a Welsh student looking to study a postgraduate programme* in Glasgow then you can apply for a student loan in exactly the same way as you would for a Welsh University.
* does not apply to Erasmus Mundus programmes
Postgraduate Master's Finance
If you're starting a full-time or part-time Postgraduate Master's course (taught or research based) from 1 August 2019, you can apply for Postgraduate Master's Finance and receive up to £17,000 as a combination of grant and loan:
a maximum grant of £6,885 and loan of £10,115 if your household income is £18,370 and below
a grant of £1,000 and loan of £16,000 if your household income is not taken into account or is above £59,200.
For more information visit Student Finance Wales
Postgraduate Doctoral Loan
If you're starting a full-time or part-time postgraduate Doctoral course (such as a PhD) from 1 August 2019 you can apply for a Postgraduate Doctoral Loan of up to £25,700.
For more information visit Student Finance Wales


The scholarships above are specific to this programme. For more funding opportunities search the scholarships database
Entry requirements
A first degree equivalent to a UK upper second class honours degree, normally with a substantial mathematics component (at least equivalent to Level-1 courses in Mathematics and Level-2 courses in Calculus and Linear Algebra at the University of Glasgow) Graduates who only have A-Level or Higher Mathematics, or equivalent, may also be admitted to the programme, however only subject to successfully completing an assessment of their mathematical skills before being admitted to the programme. Training material which prepares students for the assessment will be made available to applicants.
Graduates who achieved a degree classification equivalent to a UK lower second class honours degree, or similar, but who have substantial experience in a profession which involved a significant amount of programming, data management, data analysis or mathematical modelling might be also admitted to be programme. Such applicants might also be required to successfully complete an interview (as well as successfully completing the assessment of their mathematical skills, if required).
Previous study of Statistics or Computing Science is not required.
English language requirements
Important information for entry in Autumn 2020 and January 2021
For applicants whose first language is not English, the University sets a minimum English Language proficiency level.
International English Language Testing System (IELTS) Academic module (not General Training)
overall score 6.5
no sub-test less than 6.0
or equivalent scores in another recognised qualification:
Common equivalent English language qualifications
All stated English tests are acceptable for admission for both home/EU and international students for this programme:
ibTOEFL: 90; no sub-test less than:

Reading: 20
Listening: 19
Speaking: 19
Writing: 23

CAE (Cambridge Certificate of Advanced English): 176 overall; no sub-test less than 169
CPE (Cambridge Certificate of Proficiency in English): 176 overall; no sub-test less than 169
PTE Academic (Pearson Test of English, Academic test): 60; no sub-test less than 59
Trinity College London Integrated Skills in English: ISEII at Distinction with Distinction in all sub-tests
For international students, the Home Office has confirmed that the University can choose to use these tests to make its own assessment of English language ability for visa applications to degree level programmes. The University is also able to accept an IELTS test (Academic module) from any of the 1000 IELTS test centres from around the world and we do not require a specific UKVI IELTS test for degree level programmes. We therefore still accept any of the English tests listed for admission to this programme.
Pre-sessional courses
The University of Glasgow accepts evidence of the required language level from the English for Academic Study Unit Pre-sessional courses. We also consider other BALEAP accredited pre-sessional courses:
FAQs
What do I do if...
my language qualifications are below the requirements?
The University's English for Academic Study Unit offers a range of Pre-Sessional Courses to bring you up to entry level. The course is accredited by BALEAP, the UK professional association for academic English teaching; see Links.
my language qualifications are not listed here?
Please contact the Recruitment and International Office using our enquiry form
For further information about English language requirements, please contact the Recruitment and International Office using our enquiry form
How to apply
To apply for a postgraduate taught degree you must apply online. We cannot accept applications any other way.
Please check you meet the Entry requirements for this programme before you begin your application.
Documents
As part of your online application, you also need to submit the following supporting documents:
A copy (or copies) of your official degree certificate(s) (if you have already completed your degree)
A copy (or copies) of your official academic transcript(s), showing full details of subjects studied and grades/marks obtained
Official English translations of the certificate(s) and transcript(s)
One reference letter on headed paper
Evidence of your English Language ability (if your first language is not English)
Any additional documents required for this programme (see Entry requirements for this programme)
A copy of the photo page of your passport (Non-EU students only)
You have 42 days to submit your application once you begin the process.
You may save and return to your application as many times as you wish to update information, complete sections or upload supporting documents such as your final transcript or your language test.
For more information about submitting documents or other topics related to applying to a postgraduate taught programme, check Frequently Asked Questions
Guidance notes for using the online application
These notes are intended to help you complete the online application form accurately; they are also available within the help section of the online application form.
If you experience any difficulties accessing the online application then you should visit the Application Troubleshooting/FAQs page.
Name and Date of birth: must appear exactly as they do on your passport. Please take time to check the spelling and lay-out.
Contact Details: Correspondence address. All contact relevant to your application will be sent to this address including the offer letter(s). If your address changes, please contact us as soon as possible.
Choice of course: Please select carefully the course you want to study. As your application will be sent to the admissions committee for each course you select it is important to consider at this stage why you are interested in the course and that it is reflected in your application.
Proposed date of entry: Please state your preferred start date including the month and the year. Taught masters degrees tend to begin in September. Research degrees may start in any month.
Education and Qualifications: Please complete this section as fully as possible indicating any relevant Higher Education qualifications starting with the most recent. Complete the name of the Institution (s) as it appears on the degree certificate or transcript.
English Language Proficiency: Please state the date of any English language test taken (or to be taken) and the award date (or expected award date if known).
Employment and Experience: Please complete this section as fully as possible with all employments relevant to your course. Additional details may be attached in your personal statement/proposal where appropriate.
Reference: Please provide one reference. This should typically be an academic reference but in cases where this is not possible then a reference from a current employer may be accepted instead. Certain programmes, such as the MBA programme, may also accept an employer reference. If you already have a copy of a reference on letter headed paper then please upload this to your application. If you do not already have a reference to upload then please enter your referee's name and contact details on the online application and we will contact your referee directly.
Application deadlines
Please note that applications for programmes delivered online will be accepted up until they commence.
Apply now
More information about this programme
Related programmes