Our Creative Writing Research degrees are unique and intense programmes for practising writers who wish to complete an ambitious creative project, representing a distinctive contribution to the field of Creative Writing.
Overview
Our new research Master of Fine Arts (MFA) and Doctor of Fine Arts (DFA) build on a long history of offering Masters and Doctoral options in the study and practice of Creative Writing.
Our research degrees incorporate hybrid taught elements (literary and practical seminars; workshops; and practical pedagogy) within a supervised research context that best support your creative and critical work.
Both programmes give you dedicated, supported time to complete a substantial creative work, include opportunities to teach writing to undergraduates and apply to be a graduate teaching assistant for other literature courses, and the DFA additionally allows you to undertake an extended academic research, informed by your work and practice, leading to a significant critical essay or output.
Our students enjoy the guidance of writers including Carolyn Jess-Cooke, Colin Herd, Laura Marney, Elizabeth Reeder, Zoë Strachan and Louise Welsh, and critics such as John Coyle, Jane Goldman, Rob Maslen, Alan Riach, and Helen Stoddart.
Across all our postgraduate provision, both taught and by research, students have access to the best of the new and also develop a sense of the origins and histories.
Creative Writing at the University of Glasgow is based in the Edwin Morgan Writing Room with its book, periodical and audio-visual library. There is an ambitious programme of visiting speakers, masterclasses and public events. The University Library with its modern collections and archives is a crucial resource, including the archive for Edwin Morgan's Papers. We also collaborate with the Mitchell Library, one of the great civic libraries of Europe. And our popular Creative Conversations bring a carefully curated range of visiting speakers to campus every week during the semester.
We have strong links with literary agents and an impressive history of published graduates.
Study options
DFA: 3 years full-time; 5 years part-time. Thesis length 70,000-100,000*
MFA: 2 years full-time; 4 years part-time. Thesis length 40,000-60,000*
* or approved equivalencies for poetry or cross-genre work
Both the MFA and DFA run as Low Residency options, where students must attend at least two intense weeks of seminars, visiting speakers, workshop and practical elements (including teaching creative writing in the second year). One week will take place during the first week of the autumn semester in first year; the other will take place in the spring or early in the summer semester of second year.
Entry requirements
This is a popular and selective programme.
All applications must follow the standard entry requirements for the College of Arts:
First or Upper Second Class Honours Degree or equivalent qualification (2:1 in the case of UK Research Council supported students)
A Masters qualification or equivalent
In addition, for both our MFA and DFA we are looking for writers to have a preparatory one-year, postgraduate masters in Creative Writing with either Merit or Distinction (MA, MLitt or MPhil) or three publications in respected literary journals or magazines, in the intended genre of study. Compelling equivalencies will be considered.

We also require a 20-30 page portfolio of your writing. This portfolio must include a one-page proposal for the project you intend to undertake on our courses and a short sample (5-6 pages) of critical work, if you are applying to the DFA.

As with standard entry requirements we require two letters of reference. Your referees should include an academic and a creative referee where possible. Where this is not possible, you can provide referees from other areas who can vouch that you are who you say you are and that your work and achievements are your own. It is particularly helpful if these referees are familiar with your writing and can provide references on that basis.
Application deadlines
19 November 2018: to receive a decision on your application by 10 December 2018
18 February 2019: to receive a decision on your application by 18 March 2019
20 May 2019: to receive a decision on your application by 17 June 2019
English Language requirements for applicants whose first language is not English.
Fees and funding
Fees
2019/20
£4,327 UK/EU
£17,620 outside EU
Prices are based on the annual fee for full-time study. Fees for part-time study are half the full-time fee.
Additional fees for all students:
Re-submission by a research student £500
Submission for a higher degree by published work £1,250
Submission of thesis after deadline lapsed £320
Submission by staff in receipt of staff scholarship £730
Research students registered as non-supervised Thesis Pending students (50% refund will be granted if the student completes thesis within the first six months of the period) £300
Depending on the nature of the research project, some students will be expected to pay a bench fee (also known as research support costs) to cover additional costs. The exact amount will be provided in the offer letter.
Alumni discount
A 10% discount is available to University of Glasgow alumni. This includes graduates and those who have completed a Junior Year Abroad, Exchange programme or International Summer School at the University of Glasgow. The discount is applied at registration for students who are not in receipt of another discount or scholarship funded by the University. No additional application is required.
Funding for EU students
The UK government has confirmed that EU nationals will remain eligible to apply for Research Council PhD studentships at UK institutions for 2019/20 to help cover costs for the duration of their study.
Support
Resources
Teaching and research in the Arts and Humanities is supported by the outstanding resources of our University Library with its special collections and our on-campus Hunterian Museum and Art Gallery.
Our close links and partnerships with Glasgow Life, and the city's many museums, art galleries, performing arts and music venues, international festivals and creative industry organisations make the University of Glasgow the ideal place for postgraduate study of the arts.
Graduate School
Our College of Arts Graduate School creates a productive and interdisciplinary collegiate environment for all of our research students. We offer a range of services, courses and skills development opportunities for research students.
The College of Arts is home to a vibrant and diverse community of students enrolled on taught masters and research programmes within a stimulating intellectual and cultural environment. Across every school and subject area the college is home to world-leading and agenda-setting research.
Find out more about what is happening in the community by following us:
You will also be part of the wider Scottish Graduate School for Arts and Humanities, the world's first national graduate school in the Arts & Humanities. Membership includes 16 Scottish universities, four art schools & the national conservatoire, with support from the arts, culture, creative & heritage sectors.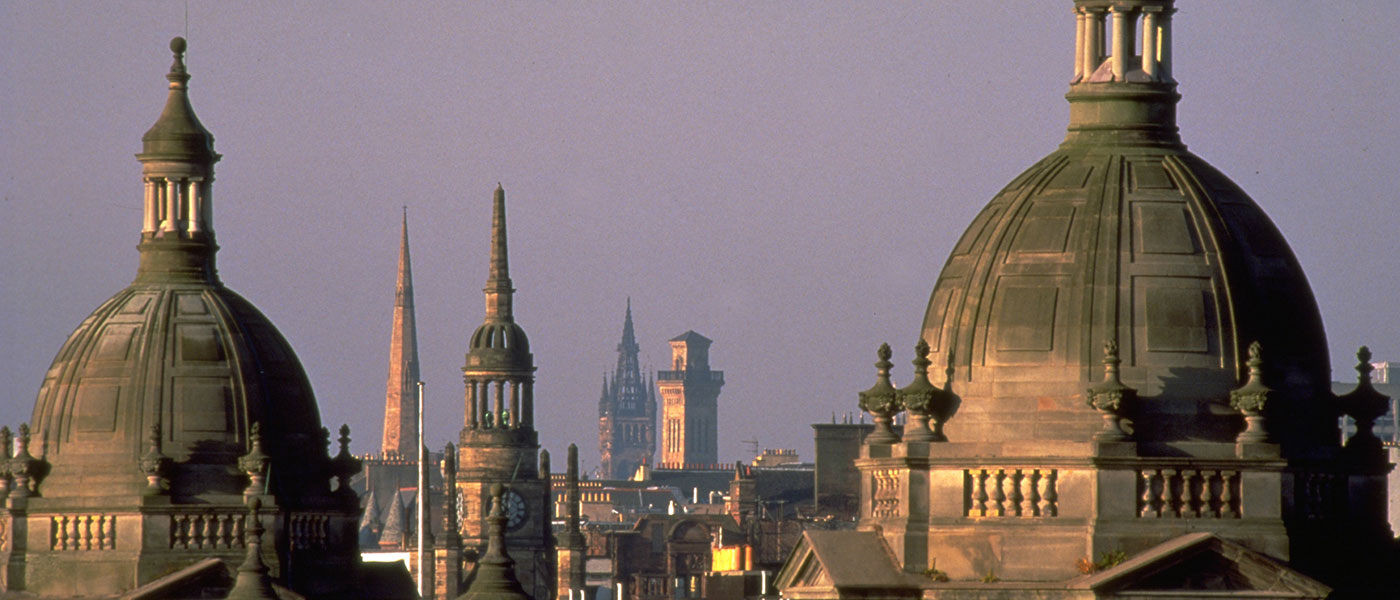 Our top ten city
A 2019 TimeOut survey places Glasgow in the top ten cities in the world. Ranked between Berlin and Paris, Glasgow was voted number one for both friendliness and affordability.