Quick Links
Exam support
It's exam season!
Use this webpage to help you prepare for your exams, from finding out when your exams will take place, to resources to help you study and manage your time effectively. Please also note the information on online exams, including types of assessment, academic misconduct, setting up your space to effectively complete exams from home, and booking spaces on campus to take your exams.
Best of luck - remember to relax, study well, and don't forget that we're here to support you.
We're here to help
Remember, if you need any further support, we're here for you: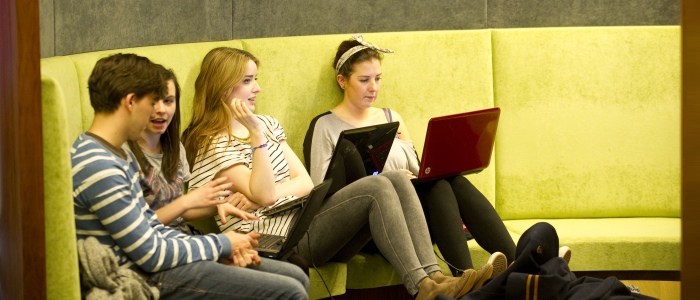 Advice on revision and exams
Need some help with revision strategies and exam techniques? Meet an Effective Learning Adviser:
For students from any college:
Be Prepared! Top Tips from Students
Get organised
"Make an exam revision plan & set achievable goals."
"Plan in breaks. By having them on your study timetable, you don't feel guilty for taking time off, and so are more likely to go back to the work after.""Draw up weekly and daily revision tasks; this promotes focus and raises awareness of the nature of the area of study."
"Break your revision into manageable chunks and have at least one item to be ticked off every day - it gives you a sense of accomplishment that keeps you going!"
"Set manageable goals, that give you enough time to cover each topic prior to the exam."
"Start your revision well in advance by listing all of the topics covered in each module."
"Prioritise studying the things you don't know, rather than the things you find easy. You have limited time to study, and have to make the most of it."
Focus
"Eliminate distractions: don't check your social media or email. Put your phone on "flight mode" or try distraction apps which block your favourite sites for a period of time set by you."
"Try and talk to yourself when you're revising/recalling information before an exam."
"No distractions! If you think of something you need to do, write it down and do it later. Then have a 5 to 10 min break. Do 4 rounds of 25 min and after that have a longer break - 30 or 40 min. You deserve it."
Study & learn
"Go to the Library early. Read books from your reading list and scan essential sections ahead of the exam prep rush!"
"Always revise your notes the following day. The process of memorisation requires repetition."
"Regroup your lectures and reading notes per topic and make synthetic notes of your notes."
"Refer to past papers. While no year's exams are exactly the same, you'll often get a sense of the tone and general areas of study you should be focusing most on."
"Use past papers throughout the year - not just at exam time. Answer questions on them as the topics are brought up in lectures."
"Always repeat all you have learned in classes. Focus on the content of course using literature which is given in course guides."
"If you're stuck, ask for somebody else's perspective on the problem. A new pair of eyes can be pivotal."
"Use student forums to share and gain knowledge."
"Meet other students to ask questions. Asking and explaining are two excellent ways of learning."
Get ready
"Ensure you have spare pens, rulers and other essential stationery. Buy your stationery well in advance, as before the exam diet shops often run out of stock!"
"In the days before your exams, find the rooms, sort out your pencil case and make sure that you have covered everything on your checklist, so that you don't need to worry on the day of the exam."
"Speak to the staff! If you have any doubts, talk to your tutor and the support staff: they're there for you."
"Attend any drop in help sessions available for your course."
Advice, information and technical support before and during your online assessments  
Glasgow Anywhere contains guidance on online exams, including a practise Moodle assessment site to experience the assessment download and upload process ahead of the exam diet. Please also see the Blended Learning and Assessment Moodle, which will guide you through the essential elements of learning, studying, and researching online. This page gives access to a variety of styles of assessment and submission. 
If you have questions about the contents of your paper, or you require technical assistance, you will be able to contact our virtual invigilation team at the University of Glasgow Helpdesk . Technical support will be available 24 hours per day during the diet. To ensure timely responses and that all students receive the same information, you will be asked not to contact academic staff directly but instead use the Helpdesk.   
Special reminder about academic misconduct 
Please bear in mind that the normal rules of academic conduct apply for online exams.  In some cases, you will be expected to sit your online exam without referring to internet sources, books, notes or any other material that would not normally be allowed in examinations.In other cases, the examinations will be taken under 'Open Book'* conditions. This will be made clear on the front page of your exam paper and you must carefully read the instructions sent to you for each examination, bearing in mind that not all examinations will have identical instructions, and some may allow access to specific materials. 
*Please note: this is not the same as Open Exam as noted on the Exam timetables.
Please remember that your answers must be all your own work and therefore you must not consult with other students about the examination, and you must not share your work with anyone else. 
Do not be tempted to copy material from other sources. Following submission, examination answers can be submitted tospec ialist software for similarity checking or students could be asked to take part in a viva examination. Any suspicion of copying, plagiarism or collaboration will be reported to the Senate Office under the Code of Student Conduct, as will any other allegation of behaviour that contravenes the instructions for your examination. If you are reported for suspected misconduct, you will be asked to attend1 an interview with the Senate Assessors for Student Conduct. 
Please, do not put your degree at risk. The penalties applied under the Code of Student Conduct can have the effect of lowering your GPA, or causing you to fail a course which, in turn, could prevent you from achieving your award. 
Read more about the Code of Student Conduct and the University's Plagiarism Statement online, and please take the time to read the new guidance from the Senate to all students undertaking online examinations.
Appeals by Students
If you wish to appeal an academic decision following decisions of the Board of Examiners and publication of results on MyCampus, please see the relevant University Web pages and the relevant sections of the University Regulations as follows:
Section 26: Code of Procedure for Appeals by Students Against Academic Decisions
Section 27: Code of Procedure for Appeals to a College Appeals Committee
Please note that you must inform your College within 10 working days of receiving the academic decision you wish to appeal. Once you notify your intention to appeal you then have a further 20 working days in which to submit your full formal letter of appeal and any supporting evidence.
Assessment Types
| Assessment Type | Description |
| --- | --- |
| Open exam within 24 hours | The exam can be started at any time during the 24 hour period. Students should aim to spend no more time than indicated by the exam duration |
| Timed exam within 24 hours | The exam can be started at any time during the 24 hour period. A timer will start on access/download. Students must complete and upload answers within the time specified |
| Timed exam - fixed start time | The exam will have a fixed start time and duration. Students must complete and upload answers within the time specified |
| Seen exam - 24 hours to submit | The exam will be 'open book', the questions will be released prior to the date of the exam (school will confirm release date), students will then upload their answers on the scheduled date and time of the exam during the entirety of the scheduled 24-hour period. |
Timetable expectations
When are my examinations?
The majority of the University's exams take place during the main examinations periods. However, some programmes of study require exams scheduled outside of these periods. Please contact the relevant School or Research Institute for exam dates out with the main examination periods.
When are timetables made available?
We always aim to publish the timetable 4 weeks before the exam period begins, and we will make the timetable publication date and the examination period dates available on our website at the start of each academic year.    
How do I access my timetable?
Students are notified via email when the exam timetable is published. Timetables for each School and Research Institute can be accessed on the Registry website.
Can I see my timetable sooner?
The timetable is dependent upon course enrolments, and as these vary the timetable is different every year. Students can change their enrolments until the end of week 2 of teaching, and whilst a lot of preparatory work before this date, work cannot begin to create a clash-free timetable until enrolments are finalised. 
Who sets the dates and times of my exams?
Examinations are timetabled centrally by the Registry Team, in line with University agreed guidelines. The guidelines are aimed at achieving a balance between producing reasonable student timetables, meeting requests from academic departments and taking into account room size and availability. Exams are timetabled in GMT (UK time).
What is the timetabling policy?
You should not normally expect to sit to sit more than three examinations in two days or a morning examination the day after an evening examination. Registry will take all reasonable steps to ensure that these conditions are met, however as timetables are subject to several constraints your timetable may not always fit within these guidelines.
Why are my exams on consecutive days, or 2 exams on the same day?
Sometimes it is impossible to avoid scheduling exams on consecutive days or placing two exams in one day. This is due to a large number of students registered on courses requiring examinations during a limited period.
What happens if I have additional support and/or access arrangements for my exams?
Some students have additional support and/or access arrangements for their examinations, these arrangements are made to provide support for a disability or other personal circumstances. Where requests for support are agreed by the Disability Service , they will be added to a student's MyCampus record.
You will find the dates of your exams in the main timetable. For information about additional support needs please see the section below.
What happens if I have temporary adjustments for my exams?
Some students have a temporary adjustment for their examinations, these arrangements are made to provide support for a temporary personal circumstance which can impact on their ability to complete an examination. In most cases these are arranged around a temporary physical injury. Requests for temporary support are agreed by the Head of School and Clerk of Senate so please contact the relevant School or Research Institute for further information.
Exam statistics
In December 2019, Registry scheduled 496 exams for 16,244 students in a 9-day period.  This equated to 41,447 individual sittings or candidate instances, and 59 of the exams had between 200 and 660 candidates. 
Additional Support Needs
24 hour exams
Any additional time that you would have been allocated is fully accommodated within the 24-hour examination window. As such, it is not necessary to seek any additional individual time adjustments.
Timed Exams
If you have a timed exam, the time allocated is double the time required to complete the paper. Therefore, any additional time is already accommodated, removing the need for individual time adjustments.
The University is committed to ensuring that all students reach their full academic potential and to removing barriers for students with disabilities. The University's Accessible and Inclusive Learning policy states that "The University community will attempt, wherever possible, to ensure that all learning, teaching and assessment methods are accessible to all students". By ensuring the availability of at least 100% additional time in examinations, the University is taking a mainstreaming approach to support as good practice.
Using your time wisely in the exam
The length of your exam determines the time you should take to build, create and write your exam answers. That is to say, if you have a two-hour exam, you should look to spend roughly two hours completing the work for the exam. Your exam markers will be looking for evidence of your ability to answer questions in a succinct, concise and coherent format; as a result, spending a longer period of time on your exam papers can undo any work towards this concision.
An overly long or over convoluted exam question answer will not necessarily provide a stronger, more coherent answer. Use the rough exam time allocation to judge the quantity of work required to succeed in your exam answers.
Spending your energy trying to find particular pieces of information, facts or quotes is not the most effective use of your time through the exam. Instead, make use of your exam time - and your prior study - to put together answers that are most applicable to the specific exam questions.
Preparing your space to sit an exam
We're committed to supporting students during this exam diet and understand that some students will need a space from which they can sit their exam away from the home. Spaces on campus are planned to be made available during the exam period. You can book these via the UofG Helpdesk, and please note more information below.
If you are sitting a timed exam you should ensure you have a reliable way of keeping the time at hand. Under normal circumstances you would also get a 15-minute notice from an invigilator before the end of your exam time. This experience could be easily replicated by use of an alarm clock or reminder on your phone or computer.
Try to limit your preventable distractions during your exam. Sitting an exam at home means that you naturally have less limitations in your surroundings. This can be a detriment to your performance if you don't switch off from other activities. Make sure to turn off your phone or consider setting it on airplane mode to turn off notifications from social media, texts, and calls. Get everything you need for your exam in advance including necessary material, a bottle of water, and anything else that getting halfway through could be a distraction.
Booking a space on campus in which to sit your exam
We recognise that some students will not have access to an appropriate environment from where to sit their exams during the December exam diet. To make sure no student's performance is negatively impacted because of this, we are making spaces on campus available for students to request and book as 'exam sitting space'. You can make a booking for one of the spaces from 30th November.
These spaces will be booked in 4-hour slots roughly based on Morning – early Afternoon – late Afternoon exam start times. By requesting a space, please indicate the date, time, and exam title you will be sitting. You will require a portable device in these spaces. If you don't have an appropriate portable device to sit your exam on campus, please get in touch with the IT Helpdesk to request a laptop loan as soon as possible.
Please note that these spaces will be booked individually and they will have a capacity of one student per space. However, if demand exceeds supply, larger spaces will become available that will house more than one student. If that is the case for your booking, this will be communicated to you.
Please let us know if you no longer need your booked space so that we can make it available for other students.
These centrally-managed spaces will be located on the Gilmorehill campus. Spaces in the Garscube and Dumfries campuses are locally managed and students should get in touch with their respective schools if they require a space from which to sit their exams. Similarly to physical exam conditions, you will be responsible for familiarising yourself with how to find and access the location of your exam sitting space.
We understand that some students that would normally require a quiet space on campus from which to sit their exams might not currently be in Glasgow. We would like to assure you that technical support will be available to everyone through the IT Helpdesk 24/7 across the exam diet. Good Cause will also be in place for any students who feel their exam performance was negatively impacted due to external circumstances during this exam diet.

Look beyond the Library!
Find an alternative study space:
Study! Top Tips from Students
"Study throughout the year - don't leave it all until the last minute."
"Make a realistic study plan and set monthly, weekly, and daily goals."
"Stay on top of work throughout the year. There are 24 hours in a day - even if you only spend 2 hours of those 24 doing some work, it all adds up!"
"Rather than focusing on how long you will be studying, write a list of daily goals instead and tick them off as you achieve each. This motivates you to go further."
"Look at the course on the Course Catalogue. Make sure you understand the Intended Learning Outcomes."
"Make flashcards throughout the year and study them daily. When it gets close to exam time, go through them all, hardest to easiest."
"Use flashcards. Try forming questions from your lecture slides and go through them a few times a day."
"Study with your friends. Ask each other questions, and reflect on how to improve your answers."
"Set rewards for yourself once you complete a certain amount of studying. Whether it be a chocolate treat or an episode of your favourite TV show, they can really help motivate you to push through those long lectures!"
"Make a summary sheet for each sub topic. Include only the essential knowledge and try keep it to less than 1 page."
"Find the studying technique that works for you. Try repetition, colour coding your notes, making mind maps or diagrams, watching videos or listening to podcasts."
"Reflect on over-arching themes of the course and pursue wider reading of multidisciplinary works that could be pertinent (if there is time)."
"Study for your own good! Broaden your horizons. Be naturally curious. Have fun. It's important to have fun and enjoy what you do."
"Connect and understand your knowledge. The more you can link new concepts to other things that you have learned previously, the easier it will be come to answer a question."
"Go to all revision sessions. Teachers often give away hints on what could probably appear in the exam, or at least, they will direct the session towards a topic that they think will be useful to know for the exam. Also, make use of all apps, quizzes, recommended videos."
"Be aware of your weaknesses and work on them. Do not be afraid to look back on your notes, refer back and ask others until you understand it."
"Revise and read around the area in any possible way: the more you know about something, the better you will understand it."
"Don't study on the day of the exam or the night before. Get a full night sleep!"
"Throughout the year listen for clues from teaching staff."
"Find a place that facilitates concentration. Try out different locations and find out what suits you best."
"Find the place where you feel you optimise your learning. Whether it's the silent library levels, cafe, or perhaps the comfort of your own home.
Organise your study space! Tidy desk = tidy mind."
"Switch up your study space. Studying in the same environment all of exam season is boring!"
Relax and De-Stress
Take a break
Manage stress
Relax! Top Tips from Students
"Take regular breaks for exercise and relaxing and time with friends. Clearing your head can allow you to focus more, and take more in."
"Go for a walk. Take a break and get some fresh air, even if it's just 5 minutes round the block. Stretching your legs after sitting down for so long gets the oxygen pumping and brain working!"
"Make sure you're eating well. Instead of sugary snacks, it's better to provide your brain with healthy fats and fibre."
"Always have mental breaks! Even runners stop for a bit to take a breath, so let your brain have one as well. Try the "pomodoro" technique. Set the timer on your phone for 25 min and study."
"Meet with people. It's extremely easy to isolate yourself during exam time because you are so. Try to set up study groups and question each other on topics. Go for a walk in the botanic garden or just have a nice cup of tea on the grass in the quadrants."
"Set a routine. Have a set time to get out of bed, set meal times and a set bedtime. Get a solid 8 hours of sleep."
"Do not lose your routine because you don't have a university class timetable to follow. It might help to create your own timetable to maximise your time."
"Add social events to your timetable to allow you to have an outlet and keep your spirits high."
"Exercise! A healthy body equates to a healthy mind. It' s also a good way to relieve exam preparation stress."
"Speak to your peers, friends, classmates, lecturers, family, shopkeeper, bus driver, next door neighbour. Tell people how you're getting on. Take advice."