Quick Links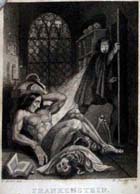 Detail from frontispiece of Mary Shelley: Frankenstein (Sp Coll Z8-l.21)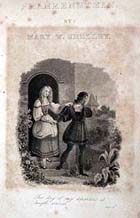 Title-page of Mary Shelley: Frankenstein (Sp Coll Z8-l.21)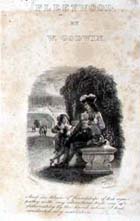 Title-page of William Godwin: Fleetwood (Sp Coll Z9-m.17)
Mary Shelley and her Circle
Spreadsheet of novel collectionSpreadsheet of novel collectionSpreadsheet of novel collectionThe Novel collection has excellent holdings of fiction by Mary Shelley and her circle. The focal points of the circle are Mary Shelley and her mother Mary Wollstonecraft, but the collection also includes important editions of writing by William Godwin, as well as by Byron and several of his friends and lovers.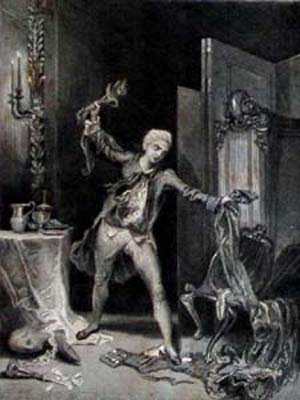 Like many late 18th century woman writers, Mary Wollstonecraft took up the pen as a means of earning an independent living. Women were increasingly active as professional writers in this period, and their remunerated writing often took the form of fiction, as it demanded less formal and institutional education. Wollstonecraft was self-taught but intellectually supremely ambitious, quickly becoming a contributor to the Analytical Review. In 1787 she published her early educational treatise Thoughts on the Education of Daughters. This was followed by her collection of children's fiction Original Stories from Real Life (1788), of which the Novel collection holds a first edition. Perhaps the fullest expression of her thinking was her feminist treatise The Vindication of the Rights of Woman (1792) which attests to her Enlightenment commitment to female rationality, the importance of education, and her vision of female domestic and maternal importance in addition to her demand for female public roles.
The collection also contains work by William Godwin, the philosopher and professional man of letters, who achieved prominence with his radical Enquiry Concerning Political Justice (1793) in which he advocated a society structured on reason, mass education, shared property and minimal government. The Novel collection highlights his fiction, which amounts to six major pieces. Caleb Williams (1794) is the first detective story in English, and all of his subsequent novels (Cloudesley, 1830, Fleetwood, 1832, and Deloraine,1833) focus on flawed aristocrats, driven by a concern with honour and rank, which leads them to act in self-destructive and self-deluding ways.
The daughter of Mary Wollstonecraft and William Godwin, Mary Wollstonecraft Shelley is best known as the author of Frankenstein (1818). Her later novels Valperga and Perkin Warbeck are based on historical research, whilst Lodore (1835) reworks the autobiographical topic of mothers abandoning their children. The Last Man (1826) is a utopian fiction taking place in the 21st century after the destruction of mankind by a cataclysmic change.
After her elopement with Shelley in 1814, Mary Godwin lived a peripatetic life travelling through most of Italy, France and Switzerland. Their relationship and circles overlapped with those of Byron both personally and poetically. Byron's dramatic and scandalous life features in at least two contemporary pieces of fiction held in the Novel Collection: Alicia Wyndham's Harold the Exile was published anonymously in 1819 and Glenarvon, a novel by another of Byron's lovers, Lady Caroline Lamb, in 1816. Our collection holds a copy of the only edition of Harold the Exile. Byron's circle included his physician John Polidori, whose physiological conversations with the Shelleys influenced Frankenstein; a very early edition of Polidori's novel The Vampyre (1819) is also available in the collection.
The uniqueness of our collection consists in the many first editions of seminal texts such as Frankenstein (1818), some of which are also illustrated. We also recommend the consultation of holdings in the Library Research Annexe (available by browsing in the rare books search), since the Annexe holds first editions of many non-fictional texts by Godwin, Wollstonecraft and Polidori.
Rarity
This collection stands out for its large concentration of rare books and first editions. Of the 16 items by Shelley and her relatives and associates in the collection, 11 items are first editions of their work. The first edition of Frankenstein (Sp Coll Z9-h.29-31) is available in only five other libraries in Britain, and the illustrated 1831 edition (Sp Coll Z8-l.21) is held in only another nine British libraries. Polidori's The Vampyre (Sp Coll Z5-d.10) is also a rarity: COPAC records five other copies of the first edition. The eighteenth century edition of Mary Wollstonecraft's Original Stories (Sp Coll Z7-l.2) is held in only six other libraries.
Bibliography of Shelley and Circle
The titles are listed chronologically under each author.

For detailed bibliographical information and holdings details, please click on the link after the relevant title (this will take you to the main library catalogue records).
William Godwin

Things as they are, or, The adventures of Caleb Williams, London: Printed for W. Simpkin and R. Marshal, 1816. Sp Coll Z8-c.11-13

Cloudesley: a tale, London: Henry Colburn and Richard Bentley, 1830. Sp Coll Z2-h.25-27 (First edition)

Caleb Williams, London: Colburn and Bentley, 1831. Sp Coll Z9-m.15

St. Leon: a tale of the sixteenth century, London: Henry Colburn and Richard Bentley, 1831. Sp Coll Z9-m.16.

Fleetwood, or, The new man of feeling, London: Richard Bentley, 1832. Sp Coll Z9-m.17

Deloraine, London: Richard Bentley, 1833. Sp Coll Z6-a.25-27 (First edition)

Transfusion, London: John Macrone, 1835. Sp Coll Z2-h.28-30 (First edition)
John William Polidori

The Vampyre: a tale, London: Printed for Sherwood, Neely, and Jones, 1819. Sp Coll Z5-d.10 (First edition)
Mary Shelley

Frankenstein, or, The modern Prometheus, London: Printed for Lackington, Hughes, Harding, Mayor, & Jones, 1818. Sp Coll Z9-h.29-31 (First edition)

Valperga, or, The life and adventures of Castruccio, Prince of Lucca, London: Printed for G. and W.B. Whittaker, 1823. Sp Coll Z9-h.32-34 (First edition)

The last man, London: Henry Colburn, 1826. Sp Coll Z4-e.15-17 (First edition)

The fortunes of Perkin Warbeck, a romance, London: Henry Colburn, 1830. Sp Coll Z4-e.18-20 (First edition)

Frankenstein, or, The modern Prometheus, London: Henry Colburn and Richard Bentley, 1831. Sp Coll Z8-l.21
Lodore, London: Richard Bentley, 1835. Sp Coll Z4-e.21-23 (First edition)
Mary Wollstonecraft

Original stories, from real life, with conversations, calculated to regulate the affections, and form the mind to truth and goodness, London: Printed for J. Johnson, 1788. Sp Coll Z7-l.2 (First edition)
Alicia Wyndham

Harold the exile, London: J Gillet, 1819. Sp Coll Z6-k.26 (First edition)
Related sites
Wollstonecraft

Biography: https://www.britannica.com/biography/Mary-Wollstonecraft

Archives: Bodleian Library: http://shelleygodwinarchive.org/

Carl Pforzheimer Library: http://www.nypl.org/locations/tid/36/node/62334
Shelley

Biography: http://people.brandeis.edu/~teuber/shelleybio.html

Chronology and resource: http://www.rc.umd.edu/reference/chronologies/mschronology/mws.html

Archives: Bodleian Library: http://shelleygodwinarchive.org/

Carl Pforzheimer Library: http://www.nypl.org/locations/tid/36/node/62334

Godwin

Biography: http://plato.stanford.edu/entries/godwin/

Archives: Bodleian Library: http://shelleygodwinarchive.org/
Quick Links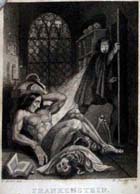 Detail from frontispiece of Mary Shelley: Frankenstein (Sp Coll Z8-l.21)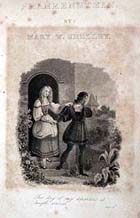 Title-page of Mary Shelley: Frankenstein (Sp Coll Z8-l.21)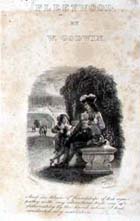 Title-page of William Godwin: Fleetwood (Sp Coll Z9-m.17)