Quick Links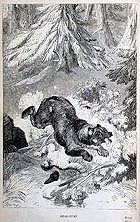 Frontispiece of Henry Newland: Forest Life in Norway and Sweden (Sp Coll Z1-d.25)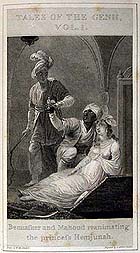 Illustration from Charles Morell: Tales of the Genii (Sp Coll Z1-c.1-2)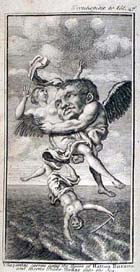 Frontispiece of vol. 2 of Thomas-Simon Gueullette: Peruvian Tales (Sp Coll Z2-b.3-4)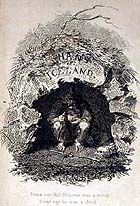 Frontispiece of Victor Hugo: Hans of Iceland (Sp Coll Z2-f.29)
Imagined Geographies
Imagined Geographies: Travel and Translation in the Novel Collection
One of the highlights of the Novel collection is a large cluster of texts reflecting the growing 19th-century interest in travel and exploration. Almost every part of the world is represented in the texts in this cluster, which include travel writing, literary and historical studies of other nations, ethnography and folklore.
The Novel collection contains many titles that have been little read over the last hundred and fifty years, and have received limited critical attention. Many of these are rare books: first editions of travel texts and obscure 19th Century novels or travel anecdotes. These rare and unique texts are valuable to readers with an interest in geography and the dynamics of cultural transmission.
Europe
Early 19th-century fiction often looked for exoticism in European locations, and novelists such as Thomas Colley Grattan and Charlotte Anne Eaton took their subject matter from adventures of Britons on the Continent, using French and Italian locations to expose the follies of the British gentility. Central European countries such as Poland and Hungary served as backdrop for semi-exotic characters and plotlines in the fiction of Catherine Gore (1799-1861). Spain's history served as the subject matter for a number of Gothic and romantic novels, including some by the Anglophone Spanish novelist Joaquín Telesforo de Trueba y Cosío (1799-1835). France was rarely the subject of travel narratives or fiction – perhaps it was too close – but much knowledge about it derives from ancien régime French historical fiction by the novelist and educator Stéphanie Genlis, whose work was almost immediately translated into English in the early 19th Century. Our collection also contains first English translations of French literature including Notre-Dame de Paris, translated into English by William Hazlitt in 1833.
Other authors turned their attention to folklore, legends and other remnants of oral tradition. Our collection holds an early illustrated edition of Thomas Crofton Croker's Fairy Legends and Traditions of the South of Ireland (1825), the first collection of oral legends published in the British Isles, which was praised by Scott and translated into German by Grimm. Thomas Colley Grattan's Legends of the Rhine and of The Low Countries (1832) introduced British readers to the German oral tradition.
The Middle East
The Middle East served as subject matter of much fiction in the 1820s and 1830s. The interest of novelists in the narrative and imaginative potential of exotic and 'oriental' locations is exemplified by Richard Madden's novel The Mussulman (1830), and James Augustus St. John's Tales of the Ramad'han (1835) The interest in 'Eastern' fiction was so great that it inspired fakes: 'Sir Charles Morell's' volume Tales of the Genii purported to be a translation from the Persian, but was actually written by Rev. James Ridley in the 18th Century. The edition in our collection is from 1805.
The Americas
The dramatic history of Mexico in the19th-century was fictionalised by several English writers, including Robert Bird (Abdalla the Moor and the Spanish Knight: a Romance of Mexico, 1835) and Timothy Flint (Francis Berrian or the Mexican Patriot). North-American Indian fiction was popular in Britain in the 19th Century, and the collection holds 18 titles by James Fenimore Cooper, whose early work was published simultaneously in the US and in London.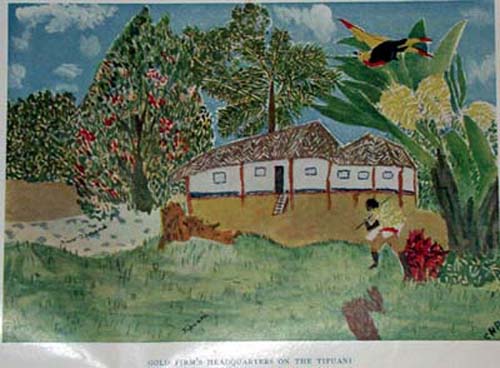 Illustration from C. H. Podgers: Adventures in Bolivia (Sp Coll Z8-c.25)
Africa
The African continent occupies centre-stage in British geographical imagination in the second half of the Victorian period, but fictional narratives appear already earlier in the century. Edward Augustus Kendall's The English Boy at the Cape (1835) is an early example of fiction written for the juvenile audience, introducing an orphaned English boy in the streets of Cape Town. Joseph Thomson's late Victorian Ulu: an African Romance (1888) uses the tradition of the imperial romance to introduce white and black Africans involved in a love triangle.
Australasia and Asia
Imaginative interest in faraway lands was complemented by a real, factual interest during the 19th Century. One of the early volumes describing Australia was written by Sarah Lee. Her Adventures in Australia; or the wanderings of Captain Spencer in the Bush and the Wilds claims to contain empirical descriptions of the country, although its credibility has been questioned by many readers. Hume Nisbet's The bushranger's sweetheart (1893) makes no secret of its intention of romanticising the Australian outbacks. Weale Putnam's novels about China (The forbidden boundary, 1908 and The human cobweb: romance of old Peking, 1910) attest to the fictional powers of a real scholar of China who translates his factual knowledge into imaginative experience.
Women and Imagined Geographies
In all of these literary enterprises, women played a crucial role as transmitters of literary and cultural experience, working as travel writers, translators and collectors of tales and legends. One of the most prominent and certainly the most prolific translators, Mary Howitt (1799-1888) translated the work of Hans Christian Andersen and of the Swedish feminist novelist and traveller Fredrika Bremer (1801-1865). Bremer also travelled extensively in the United States, in the Holy Land, in Italy and in Greece, and her volumes of travel writing about these journey give vivid pictures of the Old and New Worlds. The Novel collection holds early English translations of her most famous works, including Father and daughter (1859) and The home that introduce Scandinavia through domestic relations.
Rarity
The Imagined Geographies cluster includes many of the most obscure titles and authors held in the collection, and a high percentage of never-reprinted titles. The collection holds a volume of which there is no other recorded copy in the world:

Anon. Inez; or, The Siege of San Sebastian London : Griffith and Farran, 1858. Sp Coll Z6-a.29

Of 31 items in this cluster surveyed, 21 are held in no more than six libraries in Britain. Seven titles count as particularly rare: no more than three copies are held in British research libraries. These rare titles are the following:

Anon. Sir Rodolph of Hapsburg: an Historical Romance London: M. Iley, 1834. Sp Coll Z3-k.9-11

Anon. Romances of Many Lands; with Sketches of Life and Manners, Comic and Serious London: Richard Bentley, 1835. Sp Coll Z1-i.8-10

Dr. Robert Montgomery Bird Cortes or the Fall of Mexico London: Richard Bentley, 1835. Sp Coll Z1-k.18-20

Richard Holcraft Tales from the German London: Longman, 1826 Sp Coll Z2-l.34

Carl Spindler The Jew, London: Edward Bull, 1832. Sp Coll Z5-g.23-25
Selected bibliography of travel and translation in the Novel Collection
These titles are listed alphabetically by author.

For detailed bibliographical information and holdings details, please click on the link after the relevant title (this will take you to the main library catalogue record for each item).

Anon. Inez; or, The siege of San Sebastian London: Griffith and Farran, 1858. Sp Coll Z6-a.29

Fredrika Bremer Father and daughter London: Arthur Hall, Virtue & Co., 1859. Sp Coll Z1-f.10

Amelia Bristow Sophia de Lissau, or, A portraiture of the Jews of the nineteenth century London: Printed for T. Gardiner and Son, 1828. Sp Coll Z7-f.4

Catherine Gore Hungarian tales London: Saunders and Otley, 1829. Sp Coll Z2-b.24-26

Francis Lathom The Polish Bandit, or, Who is my bride? London: Printed for A.K. Newman and Co., 1824. Sp Coll Z10-d.13-15

Mrs. R. Lee Adventures in Australia; or, The wanderings of Captain Spencer in the bush and the wilds London: Grant and Griffith, 1851. Sp Coll Z1-d.23

Harriet Martineau Feats on the fiord: a tale of Norway London: Charles Knight & Co., 1844. Sp Coll Z6-m.15

James Justinian Morier Ayesha, the maid of Kars, London: Richard Bentley, 1834. Sp Coll Z3-f.28-30

B. L. Putnam Weale The forbidden boundary and other stories London: Macmillan and Co., 1908. Sp Coll Z10-b.1

Elizabeth Bruce Elton Smith The East India sketch-book. Second series London: Richard Bentley, 1833. Sp Coll Z2-i.10-11
Extended bibliography of travel and translation in the Novel Collection
A complete listing of travel and translation in the collection (listed geographically) has been mounted on its own page: go to extended bibliography of Imagined Geographies page.
Related sites
The Corvey Project; Travel Writing Catalogue: http://extra.shu.ac.uk/corvey/catalog/travel/

Nottingham Trent Centre for Travel Writing Studies: https://www.ntu.ac.uk/research/groups-and-centres/centres/centre-for-travel-writing-studies
Quick Links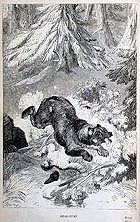 Frontispiece of Henry Newland: Forest Life in Norway and Sweden (Sp Coll Z1-d.25)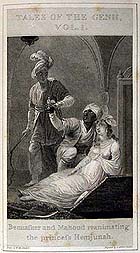 Illustration from Charles Morell: Tales of the Genii (Sp Coll Z1-c.1-2)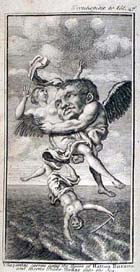 Frontispiece of vol. 2 of Thomas-Simon Gueullette: Peruvian Tales (Sp Coll Z2-b.3-4)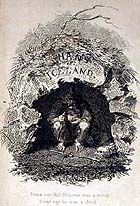 Frontispiece of Victor Hugo: Hans of Iceland (Sp Coll Z2-f.29)