Postgraduate (PhD) Study
Online Application
If you are already clear about your chosen field of research and supervisor, please select:
Research Group Links
For information on projects and research areas in our research groups:
Contact
For more general advice on postgraduate degrees in Physics and Astronomy at Glasgow:
General Information
Postgraduate (PhD) Study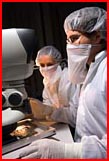 The School of Physics and Astronomy is a vibrant centre of research in a wide range of fields, this has been recognised over the years by excellent scores in the UK-wide research assessment exercises, consistently high levels of funding for research, and national and international honours for our top researchers.
We have studentships available for the degrees of PhD and MSc by research to work in our various research groups. Some of these are provided by the UK research councils (primarily STFC and EPSRC)‌ and are primarily designed for those who fill UK residency requirements, but other scholarships are available (see also Scholarships and funding). More details on stipends may be found under Postgraduate tuition fees.
Application Procedure
If you are looking to apply for a postgraduate research degree in Physics and Astronomy at Glasgow, there are a number of clear steps to take:
Online Application
If you are already clear about your chosen field of research and supervisor, please select:
Research Group Links
For information on projects and research areas in our research groups:
Contact
For more general advice on postgraduate degrees in Physics and Astronomy at Glasgow:
General Information
Contacts