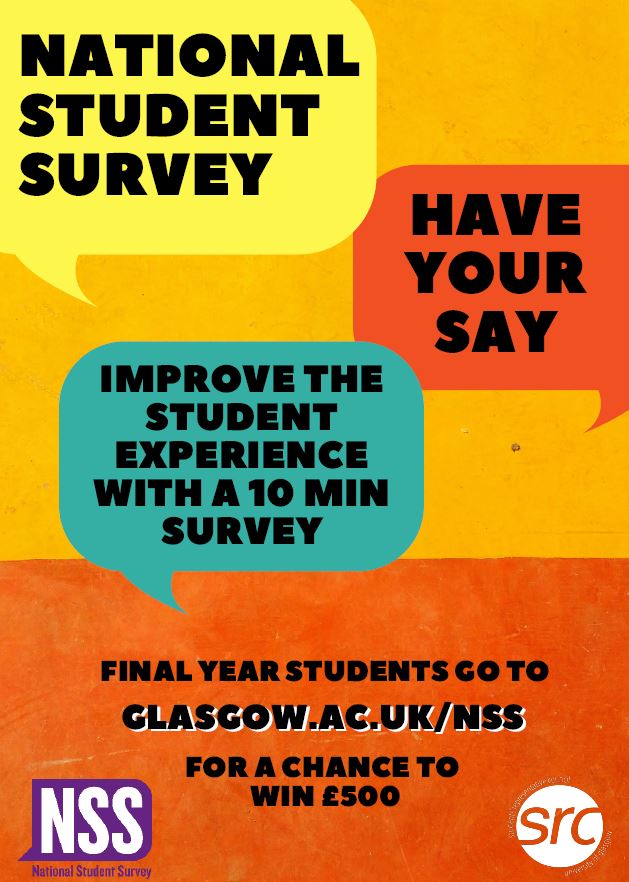 National Student Survey
The National Student Survey will be open from 18 January until 30 April.
The survey is the chance for undergraduates to feedback on their experiences of learning and teaching. This is your opportunity to tell us what went well and what could have been improved. Knowing what undergraduates think allows us to address issues and keep doing what is valued.
The survey is confidential and should take approximately 10 minutes to complete. Individuals will not be identified from the results.
The university is offering cash prizes which are randomly selected from the students who complete the survey online!
The top prize is £500, with 5 x £100 runners up prizes!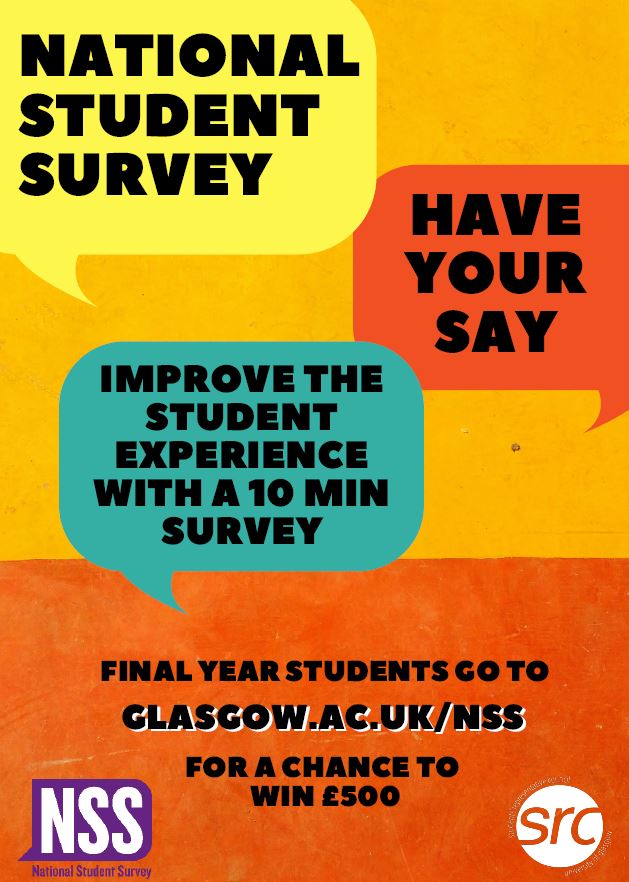 Find out more!
For more information about the NSS please visit:
Or watch this helpful NSS video!
How do I complete the NSS?
Visit thestudentsurvey.com
The survey will take you no more than 10 minutes to complete, and is live from 18 January 2021 until 30 April 2021.
Alternatively, the National Student Survey will be inviting all eligible students by email when the survey opens.
See what previous NSS prize winners have to say
"I decided to complete the NSS Survey because I thought why not! If it can been helpful to other people and I could win a prize then it's a win win in my book."
"I was very happy to complete the NSS Survey because I am very impressed with the quality of teaching. The range of classes is excellent and the teaching staff make students very welcome and take a keen interest in their development."
"I decided to complete the NSS because it's important that everyone participates to provide an unbiased result to best represent Glasgow."
"I decided to complete the NSS Survey because it is a great opportunity to get your voice heard. The University has given me a lot over the past 4 years and this survey gave me the chance to express my gratitude and share my experience. On the other hand, as one could imagine, not everything has been perfect. Completing the survey and pointing out the flaws provides room for improvement. If those issues are not brought to light the institution may never get to know about them and they will never get fixed."
"I decided to complete the NSS survey because the university and medical school have been very supportive through my student career and I have nothing bad to say."
"I decided to complete the NSS survey as I felt aspects of the course could be improved upon and this would help future students."