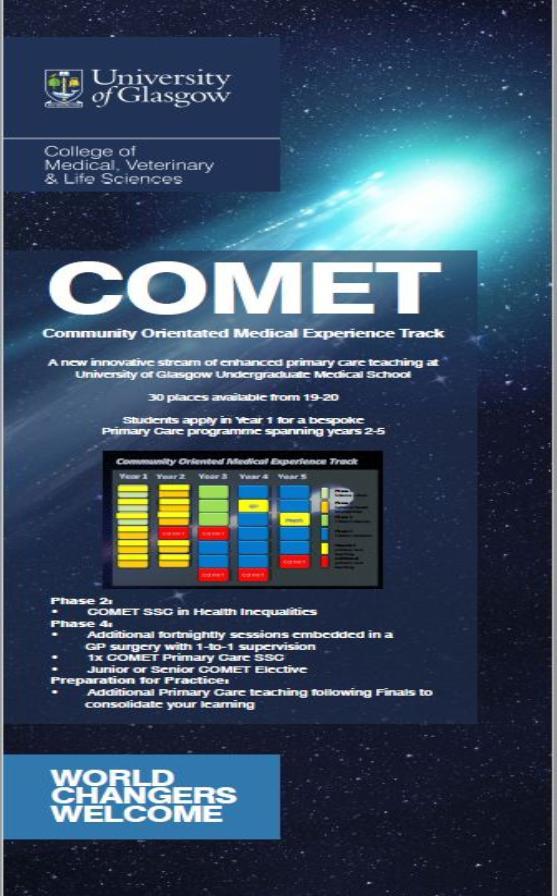 Community Orientated Medical Experience Track (COMET)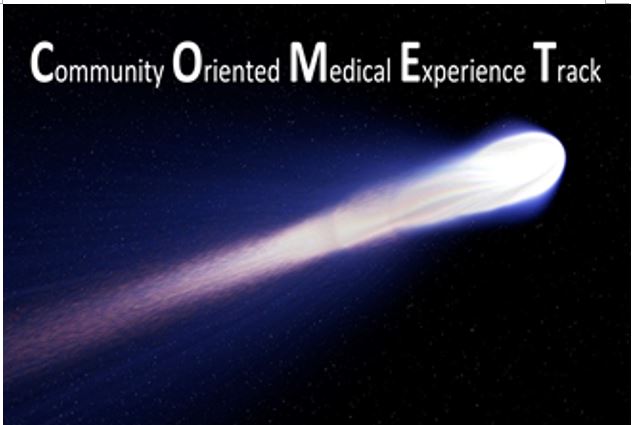 What is COMET?
The University of Glasgow Medical School's Community Orientated Medical Experience Track (COMET).
COMET is an innovative scheme, launched in 2019, which is funded by the Scottish Government, and gives selected medical students an enhanced and immersive experience of General Practice, which will equip them with the requisite skills to become the next generation of leaders of Primary Care in Scotland.
Entry to this scheme will be from among successful entrants to the MBChB course. Information on entry requirements for the MBChB Programme can be found here. An interview or entry is not guaranteed.
Once students have commenced the MBChB Course they will be introduced to COMET during Year 1 and will apply during the first term of Year 2. There are 30 places available on the COMET scheme for each year. Students embark on the COMET programme from Year 2 until the end of Preparation for Practice in Year 5. The COMET curriculum covers all aspects of General Practice with a rich exposure to real life clinical practice during the 4 years of the programme; central to COMET is increased patient contact and an authentic experience of Primary Care in Scotland.
The COMET students will continue on the usual MBChB curriculum with exposure to all the other teaching and specialties. The additional COMET teaching throughout Years 2-5 of the MBChB course consists of the following:
Year 2: COMET SSC – in Health Inequalities
Year 3, 4 and 5: one day per month is spent in General Practice (GP Longitudinal Placement) + 1 x COMET SSC + 1 x COMET elective.
Year 5: additional 5 days of Primary Care teaching during Preparation for Practice.
Student Selected Components (SSCs)
Glasgow students complete 3 SSCs (student selected components) during their studies; each SSC lasts for 4-5 weeks. COMET students must undertake 2 out of the 3 in Primary Care, with the first being a core topic of Health Inequalities in Year 2. This SSC looks at the Social Determinants of Health (poverty, employment, the impact of health care policies and health care systems on health) and students will spend time in a range of health and community settings, meeting patients, service users, volunteers and professionals including time within a Deep End practice (the Deep End practices are the top 100 most deprived practices in Scotland).
Of the 2 remaining SSCs that Glasgow students undertake, only 1 must be from a menu of COMET-specific choices, the other can be any SSC of their choosing. They can complete their COMET SSC in either Year 3 or Year 4. If students pick a Year 3 COMET SSC, then it will be from a menu of prepared topics, and they will spend 3 days per week in practice and 2 days on self-directed learning from curated resources. If they pick a Year 4 COMET SSC, they have the option to pick from a different menu of topics or self-propose. Current topics include – Adolescent health, Gender based violence, Realistic medicine, LGBTQIA+ health, and Deep end GP.
Electives
Electives lasts for 4 weeks, and Glasgow students complete 2 electives: one at the end of Year 3 (Junior) and the other at the end of Year 4 (Senior). COMET students must complete one of their 2 electives in Primary Care and will have a variety of options to choose from including overseas experiences. These electives will look at the differences in presentation and management of common conditions between primary care and secondary; a chance to experience the different roles a GP plays in a patient's journey and, if undertaking an elective abroad, an opportunity to consider the impact of the healthcare system on illness.
GP Longitudinal Placement (GPLP)
The GP Longitudinal Placement -these extra sessions in General Practice will occur during Phase 4 of the curriculum which starts halfway through Year 3 until Final exams in year 5, covering a 2-year period. The students will be allocated a GP surgery to attend for 2 years on their own or in pairs. These sessions occur during the normal timetable and are not in the students' own time. This unprecedented level of personalised teaching within a practice will be invaluable in honing students' medical skills while giving an authentic experience of General Practice. Students will benefit from being embedded within one surgery – becoming part of the team! Students will spend time in observed surgeries with members of the Primary Care Team – GPs, practice nurses, Advanced Nurse practitioners (ANPs). They will have the opportunity to conduct student-led surgeries under GP supervision and accompany the GP on home visits. Students will spend time with district nurses, pharmacists, financial inclusion workers and addiction workers.
Students will learn about continuity of care, managing uncertainty, multimorbidity & chronic disease management, treatment burden and realistic medicine, and the business side of running a GP practice.
There is no summative assessment within the GPLP, but students will be expected to complete formative assessments each term e.g., a written case-based discussion, a mini-CEX or a thought-provoking event.
Preparation for Practice (PfP)
Students will return to their GP Longitudinal Placement practices for a further 5 days during PfP.
During this placement students will undertake entirely student-led surgeries with GP supervision. They will be expected to take a full history and examination before preparing differential diagnoses, a management plan including medication and dosages while outlining appropriate follow up.
There will be supervised interpretation of results e.g., on docman (the electronic system used for results and clinical letters) with actions discussed and management planned.
Students will attend practice/team meetings e.g., palliative care, vulnerable children.
If students express interest in academic General Practice, research or teaching, then some time can be spent within the Academic Department of General Practice at the University of Glasgow.
COMET – application and selection process
During Year 1 students will be informed about the COMET programme and invited to contact key staff to express an interest. The COMET Lead is Dr Lynsay Crawford.
During the first half of Year 2 students would apply for one of the 30 places on the COMET programme. Successful applicants would then follow the COMET curriculum, in addition to the core MBChB during years 2-5.
If a COMET student decides they wish to withdraw from the programme (at any point in the curriculum) they are free to do so. Any vacancies created would then be available to students, who have registered their interest in COMET, to apply for a place.
General Practice – information and resources