Members
Current academic members of Glasgow Legal Theory includes Ruth Dukes, Lindsay Farmer, Marco Goldoni, Lilian Moncrieff, Anna Chadwick and George Pavlakos. The group is led by Emilios Christodoulidis.
GLT's activities are driven by our shared research interests and expertise. Working within a number of different substantive fields – criminal law, public law, labour law, corporate governance, EU and international law – we are each concerned with the philosophical foundations of the law, and with the development and application of critical perspectives.
Associate members include Christopher M J Boyd, Donald Buglass, Emuobo Theresa Emudainohwo, Jack Meakin, Tarik Olcay, Athene Richford, Federico Szczaranski, Atanas Slavov, Zaphiro Tsitsiou and Sindhyar Talpur.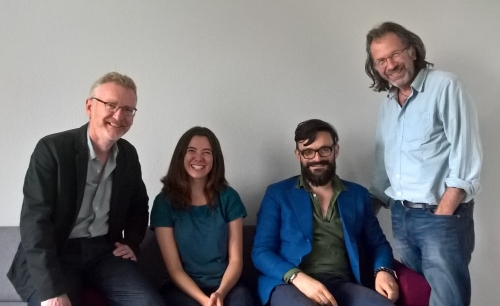 Glasgow Legal Theory group members (left to right): Lindsay Farmer, Ruth Dukes, George Pavlakos, Emilios Christodoulidis
‌