The Practice of Archaeology
Practical aspects of archaeology - tools and techniques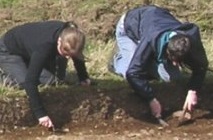 The Archaeology Coursebook
A collection of links associated with a book by Jim Grant, Sam Gorin and Neil Fleming, covering aspects such as reconnaissance, excavation and post-excavation, managing the past, presenting the past, etc.
Dating the Past
Chapter 4 of Kevin Greene and Tom Moore's Archaeology: an introduction with references to many techniques.

Discovery, Fieldwork and Recording
Chapter 2 of Kevin Greene and Tom Moore's Archaeology: an introduction looking at sites in non-destructive ways within their local and regional settings

Excavation
Chapter 3 of Kevin Greene and Tom Moore's Archaeology: an introduction with references to the conduct of excavations. (You can see the rest of the book's links here!)

Archaeology at the Edge of Chaos
A paper in Assemblage by Adrian Chadwick about approaches to archaeological excavation and the relationship between theory and practice in archaeology.

The Lincolnshire Archaeological Handbook
In the recent re-write this was converted from a set of webpages to a downloadable PDF file. But in particular, check Chapter 6 - Archaeological Project Management; Chapter 7 - Archaeological Code of Practice; Chapter 10 - Archaeological Methodology; Chapter 14 - The Report; and Chapter 15 - Dissemination and Publication. Much of this applies across the UK, but it is written from within an English legal and regulatory framework.
Timing is everything: Dating Methods in Archaeology
An introduction by Kris Hirst to dating methods, from stratigraphy through dendrochronology, to radiocarbon and beyond.
Some examples of excavation and survey projects from Archaeology at the University of Glasgow
Experimental archaeology with stone tools
A collection of experiments covering knapping, skinning and butchering a deer, chopping down trees with a stone axe, and use-wear replication. (Part of the Stone Age Reference Collection originally from the Institute of Archaeology, Art History and Numismatics at the University of Oslo and now managed by Roger Grace).

Aerial Archaeology
An introduction to aerial archaeology from the BBC History people, based on their Time Flyers programme ...

What Lies Beneath
An article in The Economist about the use of archaeological remote-sensing survey methods, ranging from geophysics to satellite imagery.

Spoilheap Archaeology
A collection of material on a range of topics, including burial archaeology and human remains, by Sue Anderson, of CFA Archaeology

The Harris Matrix
An entire site evoted to the Harris Matrix - "each archaeological site is an unique time capsule and the Matrix is the only universal way in which the unique calendar of each site can be display in relative time order". A free copy of Ed Harris' original book on the Harris Matrix is available for download ...

The Ultimate Tree-Ring Web Pages
A comprehensive site by Henri Grissino-Mayer all about dendrochronology - dating with tree rings.