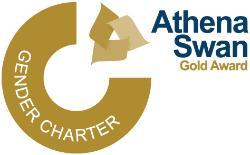 Athena SWAN in SHW
Invisible disabilities in work and study environments: raising awareness, reducing stigma, starting conversations
A SHW campaign to raise awareness of unseen conditions and how to support affected colleagues
Around 70% of disabled people live with conditions that are largely or wholly invisible to the outside world, and that they may be reluctant to disclose for fear of stigma, misconceptions or discrimination.
These include: diabetes; extreme fatigue; depression; digestive disorders; HIV; sensory impairment; chronic pain; eating disorders; ADHD; cystic fibrosis; anxiety; autism; epilepsy.
In 2018, as part of our Athena SWAN equality, diversity and inclusion activities, School of Health and Wellbeing began to consider the ways in which we could support staff and students with unseen conditions and create a culture where individuals felt safe to disclose their disability and ask for reasonable adjustments to help reduce the disabling impact or avoid triggering symptoms.
If you are an IHW staff member or student and would like to talk to someone in confidence about an invisible disability, please contact Cindy Gray, Kate O'Donnell or Asha Costigan.
Led by the Athena Swan Professional Services Working Group, we designed and delivered a very successful half-day awareness raising event in May 2019. Out of this grew a poster campaign, launched in March 2020, aimed at bringing important insights from our "experts by experience" – staff and students who live with these conditions - to a wider audience.
In addition, we regularly use our Athena Swan, equality, diversity and inclusion twitter feed and monthly newsletter, HAWKEYE, to highlight issues relating to invisible disabilities, and report positive developments in terms of increased understanding of unseen conditions or enhanced provision for those affected.
Details of our work to date is outlined below. We will add to this as and when new initiatives and activities are undertaken.
Poster campaign (March 2020)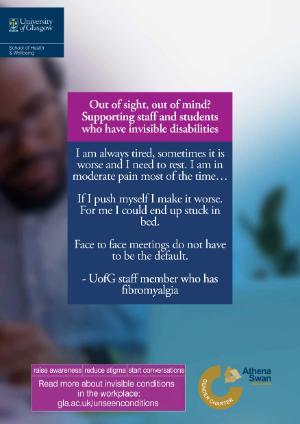 In March 2020, we launched our invisible disabilities poster campaign, emphasising the importance of a safe, kind and inclusive work and study environment for all.
Five staff (either from School of Health and Wellbeing or the wider University of Glasgow community) and a former student, all of whom contributed to our half-day event, allowed us to select short quotes from their testimonies and present them in poster form, as below:
Posters are now on display in all seven of our units, and were shared on our Athena Swan twitter feed during the two-week campaign launch at the end of March 2020.
Invisible disabilities event (May 2019)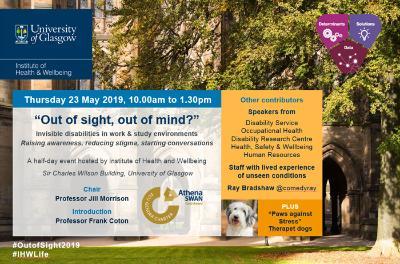 In May 2019, School of Health and Wellbeing hosted a half-day awareness-raising conference on the topic of invisible disabilities, their impact in work and study environments, and how managers and colleagues can best support those affected. Professor Jill Morrison, Clerk of Senate and former member of IHW, chaired the event, which included an introduction by Professor Frank Coton, University of Glasgow's Disability Champion.
The centrepiece of this event was a series of talks delivered by "experts by experience" - staff members and a former student who themselves have an unseen condition. Representatives from HR, Occupational Health, Disability Service, Centre for Disability Research, and Health, Safety and Wellbeing all made important contributions.
We hope that this will be a first step in bringing about cultural change within our school, in order that staff and students feel safe to disclose an unseen condition and line managers equipped to respond sensitively and helpfully.
A more detailed account of this event was published in the June 2019 edition of our monthly newsletter, HAWKEYE.
General information
Slide presentations ("experts by experience" speakers)
Slide presentations (University of Glasgow management/services)