Peer Support Network
Peer Wellbeing Support is a confidential, student-led listening service. It allows students to talk and share their problems, and receive support from trained Peer Wellbeing Supporters. The School of Education has sixteen trained supporters who are able to provide support to students within the School.
Currently, all sessions are being held online in accordance with coronavirus restrictions.

Peer Wellbeing Supporters are trained to assist students who are experiencing mild mental health issues and/or with issues such as:
anxiety
stress
isolation and/or loneliness
making friends
dealing with change
relationship problems
homesickness
financial stress
academic concerns
There is no issue too small for Peer Wellbeing Support. We all have mental health and we all need help from time to time. Opening up and talking to someone is one of the most effective ways to keep good mental health and can stop your problems from becoming overwhelming. Supporters are there to listen and help you explore how you are feeling with empathy and without judgement. They will not tell you what to do. The benefit of speaking with trained, fellow students is the understanding of shared experiences.
Peer Wellbeing Support is not the same as counselling. A student may use the service if they were feeling more worried, anxious, stressed or sad than normal.
If your symptoms are becoming unmanageable and are having an impact on your ability to function, then you can access specialised support via your student support officer or through your GP.
Please note, in line with established practice, you will be supported by two trained Peer Wellbeing Supporters throughout your session and the service is open only to UK-based students.

Book an online session
School of Education: Peer Supporters Facebook Group
Contact: education-peersupport@glasgow.ac.uk
Why become a peer supporter?
Peer Support at the University of Glasgow is a HEAR eligible scheme accredited by COSCA that trains and supports students who are interested in providing a listening ear to their peers, and providing both emotional and practical support while adhering to programmes code of confidentiality.
How are students trained to provide Peer Support?
Training will take place from late September and will take place over 10 weeks over semester 1, session 20/21.
Training is provided by qualified Peer Support Co-ordinators through the University of Glasgow's dedicated peer support team.
Training consists of 10 three-hour sessions and continues with fortnightly supervision.
The training promotes enhanced listening and appropriate assertiveness skills. Students develop confidence in social and communication skills, supporting others to make decisions without giving advice.
Peer Supporters will learn to manage crisis situations within the confines of the confidentiality agreement. This process will be supervised by the Peer Support Co-ordinators.
The training emphasises the Peer Supporter's boundaries, an awareness of their limits and where best to refer on to when necessary.
What happens after training?  
Students dedicate themselves to being available in their role as Peer Supporters for at least 1 full academic session after completing their training, unless extenuating circumstances exist.
Students attend fortnightly supervision to ensure that they are not acting as counsellors or committing too much time in their role. Peer Supporters are not trained to be Counsellors.
Supervision, provided by qualified Peer Support Trainers, is an integral and mandatory part of the programme. Discussing issues arising from the Peer Supporters' role ensures the safety of those seeking support, the Peer Supporters and the School of Education.
For any further questions, or information, please get in touch via education-peersupport@gla.ac.uk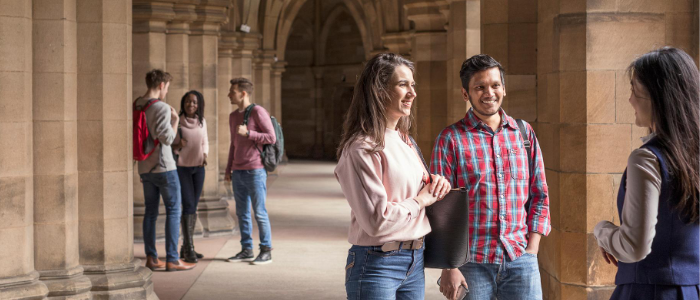 Student Support Officer
The School of Education's Student Support Officer provides advice and information to help students feel fully supported during their studies