Young Carers Action Day 2021
Young Carers Action Day is an annual event organised by Carers Trust and the School of Education is taking part.

The theme for YCAD 2021 will be all about young carers' futures: Protect Young Carers' Futures.
We want to take YCAD on the 16th of March as an opportunity to raise awareness of the incredible skills student carers develop through being a carer and managing their studies as well as help students access the support available internal and external of the University to help you complete your degree.
Live events for Young Carers Action Day 2021
16th March 12:30 to 1pm- Staff lunchtime session- What is being Carer Aware?

This session will provide a short overview of the Carer Aware module with information about how support is available at the University of Glasgow.
The session is for any staff member working with students in the School of Education.

16th March 16:00 to 16:30 Student event- what support is available to student carers.
An information session about the support available to students at the University of Glasgow, the SRC and the wider community.
Any School of Education student is welcome to attend.



If you are a student carer and are looking after a friend, family member or neighbour and it is having an impact on your studies, the student webinar might be able to help you learn more about the support available from the university and how you can access it.

If there is anything personal you would like to discuss, please contact education-studentsupport@glasgow.ac.uk to arrange a confidential meeting.
Both staff and student sessions will be webinar-based, and any discussion or questions are welcome.


Who is considered a carer and how can they find support?
The University of Glasgow was one of the first in higher education to introduce a Student Carers Policy back in 2012.
The policy covers any students who, at any point during their studies at the University, provide emotional or practical support to a relative, close friend, or neighbour because they are ill, elderly, have a disability, are experiencing mental distress or affected by substance abuse, and who is unable to manage alone.
Student Carers who wish to request special arrangements to support them in their studies should get in touch to arrange a carers plan and the Student support officer can help students start these conversations with their programme leader or adviser of studies.

As a registered student at the University, you can self-identify as a Carer at any point during the course of your studies, through MyCampus.
Working with the Carers Trust Scotland
There are many carers of all ages who have never identified themselves as a carer to the University or may be needing more support. To support them our Student Support Officer will be teaming up with the Carers Trust Scotland to offer a Q&A webinar on the support available to student carers and their families in the community.

This webinar will be on a range of topics such as benefits, grants, short breaks, health, and wellbeing advice tailored to student carers of any age.

Many have reasons for not choosing to identify their personal situation such as fear of stigma, because of cultural reasons, or simply because they have not seen the benefit of identifying themselves as a carer to the University.
Other student carers may see that being a carer is a part of life and they have not even recognised themselves as a carer.

No matter your background, we want to help you find support and this can be through internal policies such as the Carers Policy or helping you reach out to support in the community.
Training and Awareness
Carer Aware

The Open University in Scotland and Carers Trust Scotland developed Carer Aware at University with support from the Scottish Funding Council.
This is a free online module is for all staff working in Scotland's universities, to help improve identification and support for students who are also carers and help them approach support within their institution.
Careers and Employability
A major part of Young Carers Action day is helping carers prepare for their future and most student carers will be looking ahead to how they can best prepare for their future career or study.
Our University Careers Service can help you illustrate the value or your individual personal qualities and transferable skills. They also have a wide range of masterclasses and podcasts to help you on your journey to prepare your CV, get ready for interviews or finding work experience opportunities.

The College of Social Sciences Employability team has training and resources to help you get a head start on preparing for building up your resume or online profile such as Linkedin or other work-related learning.
Student carers have a wide range of skills such as resilience, time-management, and empathy and we want to help you make the most of them. All the skills you have developed as a student carer are valuable and highly respected by employers and our dedicated Careers Service and employability teams can help you succeed after graduation.
Mental Health, Wellbeing and Peer Support
It is important to remember that its normal to feel worried during exceptional times such as this. However, if you are starting to feel overwhelmed, and it's all getting a bit much, it's important to acknowledge your feelings and speak to someone you trust. This might be a friend, family member, GP, or your adviser of studies/student support officer.

Below is a range of articles and signposting to services within the Greater Glasgow area that support the mental health and wellbeing of carers.
Scottish Government Advice for unpaid carers (Covid 19) - Click here for website
The Scottish Government has advice to support the mental health and wellbeing of unpaid carers on their website as well as signposting to key mental health partners such as the Mental Health Foundation.


Explains how to cope when supporting someone else, giving practical suggestions for what you can do and where you can go for support.

Click here for PDF version of article
Glasgow Association for Mental Health - Carers Support - Click here for the website
GAMH Carers Centres aim to support unpaid carers in their local communities. Based in local centres across the city of Glasgow, they provide emotional and practical support, and also provide support for younger carers up to the age of 18, and their families. They also run free mental health and wellbeing training for unpaid carers such as wellbeing and stress management courses and mindfulness courses.

Find local support by choosing your region and county or search for an organisation by name. Local carers organisations will have detailed information on the help and support available.
Support in Mind Scotland - Carers Support Groups - click here for website
Support in Mind has a number of groups across Scotland that offer support for carers and their families affected by mental illness.

Carers Trust Scotland - Caring for someone with a specific condition - Click here for the website
Covid vaccination for unpaid carers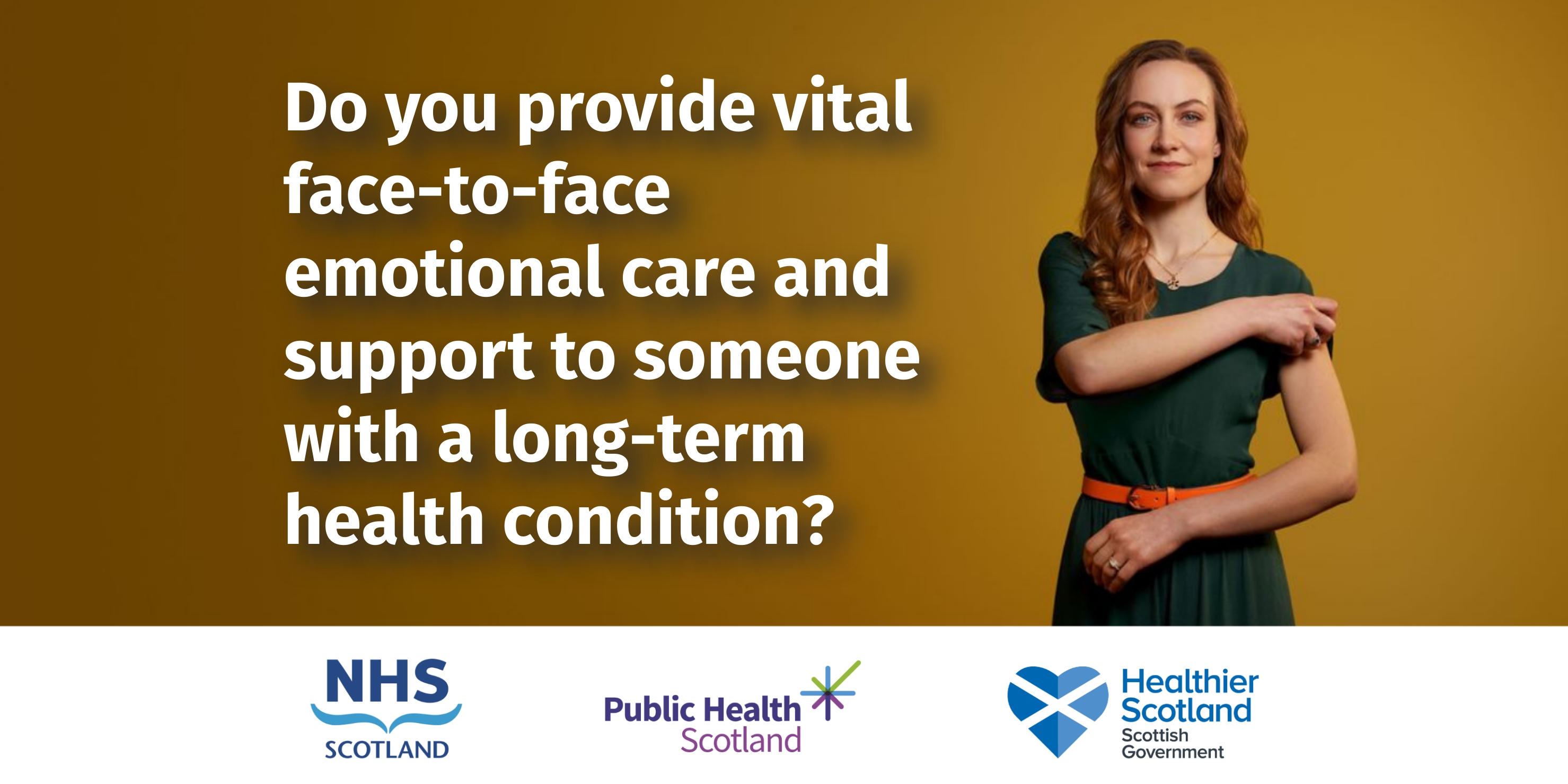 Unpaid carers can register for a coronavirus (COVID-19) vaccination when you are invited to by NHS Scotland through their online self-referral service.
You will need to be registered with a GP or other NHS Scotland service.
How to register with a GP practice.
The process will ask you to share your date of birth, name, address, and gender identity, so you can be matched against national NHS Scotland records

Full details on the unpaid carer vaccination scheme are available from the Scottish Government
Student Financial Aid Team