News
New and Forthcoming Publications for 2009
Fickle Man: Robert Burns in the 21st Century
Edited by Johnny Rodger and Gerard Carruthers
21st century Burns scholarship is making some unexpected and exciting discoveries about the poet and his work. Robert Burns has also become an inspiration for a new generation of artists - not only poets and literary artists, but visual and installation artists, sculptors, and architects. Fickle Man is a new volume of essays by top international writers and scholars published to mark the 250th anniversary of the poet's birth, bringing fresh and vigorous insights into the significance of Burns - peasant, poet, Enlightenment genius, revolutionary and lover, to the new century. The book will contain 16 pages of full colour plates, will have line drawings throughout and will feature a previously unseen image of the bard.
The book is edited by the writer and editor Johnny Rodger, who lectures at Glasgow School of Art, and Dr Gerard Carruthers, Head of Scottish Literature at Glasgow University and editor of the forthcoming 12 volume Oxford University Press Complete Burns Edition. The essays appear alongside new work from acclaimed writers, critics and visual artists including Murray Pittock, Owen Dudley Edwards, Sheila Szatkowski and Graham Fagen.
Further Information: Sandstone Press
RRP: £23.99
ISBN: 978-1-905207-27-5
Available: 15th January 2009

The Bard
by Robert Crawford
No writer is more charismatic than Robert Burns. Wonderfully readable, The Bard catches Burns' energy, brilliance and radicalism as never before. To his international admirers he was a genius, a hero, a warm-hearted friend; yet to the mother of one of his lovers he was a wastrel, to a fellow poet he was 'sprung...from raking of dung', and to his political enemies, a 'traitor'. Drawing on a surprising variety of untapped sources - from rediscovered poetry by Burns to manuscript journals, correspondence, interviews and oratory by his contemporaries - this new biography presents the remarkable life, loves and struggles of the great poet...
Further Information: rbooks
RRP: £20.00
ISBN: 978-0-224077-68-2
Available: January 2009
The Fornicators Court (Facsimile Edition)
Introduced by Gerard Carruthers and Pauline Gray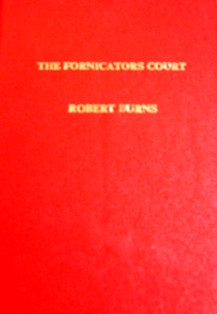 The Fornicators Court, a bawdy poem by Robert Burns, is now published in a limited edition by the Faculty of Advocates and the Abbotsford Library Project Trust. The version reproduced in facsimile, and with a limited print run of 1000 individually numbered copies, was discovered in the Abbotsford library of Sir Walter Scott and was probably one of a handful of the privately printed book versions of the poem produced in Edinburgh in 1823. All proceeds from the sale of the book will go to the Abbotsford Library Project Trust which was established in 1996 to assist financially in the ongoing conservation of Sir Walter's library. The facsimile edition - true to the Abbotsford original - also includes a manuscript copy in Burns' own hand of 'O saw ye my Maggie', another risque composition which Sir Walter had 'tipped in' to his copy of The Fornicators Court.
The Fornicators Court is a humorously satirical account of the disciplinary practices of 18th Century Presbyterian Kirk, particularly as they refer to sexual shenanigans. The Faculty's cloth-bound facsimile contains an Introduction by Burns scholars Gerard Carruthers and Pauline Anne Gray of Glasgow University's Centre for Robert Burns Studies. They write: "As a young man in Edinburgh, Scott famously met Burns and maintained a lifelong admiration for him. This facsimile version of 'The Fornicators Court' including the tipped-in 'O saw ye my Maggie' is one of the rarities of the library at Abbotsford. It is testament also to Scott's fascination with the man he called his 'favourite author'. It is an item that links those two of Scotland's writers who do more than any others to broadcast to the modern world the idea of Scotland, and highlights their conjunction also as creative artists interested in the more intimate spaces of human culture."
Further Information/Orders: Andrea Longson, Senior Librarian, Advocates Library, Parliament House, Edinburgh, EH1 1RF andrea.longson@advocates.org.uk
Price: £20.00
ISBN: 978-0-9561291-0-9
Available: January 2009 (Limited to 1000 copies)
Memoir of Burns by James Hogg
Edited by Patrick Scott
Written in 1832 but published only in 1836, after Hogg's death, Memoir of Burns was the culmination of Hogg's lifelong interest in Burns's poetry and life. Among the most neglected of his writings, this volume has never before been republished seperately from the multi-volume edition of Burns for which it was written, volumes 1-4 of the Hogg-Motherwell Works of Robert Burns. This is the first modern editorial treatment of the work and has the following key features:
The only scholarly edition that documents Hogg's use of his sources.
Contains the comments Hogg made on individual Burns poems and songs in the annotations to the Works volumes.
Draws on hitherto-unused manuscript material to clarify the relation between Hogg and Motherwell in the editing of the Works.
This book is edited by Patrick Scott, Professor of English at the University of South Carolina. The publication is part of the series The Collected Works of James Hogg.
Further information: Edinburgh University Press
RRP: £45.00
ISBN: 978-0-748634-16-3
Available: 1st May 2009