Quick Links
2011 Colloquium, University of Glasgow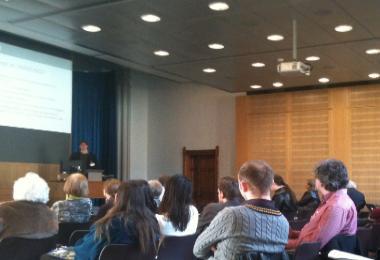 Enroller's second face-to-face colloquium was held over February 25th and 26th, 2011 at the University of Glasgow where once again over 40 literature and language researchers from across the UK and Europe joined the team for the two-day event. Delegates were given the opportunity to test the portal and provide feedback on its functionality to the team.

Enroller's Network of Scholars (or NoS) are vital in providing feedback on the usability of the portal, and the team are keen to integrate their views and ideas into the portal's final design. This year's colloquium provided the NoS with an opportunity to hear from key data providers and offered a platform in which researchers could discuss further collaborative initiatives between current digital humanities projects. A full programme of the two-day event can be be downloaded as a PDF:
Colloquium Programme 2011
Missed the colloquium?
Presentations from Enroller's data providers are available below, either as a slideshow or a video presentation. Please note, you will be asked to download Microsoft Silverlight in order to watch the video presentations; please click on the presentation titles to view.
Welcome:
The colloquium was opened by Professor Andrew Prescott and Jean Anderson, who discussed Enroller within the context of digital humanities. To listen to their presentations, please click the links below:
Professor Andrew Prescott, University of Glasgow
Jean Anderson, University of Glasgow
The Enroller Team:
Enroller: A Brief Introduction to the System
Marc Alexander, University of Glasgow
Data Owners and Collaborators:
Unrolling the Historical Thesaurus of English and The Dicourse of Integrity in British Politics
Professor Christian Kay, University of Glasgow
Dr Andrew Struan, International Center for Jefferson Studies, Monticello/University of Glasgow
Scots Words and Place-Names
Professor Carole Hough, University of Glasgow
The Scottish Corpus of Texts and Speech and The Corpus of Modern Scottish Writing
Dr Jenny Bann, University of Glasgow
The Dictionary of the Scots Language
Ann Ferguson, SLD
VARIENG: The Research Unit for Variation, Contacts and Change in English
Jukka Tyrkko, University of Helsinki
A Linguistic Time Caspule for the Google Generation: The Diachronic Electronic Corpus of Tyneside English
Professor Karen Corrigan, Dr Isabelle Buchstaller, Dr Adam Mearns and Dr Hermann Moisl, Newcastle University