Quick Links
2010 Colloquium, University of Glasgow
Inaugural Colloquium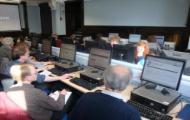 Enroller's first face-to-face colloquium was held in April 2010 at the University of Glasgow where over 40 language and literature researchers from across Europe joined the team for the two-day event. Members of the project team presented work done to date and showcased future developments of the Enroller portal. Researchers were also given the opportunity to test the portal for themselves; their feedback will be used to redesign the portal interface over the coming year.
Missed the colloquium? Listen again here!
Four members of the Enroller team gave presentations on the project during the colloquium. Slideshows and audio of each presentation can now be accessed simultaneously.
To listen again to the presentations, please click here:
Colloquium Introduction (Jean Anderson)
Enroller: The First Steps (Marc Alexander)
The e-Context of Enroller (Prof. Richard Sinnott)
Enroller: An e-Infrastructure for Humanities Researchers (Sulman Sarwar)
Colloquium Aims and Objectives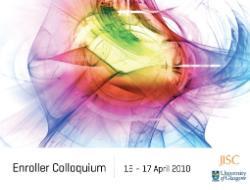 The colloquium aimed to:
Bring together international researchers from the Humanities and eScience
Provide an opportunity to see a demonstration of the project's portal and resources
Allow researchers to test the portal and discover the implications of a resource which provides secure and integrated acces to a range of literary and linguistic data
Provide a forum in which to discuss issues current to Digital Humanities
Colloquium Programme
Please click here for the Colloquium Programme (available as a PDF).