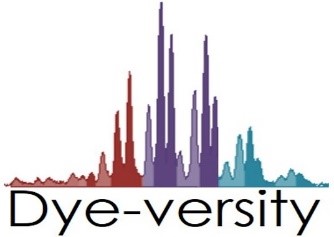 Dye-versity: chemical variability of aniline dyed textile samples in nineteenth century dye books
Overview
Dye-versity is a project that has united textile history, technical archives, historical dyes and chemical analysis in heritage science research to understand the chemical variability of the so-called coal tar 'aniline' dyes, the first commercially-successful synthetic dye class of the mid-nineteenth century.
Principal Investigator
Anita Quye, Senior Lecturer in Conservation Science
Analytical Research Assistant (UHPLC-PDA)
Julie Wertz
Dye-versity Funding
The Carnegie Trust for the Universities of Scotland, Research Incentive Grant 70328
Duration
February 2016 – February 2017
Questions
Three key questions asked at the start of the project about aniline-dyed textiles in nineteenth century British dye books were:
How chemically variable are the dyes in the patterns?
Does their dye chemistry depend on who made them and when?
Are the dyes what the manual authors said, or believed, they were?
Resources
The investigation centred on textile samples (patterns) coloured with named dyes and attached to pages inside manuals and books published in Britain from 1862 to 1893. Patterns in dyer's notebooks and journals from the same period were studied. Recipes (instructions) for industrial-scale dyeing next to patterns indicated these were all dyes of commercial interest. Although the dyes were named, their makers were not, making these materials interesting to study for variability.
Besides the dyeing manuals, books and papers describing the names, colours, chemistry, production, quality, colour-fastness and makers of commercial aniline dyes were also examined. These were surprisingly rich in technical detail and sometimes had accompanying patterns too.
Three major classes of aniline dyes of commercial importance to Britain from the late 1850s to 1899 were selected for analytical study: methyl violets, aniline/alkali blues, and magentas. Documented evidence about these dyes was gathered from archival research to contextualise and interpret the results from dyes in tiny samples of patterns analysed by ultra-high performance liquid chromatography with photo-diode array detection.
Findings
Dye-versity revealed many interesting facts, including:
remarkable consistency in the chemistries of nineteenth century commercial violet, blue and magenta aniline dyes. The 212 pattern dyes analysed fell into 11 characteristic chemical profiles.
The 11 chemical profiles reflected the historical textual evidence for the chemistry and synthesis of aniline dyes, and could be explained by modern organic chemistry.
when, where or who made the dyes did not greatly influence their chemistry. A basic magenta from 1874 and a basic magenta from 1893, both of unknown maker(s), had the same profile.
magenta and methyl violet dyes were popular with the commercial textile industry for over 40 years despite producers, users and consumers being fully aware of their sensitivity to light
The Dye-versity project has revealed that nineteenth century dyeing manuals and related books are reliable sources of written and material evidence for at least some of the earliest and most popular synthetic dyes. The analytical results are now invaluable references of actual historical dyes, and add more confidence for answering curatorial and conservation questions about the presence and significance of early aniline dyes in heritage textiles. This is especially important for distinguishing the dyes that are sensitive to light because they need protected during display and study to minimise colour loss or change.
Far from ending after its first year, the Dye-versity project is just building momentum. Information about many more early synthetic dyes has been uncovered with plenty of interesting cross-disciplinary projects ahead.
Collections
Bradford College of Textiles Archive
British Library
Catalyst Museum
Susan Kay-Williams
Museum of Science and Industry, Manchester
National Art Library/V&A Museum
National Library of Scotland
Society of Dyers and Colourists
Anita Quye
University of Glasgow Archives and Special Collections
University of Strathclyde Special Collections
Presentations
'Dye-versity. Researching 19th c. Dyeing Manuals'. Icon Scotland Paper conservators in Scotland news and ideas exchange meeting, 25 April 2016. University of Edinburgh Archives.
'The power of two: uniting chemical and historical research of 19th c. early synthetic dyes for conservation'. Institute of Conservation Icon2016 Triennial Conference 'Turn and Face the Change', 15-17 June 2016, Aston University, Birmingham, UK.
'The power of two: uniting chemical and historical research of 19th c. early synthetic dyes for conservation.' Department of Textile Conservation, Victoria and Albert Museum, London, 10 August 2016
'Crinolines, coal tar and the colourists', European Researchers' Night, University of Glasgow, 31 August 2016
Quye, A., and Han, J. Disguises, Surprises and Identity Crises for 19th Century Early Aniline Dyes. 35th Annual Meeting of Dyes in History and Archaeology (DHA35), Pisa, Italy, 05-08 Oct 2016
'Dye-versity and chemical conundrums: analysing early synthetic dyes in Victorian textiles', Joint lecture for Royal Society of Chemistry Analytical Division Scottish Region and Glasgow and West Scotland Section, and Andersonian Chemical Society, 18th January 2017, University of Strathclyde
'Dye-versity: research into Glasgow's 19th c. dyeing manuals'. Friends of the University of Glasgow public talk, 21 February 2017
Dyeing manuals
The following is a list of dyeing manuals with patterns analysed in Dye-versity
Smith, David. 1882. The English Dyer. Collections: British Library (Reserve) VX29/122; Susan Kay-Williams; Anita Quye; University of Glasgow Archive and Special Collection (ASC)
Crookes, William. 1874. A practical handbook of dyeing and calico-printing. University of Glasgow (Annex) Store 32264.
Knecht, Lowenthal and Rawson, 1893. A manual of dyeing. Volume III. University of Glasgow, Store 32323-32325
Crace-Calvert, Frederick 1862 On Improvements and Progress in Dyeing & Calico Printing since 1851. University of Glasgow, Sp Coll Mu56-a.16
Crace-Calvert, Frederick, 1876. Dyeing and calico printing. University of Glasgow Sp Coll Ferguson Ai-c.4 and RQ3179
Unknown Dyer, 1865. 'Logwood Purple'. Society of Dyers and Colourists at Bradford Textile College Archive BRFCM1991.52.3
Unknown Dyer, 1869. 'Officers scarves Doeskins'. Society of Dyers and Colourists at Bradford Textile College Archive BRFCM1991.52.4
Unknown Dyer, 1872. Society of Dyers and Colourists at Bradford Textile College Archive BRFCM1991.52.5
Unknown Dyer, 1873. Society of Dyers and Colourists at Bradford Textile College Archive BRFCM1991.52.6
Unknown Dyer, 1873-76. Untitled. Society of Dyers and Colourists at Bradford Textile College Archive BRFCM1991.52.8
Unknown Dyer, 1877. Untitled. Society of Dyers and Colourists at Bradford Textile College Archive BRFCM1991.52.9
'Textile Manufacturer' Supplement, October 15 1879. Society of Dyers and Colourists at Bradford Textile College Archive JT.826.a and JT.826.b
Crace-Calvert, Frederick 1862. On Improvements and Progress in Dyeing & Calico Printing since 1851. National Library of Scotland. Sp. Coll. 3.1987(9)
Journal of the Society of Dyers and Colourists. 1884-85. Volume I. Anita Quyea
Smith, David. 1876. The Dyer's Instructer (sic). University of Glasgow RB5094
Unknown Dyer. 1882-87+. Pattern book. Society of Dyers and Colourists at Bradford Textile College Archive DNB12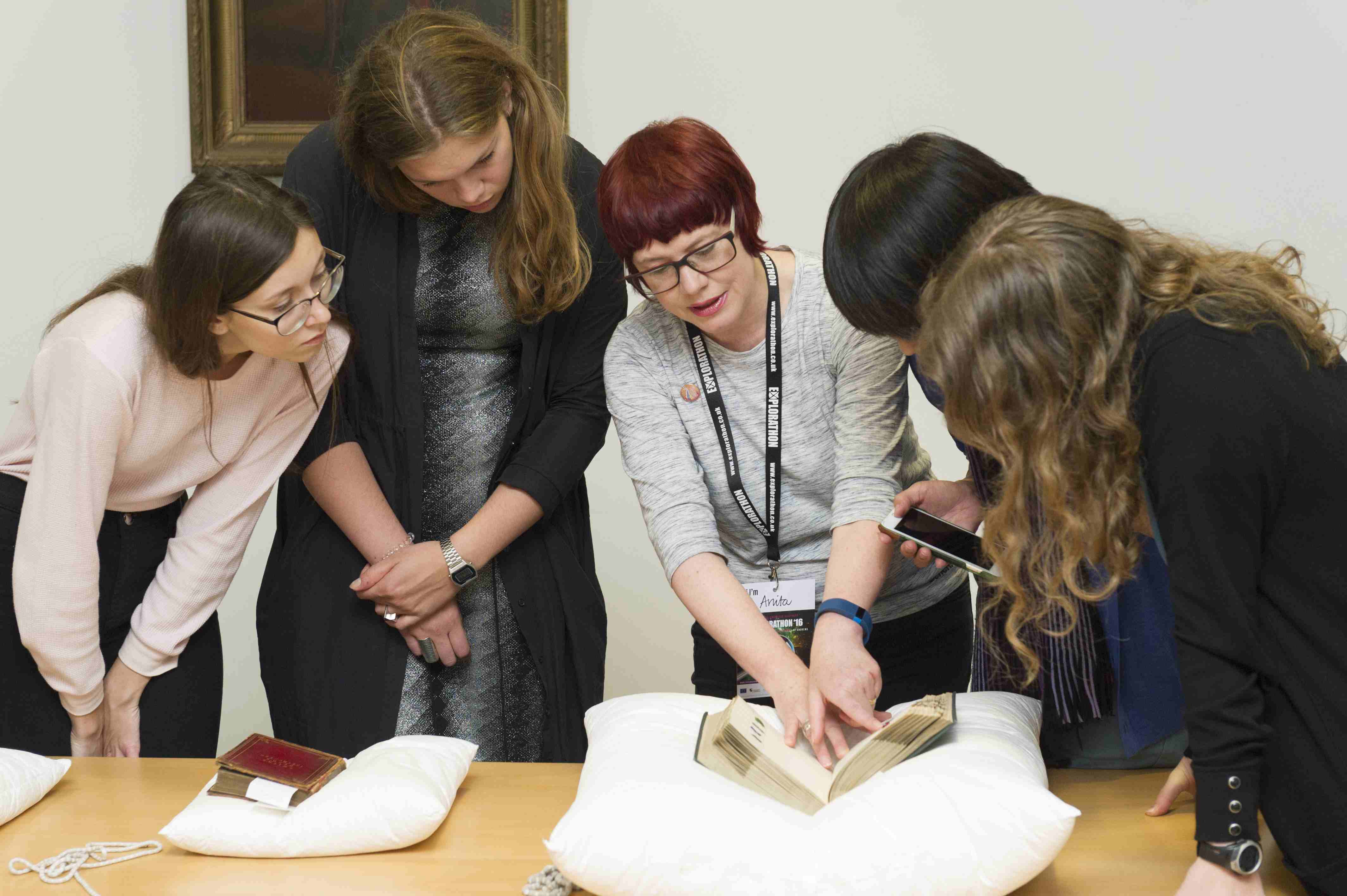 Examining UoG ASC manuals (c) UoG 75dpi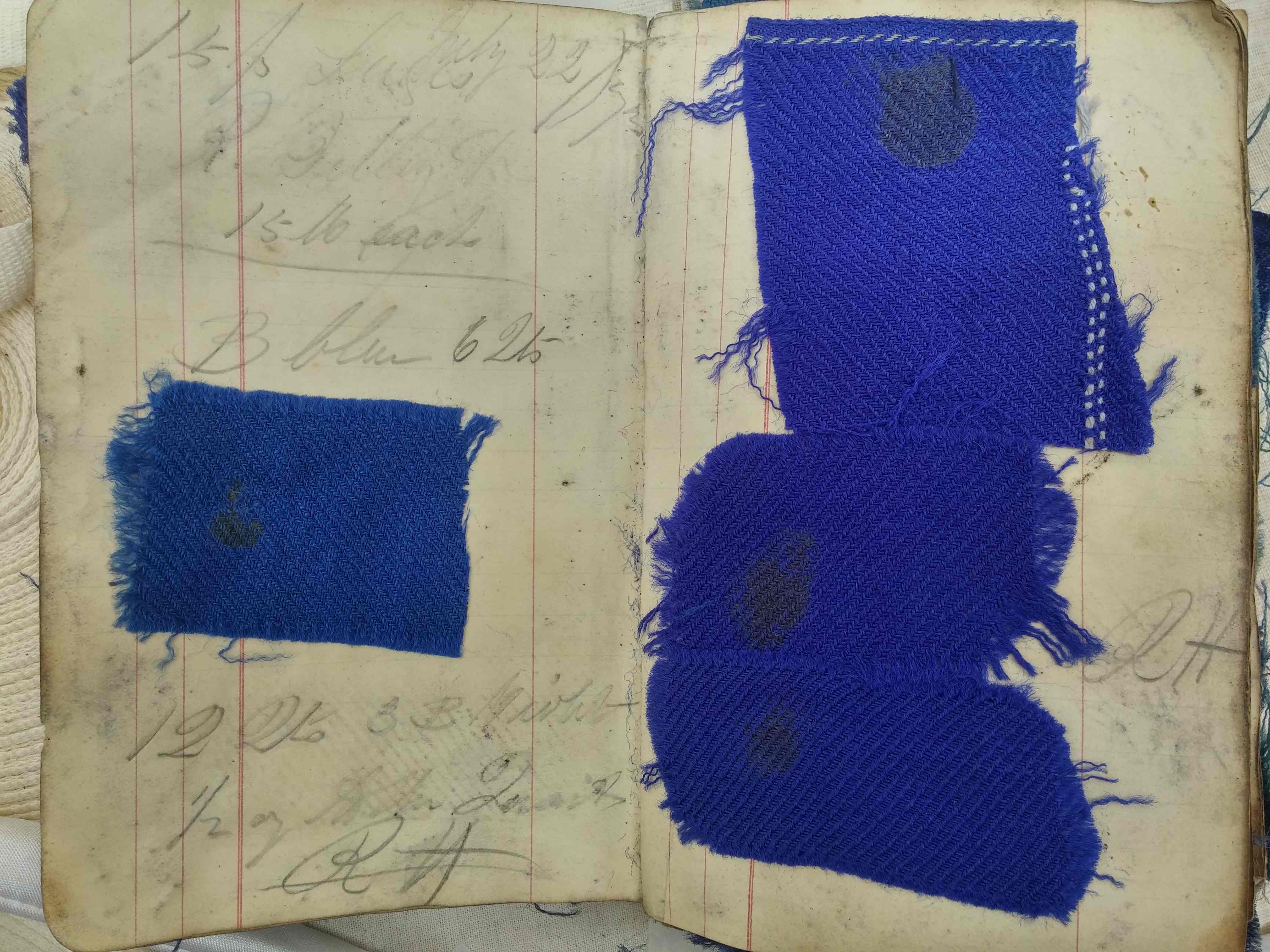 Dyers notebook 1873, (c) Bradford College of Textiles SDC Archive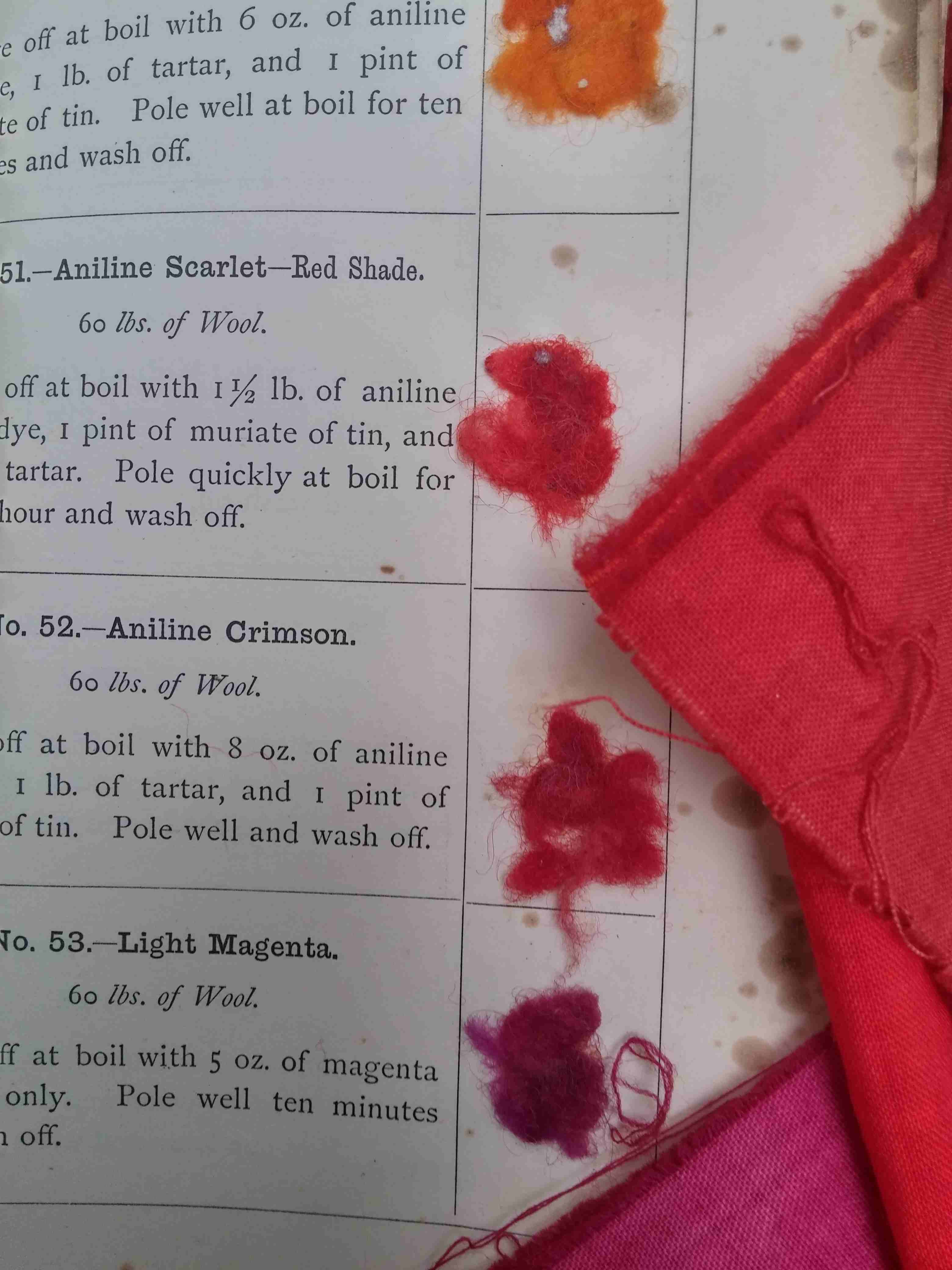 Aniline dye samples and natural dyed fabrics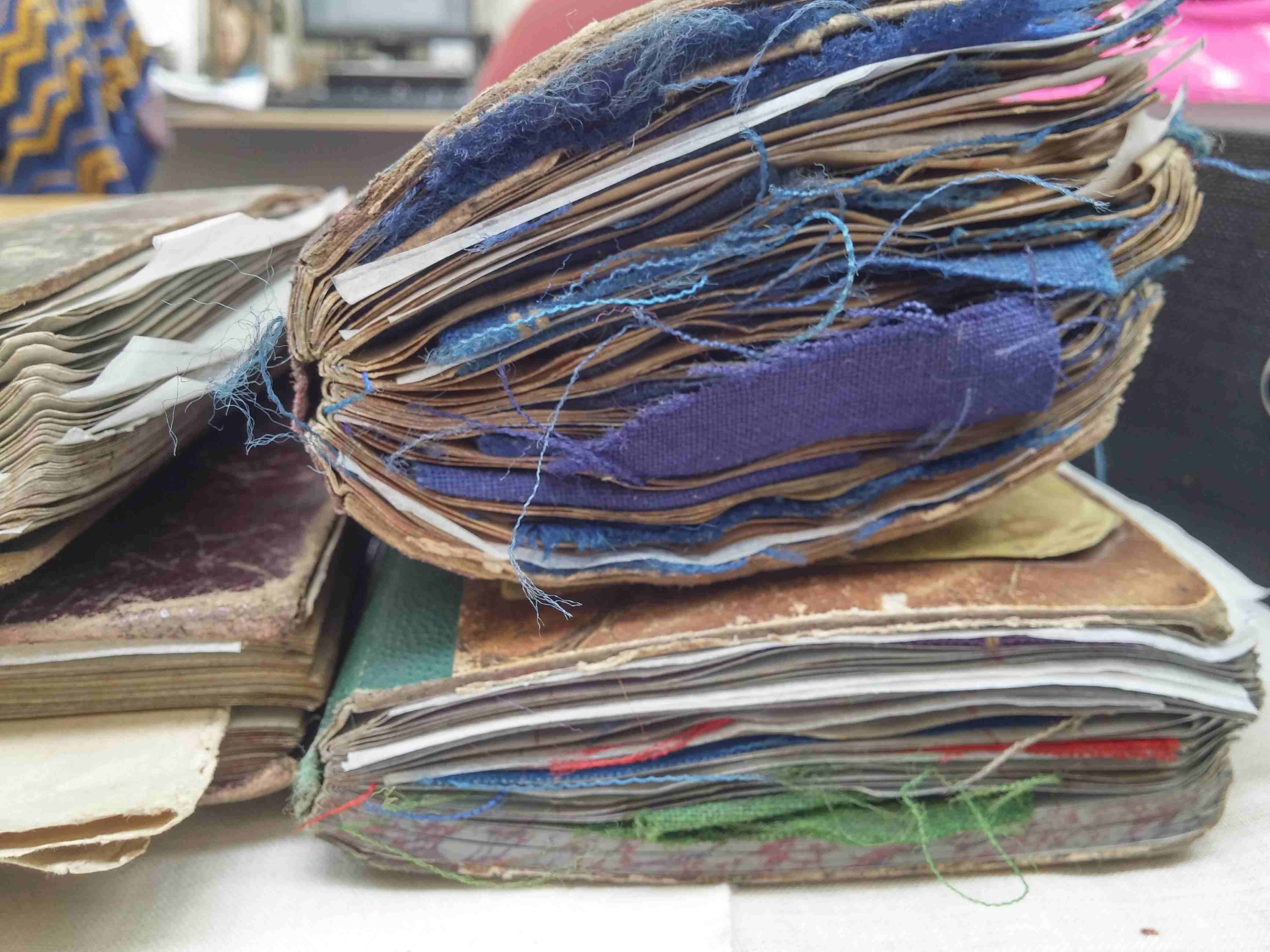 Dyers notebooks, Bradford College of Textiles SDC Archive